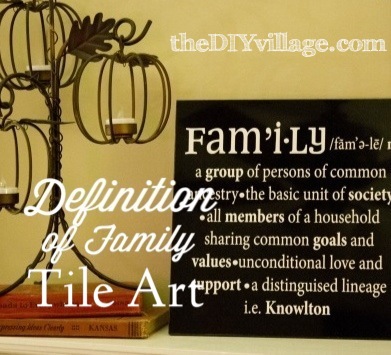 Every year at Christmas, my Dad's side of the family does a Make-A-Gift for another family member.
It is a tradition that my Grandma & Grandpa Knowlton started as far back as I can remember!  Each year we're given the name of different person in the family and we are challenged with coming up with a DIY Make-A-Gift.
It is one of my favorite traditions!
There's really no restriction or guidelines that need to be followed, but over the years we've seen some incredible creativity!  Make-A-Gift's have ranged from Homemade Salt Scrubs, Mixed Tapes, to even a Handmade Violin…(Insert Double Take) Yes, I said Handmade Violin!  My incredibly talented Father took on the challenge over a two year period of handcrafting a violin for my sister, Sarah… It is a true piece of art and she currently plays it as a member of the Raleigh Symphony – so that means it actually works!
A few years ago, I had my Dad for Make-A-Gift and I wanted to create something that reflected how I felt about him and the family that we're apart of.  I ran across a vinyl wall decal on www.rightonthewalls.com.  I loved how they defined the term "Family" and thought that I could use it as inspiration for my Make-A-Gift!
I already had the vinyl I needed, so all that was left was to decide what I wanted to use as a display…So while I was walking through Lowes, I happened down the tile isle. Then it hit me!  Of course, I could use tile as my "canvas"!  So I decided buy a single 12×12 tile and set out to make my own custom family tile art!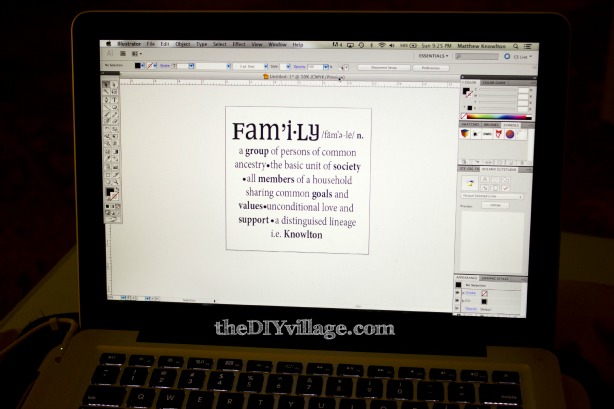 Using Adobe Illustrator, I set out to recreate the look of the vinyl decal I had found online.  Basically, I found fonts that were a close match and using a plug-in for Illustrator, I was able to turn the fonts into shapes that could be cut using my vinyl cutter!
 Once, I had finalized the layout, I connected my computer to my cutter via USB and sent the file to be cut!
Normally, the next step would be to remove the excess vinyl, leaving me with the cut out words ready for application…
But, I've found that when cutting smaller letters, sometimes it can be difficult to remove the vinyl around them.  It's a lot more common to accidentally remove the small letters along with the excess, leaving you with words like "al  ember f  a h  seh ld"
instead of  "all members of a household".
To remedy that from happening, I didn't weed any of the excess vinyl yet.  I applied transfer tape over the entire square cutout sheet of vinyl.
With the transfer tape covering the entire cutout design, I centered it on the tile.  I generally cut my designs in whole number measurements so it's easier to center them onto the surfaces!  The piece of tape is acting like a hinge, allowing me to work with one side at a time.  So I peeled the vinyl and it's backing apart on the right side and cut away the backing, allowing me to lay the vinyl down into place.  I then took a squeegee and ran it across the right side making sure to get even contact with the surface.
Then I removed the piece of tape and repeated the process for the left side.  Once I removed the transfer tape, I was left with the entire piece of vinyl adhered to the tile.
Next came the tedious task of removing the excess vinyl from around the cut letters! Thank goodness for background music!
Once I began to remove the excess vinyl, this was with what I started to see!
As I continued down the tile, using a squeegee, I applied even pressure over the letters, to remove any air bubbles that might have shown up during the transfer process.
And finally, after all of the excess vinyl had been removed, here's what I was left with!
And here's the VINYL Results…I mean, FINAL Results!
I was so happy with how Dad's Make-A-Gift turned out, I ended up making one for our house as well!
(And on a side note, Dad loved it too!)
Having our vinyl cutter has proven well worth the investment over the years!  It's not everyday you run across personalized tile art!  Have you ever used vinyl in your DIY projects?  If so, I'd love to hear about your creations!
  Sharing With: