I'm not afraid to admit that when it comes to buying gifts for my wife…I have some room for improvement! I normally dread holidays because I just don't know what to get her. It's not that I don't know her likes and dislikes, it's that I struggle with finding her the "perfect" gift on a NOT SO "perfect" budget!
With Valentine's Day swiftly approaching and after receiving my early Valentine's gift from her (My Avett Brothers Inspired Coffee Mugs) I set out to make her a gift that would she would love every day! (and do it on a budget!)
Since the first time Jacque ran across this beautiful "Every Day I Love You" word art by Sugarboo Designs, she fell in love with it! I wanted so badly to get it for her, but the $250 price tag just didn't allow for it. Since I knew how much she wanted one, I decided since I couldn't buy it for her that I'd make one for her instead!
I headed to our local home improvement store and bought some supplies.
I spent a whopping $11.00!!! I know…How's that for affordable???
Here's what I bought!
(5)- 1/2″x2″x24″ pine boards
(1)- 2'x2′ sheet of Luan
**Disclaimer: There are affiliate links within this post  
This tutorial is intended for personal use ONLY.  Please do not take this tutorial and start selling these signs on an ETSY shop, that would be super shady and make us sad.**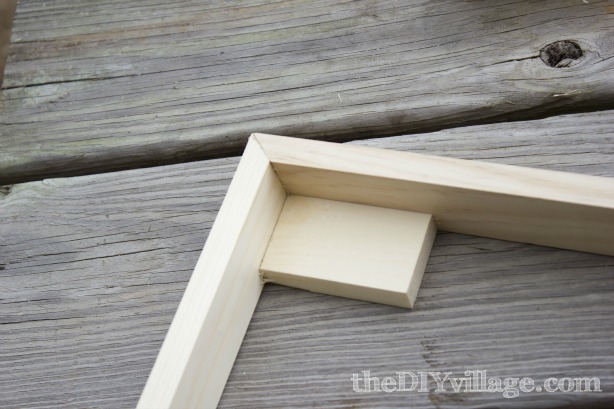 Since I wanted to get as close to the original as possible, I chose to used mitered corners for the frame. But if you don't want to fool with having to cut angles, take a look at this alternative way to make a frame in a recent post written by Jon of Young House Love.
I cut small pieces of wood for each corner. I figured I could use the blocks to help stabilize the frame and as an added bonus, they'd help secure the my luon art board in place by adding extra points of contact.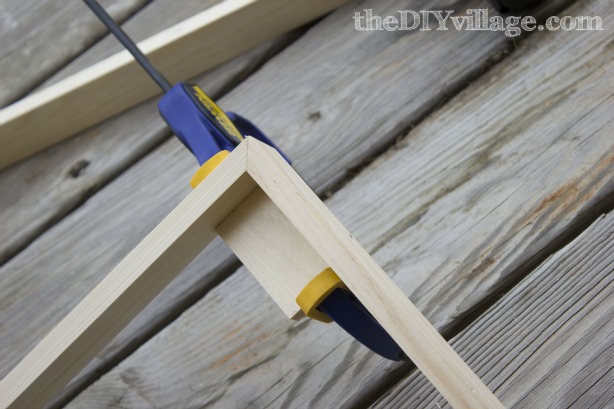 I held the blocks against the sides of the frame with clamps and secured them in place using glue and a few brad nails.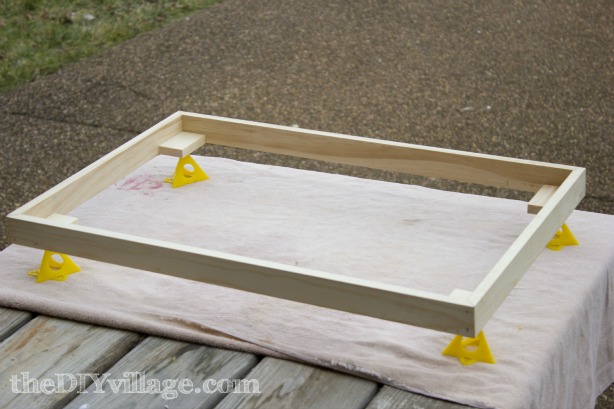 Once the frame was together, this is what it looked like.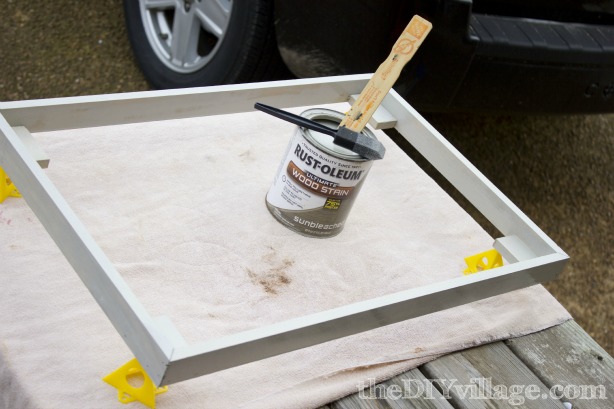 I wanted to give the wood a more neutral and weathered look, so I grabbed some leftover stain we had from a previous project and gave the frame two coats of Rust-oleum Sun-Bleached Ultimate Wood Stain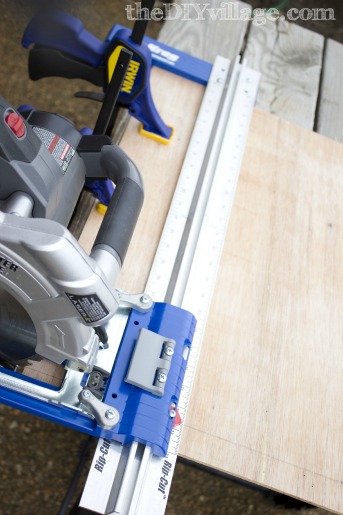 Next I needed to cut my piece of luon to a size that would fit on the inside of my frame. So I wrote my measurements down and with the help of the Kreg Rip-Cut

I easily cut the luan down to the correct size. Then painted it with a multi-purpose primer.
Once all the paint and stain had dried, I applied some wood glue to each block on the frame, laid the luan in place, and secured it in place until the glue had time to dry.
Now before I move on to the next steps, I realize that there are people that may not be have the vinyl cutting equipment to accomplish what I'm about to show you. If you are one of those people, don't let that stop you! Just head down to your local sign shop and have them cut a custom stencil out of vinyl for you.
Now let's move on to the artwork!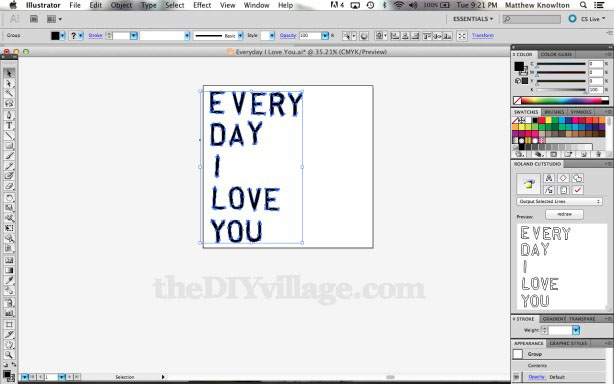 Adobe Illustrator is my go-to program for creating the words or images that I use for my word art projects . I'll always start out by going through my fonts to see if I've got one that will give me the look I'm wanting to recreate. In this case, I couldn't find what I wanted, so I ended up just recreating the letters by drawing them like shapes.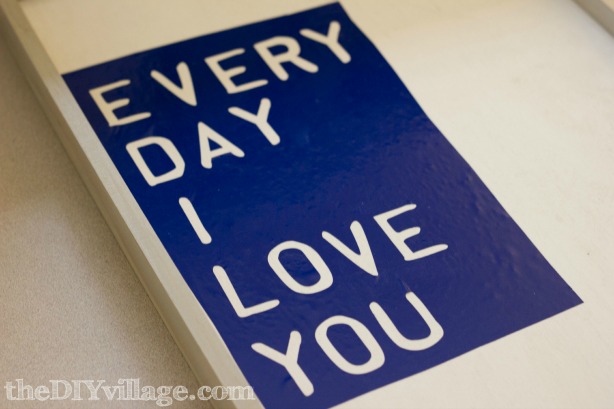 Once my layout was to my liking, I went ahead and cut my stencil and transferred it over to the luan.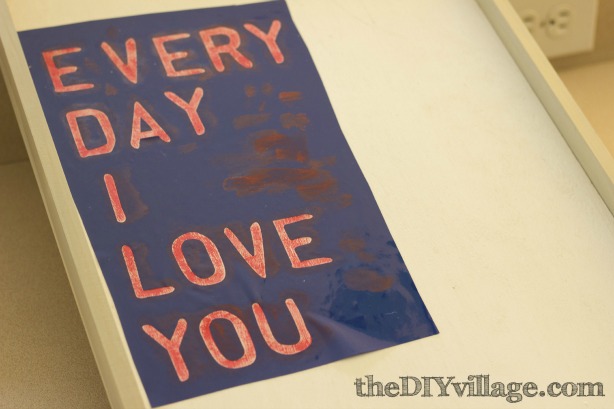 To achieve the weathered and worn look of the original artwork, I used a dry-brush painting technique, one which you may have seen us you on a few of our other projects. (Two of my personal favorites, The Woodland Dresser and the Word Art Dresser!)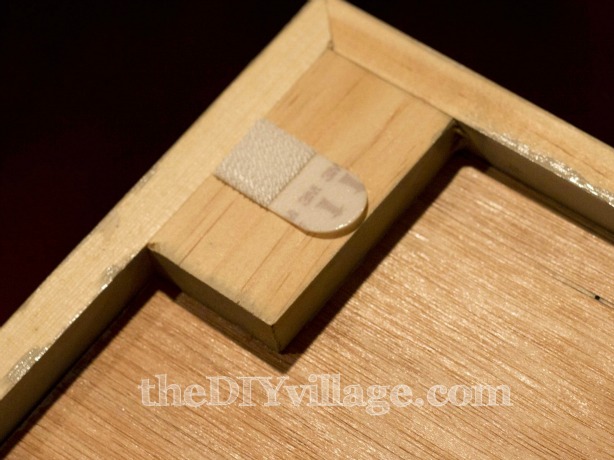 Lastly, by placing a couple of Command Picture Hanging Strips

onto the back of the frame, I could hang this without having to add any new nail holes in the wall!
So to review, I spent a grand total of $11.00 on supplies, used a few leftovers I had from past projects, and if you take out the time it took for the stain, paint, and glue to dry, I had less than an hour and a half of hands-on time invested in this project.
And here's a side by side comparison!
I ended up giving this to Jacque a couple of weeks before Valentine's Day…I just couldn't wait…and she absolutely loved it!
(So much so that she made me hang it up immediately!)
I think this is by far, the most "spot-on" gift I have ever gotten her! Funny thing is, at first, she thought this was the one from the store!!!
Every Day I Love You Word Art : An Affordable Knock-Off = A Resounding Success!
Now, I'd better get a jumpstart on what I'm going to get Jacque for our anniversary…UGH!
I'm open for suggestion if anyone has any ideas!