When a representative from DecoArt contacted me about having my own at home painting party I was more than intrigued.  I love going to the events in the store fronts but this would be in my own home, how fun!  No way I could pass up this chance to have my own Social Artworking Party.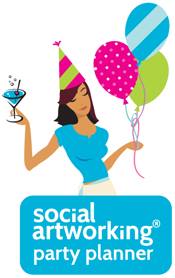 After searching over Social Artworking designs page I thought it would be fun to do something different and selected the Electric Zebra!
When my box of goodies arrived I was shocked at how much wonderful stuff was included in my kit!  Each participant would have their own apron, paint brushes, canvas, easel, and would share the water trough and paints.  I think I actually squeeled when I opened the box!  They even included a picture of the zebra with transfer paper and tape so that there wasn't any guessing about how to paint the zebra.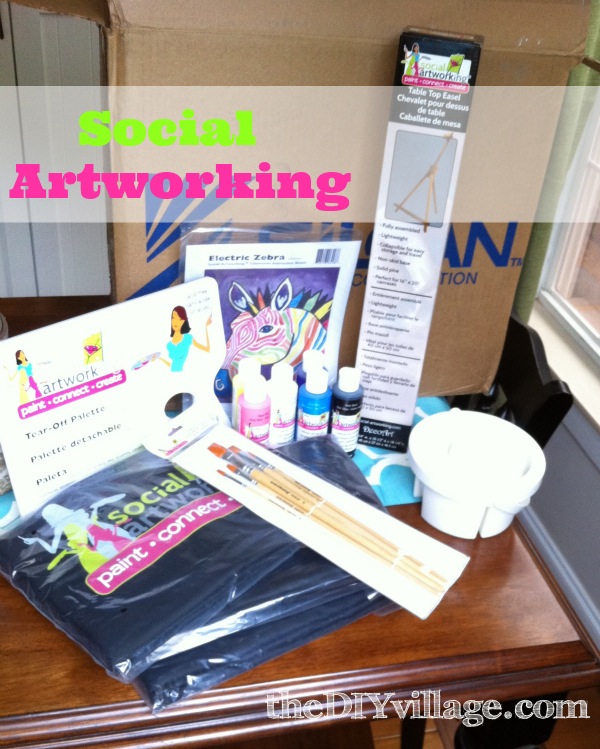 Once I got everything set up, including lots of wonderful snacky foods (sorry I forgot pictures but the food was super yummy), we traced our zebras onto the canvas.
I gathered our paint  our painting party was under way!
Right off the bat we had a few painters that were ready to let their creative sides flow and decided to use whatever color moved them at the moment for their zebra!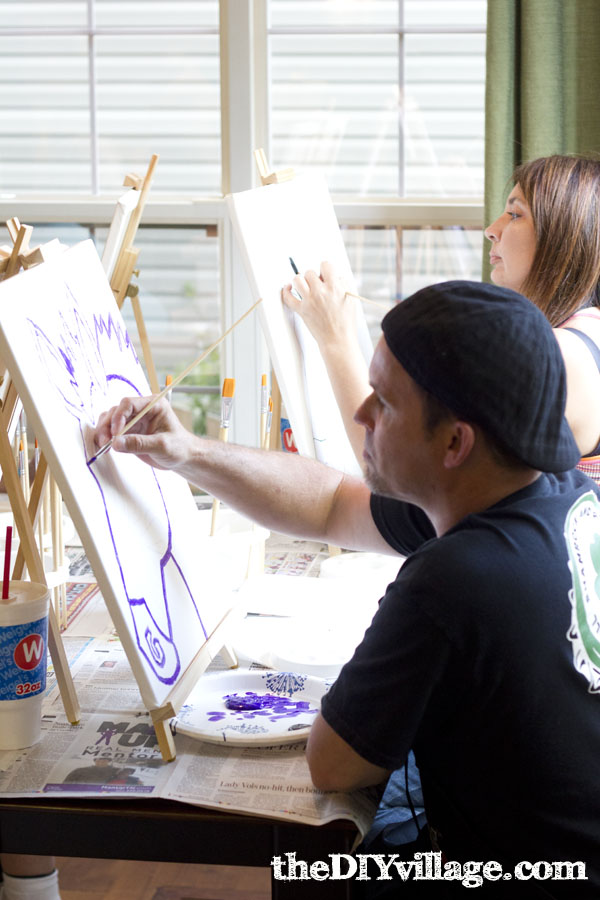 But that's okay with me, because paint is a form of art and art is an expression of one's self!  Whatever floats your boat!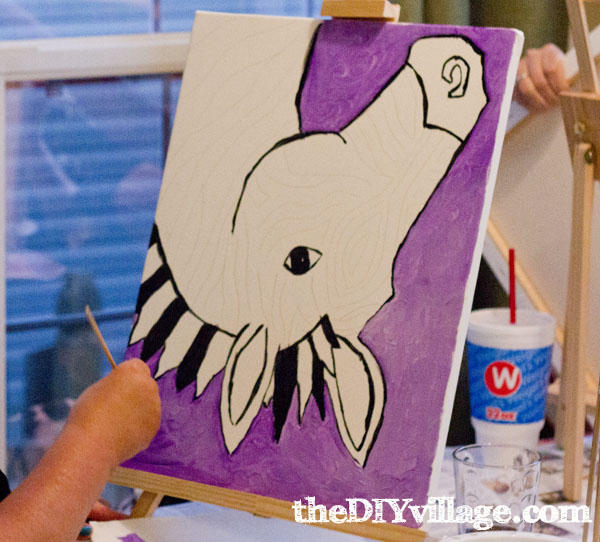 When you get to the bottom of a canvas it can be a real pain not to paint your easel, my tip flip the canvas upside down.  It's that easy!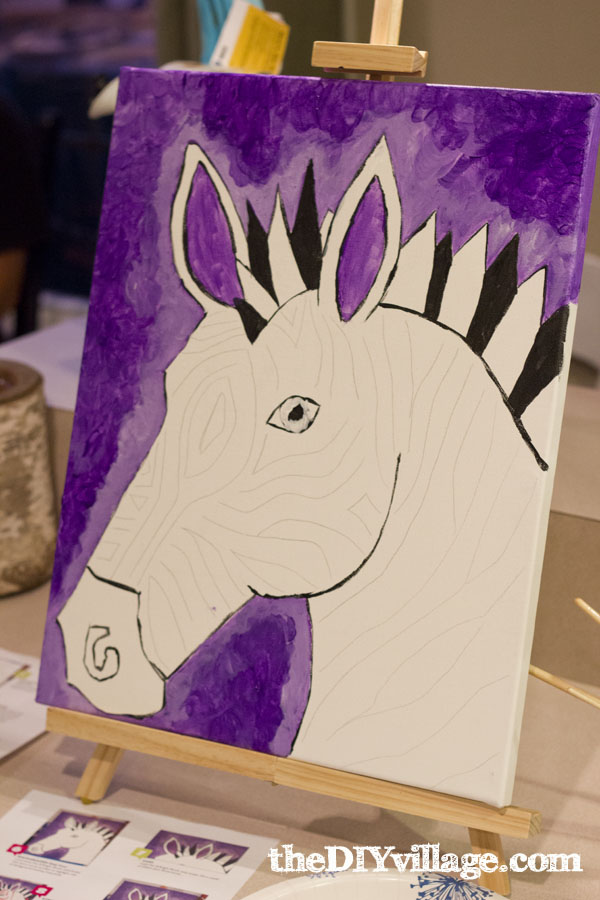 Here is a shot of mine during the process and you can see the wonderful step by step instructions they send with each kit … thank goodness for those instructions or we might still be painting!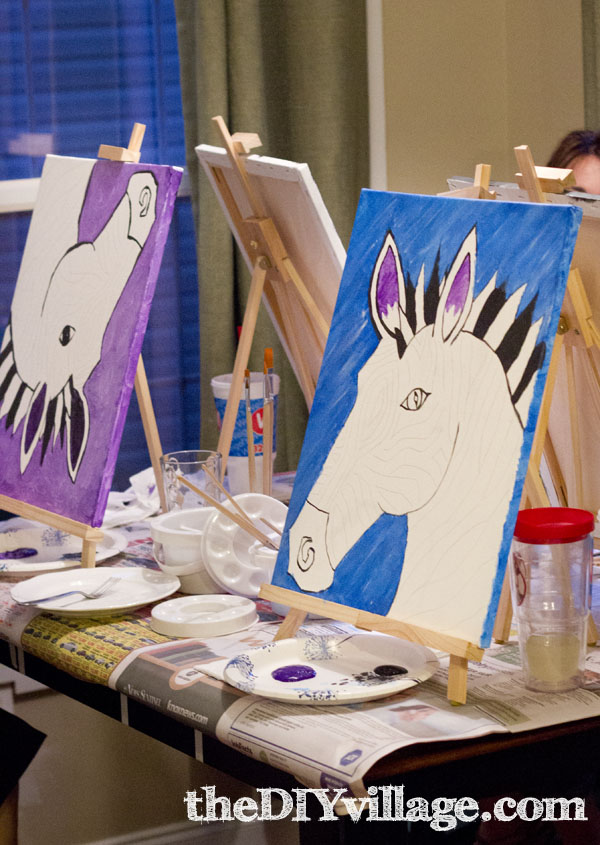 Matt wasn't feeling the purple so much so he opted for a blue background … I'm totally digging the look!
When it was all said and done everyone had a BLAST at the painting party and was able to show their creative sides by making each zebra a reflection of themselves.  Im still on the fence about that psychedelic one on the end but his kids were totally stoked about it and that's all that matters!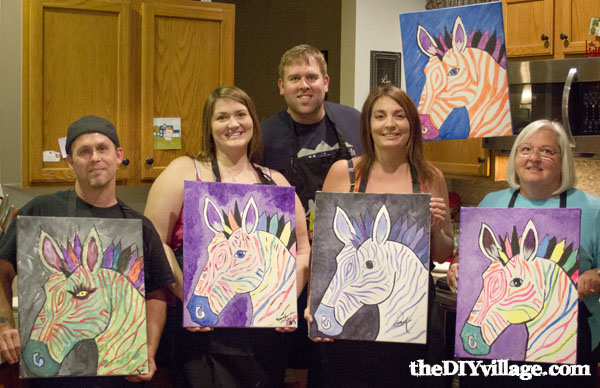 Which one is your favorite?
I cannot wait to plan our next party!  But our next one will be with little girls, how fun is that?  Need help selecting the products you need to host your own Social Artworking party? Use Social Artworkings Party Planner Page to help you fill your cart.  Just pick your design, decide how many people, and they will suggest what you will need!  Can't get any easier!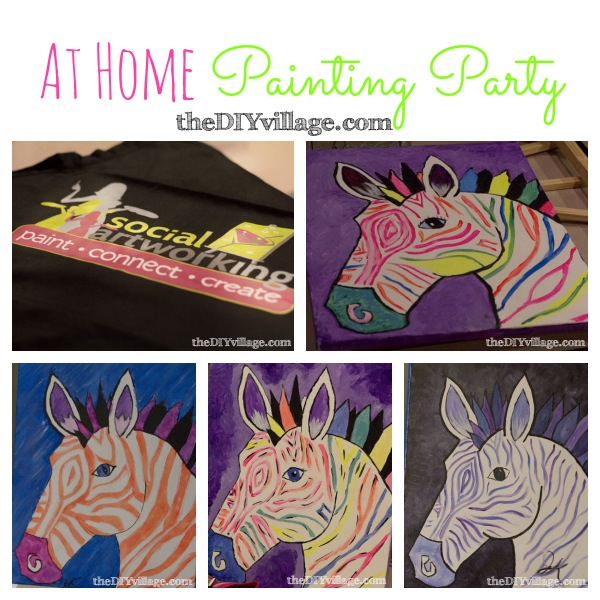 For other examples of at home painting party's check out Jocie with OPC's The Better Half's Peacock Painting Party and Keri with Shaken Together's Wine, Cheese, and Trees Painting Party.
Want to win your own painting party for 4?  Head over to Dreamsicle Sisters to enter to win!
*Disclosure – I was provided all of the materials for this painting party by DecoArt and Social Artworking.  All of the opinions are completely my own.*