As a member of the Lowe's Creative Ideas Handymen, for October's topic, I was challenged to complete a project involving a bathroom makeover.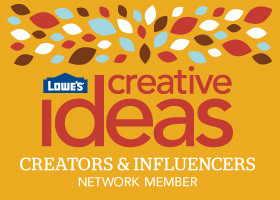 Our half bath is long, narrow  and has tall ceilings.  In hopes of breaking up the wall a bit, we previously added a few things (i.e. Decorative Shelf With Crown Molding and DIY Beadboard Picture Frames), but even then, the room still felt like it needed a refresh.  Here's a look at the bathroom before the makeover.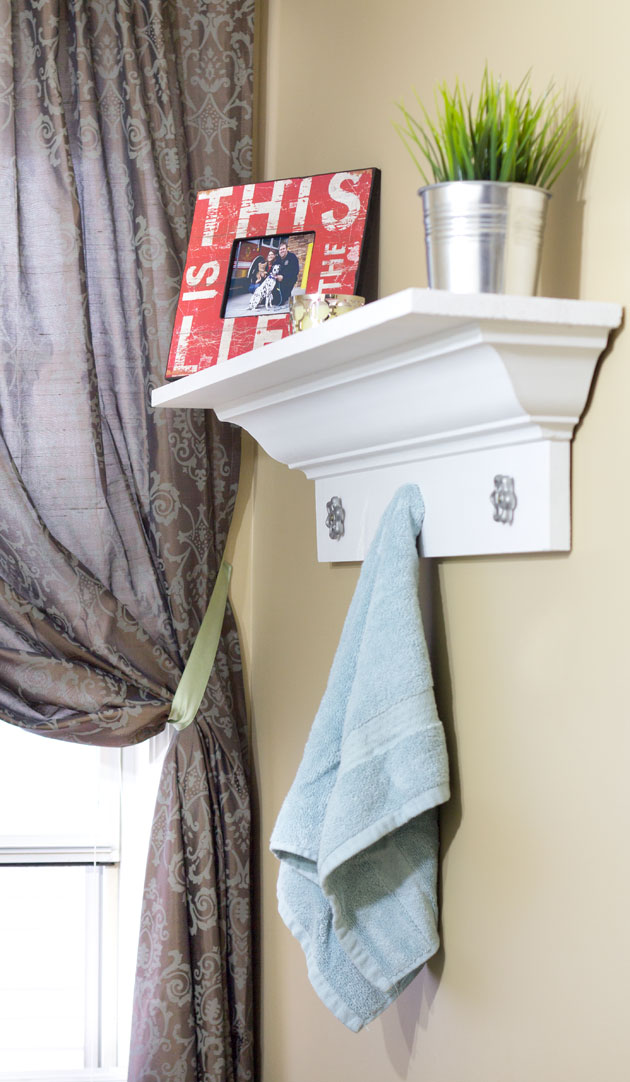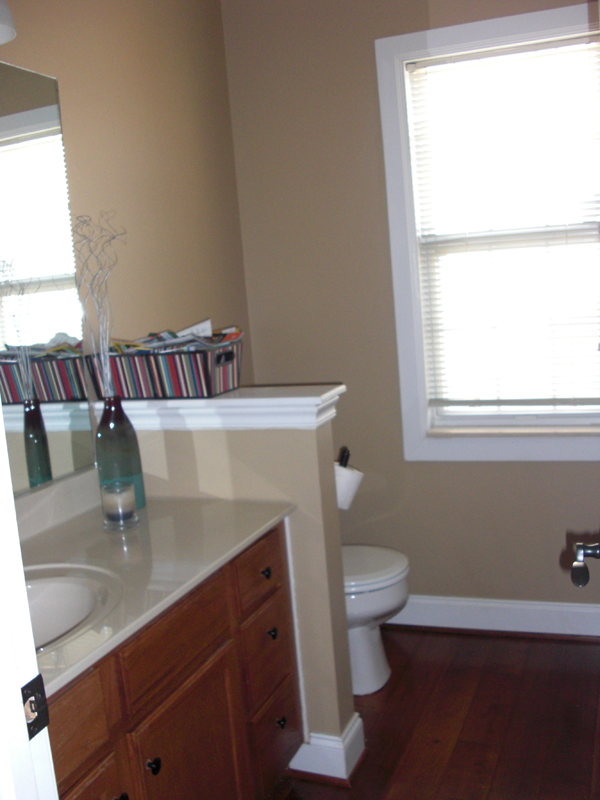 So after some brainstorming, we decided to try our hand at a board and batten wall! But that's not all!  We also decided that it was time to frame in the builder grade mirror with some decorative trim too!  Hey, some people go big or go home, we go big at home!
We made our way to Lowe's to get the materials we'd need for the bathroom makeover on a budget!  What we didn't know was that Lowe's offers a fantastic in-store service that can make your home DIY projects WAY easier! After talking with Alex, a super helpful Lowe's employee here in Knoxville, we learned that they've got a cutting service available in-store!  So, thanks to Alex, I was able to have all of the 1/4″ plywood for the board and batten wall, ripped down to 3″ strips before I even left the store.  And the best part about it….It was FREE!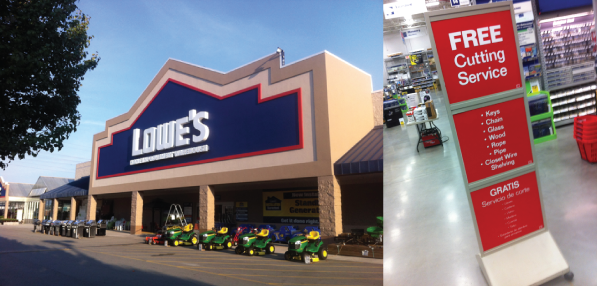 Once we made it home, we got right to it!  Using a stud finder and a pencil, we marked the existing studs on the wall.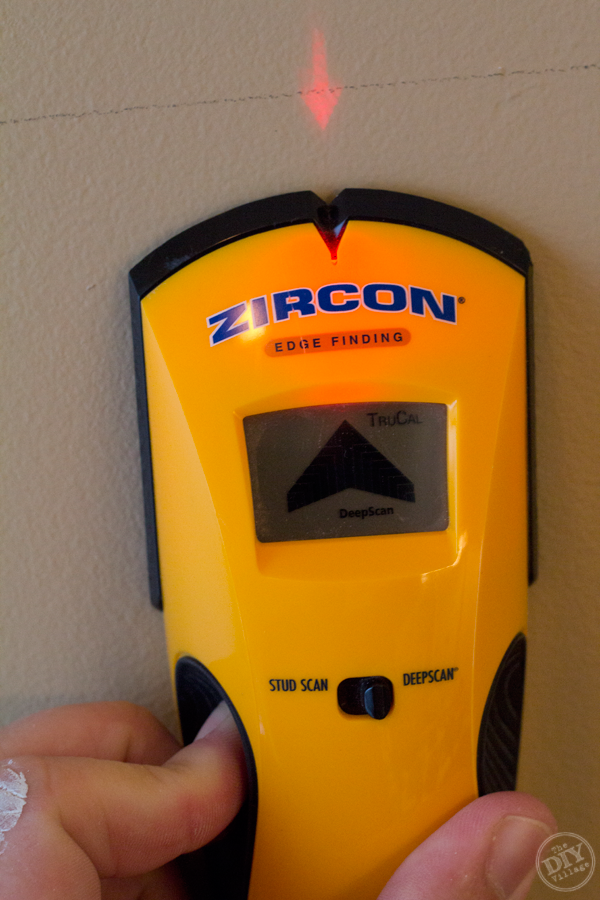 Since the plywood was already ripped, we cut the strips to length and started placing the horizontal strips.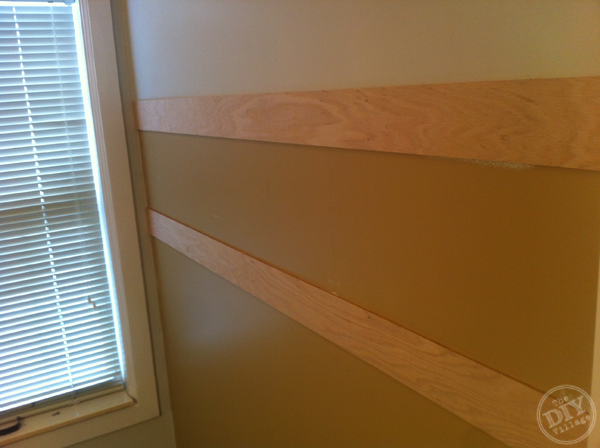 Then we continued with the vertical pieces, securing them to the wall using liquid nail adhesive and a nailer.  Any place that we could shoot a nail into an existing stud we did.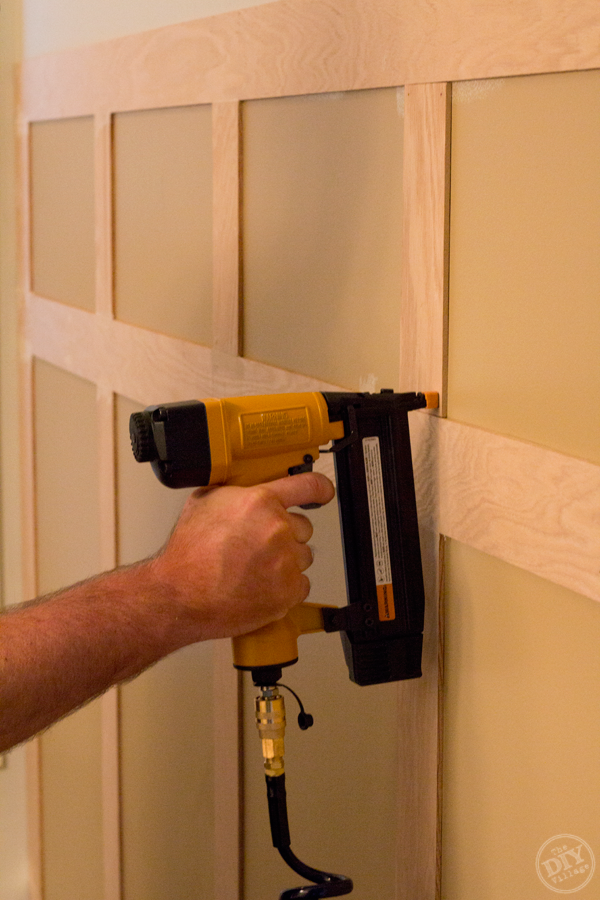 Next, we began filling nail holes and any place where two pieces of wood intersected with 3M wood filler.  It's super easy to use and is ready for sanding and painting pretty quickly.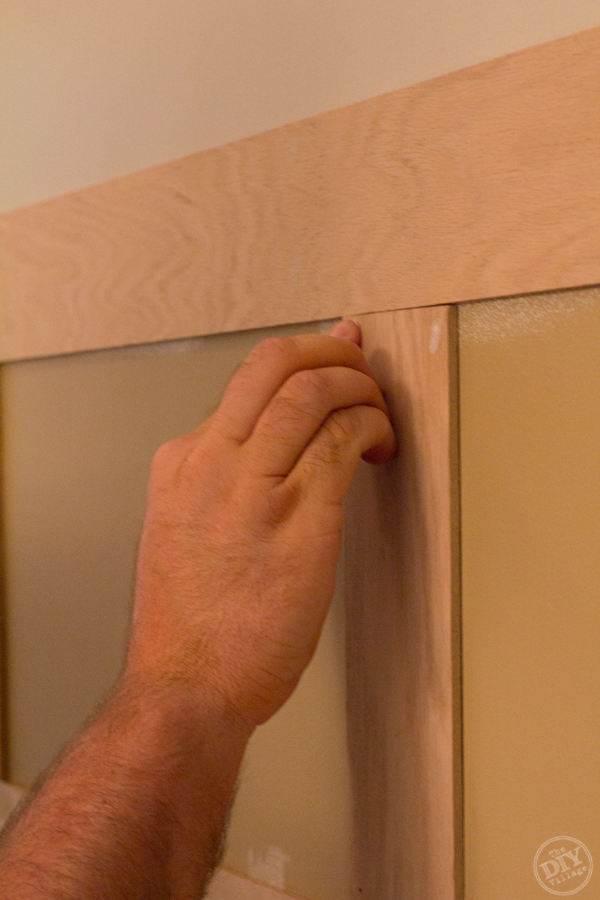 Using Valspar Paint + Primer, we began cutting in the area around the plywood strips.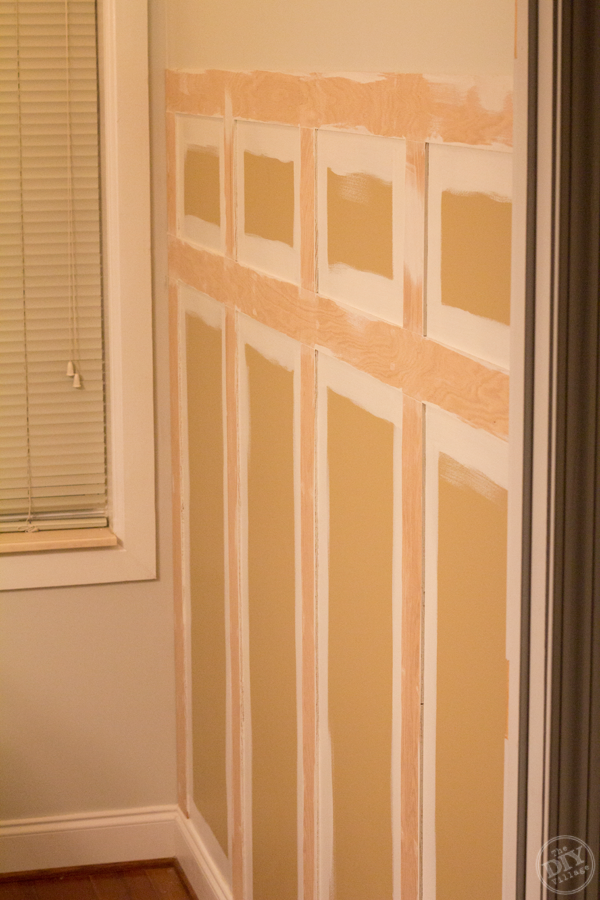 To finish off the board and batten wall, we added a 1×2 poplar cap to the top and caulked around the edges.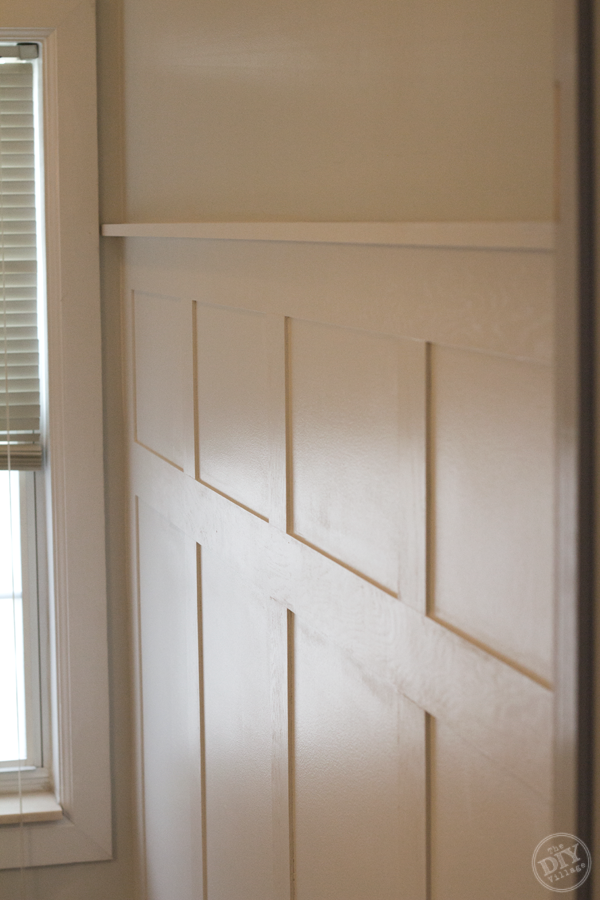 As for encasing the builder grade mirror, we purchased four Pine Rosette Molding Blocks to go at each corner.  We secured them in place using Loctite Mirror Adhesive.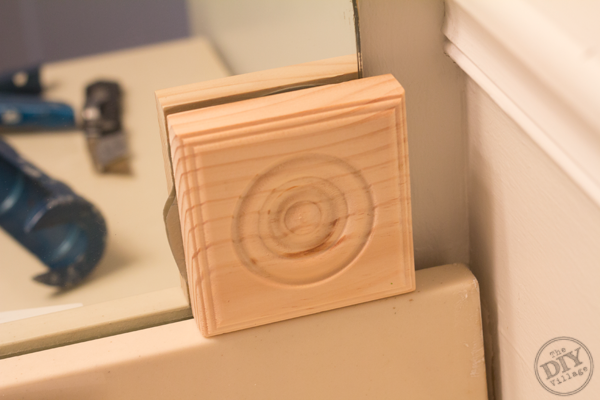 The rest was as simple as cutting the wood pieces to fit.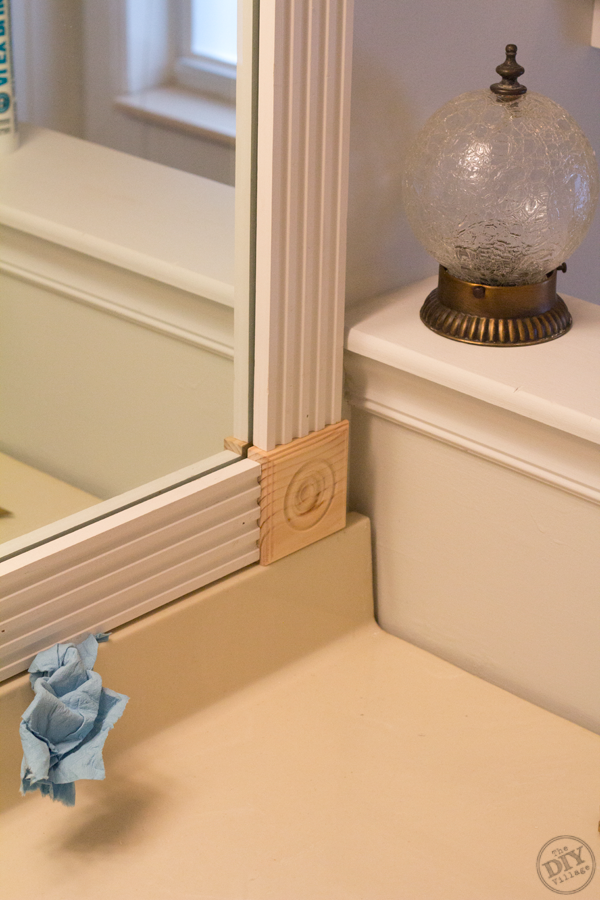 Until the adhesive had time to cure, we held the wood pieces in place using some ScotchBlue tape.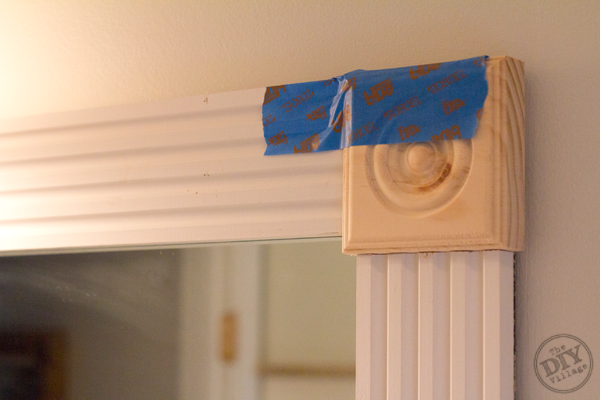 To finish off the mirror, we slapped some paint on the fluted molding and let it dry.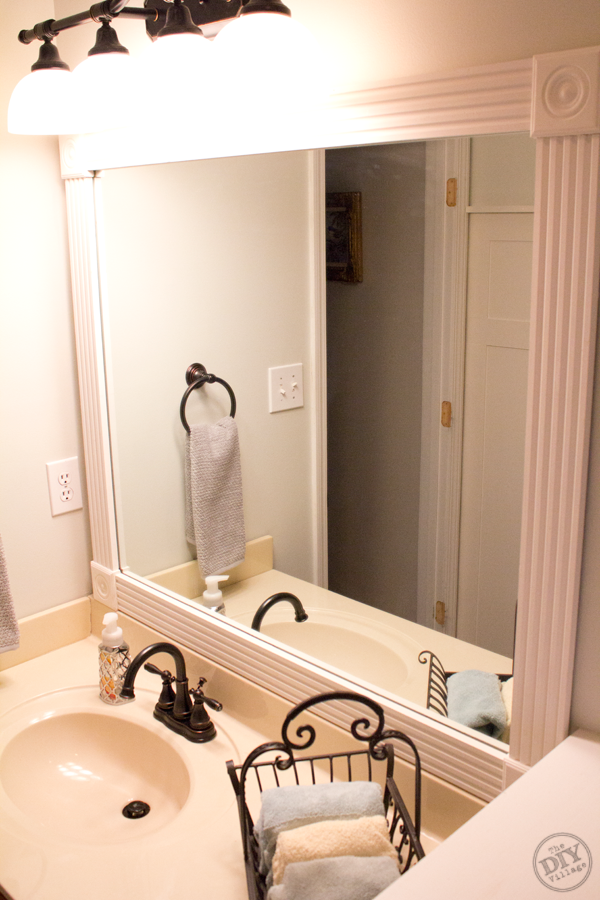 Then I turned the bathroom over to the talented one in the family, Jacque, and let her work her decor magic.  She added a couple of shelves above the toilet and found a new rug that fit the space a bit better.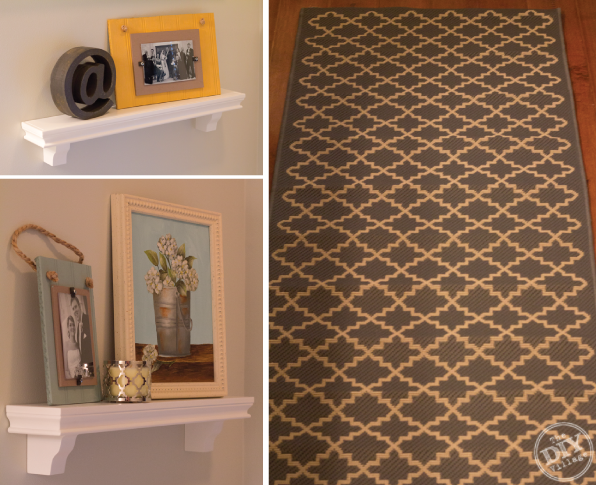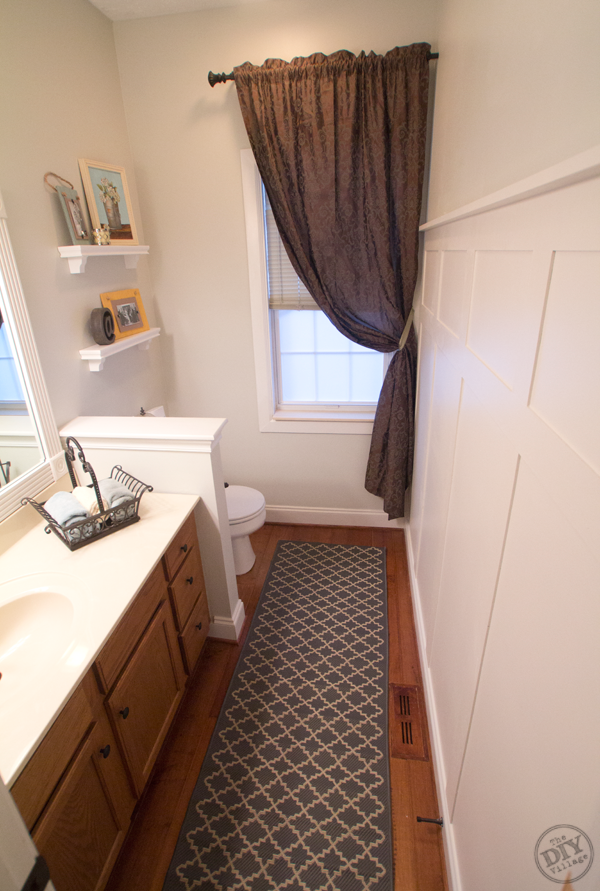 The keyword for this bathroom makeover was budget.  The materials  purchased to complete the board and batten wall, along with the framed mirror totaled under $80.  So with a fairly small budget, we were able to completely overhaul our half bath!
We'd love to see your budget friendly makeovers so make sure to leave a link below in the comment section!
If you're an iPad or iPhone user, be sure to download the Lowe's Creative Ideas App to see some unique seasonal project ideas!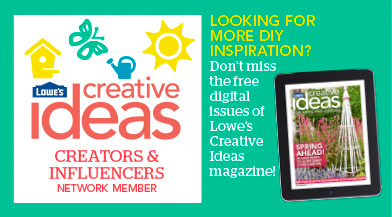 Also be sure to take a check out all of the amazing Lowe's Creators & Influencers for some great project tutorials!
Looking for even more inspiration?   Follow Lowe's Home Improvement on Pinterest, Facebook, and Instagram
Disclosure: As a Lowe's Creative Ideas Handyman, I was tasked to complete a project that involved a bathroom facelift.  I was provided a gift card to cover the cost of materials for my project, but I was not told what to write.  All the ideas and words found here within are my own
Sharing with: Thrifty Decor Chick