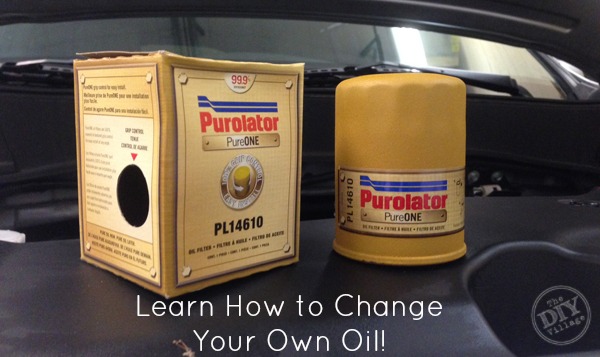 Car care can be intimidating. But it doesn't have to be.  Not all car care requires expensive parts and special tools.  Changing your own oil is not only one of the most basic forms of car care,  it's also one of the most important!  Oil lubricates the moving parts within your vehicles engine.  But oil doesn't just lubricate those parts, it also helps reduce the heat that comes from the friction of metal rubbing against metal.  Without the oil, those metal components would eventually heat up to the point where they could fuse together, essentially causing your engine to seize up.
So, we've identified that oil is an essential part of having a happy, healthy engine.  But, what most people overlook is the need for a quality oil filter to aid in keeping that essential oil in peak condition!  That's why, when we were approached with the opportunity to partner with Purolator and their #PurolatorKeepItPure campaign, we jumped at the opportunity!  We love the idea of spreading the word that the quality of the oil filter you choose for your vehicle is just as important as the oil!  (It was also an easy decision, as Jacque and I use Purolator PureOne oil filters in all of our vehicles, exclusively!)
Purolator has been in the oil filter business here in the USA for over 90 years.   Their first patented oil filtration system was dubbed Purolator, short for the term, Pure Oil Later.  That just goes to show that even back in the 1920′s, Purolator was dedicated to keeping it pure!  Their PureOne oil filter is so effective, it filters out microscopic contaminants and protects your engine with 99.9% efficiency!
Here's a look at the basics of changing your own oil!
Here are a few things that have helped make the Purolator PureOne filter stand out to me, in comparison to other filters I've used:
It's solid, durable construction
The anti-slip coating makes it easy to get a serious grip on the filter for installation and removal.
It has a silicone anti-drainback valve built into the filter that protects your engine from dry-start. (I've never experienced a dry-start, but knowing that Purolator is looking out for the performance of my car is just one more reason why I use their filters exclusively!)
When I started looking for a reliable, upgrade for my oil filter, Purolator's filters came highly recommended by multiple friends that make their living as mechanics.
If you've never tackled changing your own oil, don't fall victim to intimidation!  You can do it!  And then if you decide that car care isn't your cup of tea, do yourself a favor from here on out and pay attention to the quality of the oil AND the oil filter that you use.
Purolator offers some great resources along with a slew of other reliable car care products, so be sure to check them out!
"I was paid by Purolator to review for this post with Burst Media, all thoughts and opinions are my own. All products were provided by Purolator; however are items I genuinely believe in, use in my own car care, and feel are appropriate for my site"