I'll be the first to admit that I have failed miserably at regularly cleaning my grill. Don't get me wrong, I've occasionally given the grates a quick once over with a wire brush, but I never took the time to thoroughly clean it!  We're talking a few years of caked on grease, grime, and food residue….Appetizing, I know!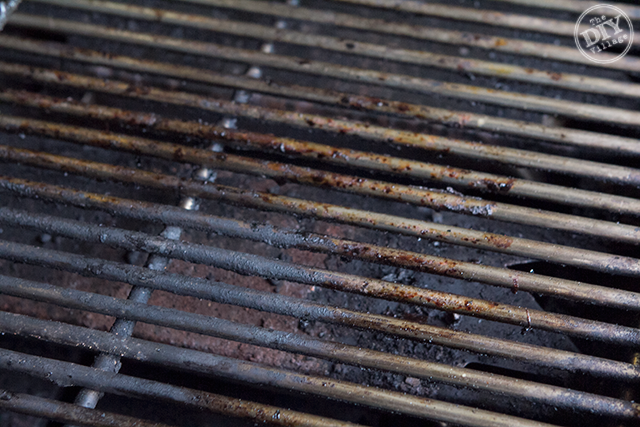 In any case, If you're a regular visitor here at the DIY Village, you know that we recently put the HomeRight Steam Machine to the test for removing 20 year old wallpaper.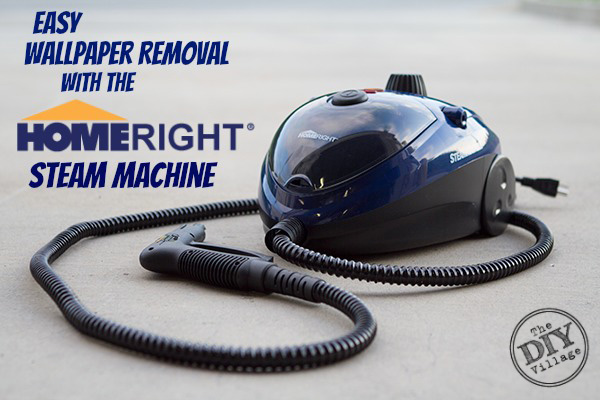 After seeing the incredible results and experiencing how easy the steam machine made that project, I figured I'd put it to the test on my dirty old grill!  Plus, with the ever growing desire to be more "green", I thought it would be a great way to show you a chemical free solution to cleaning your grill! (As a side note, don't miss out on a chance to win a HomeRight Steam Machine for your home!  Details can be found at the end of the post!)
First off, If you're not familiar with the HomeRight Steam Machine Multi-Purpose Power Steamer, let me give you a quick introduction!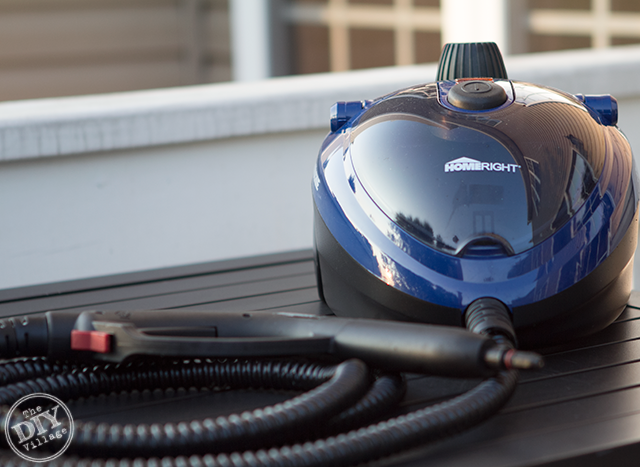 The Steam Machine is a high pressured steam cleaner that comes with a slew of attachments for taking on an impressive array of dirty jobs!  Whether you're removing wallpaper, cleaning your bathroom, or even cleaning your carpet, The Steam Machine is perfect for the homeowner who doesn't like using chemicals for cleaning.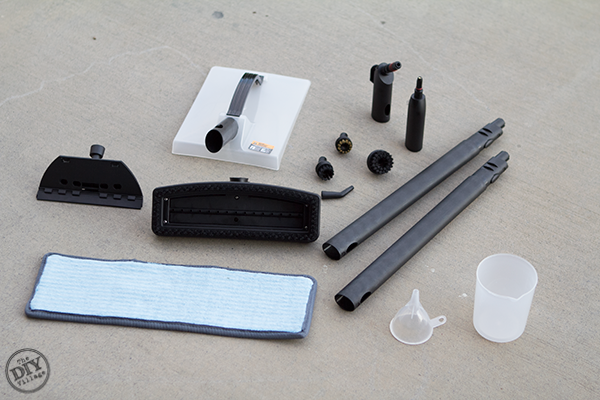 The water reservoir holds 40 ounces of water of steam cleaning and only takes about 6-8 minutes to heat to the proper temperature for cleaning use. Different jobs will call for different attachments, but the idea behind the steam machine is to clean, sanitize, and disinfect.
Here's a quick look at my grill before I began!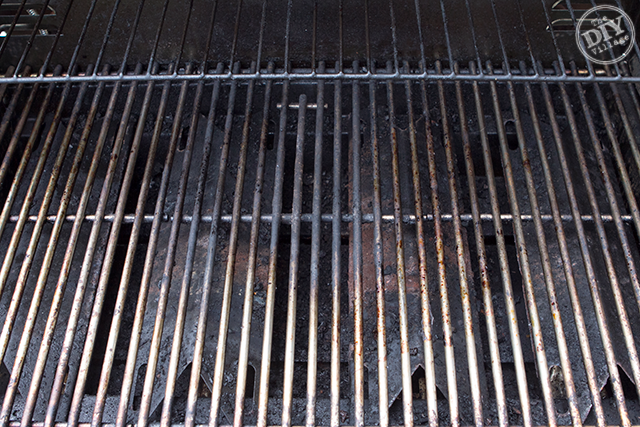 I started by working on small areas, applied steam and scrubbed using the wire brush attachment.  After just a few seconds, I could see a noticeable difference.  I was AMAZED at how quickly the grate was coming clean!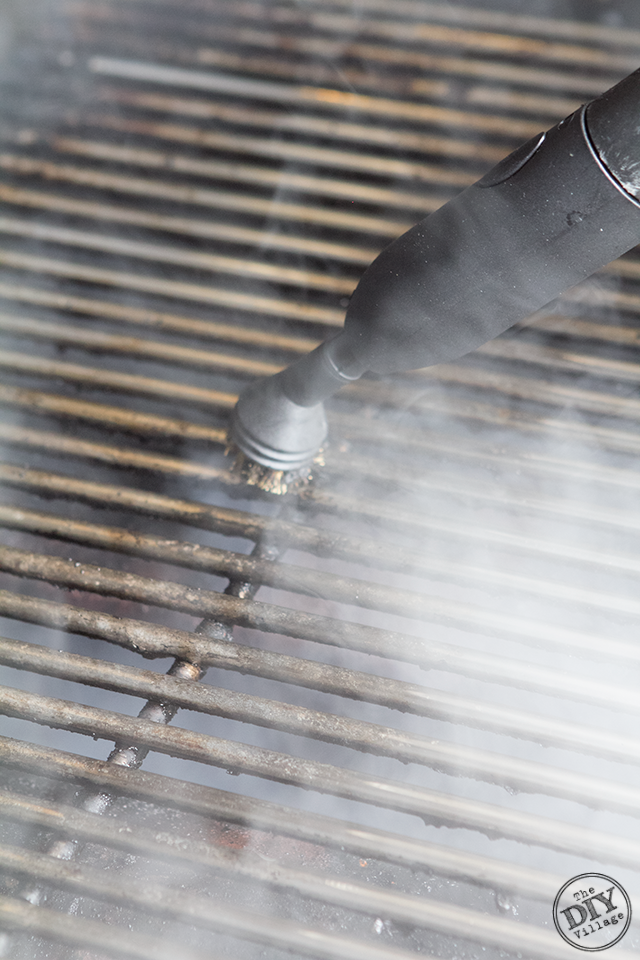 The wire brush attachment worked really well, but given that I had a lot of area to cover, I switched to a larger wire brush and knocked out a much larger section!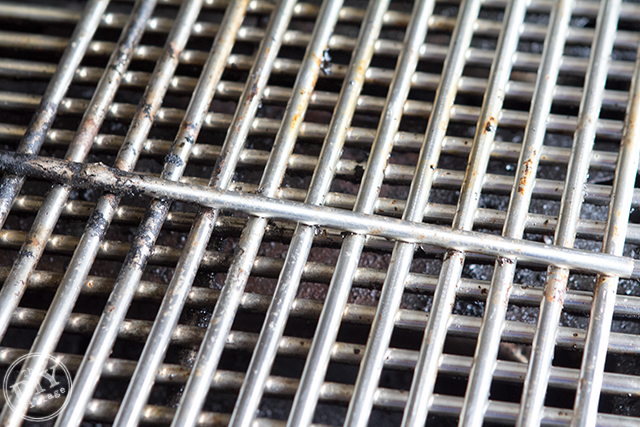 With the grill grates regaining their new luster, I switched gears and focused on the burner covers!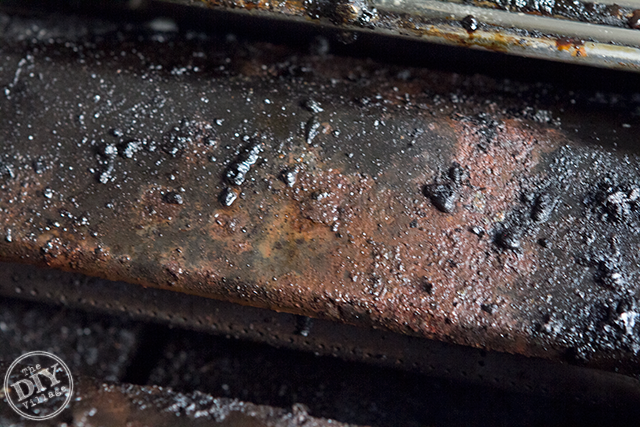 Aside from some oxidation to the metal, the steam made cleaning the burner covers a breeze!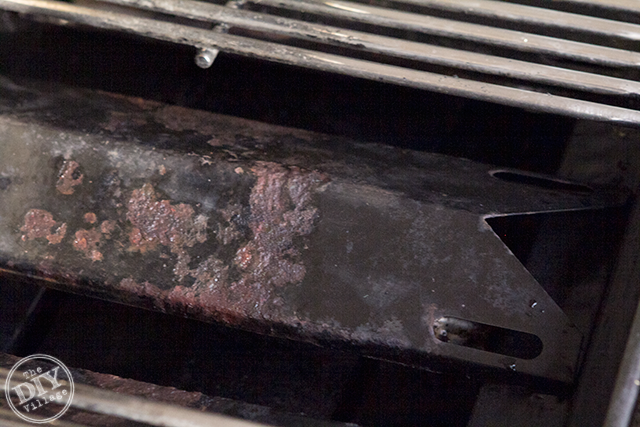 As for how messy it was to clean with, there was actually very little runoff.  I emptied the catch tray three times during the entire cleanup process. I'll even share a little behind the scenes note with you!  While I was cleaning the grill, it started raining, and instead of holding off, I actually brought the grill inside. Jacque normally wouldn't let something like this fly, but, since I wasn't using or producing any harmful chemicals, plus I wasn't making a mess, she allowed me to stay in!
When it was all said and done, the grill looked amazing!  And the best part about it, I was able to clean it without the use of any chemicals!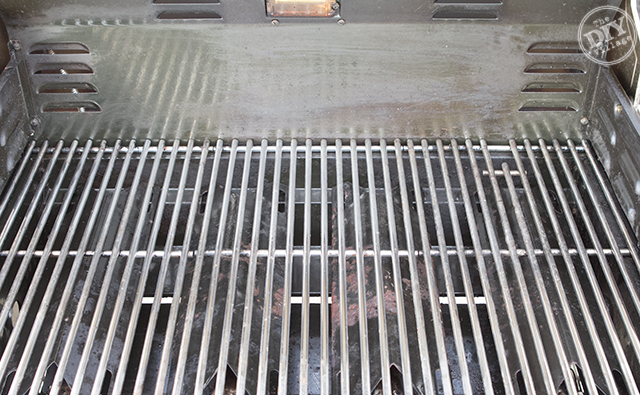 With two projects under my belt now, I'm intrigued to see what else the HomeRight Steam Machine will help me tackle!
Now for what you've all been waiting for!  As HomeRight Brand Ambassadors we are STOKED to offer you a chance to win a HomeRight SteamMachine of your own!

Disclaimer: We have been compensated for the content found here within, however, we have not been instructed or directed in what we write.  All of the ideas and opinions found within this post are our own.