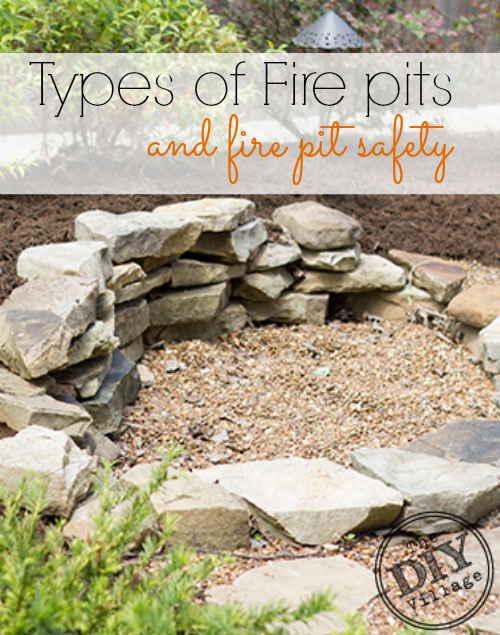 Let's talk fire pits!  Over the last 10-15 years fire pits have become one of the most requested additions for outdoor living spaces.  Homeowners love the idea of having a space to relax and spend time with family, all the while staying nice and cozy amidst the cool fall air!  As a Lowe's Creative Handyman, I thought this would be a great time of year to share some different types of fire pits for those of you who may be looking to add one to your outdoor living space!   
Custom Fire Pit – When working a fire pit into your existing landscaping, you may have to think outside the box in terms of fire pit design and construction.  Jacque and I created an oval shaped fire pit using rough stacked stone and helped secure it in place by backfilling with dirt.  This style of fire pit takes a bit longer to plan out and depending on the materials used, could be a bit more expensive, but as we were fitting the fire pit into our already existing landscape design, we had no other choice, than to go custom!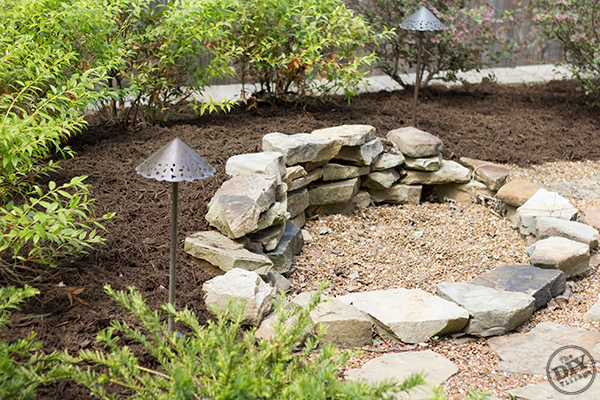 Fire Pit Kit (Wood Burning) – These kits are DIY friendly and cost effective!  They include all of the materials you'd need to build a very professional looking fire pit.  This particular model available at Lowe's uses precut flagstone as the stone surround and has a black metal fire ring that rests atop of the stones.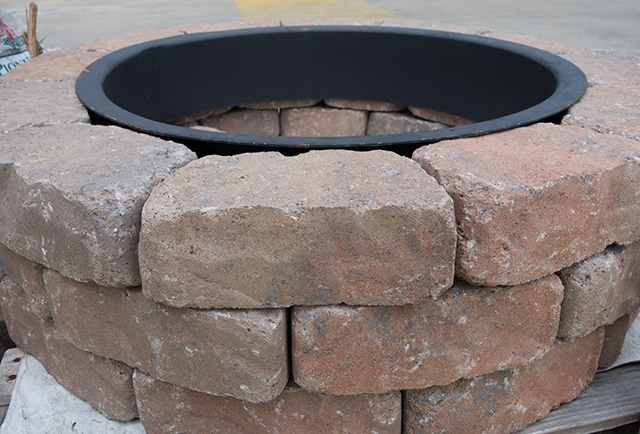 What's nice about these is that nothing is left to chance. With the included and precut materials, there won't be any need for guessing how many stones you'll need, or how big a space you'll need to prep!
Sometimes the kits don't exactly meet your needs, as was the case for our friend, Ellora, from Creatively Southern.  She has a beautiful stamped concrete patio and she needed a fire pit that wouldn't allow for any direct heat contact to the patio.  So with her quick thinking she loaded up the family and made her way to Lowe's where she essentially made her own kit!  She purchased a free standing fire pit with a bowl top, enough stones for her border,  and built a custom fire pit kit!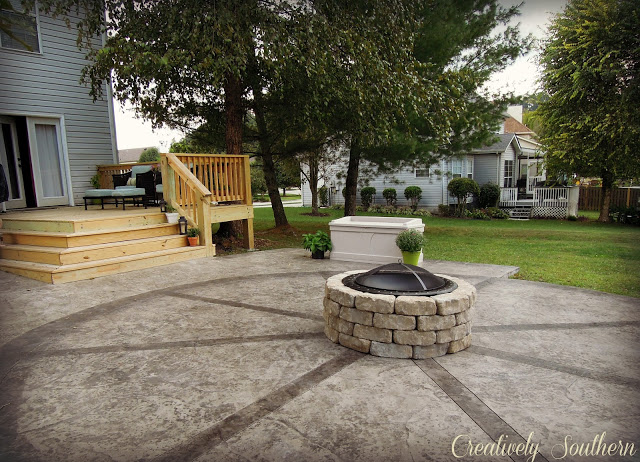 Free Standing Fire Pit (Wood Burning) – Free standing fire pits are convenient because they can be installed on an existing patio or landscaped area.  They are generally less expensive options and are great alternatives if you don't have space for a dedicated fire pit.  Here are a few examples of freestanding fire pits.
Chiminea-  Commonly made of terra cotta or metal, their tall slender design allows the smoke to be vented up the chimney, drawing it away from the users!  Because of the closed off container, you won't be building huge fires in a chiminea, but its heat will definitely help knock the chill off!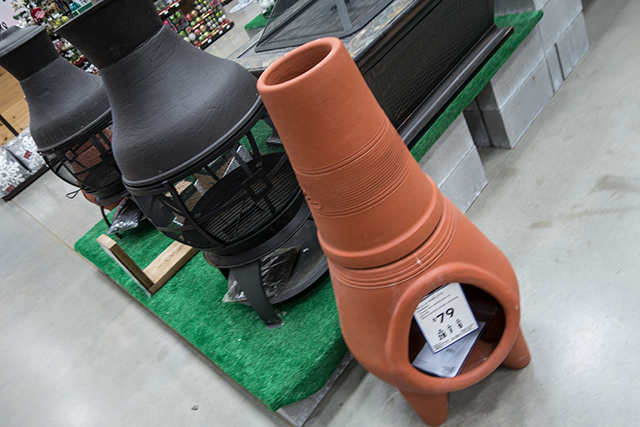 Fire Table- These fire pits come in a number of different designs, but a majority of them are fire bowls that sit on top of a stand.  They are great non-stationary fire pits.  Jacque and I used to have one that we'd use on Halloween out in our driveway while we were handing out candy, then afterwards we'd move it back into our backyard.  These are generally inexpensive and are great options for anyone who's never had a fire pit before!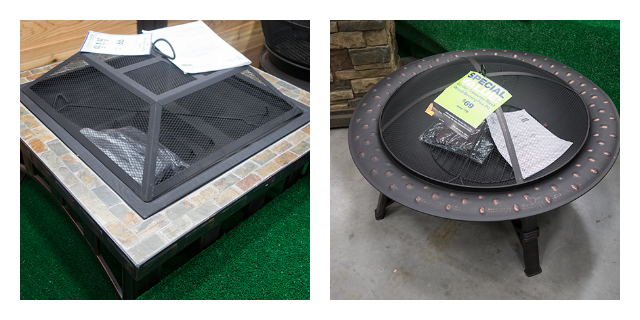 Propane Fire Pit– As the name infers, propane fire pits use propane as their fuel source.  They can be a bit more expensive to use than their wood burning siblings, but there are definitely some benefits to using them.  First off, there's no ash debris to have to clean up!  Secondly, when you've had enough fire for the evening, you can simply turn off the regulator and close the tank, there's no waiting for the wood to completely burn or to spread ashes and pour water onto them.  And lastly, you can enjoy the warmth and light of the fire without smelling like a smoke stack!  
Here's a look at a few of my favorite propane fire pits!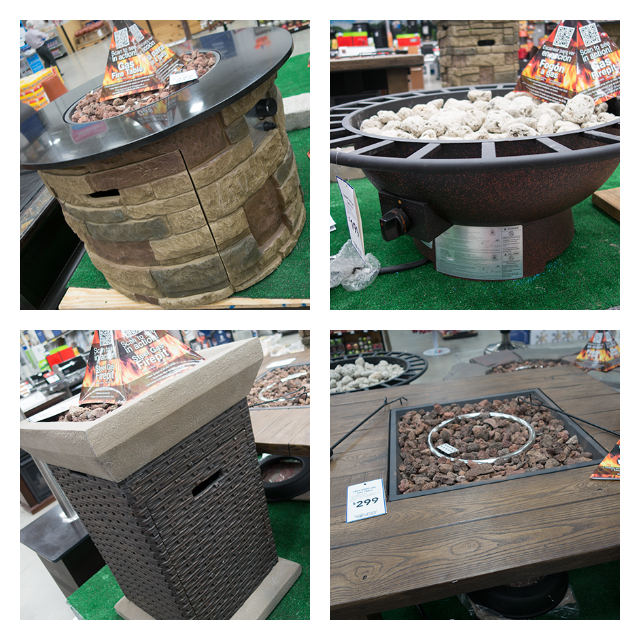 This is the newest addition to The DIY Village Fire Pit cache!  It's a portable propane fire pit! We'll be using this from now on for our Halloween warmth, but this year, we won't end up smelling like smoke at the end of the night!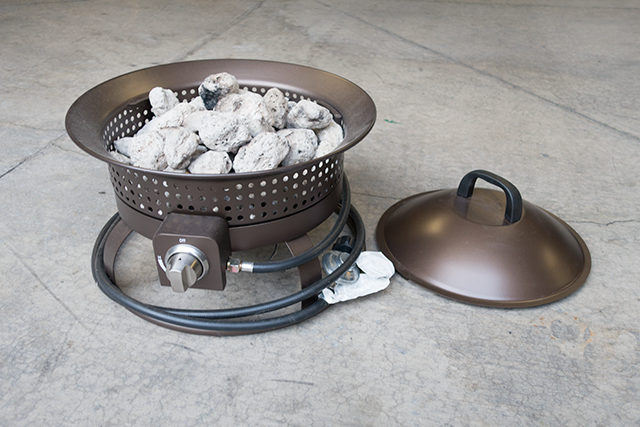 Okay, now that we've taken a look at a number of different types of fire pits, let's talk fire pit safety!
Some of  you may not know this, but outside of the blogging world, I am a career firefighter, so the subject of fire safety is something I'm SUPER passionate about!  When we talk fire safety at the firehouse, we look at two different subjects, life safety and property conservation.  These tips are based on keeping those two topics the priority in fire safety.
Check with your local fire department for restrictions regarding outdoor fires in fire pits.  (Some may require permits or only allow burning during certain months)
Supervise children around any outdoor fire.  (Don't forget a lot of these fire pits have metal components that conduct heat.  Also be sure to limit any child's exposure to smoke, their respiratory systems are still developing and they breathe more air per pound of body weight than adults.)
Avoid burning on windy, dry days. When conditions are windy and dry, it's easy for fires to spread out of control on
When lighting a fire, never use gasoline or other flammable/combustible liquids.
Keep fire pits a minimum of 10 ft away from any structure or flammable material, including overhead limbs.
When burning, ALWAYS have a source of water or shovel and dirt for extinguishment in the case of fire spread.
Never leave a fire unattended.
Make sure that the fire is completely extinguished before leaving.
Just follow a few simple safety tips and you and your family should have a warm and safe fall!
Thanks to Lowe's for their continued support in having us as members of their Lowe's Creative Ideas bloggers!  For more tips and inspiration for enhancing your outdoor living space, be sure to check out what the rest of the amazing DIY experts with the Lowe's Creators & Influencer have come up with!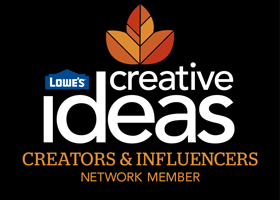 If you're an iPad or iPhone user, be sure to download the Lowe's Creative Ideas App to see some unique seasonal project ideas!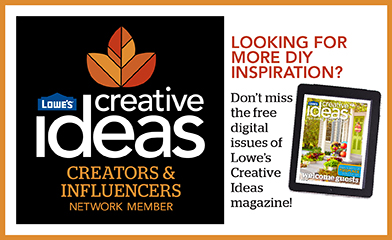 And if you need even more inspiration, follow Lowe's Home Improvement on Pinterest, Facebook, and Instagram
Disclosure: As a Lowe's Creative Ideas Handyman, I was provided a gift card to cover the cost of materials for my project, but I was not told what to write.  All the ideas and words found here within are honest and my own!