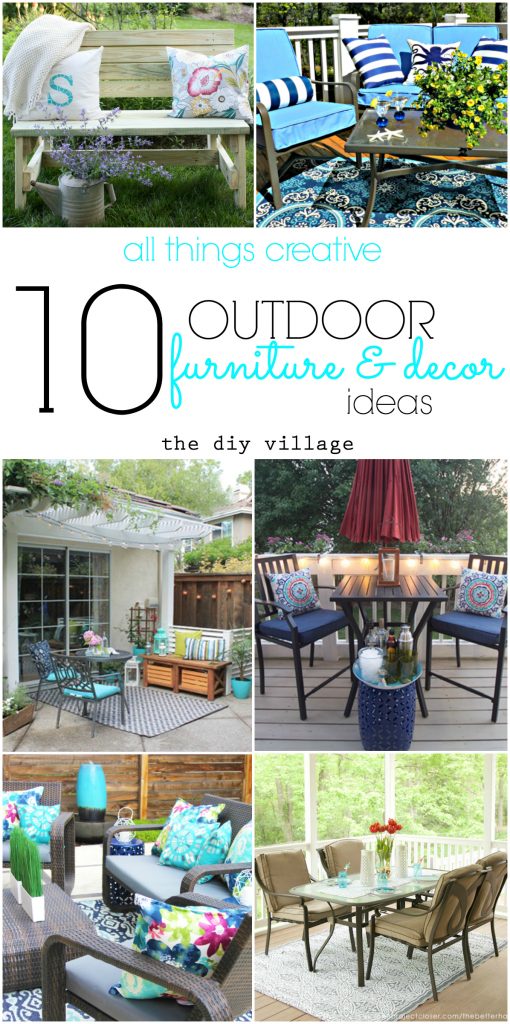 Somehow May is almost over.  Wasn't it just February?  In all honesty I am thrilled it's not February anymore and that we are able to get outside with the kids, soak up some vitamin D and enjoy the beautiful spring weather.  This month at All Things Creative we are helping bring in the outdoor season with 10 creative ideas for outdoor furniture and decor.
We recently, by we I mean Matt, removed a Bradford Pear from our backyard.  That brings our bleh tree total to one. It also will allow for the other trees in our yard to flourish since they won't be blocked by the sun any longer.  I can't wait to see my Crapemyrtle and Willow Oak fill in and thrive.  Another perk of having one less giant tree in our smallish backyard is our grass will finally dry out and GROW!  I think this is a mixed bag for Matt but the reality is the kids can spend more time playing in the backyard.  A total win!
We have a little bit of work to complete before the yard is ready to go 100% but for now we will sit on our petite deck and enjoy more amazing sunsets dreaming of new outdoor furniture and decor.  Even more so after searching this collection.  I need a yard at least 5x's the size of our current one because I want all of these spaces!
| | |
| --- | --- |
| | |
| | Outdoor Bench from 2x4s |
| | 10 Minute Porch Makeover |
| | |
| | |