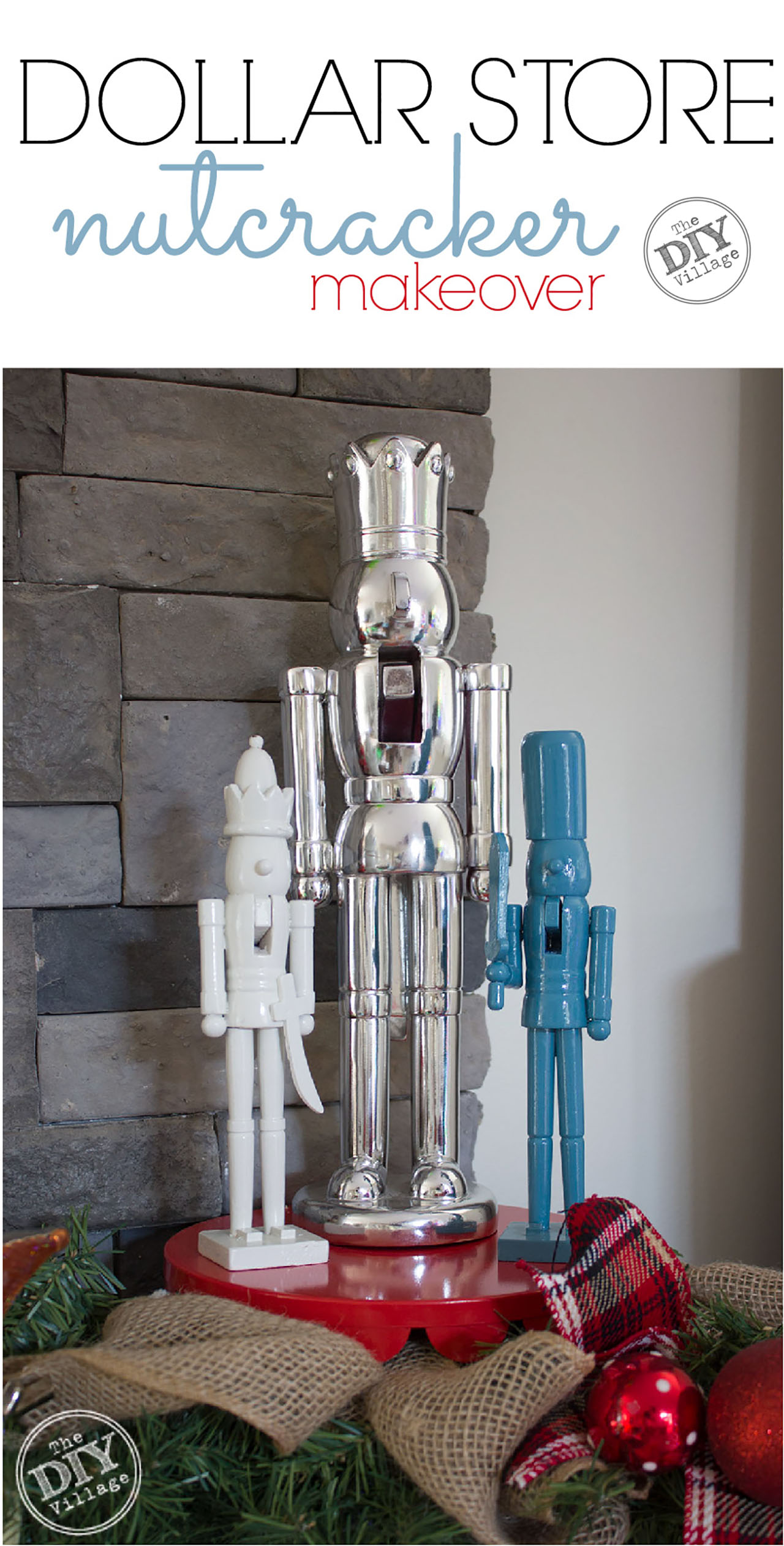 When my grandmother passed away Matt and I inherited a lot of her Christmas decorations.  Including two large nutcrackers.  They stand about 2′ tall, and are very pretty.
While searching the net I came across these beautiful white Nutcrackers by West Elm.
I'm pretty sure my eyes lit up, "I want to do that to my grandmothers nutcrackers!" Matt – "No way, don't even think about it".
In true fashion it took him about 2.5 seconds to say, No.  Love him.
Fast forward a few weeks and a quick visit to Target and I see these beauties!
Obviously still thinking about this idea… hehe
I asked again and once again got vetoed.
That was until I was at the Dollar Tree and came across the plethora of nutcrackers.
Granted they are about 8″ tall, they are only $ 1.00 each, they are not my grandmothers, and there was no way Matt would veto me painting these lil guys!
So I bought three.  
(I'm incapable of buying just one of anything I like pairs and groupings)
Aren't they cute?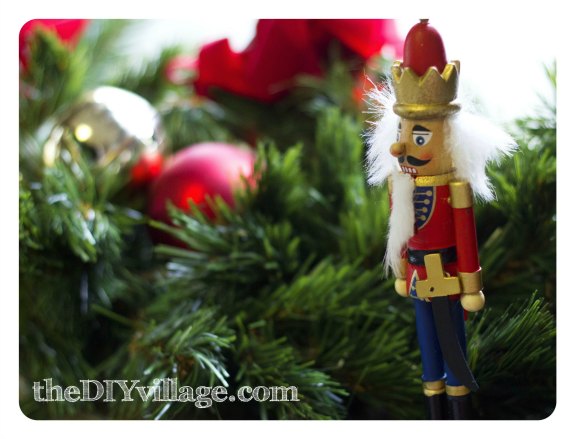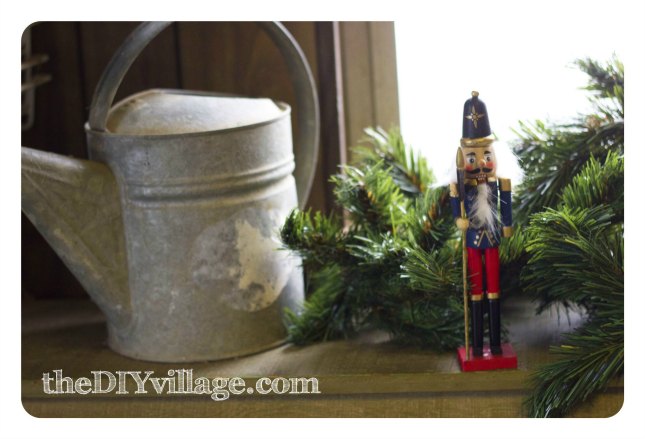 Apparently I did not look at this guy closely when I was picking him out because he is indeed missing a hand …
Whomp Whomp Whomp!
Moving on!
Before painting your nutcrackers remove their hair and beards.  I chose a spray paint with a primer in it thinking that would give me a better coverage.  In theory this was a great idea, what I did was underestimate the ability of the red on the $1.00 nutcracker to bleed.  I never thought I was going to get that red covered! 3 coats later I forged on to the Gloss top coat. (found HERE)
Are you ready?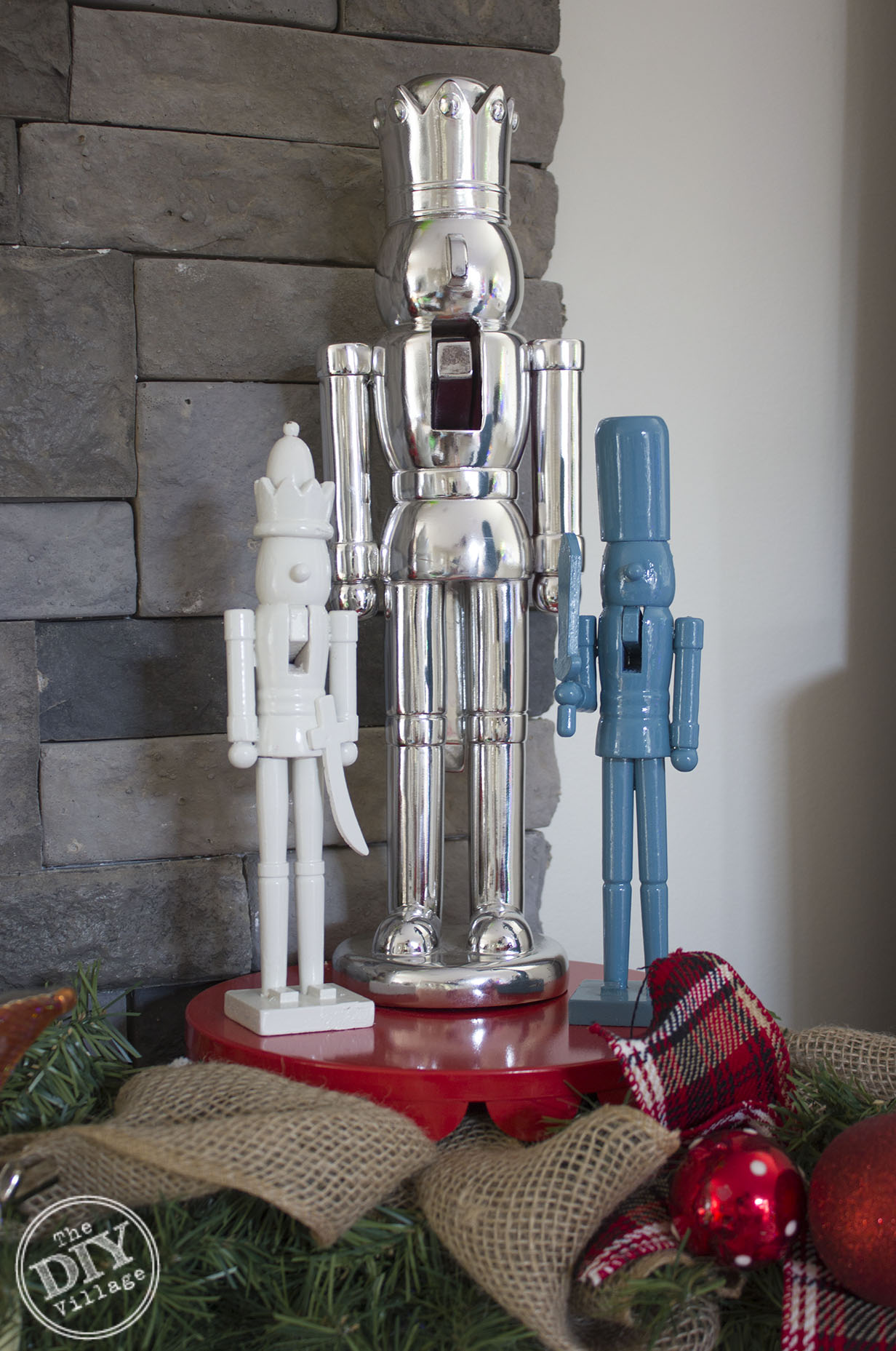 The blue nutcracker makeover consisted of Bahama Sea spray paint by Krylon. (found HERE)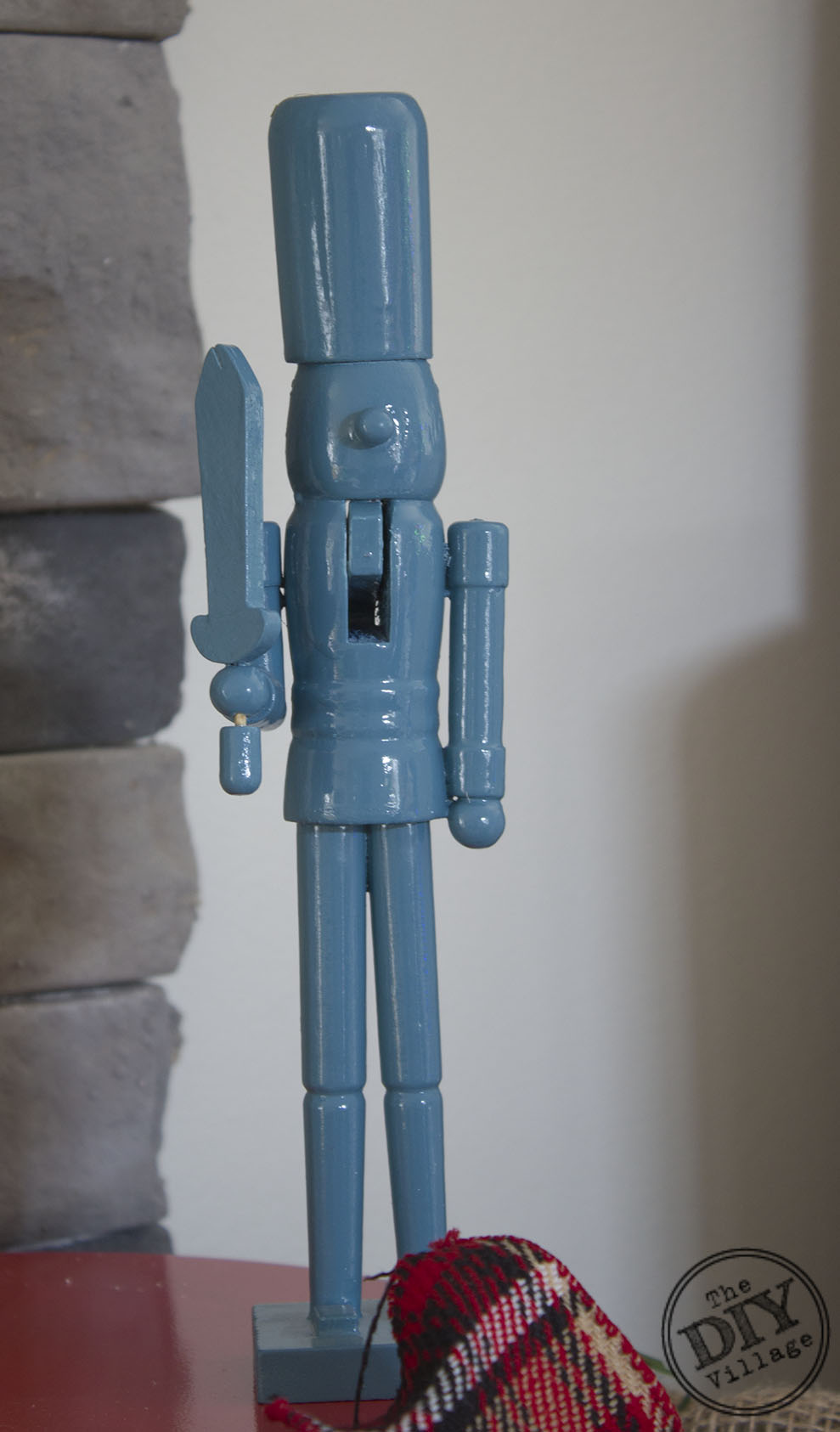 This nutcracker was a little more difficult to cover.  He got SIX coats of White w/ Primer by Krylon. (found HERE)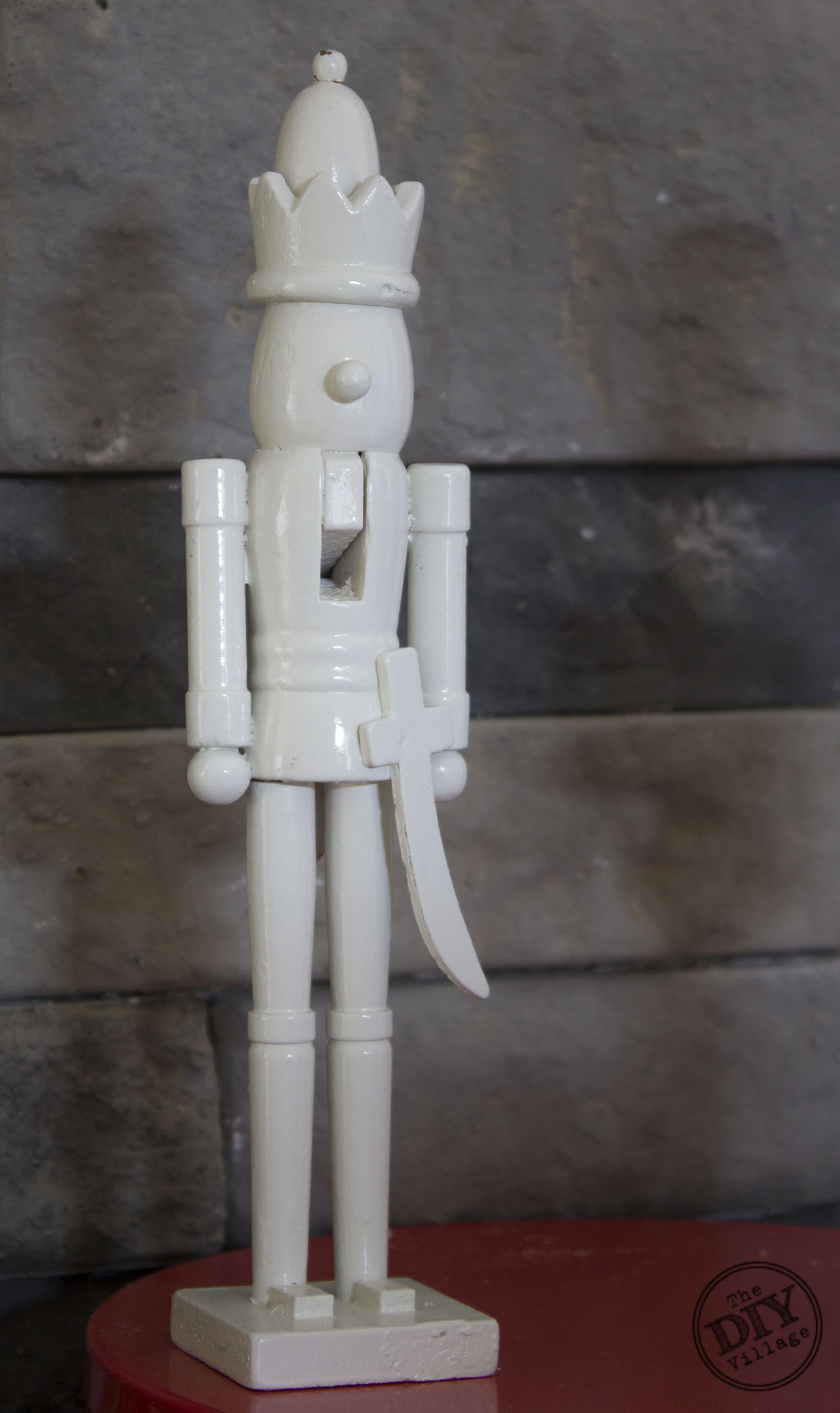 And last but most certainly not least our special friend; he got a bright coat of Colonial Red! (found HERE)
I was trying to distract people from his missing hand … poor guy!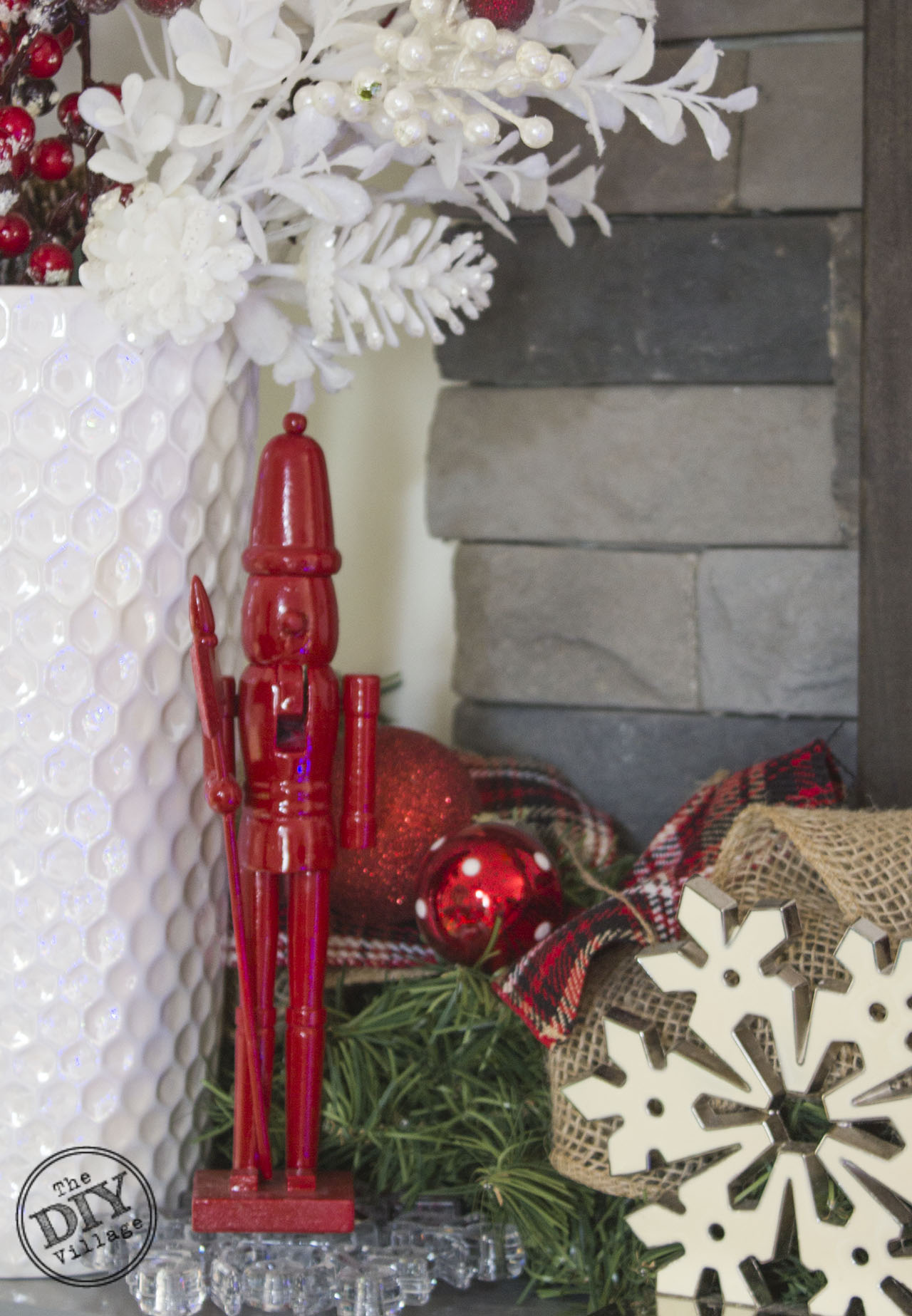 I think these Nutcrackers are a great addition to anyone's Christmas Decor. Total cost for this project was a whopping $ 3.28.  I used spray paints I already had at home, talk about thrifty!
But wait!
We have more Dollar Store craft ideas for you from the Dollar Store Design Squad!  You don't want to miss these creative ideas!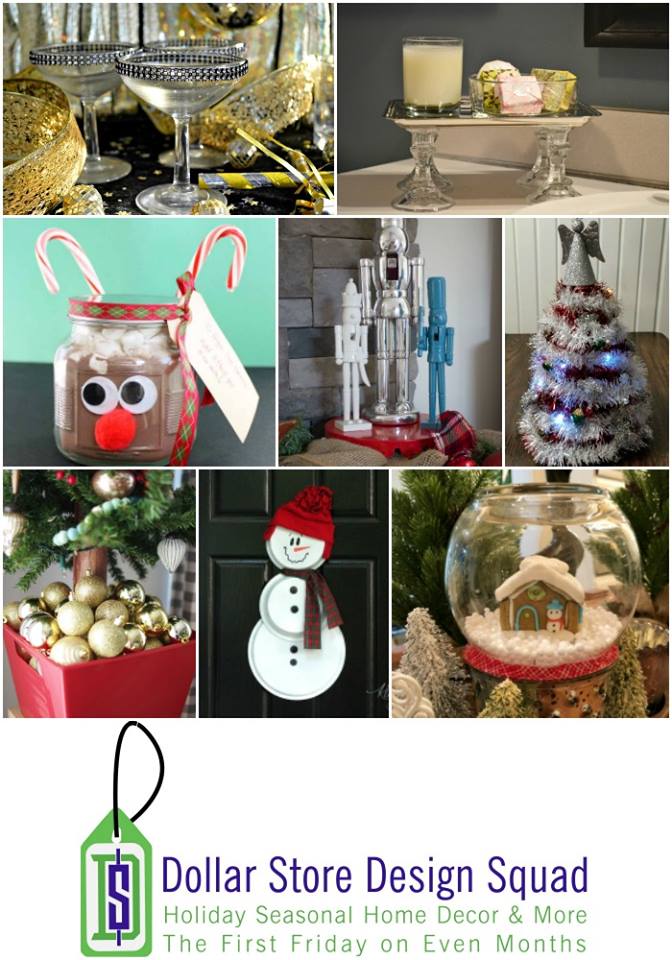 Dollar Store New Year Eve's Decorations Mad In Crafts
Dollar Store Bathroom Tray The DIY Bungalow
Hot Chocolate In a Jar Gift Idea The Country Chic Cottage
Dollar Store Nutcracker Makeover The DIY Village
Dollar Store Garland Christmas Tree My Repurposed Life
Dollar Store Christmas Tree Base Idea Create and Babble
Pie Plate and Pizza Pan Snowman The Kim Six Fix
Gingerbread House Snow Globe Refresh Restyle