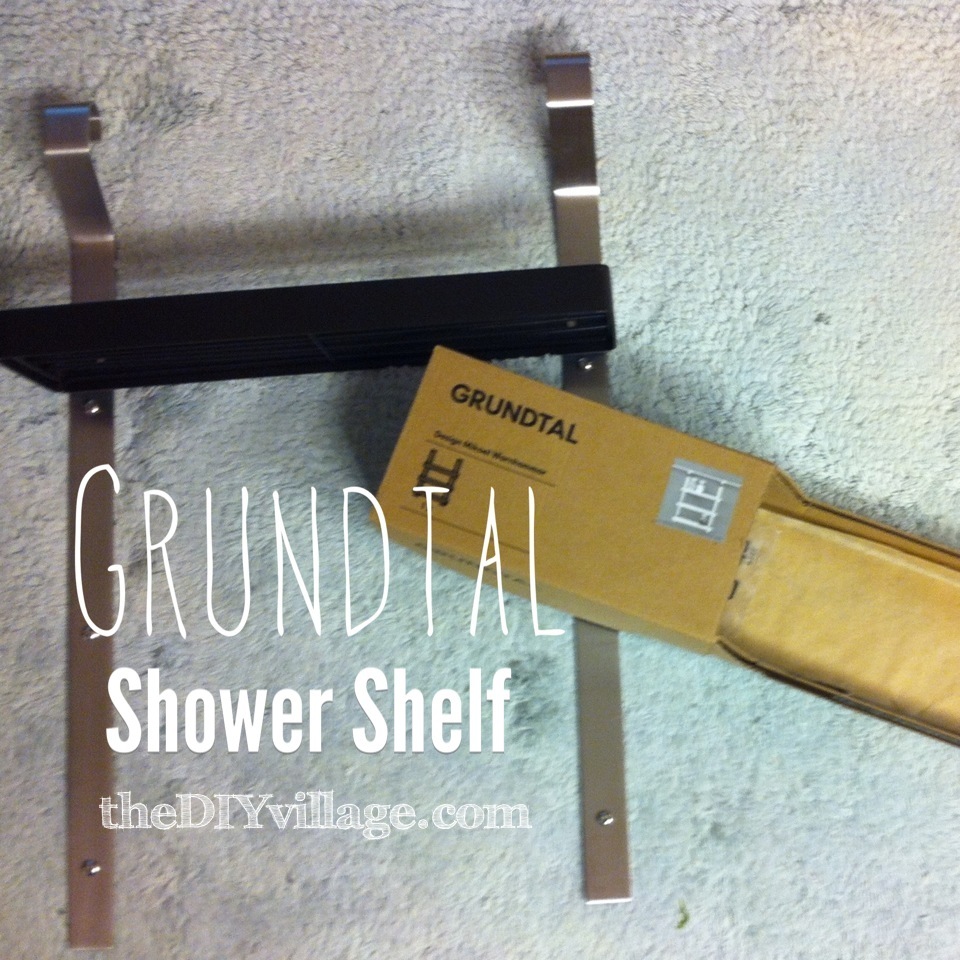 When we bought our home we could not believe the size of the Master bathroom.  Now granted we were moving from a 1500 sq ft condo with a tiny master bathroom and our new bath has a massive amount of wasted space, but this bad boy is huge!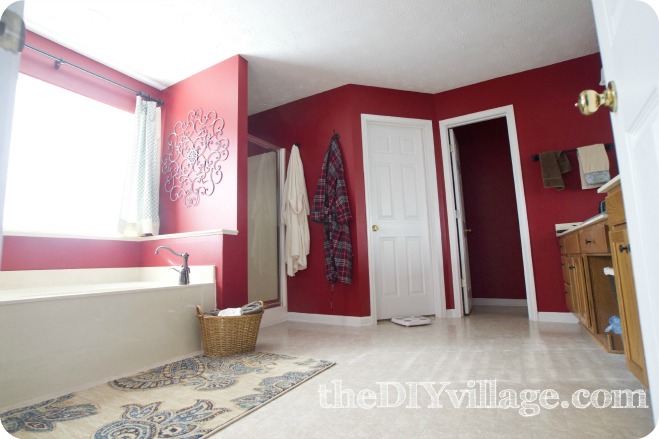 There is a huge jacuzzi tub (Don't you just love the kitchen sink faucet the previous owners installed?)
10′ long vanity with two sinks,
two large walk in closets,
a separate water closet,
and a wide open space for Fenway to play with his toys
(the rug in front of the bathtub is 3×5 if that gives you an idea of the size of this room).
And then finally in this HUGE room, back in a corner it sits …
Our builder grade 32″ x 32″ shower stall.
While I know this is more common than not in most homes it is still very annoying.
The worst part of this crappy shower is that there is absolutely NO storage space for my toiletries.
This is what my and most showers look like …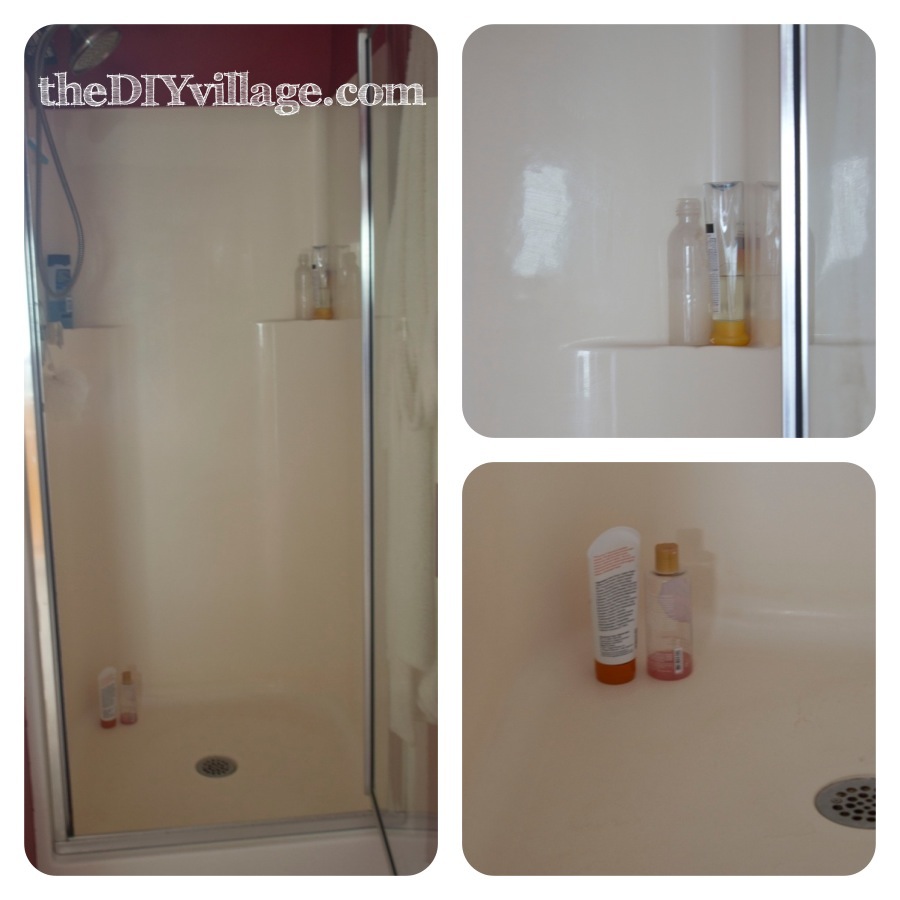 Items perched on ledges hardly large enough for a razor not to mention shower items for two people … so then you just move on to the floor.
I mean it's not like you will ever kick anything over in this massive space, right? (Insert eye roll HERE)
We needed a solution to this problem so I started searching online for shower shelves.
After searching ' shower shelf ' for  weeks I was feeling very discouraged our options were limited to tension rod type structures, suction holders that Matt would most likely knock down with his 6'5″ wing span, and teak shelves.
While the teak shelves were very tempting the price associated with them were not!
You might be asking yourself, "Why didn't they just get a shower caddy that hangs over the shower head?"  Well just so you know we have one tired it and it wouldn't work with our shower head set up. And the ones they make that do work with it are close to $ 100.00 umm yeah pass … Moving on!
Another issue were the sizes of the  shower shelves we found they were too long!  We wanted something that would go on each side of our shower head.
While on a trip to Atlanta we hit up the IKEA (big shock). 
I found the GRUNDTAL hanging system for kitchens.  This particular kit had three wire stainless steel shelves with bars to hook them to the GRUNDTAL system.
The shelves were the perfect size, had slotted openings so water could drain off, and even had holes drilled so they could be attached to the wall.  And the price couldn't be beat at 15 bucks for 3 shower shelves.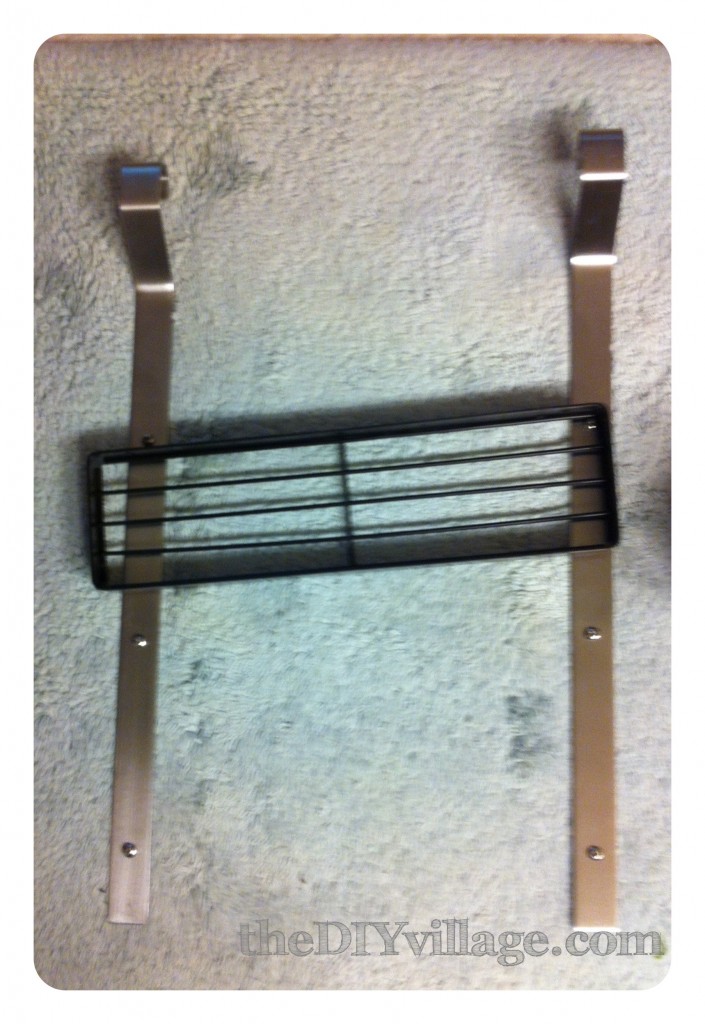 Before we hung the first shower shelf I sanded them lightly and spray painted them with oil rubbed bronze paint to match the existing hardware in the bathroom (they don't currently match the shower head but we will be changing that out).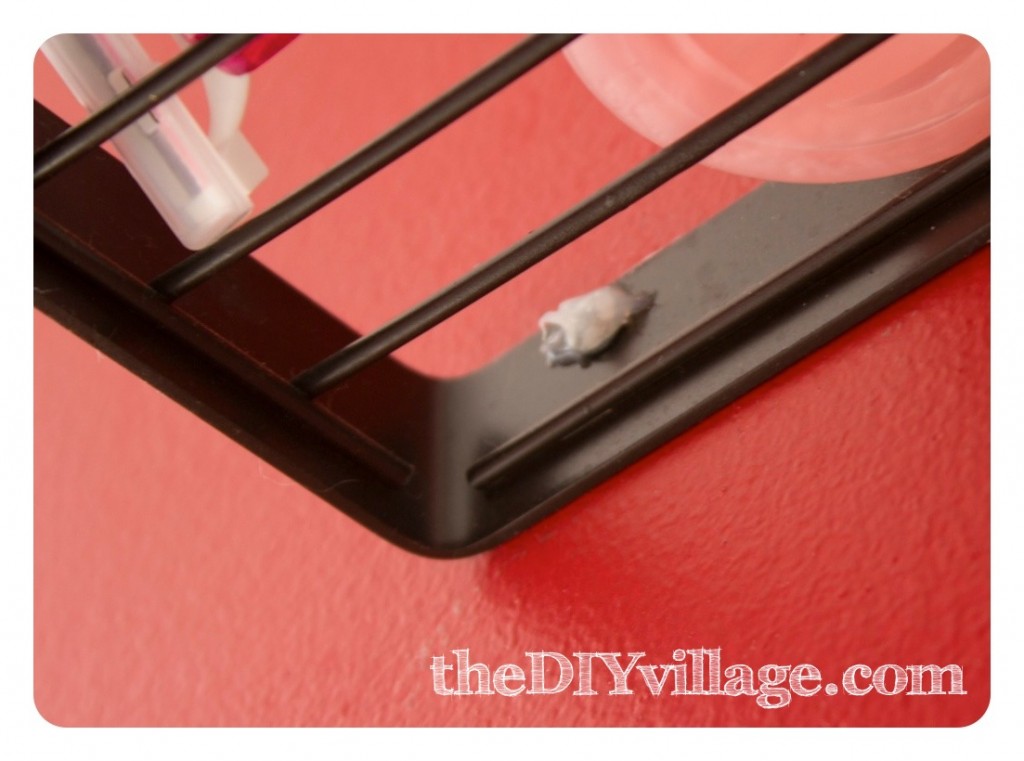 Matt used the existing holes and marked on the wall where he would need to pre-drill for the wall anchors.
With the wall anchors securely in place we used long screws (not included with the shelves) to attach the shelves to the wall.
Once attached matt covered the screw heads with silicone to prevent rusting from the damp conditions of the shower stall.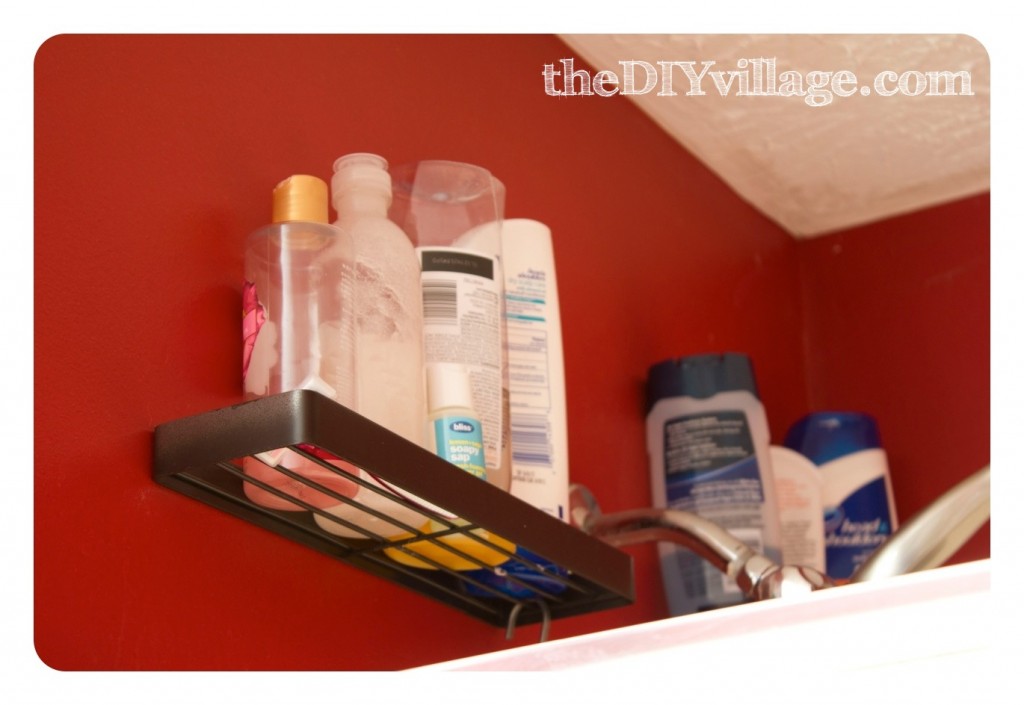 They are perfect …
One Shower Shelf for Matt
One Shower Shelf for Me!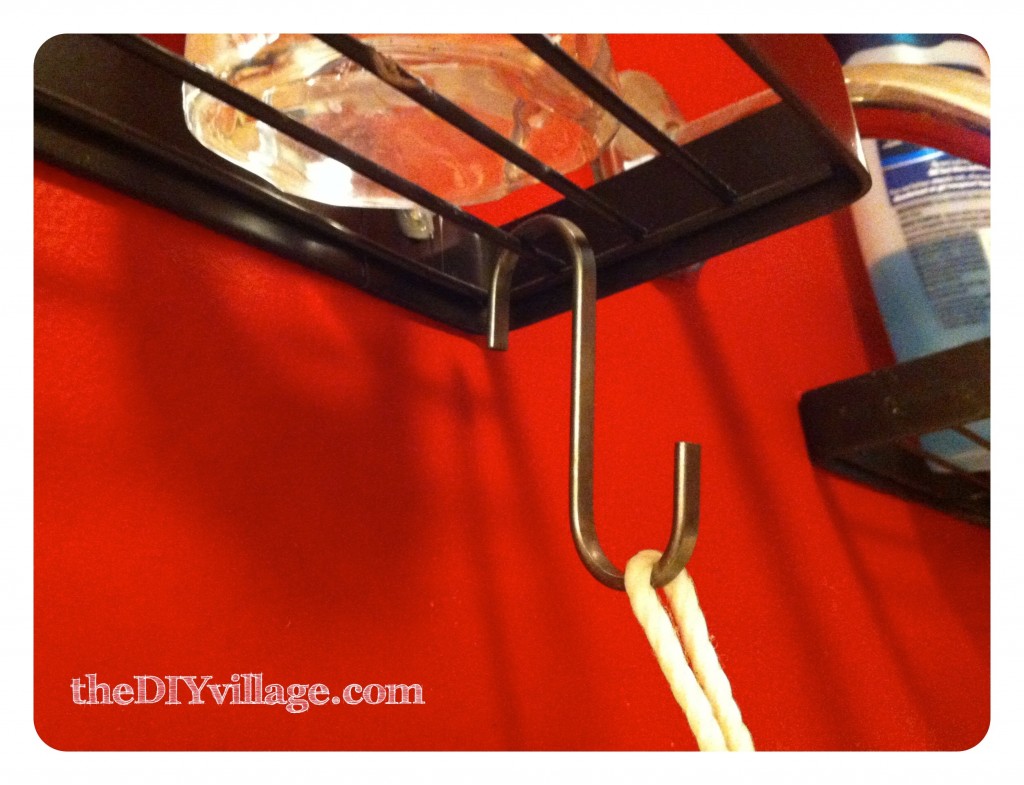 We also purchased a bag of GRUNDTAL 'S' Hooks.
A convenient place for me to hang my shower poof, so much better than on the shower knob!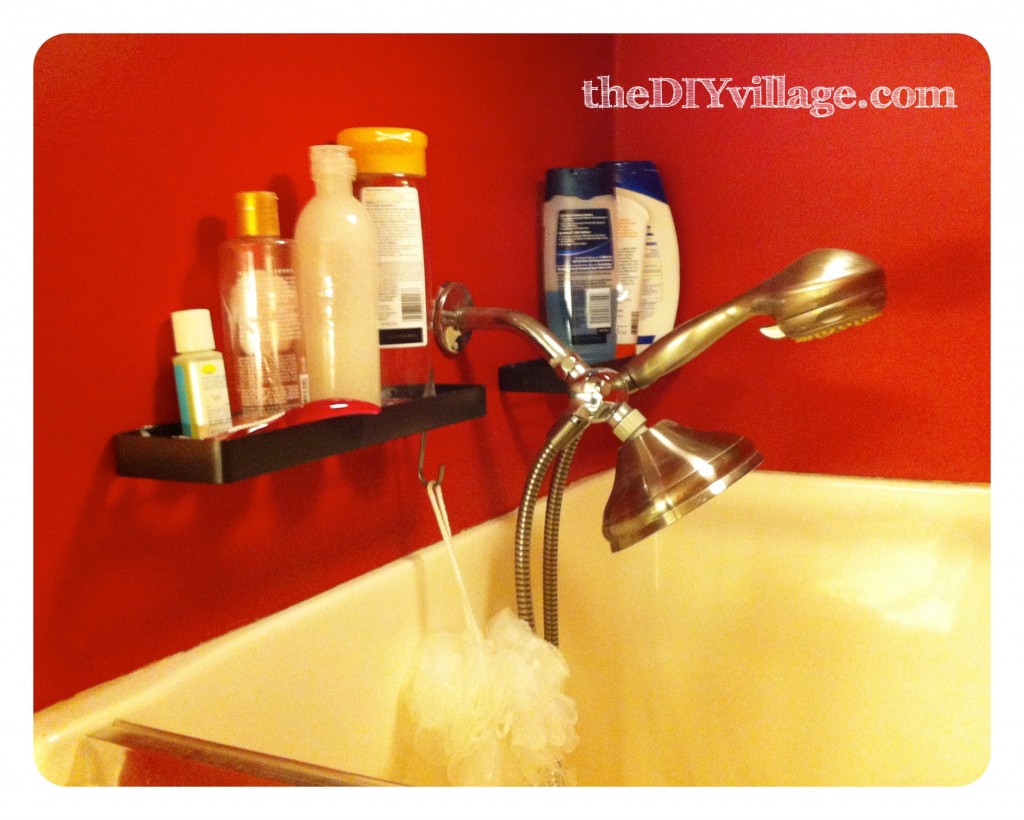 We have had our shelves up for over a year now and I still love them.
No more knocked over bottles.
No more suction shelves plummeting to the shower floor in the middle of the night!
And most especially a happy husband with nothing in his way!
Sharing With: