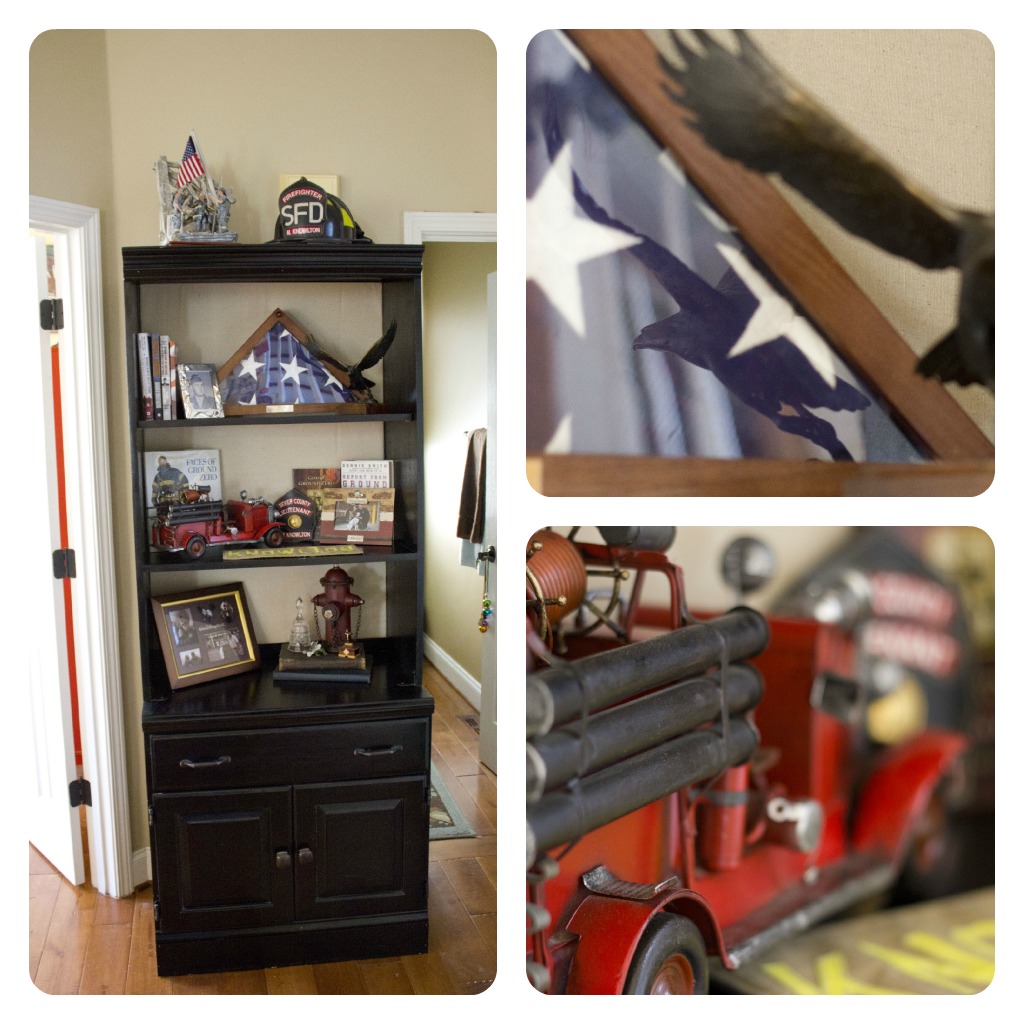 Way back when I was a little girl, okay probably more like a bratty middle schooler but that's another story, I begged my parents for an unfinished bookcase that I wanted my dad to stain using a pickling effect.
They finally gave in and got me this cool bookcase.
For years the bookcase was the natural pickled white.
Then Matt and I got married and my awesome dad made us a entertainment center that was painted black.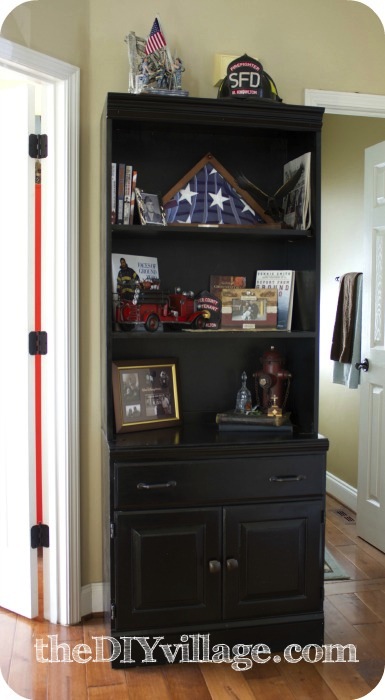 It was obvious the bookcase needed a makeover so it to got a nice coat of black paint and a few coats of poly so it would match the other big pieces in the room.
While I still love the black bookcase the items in it changed when we moved into our current home.
This bookcase is much more about Matt than me.
I figured it was only fair, my touch and taste is on EVERYTHING else in the house the very least I could do was give him this bookcase (and his office, I know right totally spoiled).  
The items on display seemed be sucked into the blackness of the bookcase, which was not my intention at all.
I wanted them to be displayed, that was the entire purpose of this bookcase after all.
It was clear to me we were in need of yet another bookcase makeover.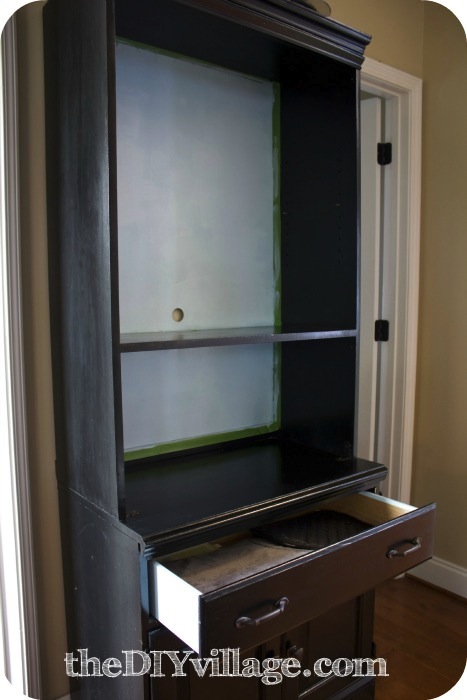 Being the brilliant person I am I removed everything, carefully taped off the inside of the case and painted it what I thought was going to be a nice soft complimenting blue.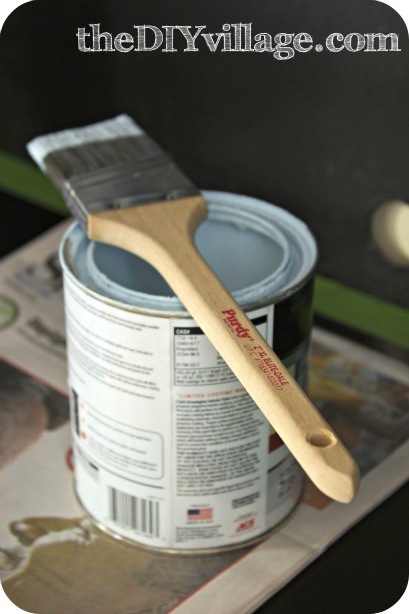 The bookcase itself looked fabulous!
That was until I put all of the items back on display and it was MORE than obvious to me that my bookcase had gone from a sophisticated display case
to looking like I had stolen a bookcase from a 10 year old boys room.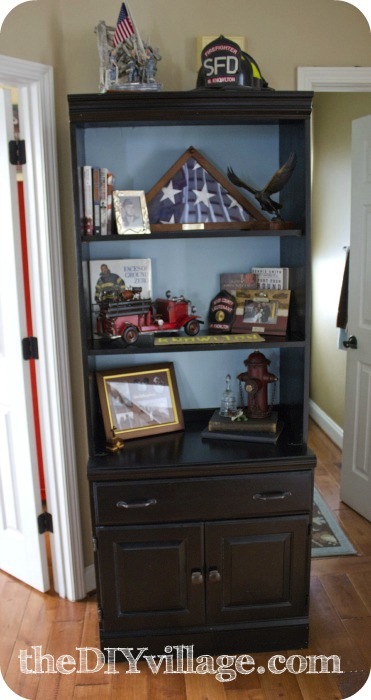 So sad.
Things got pretty busy around the house so I just left the bookcase to sit for a few weeks until I could figure out what in the world I was going to do.
I didn't have anymore black paint and I was not about to go buy any.
So the bookcase just sat … and then I saw an Instagram image posted by Pretty Handy Girl aka Brittany.
In that picture were the fabric covered foam inserts she had used in the back of her kitchen cabinets!
Eureka!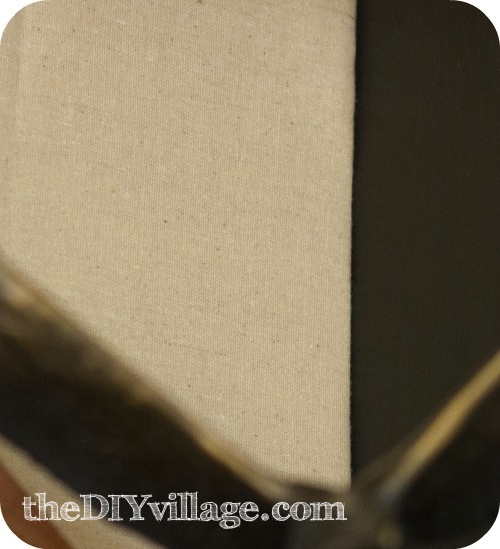 I not only had extra muslin fabric laying around I also had big pieces of foam core and tape.
I followed her tutorial, you can find HERE, and inserted the fabric boards into the bookcase.
And guess what?  They were perfect!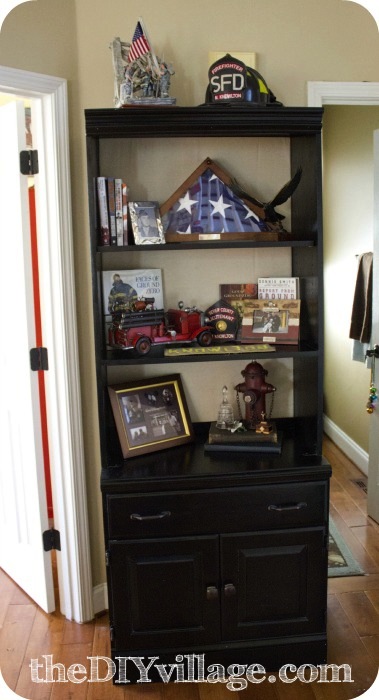 Not only did it add the softness I was looking for, but it's not overly masculine or feminine.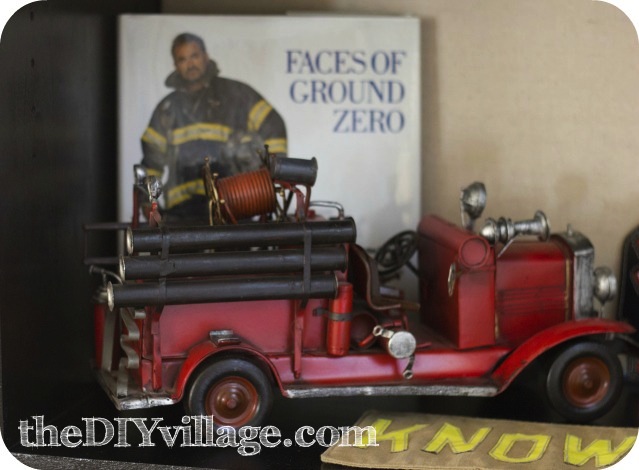 They are neutral and I love them.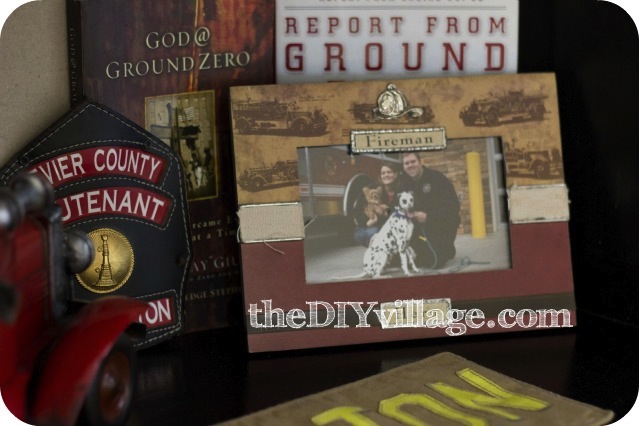 Best part, next time I get a wild hair I can just change them out and use the fabric for something else!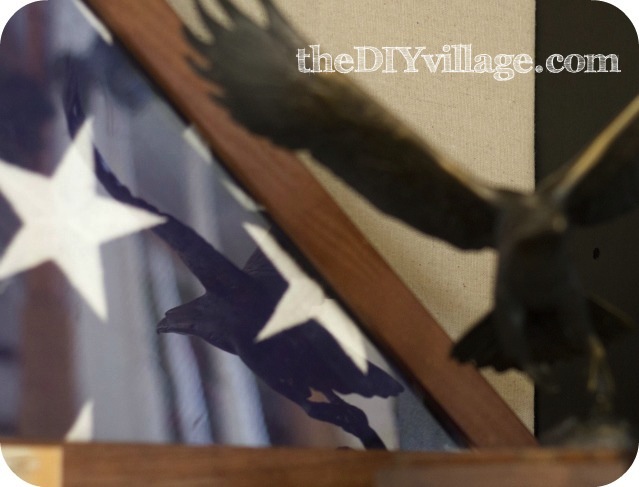 And we still have a great place to display some of Matt's favorite items, including a flag that honors the memory of his grandfather's military service to his country.