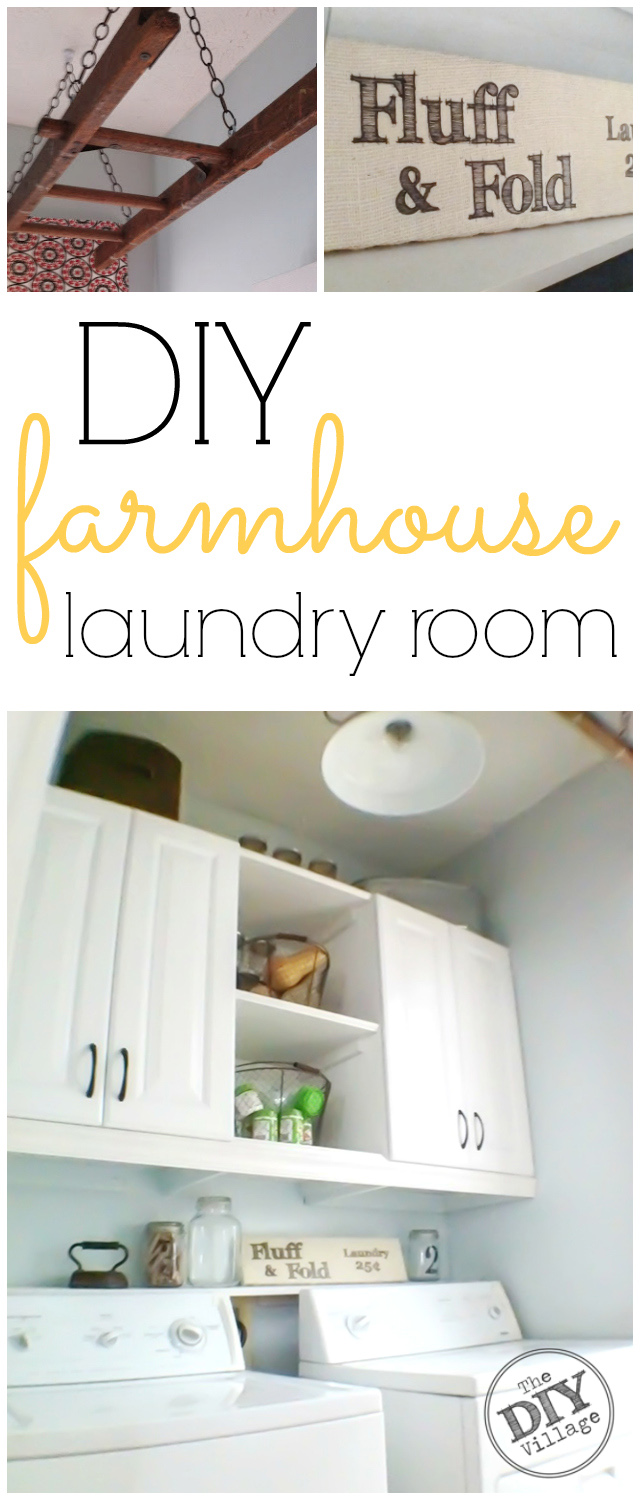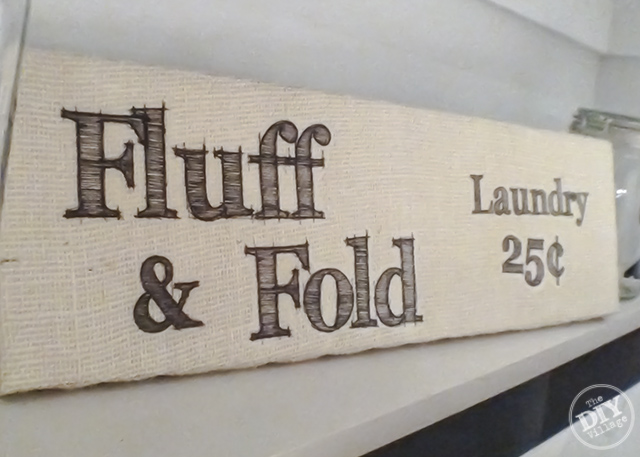 I am so excited to share our Laundry Room Reveal with everyone!
If you remember back a few weeks ago I posted a picture of what the room looked like then and all the
crap
 stuff that needed to find a home.
If you can't tell from the pictures below it's best described as 'Square Peg Round Hole'.
Our laundry room is on the petite size.
 If I were a realtor I would describe it as Cozy or Quaint, I'm sure you get where I am going here.
It is about 6.5′ long and 6′ wide, throw in a small space with a floor air vent, a large window and a washer & dryer you really only have one way to go and that is up.
So that's what we did, we went vertical with the storage.
The first thing we did was remove the old wall cabinets. They were your standard 12″ deep and were just wide enough to leave this awkward wasted space in-between them.  So down they came.
See that weird space???
Thankfully our floors are in awesome condition, unlike our previous home where the floors were torn and sad (I had strongly considered
using peel and stick tile
in that house)
So here we were with our naked laundry room and we did what any savvy DIY'er does we headed to Home Depot and Lowe's to check out the stock cabinets.
I knew that they made cabinets deeper than 12″ but I had no clue they had to be special order.  And they have a minimum number you have to order as well,
let's just say that number was not two (2).
So my 16″ uppers were out of the question at this point!
(Insert booing and hissing here)
As we were about to leave Lowe's with our heads hung low, admitting defeat, my brilliant husband threw a suggestion out there.  Let's go see what they have in the utility and organizer area.  I mean seriously at this point what could it hurt,
I was already trying to formulate plans D & E.
Low and behold there they were, utility cabinets 15 3/4″ deep.  Let me be a little more specific here BASE utility cabinets.  Now I know you are thinking to yourself,
'I thought you were going vertical' and I can promise you we still are and did!
We mounted the base cabinets on the wall.
Yup it is possible and I am so happy we went with this because at this point in the makeover all of that
crap
 stuff I showed you earlier is already nicely stored inside the cabinets with room to spare!
As one of my friends would say that's 'Smack yo granny good!'
Most people would stop here but since I suffer from the whole eyes bigger than the stomach thing,
I didn't want to leave any wasted space.
So of course, I needed to add shelves between the two cabinets to store my canning supplies.
To keep him from going on strike,
I decided to bribe Matt with a new air compressor and new nailer to make the install easier 🙂
Thankfully this worked!
He's a good man and went along with my shenanigans with only the occasional eye roll, LOVE him.And now the moment you have all been waiting for the Reveal …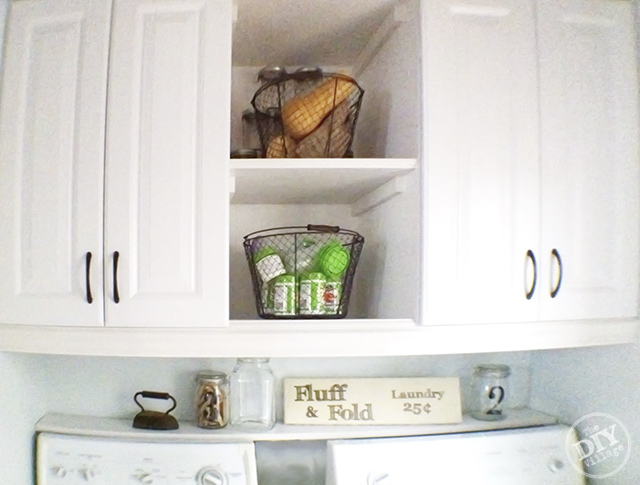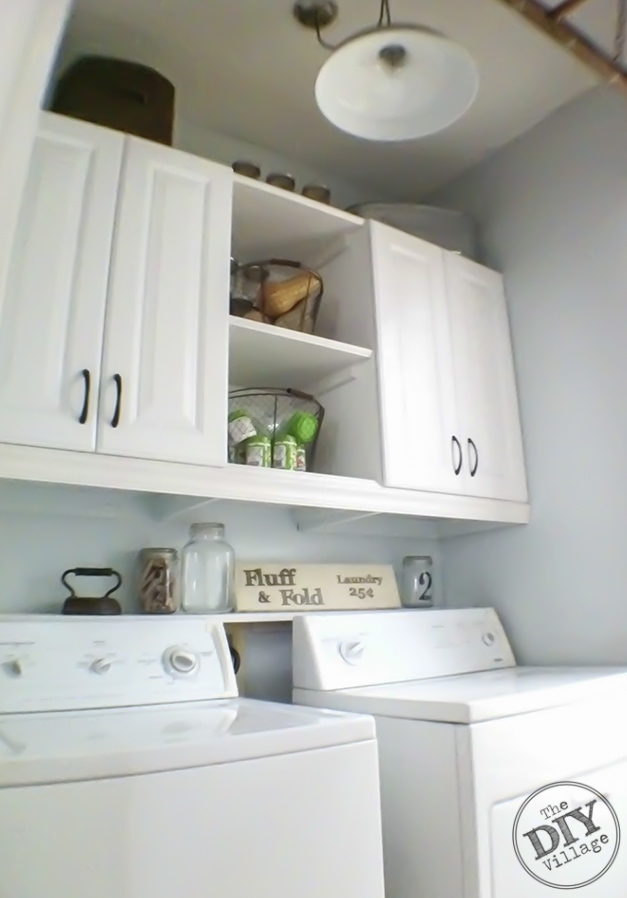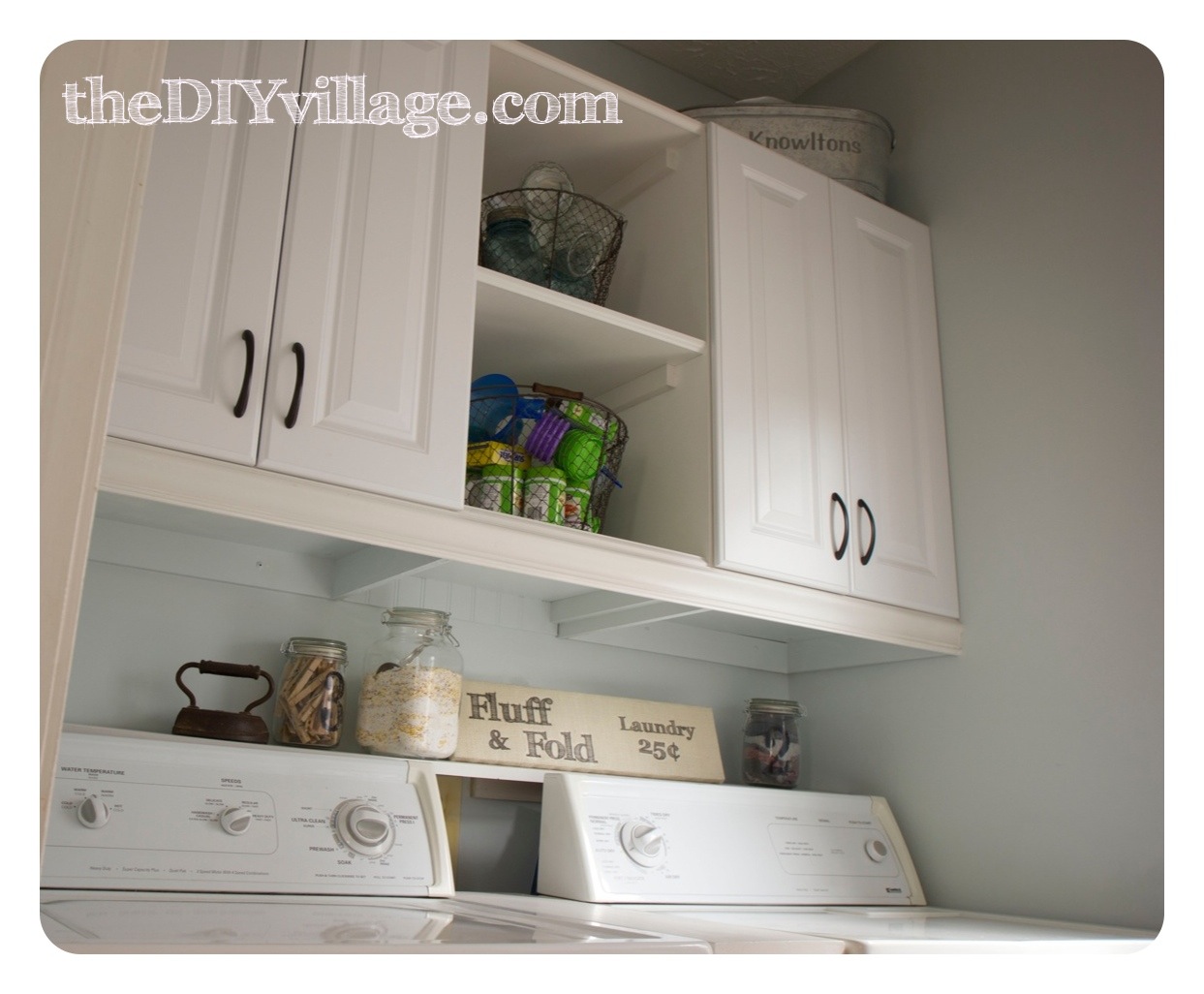 I also got a new light fixture (woohoo).  The old one was your builder basic model, nothing fancy and no frills.  Oh yeah and it was hung off center in the room by a good 9″ each direction … still not sure about that one, but anyway.
I found this cute pendant light, Matt installed it and swagged it for me so that it would be center in the room. Yet just another thing that I absolutely love!
Complete with little shelf for my burlap laundry sign and jars.
A place for my canning items!
Asher and Fenway even have their own little space in here.
To say that I am pleased with the outcome of this room is an understatement.
We both L O V E this room, it's fabulous and everything about it is US.
The best part is that we did it together from start to finish, this was our room.
On any given day you can catch Matt and I sneaking a peak into our Laundry Room, just standing in the doorway with the light on, smiling.
Yup, no more Laundry Room Envy in this house, not one tiny bit!
Check out our before and after below …
– Jacque