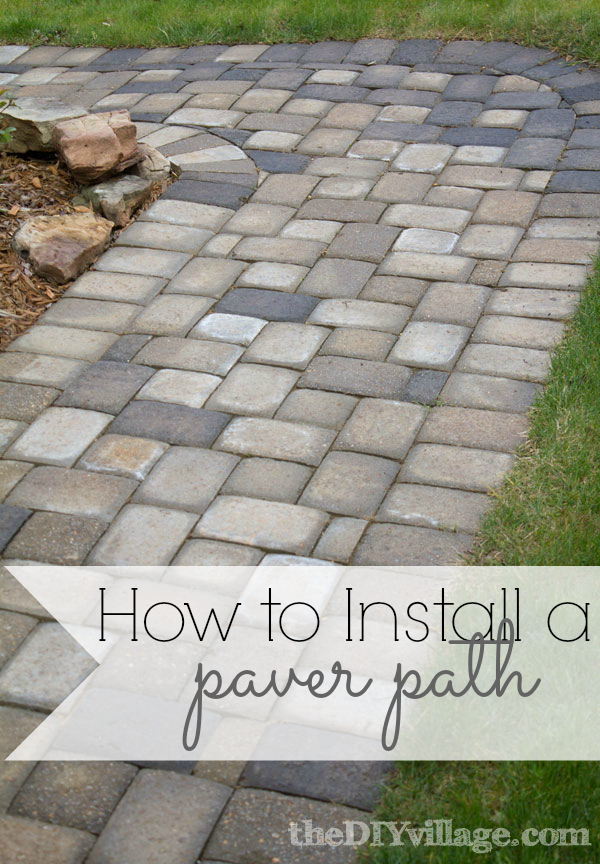 Hi all, it's Matt, the other half of theDIYvillage team!
It's been a while since you've heard from me, I've been taking advantage of this amazing weather and have been busy at work on what feels like a million different yard projects!
I'm excited to finally be able to show you our latest completed outdoor project,
our new paver path!
Originally, we had planned on installing a small paver area just big enough to store our rolling trash can…Obviously, we expanded on that idea just a little…
We found that the grass area on the side of the house didn't get enough sun to dry out, so since we were already laying a paver area for the trash can, we decided to fix the muddy side yard by adding a paver path.
First off, we chose the area we wanted to make into our pathway and began digging.
And then when we got done with that we dug some more…
We made sure to dig down deep enough to put down a 4 inch layer of crusher run gravel, 1-1/2 inch layer of manufactured sand, and a 3 inch paver.
Once the pathway had been excavated, it was time to bring in the gravel base.
We trucked in 3 tons of crusher run gravel and used a hand tamper to help pack the gravel in place.
Once the crusher run gravel was tamped into place, we brought in a little over a ton of manufactured sand.  I started by the garage door so that we'd be able start laying the pavers from inside the garage and work our way out.
It's important to make this layer of sand as level as possible, since it's what the pavers will actually lay on. I used two pieces of 1/2″ PVC to help guide my straight edge as I spread the sand.  I laid the PVC about 4′ apart and made sure that they were sitting level.  Then I took a scrap piece of wood that I had and rested it on top of the pvc pipes.  I let the wood ride on top of the pipes and pulled backward leaving a level layer of sand for the pavers!
Then we started to layout the pavers in a basket weave pattern.  This particular pattern required us to leave spaces open. Once the pattern was laid out we were able to go back and custom fit/cut the remaining blocks to complete the pattern.  We used a dead blow hammer to "set" the paver block in place as we built the pattern out.  I periodically checked to make sure we stayed level.
*Safety Note-WATCH your fingers and hands while using a dead blow hammer-they hurt… a lot *
Once we made it to the gate, we modified the pattern by making 3 transition rows of all squares.  I just thought it would be a nice touch to take you into the area in front of the gate!
If this project wasn't already challenging, I decided that I wanted to curve around the corner rather then come to a right angle.  So we laid out the inner blocks and left the spaces for piecing together the curve for later.
I used poster board to create templates for the curved border pieces.  I knew where my borders needed to meet up, so first, I cut all the poster board to the size of my rectangle blocks and then began to shape them with angles to achieve my desired curve.  This made for a lot cutting later on and yes, it was tedious work, but I was really happy with how the pattern turned out!  Just in case anyone was wondering, I used a handheld power cutter, a heavy duty saw with a diamond cutting blade.  Be prepared for a lot of dust…I may have left the garage door open when I was cutting…and Jacque may still be pointing out all of the dust she keeps finding…Oops!
We wanted to make sure that the pathway didn't shift over time, so we mixed up some quickcrete and poured a toe restraint around the sides of the pavers.  All that means is that we poured the concrete to the side of the path, low enough that it holds the pavers in place, but where we could still cover it with dirt later on. Then we spread 2 buckets of polymeric sand to fill in the gaps between the pavers.  This sand hardens when water is added, but it stays flexible enough hold up to weather related ground movement without cracking.
The only thing left to do was to fill the areas around the pathway with dirt.
This pathway was a challenging but rewarding project for Jacque and I.
I am pleased to report that I can now stand, sit, walk, lay, and breathe without any pain or soreness – this project was a lot more physically demanding than I had expected!
We couldn't be happier with the end result and can't wait to share the rest of our outdoor projects with you soon!
What outdoor projects have you been working on lately?
Thanks for checking us out!
Matt