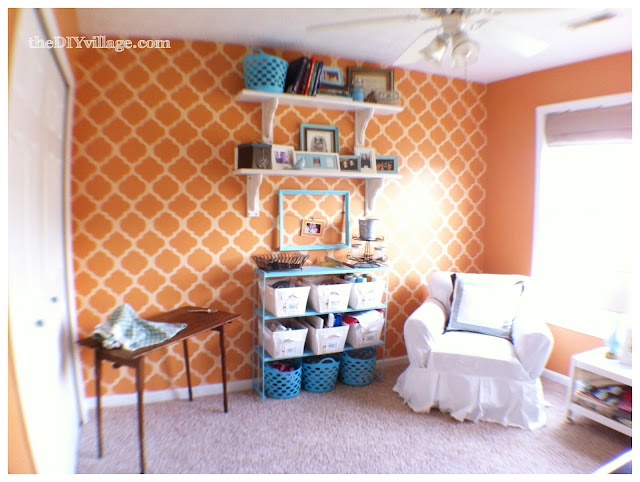 Remember back a month or so ago when I shared my craft room makeover with everyone?
If you didn't get a chance to check it out head on over
HERE
 to see what all the fuss is about.
Since we have had such a great response to the room I'm sharing with you the 'How To' of the fabulous wall treatment we did.
I found this great post by Ainhoa with A Little Bit of Everything on how to take a  plain IKEA rug and turn it into this awesome custom Trellis rug.  For some reason I got this
insane
 brilliant idea to take this to the walls of my craft room!
I fell in love with a pumpkin spice orange color and decided the treatment would be in a orange sherbet color.
Originally I had considered Orange and white but decided against it.
Don't get me wrong being a UT fan I love me some orange and white but I did feel like it would be too much of a contrast and since it was orange I really wanted something a little more subtle.
So here we go strap on your seat belts folks and I will share with you how you can can create your own trellis feature wall!
First you need to start off with a blank slate & then paint your over all color in this case it was Orange …
Once you have the wall painted you are going to want to get your level, measuring tape,  and something to mark on the wall with.
If you have a chalk line I suggest using this, we did not have one so we used a white water soluble pencil used for sewing. 
Easy wipe off with a damp rag!
Measure the height of your stencil and then you have the distance your lines we need to be apart on the wall.
The next step is super important – the Stencil!
I printed off Ainhoa's image and blew it up on a copier till I got the size I had in mind.
Matt placed the image under the stencil plastic and traced the image onto the plastic.
He then used an X-acto knife to cut the design out.
Since then I have purchased a stencil cutter that I will admit is worth every penny.  
Cuts the plastic like buttah!  Use a 40% off coupon at your favorite craft store and they are only 8 bucks!
After your stencil is made you can head onto the next step transferring it to the wall.
In our case it involved tracing the stencil over and over and over again till your entire wall is full.  Matt made us two stencils and alternated which area we worked on so the process would go faster.
**Remember to line up the top and bottom of the stencil with your chalk lines **
It is also very important to make sure and overlap your stencil when tracing it, this is how you get the seamless flow of he pattern
In all this took about 16 man hours (2 people one 8 hour day).
It will look a little something like this …
Now you are ready for PAINT!!!! 
My weapons of choice a plastic cup and a wide flat painters brush …
Excited yet?
Hope so because you are going to need a lot of patience to complete this process.
It was taking a long time for me to get through this so Matt started helping me by out lining the area to be painted in with a small round painters brush!
And in no time the wall went from this –
To THIS!
Okay that is a lie, Matt outlined everything for me took him about 6 hours.
My part on the other hand took a tad bit longer …
Seriously it stayed like this for a very very very very long time, months in fact.  I would avoid walking into this room, the guilt of not completing it killed me.
But as with all good things, eventually they come to an end …
I finally got the motivation to complete the project.
Matt had to take a picture to prove I was really working on it, funny funny man!
And here you have it my hand painted trellis wallpaper is complete and even though it was a lot more work than I thought it was going to be I could not be happier with the results.
The room is a show stopper for sure!
In all this project took us about 8 months to complete.
I tend to get distracted by shiny objects or projects that look more fun!
This project SHOULD have taken about 4 or 5 – 8 hour days to complete.
It really is a labor of love and I highly suggest others try something like this.
Even if it is on a smaller scale I can promise you will love it!
Much Love,
Jacque
FEATURED BY: