Have you ever seen something on a blog or on Pinterest that you just HAD to have?  This happens more often than I would like to admit.
And is exactly what happened to me, again.  I was scrolling through a post my friend  Rachel over at Thrifty Inspirations posted about her Kitchen Tour.  And there it was this perfect ROUND fabulous jute kitchen rug.
At this point I had two options – I could lure her out of her home and steal it or I could ask her where she got bought it from.  Luckily she liked likes me enough she shared with me something most every woman would love to hear …
TJ's for like $ 50 bucks
Gah!  Not only was it at one of my favorite mill around stores but it was under $ 100.00.  Okay so odds of me actually finding this rug were slim to none especially since Rachel lives in Alabama and I am in Tennessee … whomp whomp whomp.  Thankfully I don't give up easily and figured I might as well go and see, plus HomeGoods is like right next door, perfect Win Win situation.
Off to TJ's we go and there like a beacon shining in the darkness it laid.  The JUTE RUG, ahhh I'm pretty sure I knocked down a few kids while I was shuving this 6′ round rug into my cart, but it was MINE!  It had a small hole in it but it was nothing I couldn't hand stitch myself.  But since it was damaged goods I HAD to ask if they would consider clearancing it out.  The nice lady at the front agreed and gave me a 27% discount.  I was happier than a pig in … well you get the idea, I was over the moon.
While still on my shopping high Matt and I spotted one of our favorite bloggers Sandra from Sawdust & Paperscraps.  I mean could this day get any better?  We were lucky enough to meet her in June at Haven2012.  I think we caught her off guard but she was BEYOND awesome and chatted with us for a bit – (I love nice bloggers!)  She was cool and collective while I can only imagine I looked like a deer caught in the headlights!
After my fun shopping trip we headed straight home so I could check out our new rug!  Just a couple of our before shots!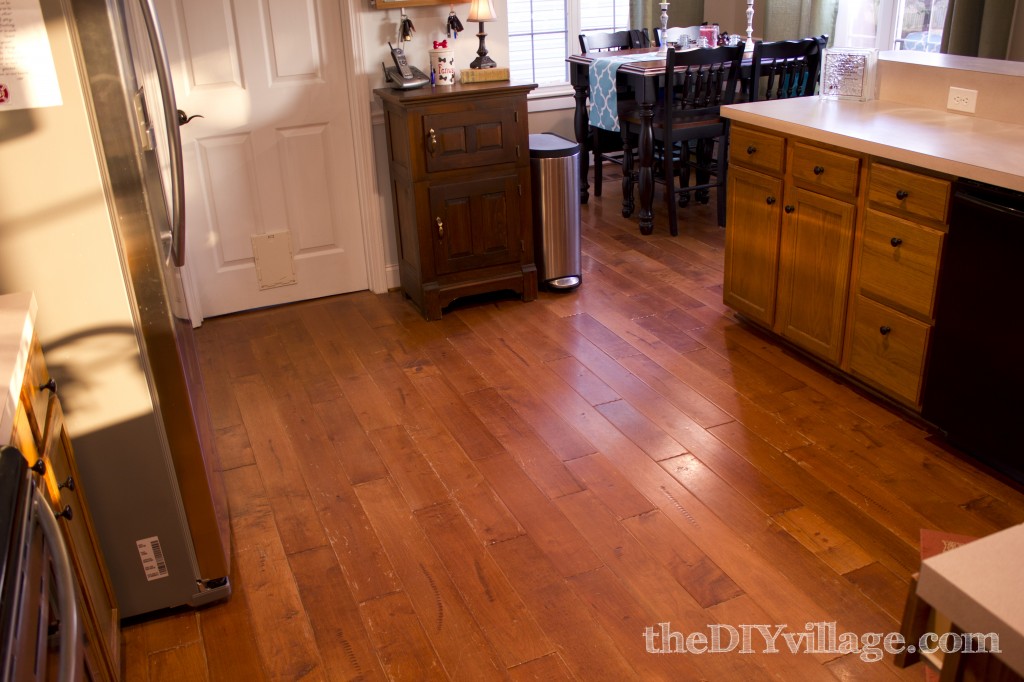 This is a pretty big space so my 6′ rug was going to be perfect.  It looked great but it was pretty obvious after approximately 30 seconds of it being on the floor we had a major problem, it's name is Fenway.  Fenway isn't one of those casual stroll around kind of dogs, he's more of a full steam ahead and slam on the brakes type … hence the picture below.
After Fenway's test drive of the rug I decided I would try some of the 3M Tekk products we got in our swag bags at Haven2012.  Enter the Rug Gripper and Rug Anchor test.
First I took the 2'x4′ rug gripper and placed it in the middle of where our rug was going to be placed.
Then I moved on to the 3M Rug Anchors and installed them following the directions on the package, easy peasy!
With the Gripper & Anchors in place the rug was ready for the REAL test … Fenway!  With Matt on one side of the room holding Fenway I went to the other side and called him waving his favorite toy.
And the rug survived staying in place!  Success!!!
I am so happy we found this kitchen rug and am beyond thankful that Rachel was kind enough to share where she found it at with me!
Do you have any great decorating finds?