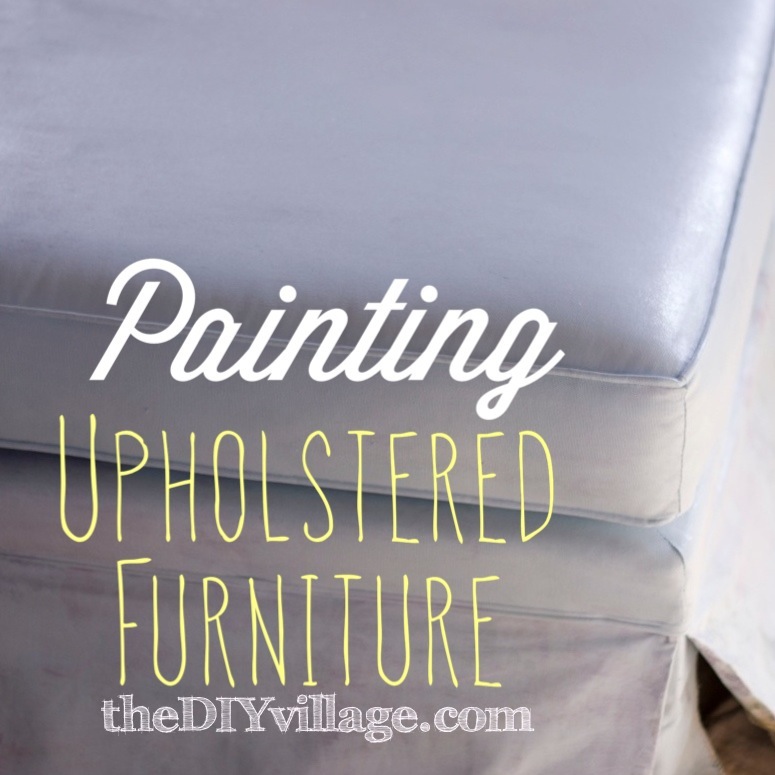 In life there are those that can do, those that wish they could do, and those that don't know how so they improvise.  I'm an improvise kinda gal.  When my parents offered up their cushy floral upholstered side chairs and ottoman I jumped at the chance to take them.  Not only did it give us unique seating in our family room, it allowed me to remove one of the two couches and put it in the living room.  Now if you were paying attention you noticed I said the word F L O R A L.  It's not a bad floral in fact it's very nice just not my taste at all.  Before the chairs were even in our home I had already measured them and ordered slip covers from UglySofa.com.  They look great and I love them. But even with the awesome slip covers on the chairs there was still one little (giant) issue … see if you can spot the problem.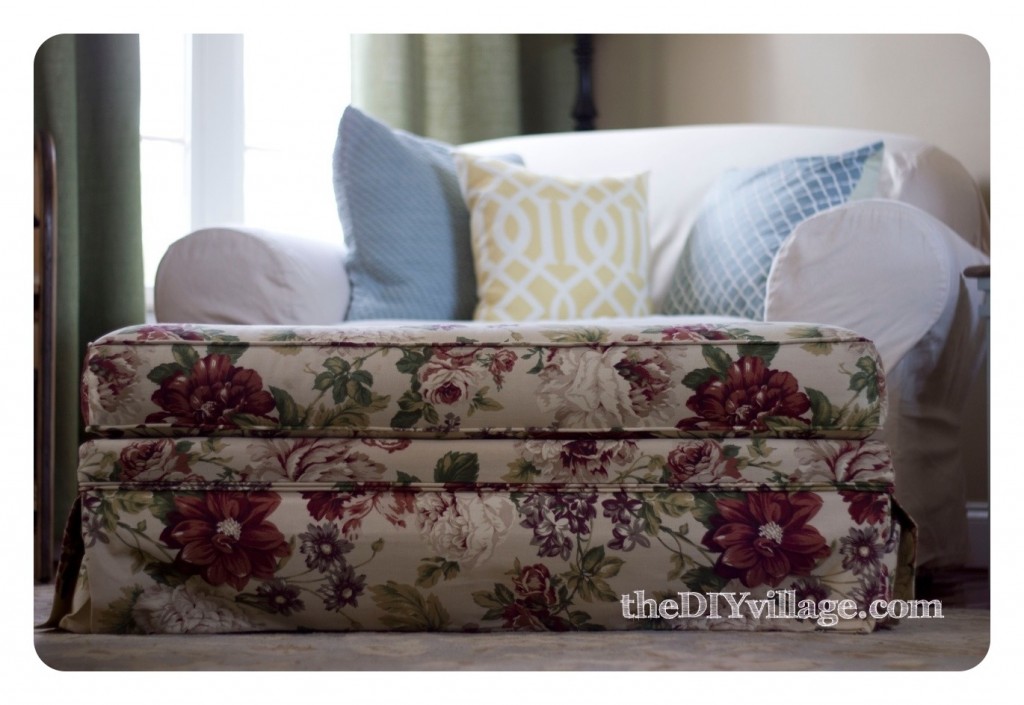 Yup the HUGE floral ottoman, easily as wide as the chair!  Something had to be done so I started scouring Pinterest and Google for tutorials on how to make your own ottoman slip cover.  I actually found a few that I liked, but never got around to making one.  I can sew but my skills are limited to mostly straight lines and honestly we had so many other projects going on the last thing I was worried about was the floral ottoman.  That was until I had this grand idea of having a mothers day brunch for my mom and sister.  So last minute (literally made this in 30 min) grabbed a spare twin sheet and attempted to whip up a slip cover.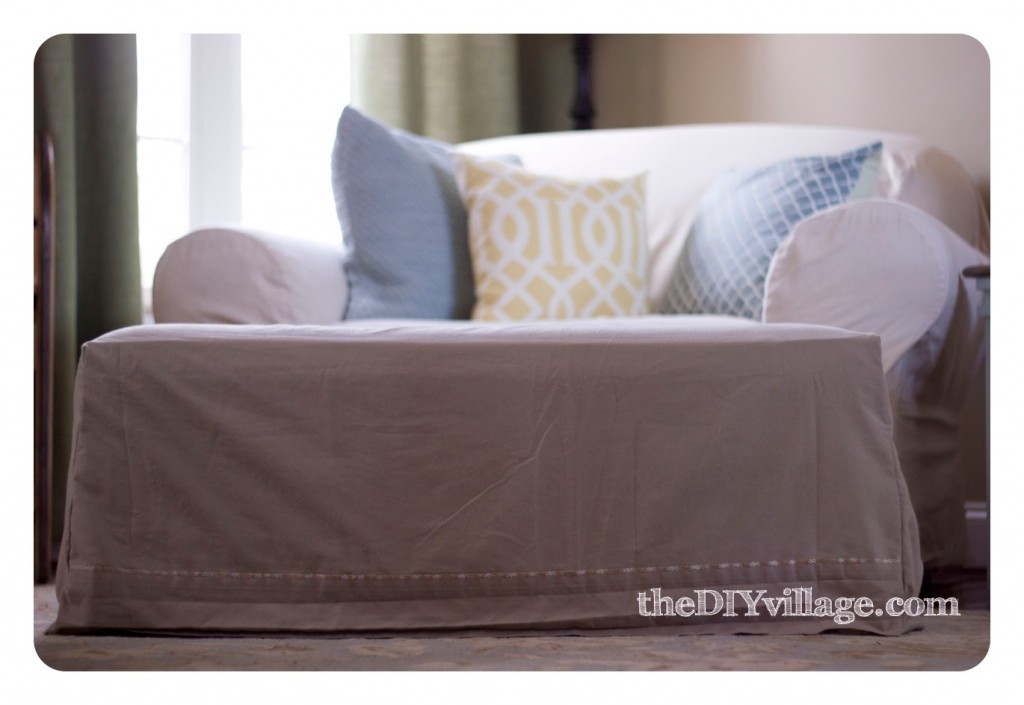 Nice huh?  For some strange reason I thought it would look good if I used the top edge of the sheet as a decorative front.  That's what I get for thinking!  It probably would have helped the look had I ohh I don't know, possibly ironed the sheet before I tried making a cover out of it.  Or better yet If I possibly could have sewed straight lines!  At any rate it worked to cover the floral and it was easy to clean.
Moving on a few months and I got a wild hair.  Matt was at work and I happened across this tutorial from Kristi over at  i should be mopping the floor  where she shows you how to the art of painting fabric.  S O L D !!!  I grabbed my supplies and went at it. (if you want to learn how to do it yourself head over to the link above and Kristi will explain it all for you … )
I skimmed read over her instructions before getting started.  Apparently something happened while I was reading her instructions and my ADD kicked in as soon as I read to use a ratio of 1:1 (one part paint : one part paint medium).  That's right folks my brain just STOPPED working right then and there.  Because Kristi did in fact continue her instructions and clearly stated that the few coats should be a 1:1:1/2 ratio (one part paint: one part medium:  one-half part water)  Whoops!  Thank goodness I was heavy handed with the water bottle or this could have turned out badly!
Here are some progress shots …
Oooo looky it's going …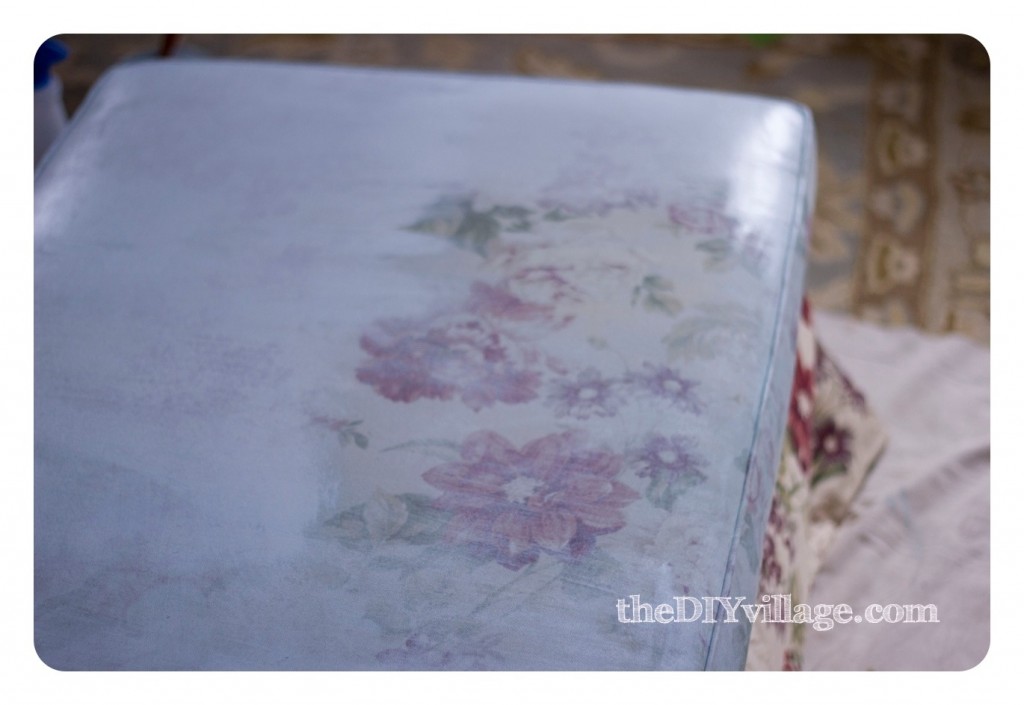 going …
Going …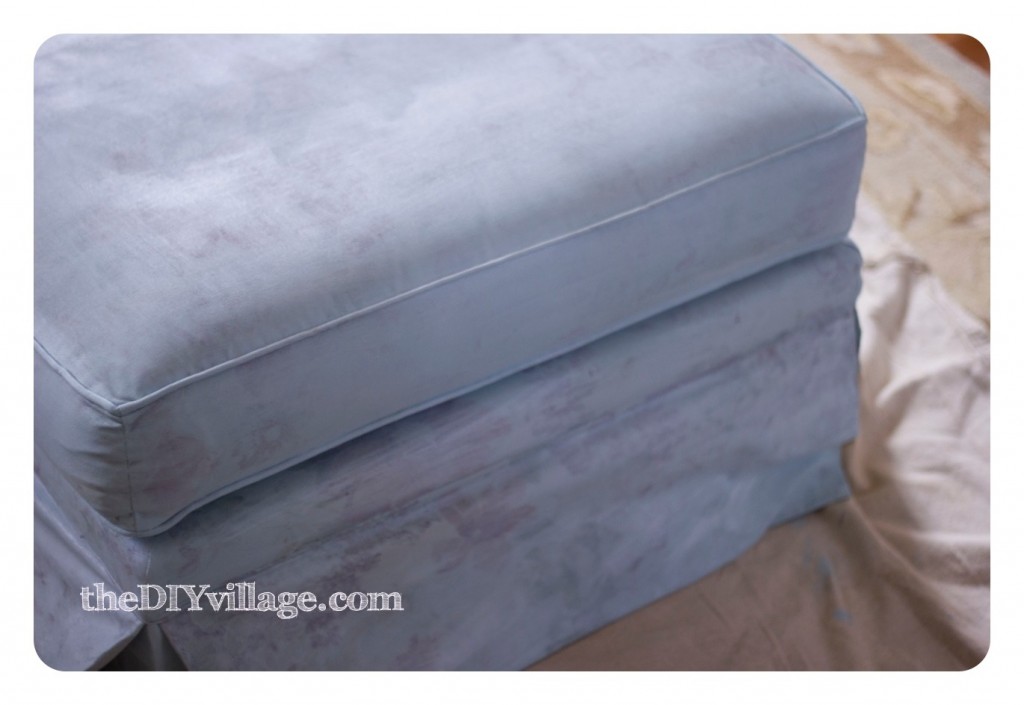 GONE !!!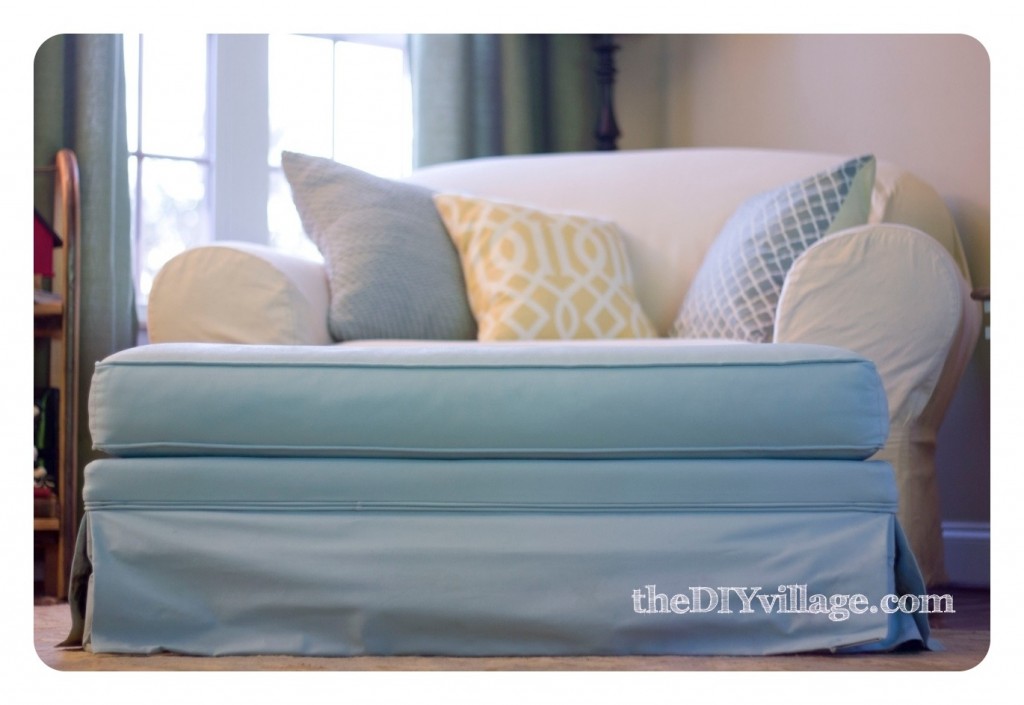 How stinkin' cool is that?  I love love love it!  Now before you ask I will go ahead and tell you that it is a little stiff.  Not so much like the outdoor fabric that people mention a tad more stiff.  That being said, the only reason it is more stiff is because I did not read the instructions, in more ways than one.  First there was the ratio issue and then because I was going from a dark burgundy to a light blue I had to do 4 – 5 coats.  Some areas needed more than others.  Had I gone with a darker color I don't think this would be an issue at all.  Honestly the stiffness doesn't bother me, I know that over time it will soften up and if worse comes to worst then I will throw that gem of a slip cover back on it!
Since the chairs are the same floral as the ottoman I thought it would be fun to try out different techniques on painting fabric upholstered furniture.  Stay tuned for updates on these projects!
Would you ever attempt to paint your own upholstered furniture?  Better yet have you ever thought about painting fabric?  I remember watching "Trading Spaces" and Hildi Santo-Tomas painted fabric white couches HOT PINK, I thought I was going to die.  And here I am 10 years later doing the same thing I swore this woman was nuts for doing!  So here is my big apology – Hildi I am sorry for ever judging you, though your choices may have been radical at the time I now can appreciate the thriftiness of your thought process – Kudos!!!
Featured at: