I have been working on a Halloween wreath for the front door of our home, when I was almost done I realized I didn't have anything fun like it for inside.  I'll be showing you the outdoor one later this week, but for now let me show you the super easy one I put together for inside.
I'm always drawn to the feather wreaths but since we do not have any cover over our front door I reserve those for the inside.  Before we get started you will want to make sure you have the following.
Feather Boa
8″ Wreath Form
Dollar Tree Spider Rings
Mod Podge
Glitter (same color as your spiders)
Take your Boa and wrap it around your wreath form.  You can use any kind of wreath from – grapevine, wire, foam it's really up to you.  Set your wrapped wreath aside.  Take your spider rings (I opted for the Orange ones to contrast with my wreath) put a light coat of Mod Podge on and sprinkle with glitter.  Set aside to dry.
Once your spiders are dry slip them over individual feathers on the wreath.  I had originally thought it would be better to cut the ring loop off but it's actually a great way to hold them to the wreath.  If you are going to be using this wreath outside or in a high traffic area where the rings might fall or slip I suggest securing them with fishing line or hot glue.
Easy as that you have a fun and inexpensive Halloween Wreath!
 Glitter Pumpkin
Did you see my glittery pumpkin in the shot above?  That was almost as easy to make as the wreath, check this out!  They are a regular Dollar Tree pumpkin (that are all the rage this year 🙂)  What you need for this project
Pumpkin
Mod Podge
Glitter (green & orange)
I did my pumpkins two different ways.  The first time I painted the pumpkin in sections with Mod Podge then sprinkled with glitter holding on to the dry stem repeating the process till the entire pumpkin was covered in glitter.  Then set it aside to dry, once the base part was dry I Mod Podged and glittered the stem green.  The second pumpkin I did in a reverse process doing the stem first.  It is really up to you how you want to do it, no way worked out any  better than the other.  Biggest thing is to make sure the Mod Podge is dry on one area before starting the other and then just go with the flow!  Shake off the excess glitter and enjoy!!!
While your at it why not just throw a little glitter on the Dollar Tree Skeleton too!  I have had so much fun with glitter this fall, I never thought I would like it but Mod Podge it's so easy to use!
 Did you catch a glimpse of these guys?  Don't worry I will be showing you how to make these Halloween Spooky Globes HERE!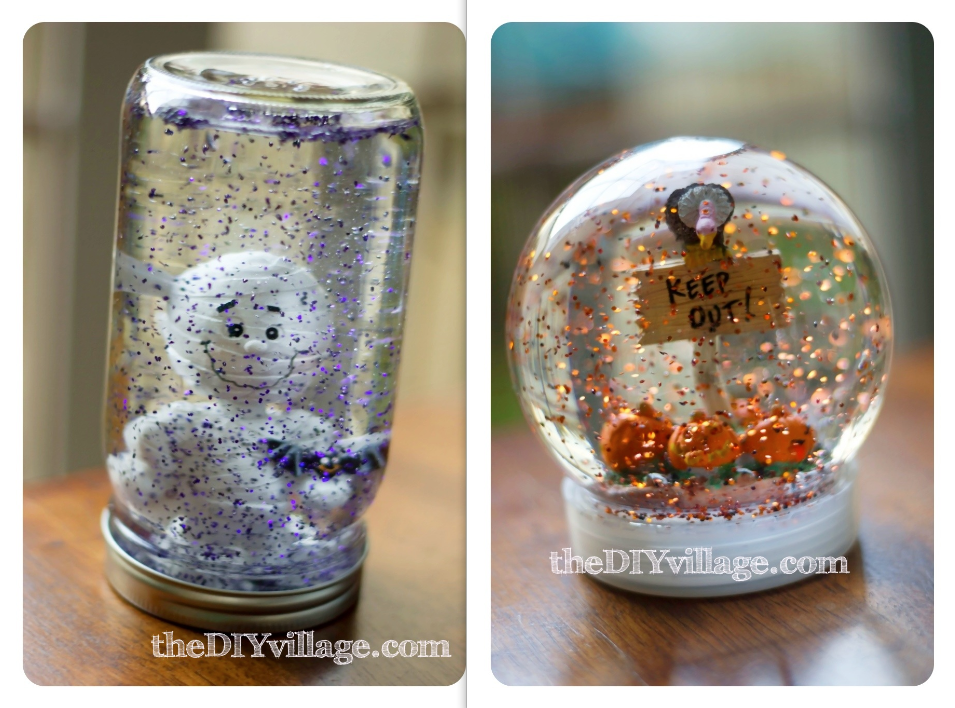 Happy Halloween … decorating!