Easter is fast approaching and I thought it would be fun to do a quick round up of some of my favorite DIY Easter egg projects.
Last month I came across this great tutorial by Courtenay at The Creek Line House on how to blow out easter eggs. I have been obsessed with the idea of doing this ever since I saw "The Girls Next Door" doing it for at the Playboy Mansion … (no judging).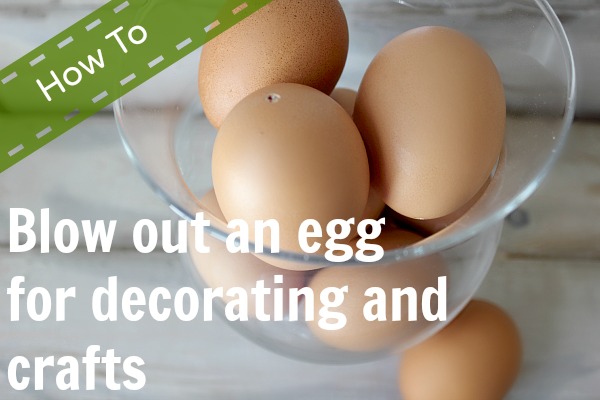 Because how cool would it be if I made this real easter egg garland – also by Courtenay at The Creek Line House.
I'd have to keep Fenway away from it, his tail could destroy it in no time flat!
But WOW what at statement that would make!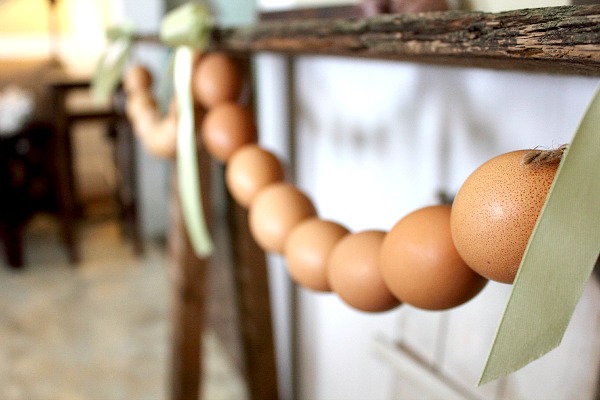 Looking for a fun project the kids will love, these flight of the egg bees by Vanessa at Tried and True are absolutely ADORABLE.
I can't help but smile every time I see them!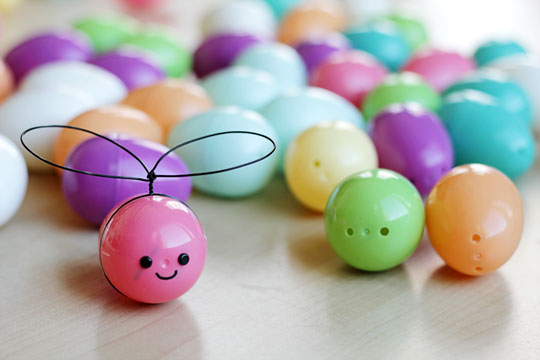 If you are looking to make a classy centerpiece for your Easter table you will love Amanda over at Dreamsicle Sisters elegant easter eggs.
My favorite is the white flower one, so pretty!

Ann from On Sutton Place used eggs to help create a beautiful easter tablescape for her coffee table.
I am dying over the moss basket.
While you are there you have to check out her grain sack textiles, they are to die for!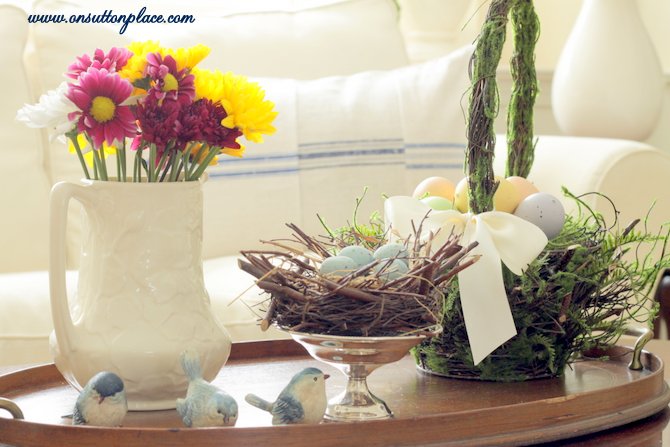 Jocie from One Project Closer's The Better Half to dollar store eggs and created a cute easter egg tree.
Not only is this so creative but it is inexpensive, and that my friends is music to my ears!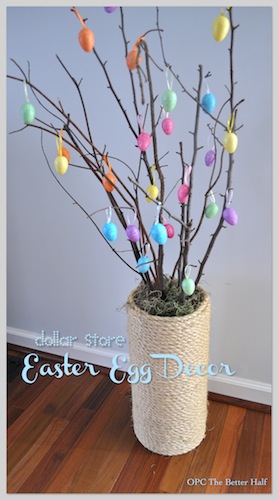 If you are on the look out for something on the LARGER scale you have to see these twine wrapped Easter eggs from Angie at The Country Chic Cottage.  A few of these would look great on my back patio!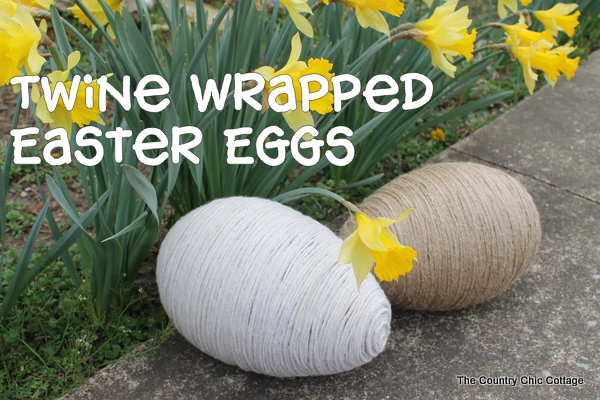 Jessi at Practically Functional created a cute paper Easter egg garland using her Cameo.
What a fun way to decorate this one is totally Fenway proof, which makes me love it even more!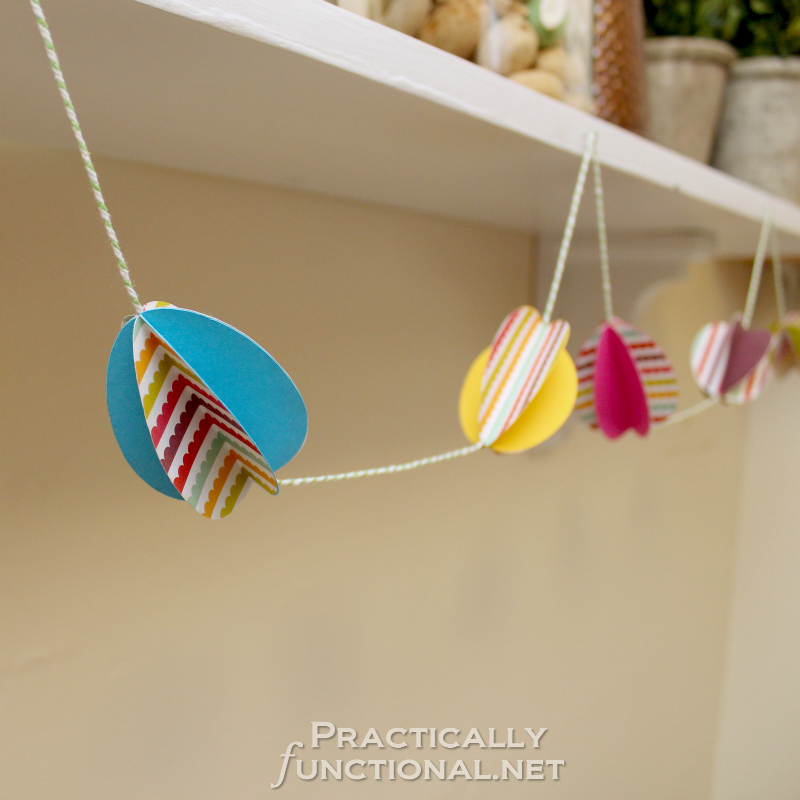 One of my favorite jaw dropping projects was by Jessica at Mom4Real.  She shows you how to make German glass glitter Easter Eggs.  These are just too pretty to eat!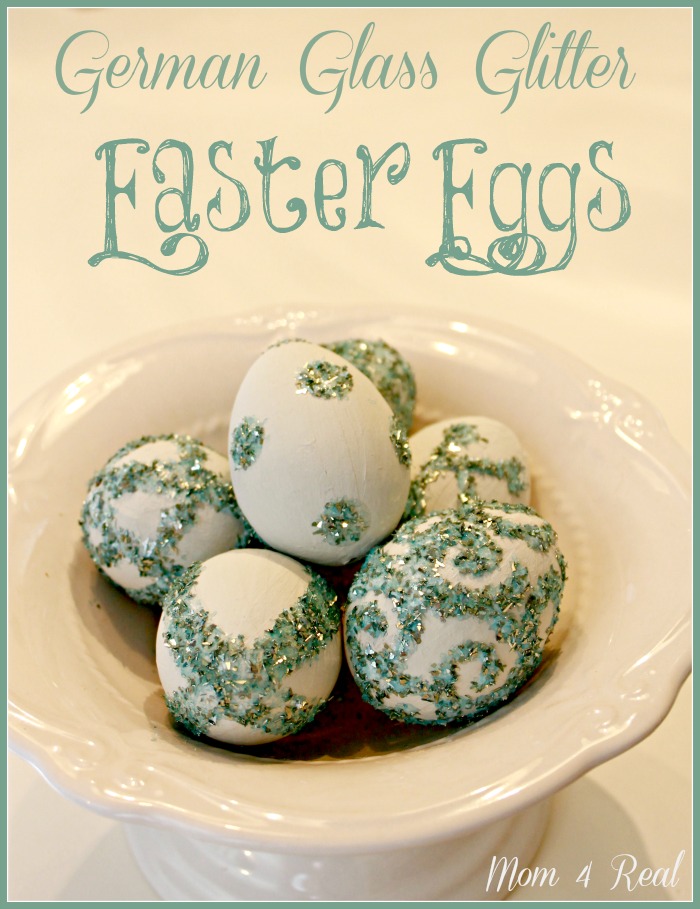 Another fun project from Jessi at Practically Functional are her painted paper mache Easter eggs.
Good thing these are paper because they look like giant cadbury chocolate mini eggs.
I would be in big trouble if they were real!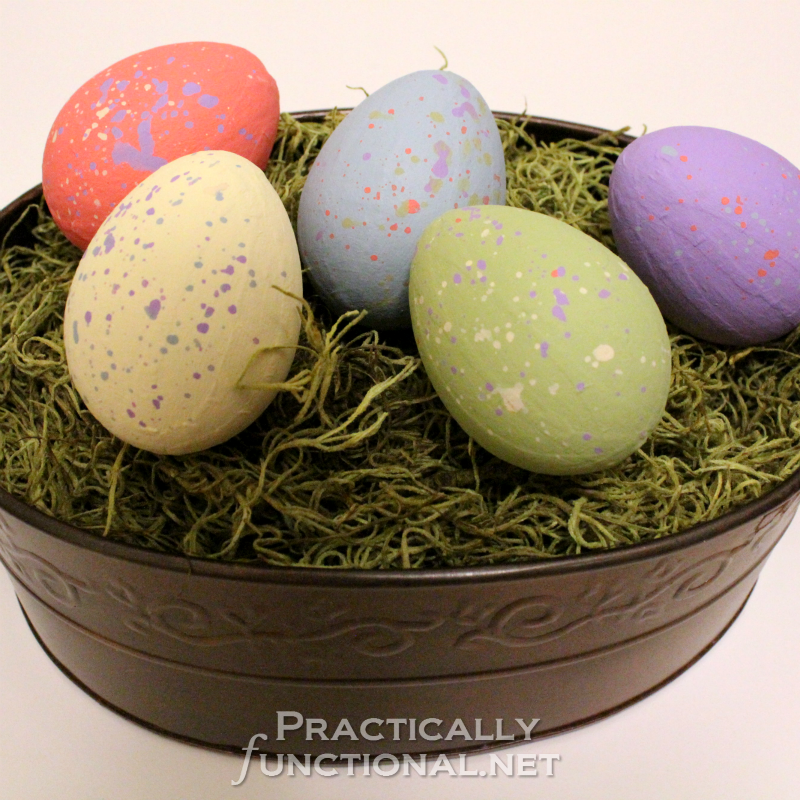 Angie at The Country Chic Cottage also made these adorable pom pom Easter eggs.  Talk about cute, I remember making pom poms for my shoes when I was little but they were never this cool!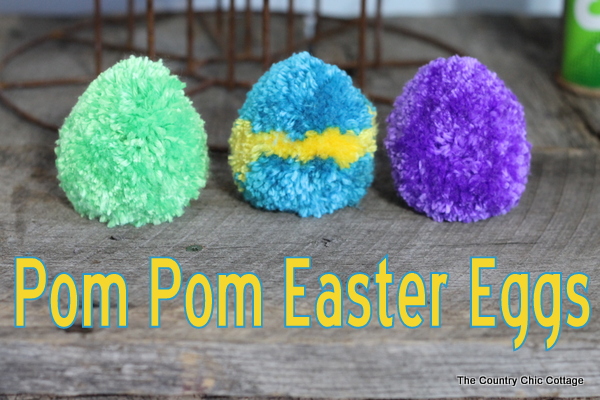 Inspired by Angie's twine wrapped eggs, Jocie at OPC's The Better Half created these sweet rope Easter eggs.
The Creek Line House took your typical plastic Easter Egg and turned them into sophisticated fabric covered Easter eggs.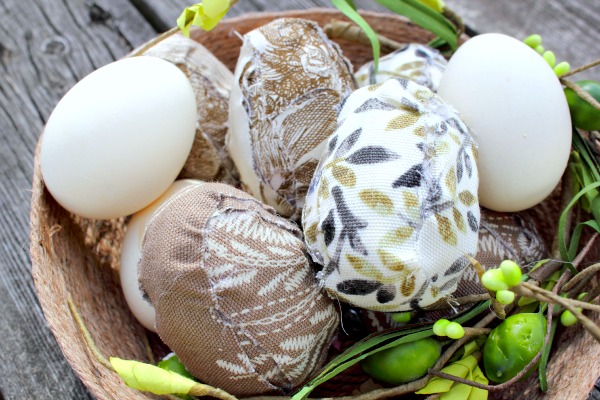 And last but certainly not least my burlap bunny Easter egg centerpiece.
If you weren't inspired before you read this post I am sure you are now!
Don't forget to head over to each site for more detailed information on each project.