After a hard day's worth of work, a family needs an outdoor living space that they can retreat to for some rest and relaxation. Unfortunately, at our new house, the only outdoor living space we had was a wore out deck that needed some TLC. It had some wear and tear on it thanks to a ginormous hail storm that came through Knoxville, a few years ago. Jacque and I wanted to restore it to a more grandeur condition, so we chose to transform the uninviting deck into an outdoor living space worth relaxing in!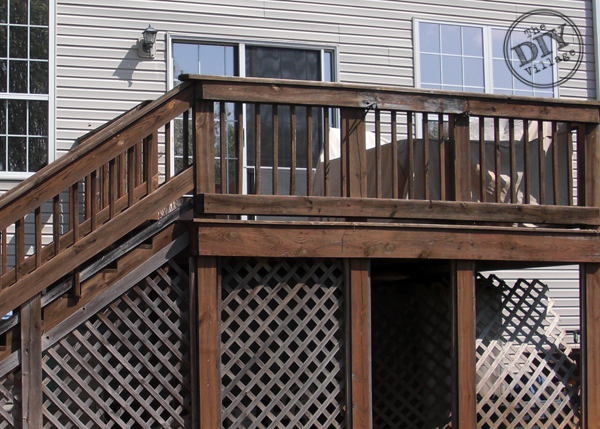 (As a Lowe's Creative Ideas Handyman, I participated in a challenge to create a project using the topic Outdoor/Patio Appeal. As a Lowe's Creator, I was provided with a gift card to purchase the supplies.)
Neither Jacque or I was very fond of the existing stain on the deck. So we chose  two different colors to try out.  We chose to go with a solid color acrylic deck stain made by Cabot, white for the handrails and dune gray for the decking boards and supports.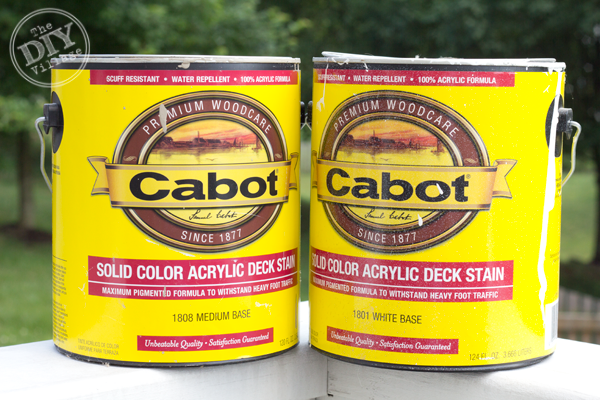 We gave the outdoor space a good pressure washing and then waited until the wood was free of moisture and began the transformation. The handrails were the first to receive the solid stain. We figured by starting with the handrails, any mishaps that may fall, wouldn't be onto a newly stained decking board. We used a combination of 4″ rollers and paint brushes to assure a good even coat. Then using larger rollers, the decking boards and supports got their transformation!
We were amazed at how well the new stain covered!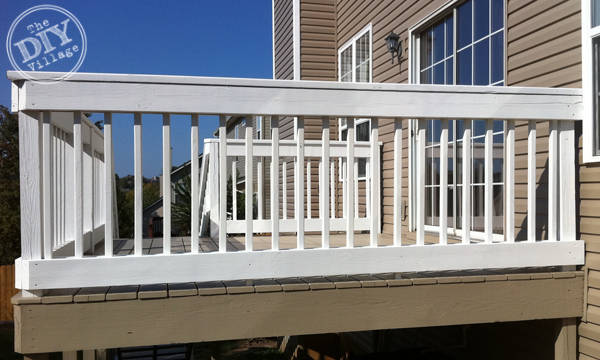 With the staining done and a few coats of sealer, we could hardly believe that this was the same deck!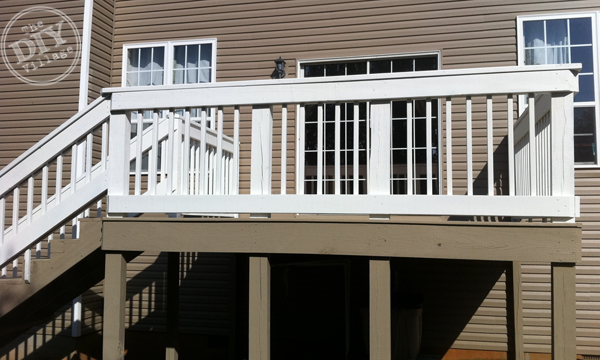 Then, it was time to make this a more usable outdoor living space!  So we made our way to Lowe's (Thankfully, only about 5 minutes away from our house!) in search of some affordable outdoor furniture.
All of the choices of patio furniture made me wish we had a larger outdoor area to fill! After, trying out every single set in the store, we found the perfect high top table and chairs that fit our space nicely. As a 6′-5″ man, I'm always thankful anytime I find a piece of furniture that, when I sit down, doesn't make me feel like I'm sitting in a child's chair.
As Jacque and I sat in the outdoor living area of the store, we got to talking about how our backyard gets full, afternoon sun. So to give ourselves some versatile shade, we chose an umbrella with a hinged pole that would allow for easy adjustments to block the direct sun!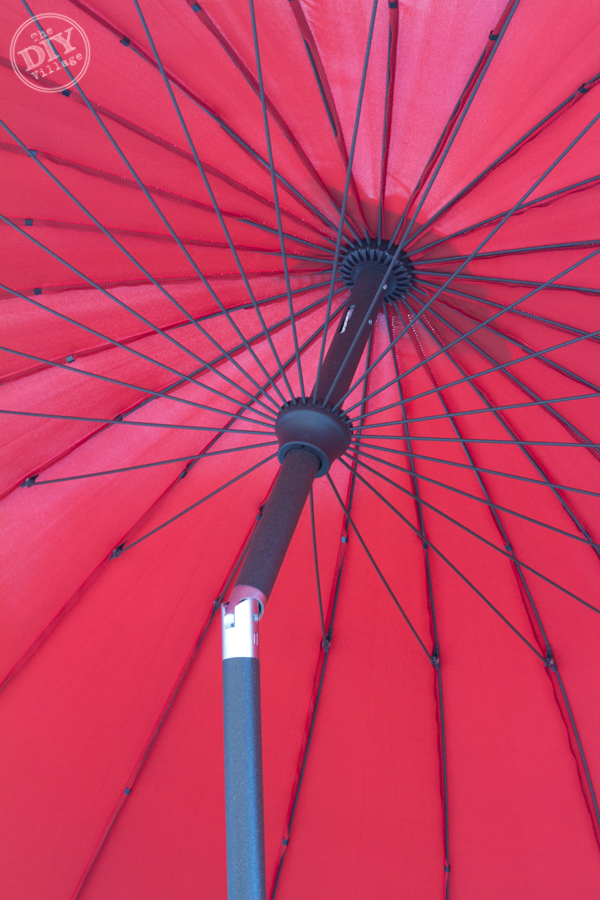 And since I'm a guy… and guys love LED's… I couldn't leave the store without getting one of these sweet LED lights for the umbrella.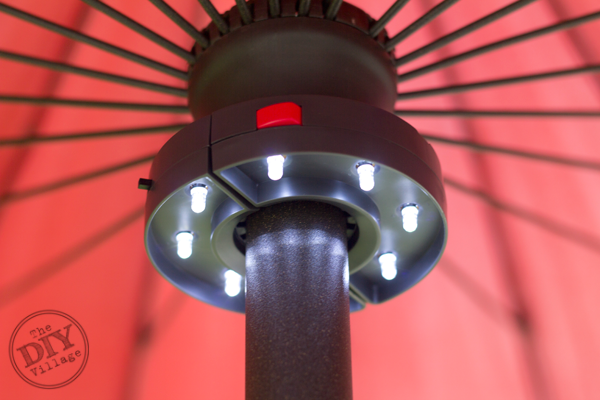 While we started to assemble our new outdoor living space, we threw down an outdoor rug that we'd been using in my office to help make the deck feel more like a living room.
Next, we took some inexpensive planters and gave them a quick paint transformation with some Valspar Spray Paint and Primer.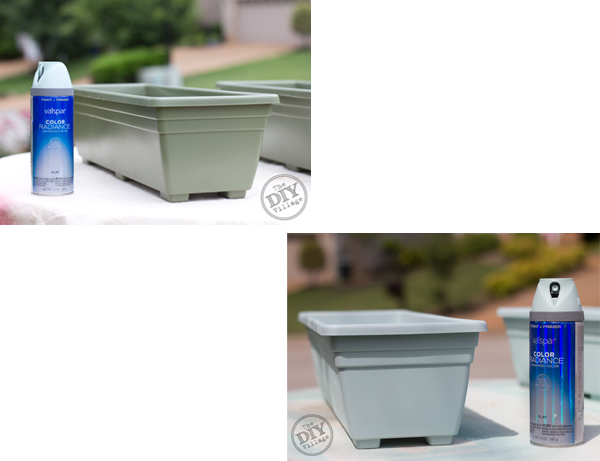 Once they'd had adequate time to dry, we added a splash of color with these beautiful and patriotic flowers!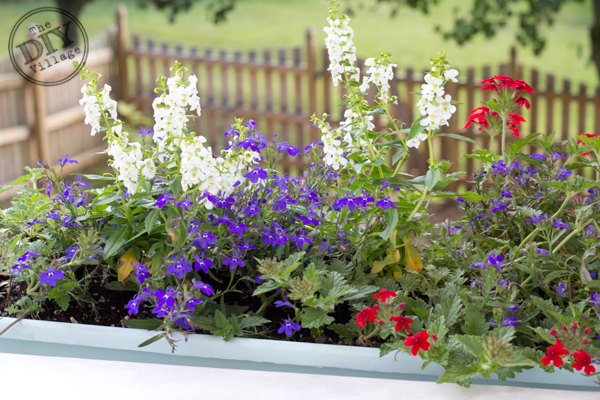 With everything in place, it was FINALLY time to unwind and relax in our new outdoor oasis!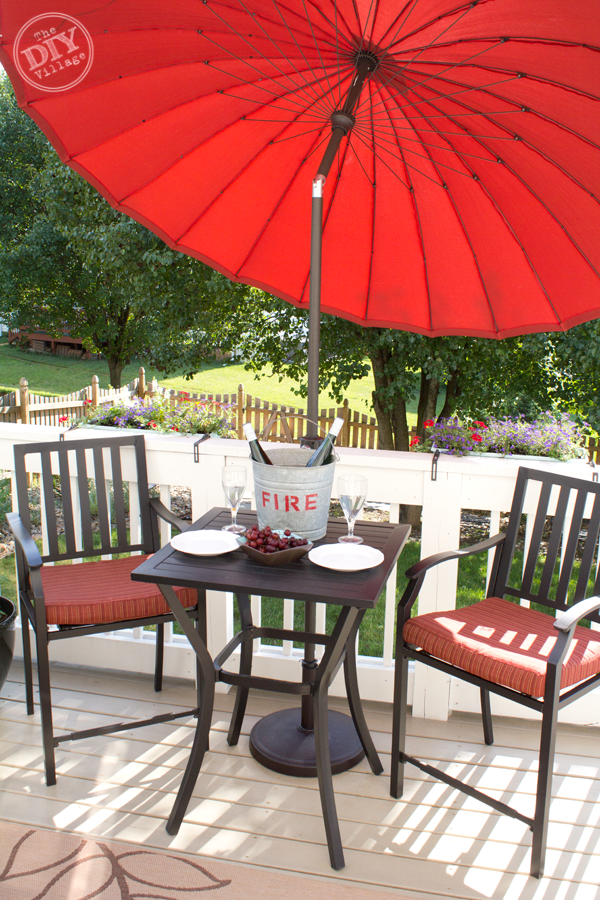 Do you have any plans for outdoor projects?  We'd love to hear what they are!
And…  If you're looking from some inspiration for more DIY projects for your home, be sure to check out all of the amazing projects from the Lowe's Creative Ideas Bloggers!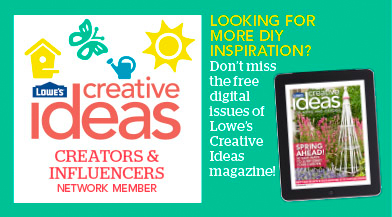 Disclosure: As a #LowesCreat0r, I was provided with a Lowe's gift care to purchase supplies for this post.  I was not told what to write. All opinions and words are my own.