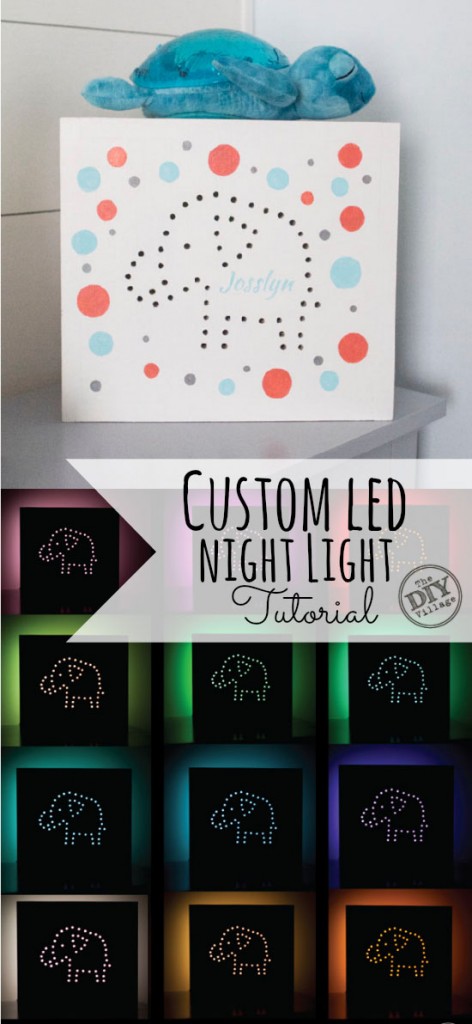 I grew up in family with a lot of traditions.  Out of all of them, my favorite would have to be our annual Christmas Make-a-Gift.  Every year, we're given a different person's name and we have to come up with a handmade gift for them. With the impending birth of our daughter, I wanted to continue our family tradition by making her first Christmas gift.  What I didn't expect was that she'd arrive on Halloween instead of the first week of December…So I decided I'd make her gift a bit early.  And knowing that Jacque and I would be spending a lot of sleepless nights in her nursery, I chose to make Josslyn, a Custom LED Night Light.
Material List:
(1) 1″ x 4″ x 6″
(1) Sylvania Mosaic Flexible LED Lighting Kit – found HERE
(1) Drop Cloth – found HERE
I thought an elephant shape would be fun to use, so I created an elephant template using adobe illustrator.  Feel free to download our elephant template.  If you've got a vinyl cutter, you could easily cut the template out of vinyl or just as easily, you can print the template onto a piece of paper and tape it onto your work surface.
Cut List:
(1) Wood panel cut down to 12″ x 12″
(2) 1×4 @ 12″
(2) 1×4 @ 13-1/2″
If you choose to use a vinyl template, apply it to your plywood and using a pencil, transfer the pattern onto the wood surface, then remove the vinyl.  (Since vinyl has an adhesive back, I find it best to remove it before drilling, so you don't gum up the drill bit.)  If you choose to use a printed template, you can drill right through the paper!  Just make sure to secure the paper securely in place with some tape.
Place a scrap piece of wood under your work surface to reduce splintering and using a sharp 1/4″ forstner bit (found HERE), drill the pattern into the wood. (I chose to use a drill press to help keep the holes uniformly straight, but you could use a handheld drill, just make sure to keep the drill as straight as possible.)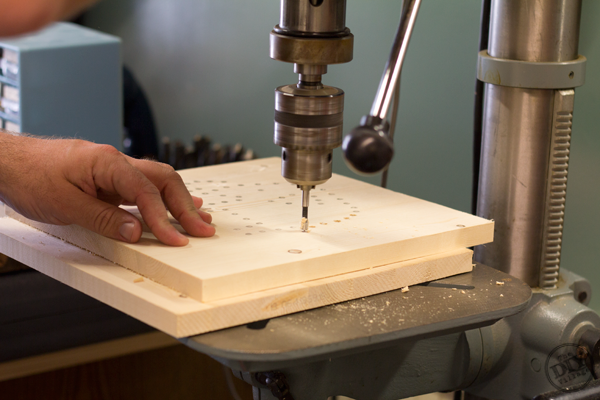 Now you can assemble your frame around the wood facing.  I used wood glue AND nails to hold the frame together, but if you've got a good set of clamps, the nails may not be necessary!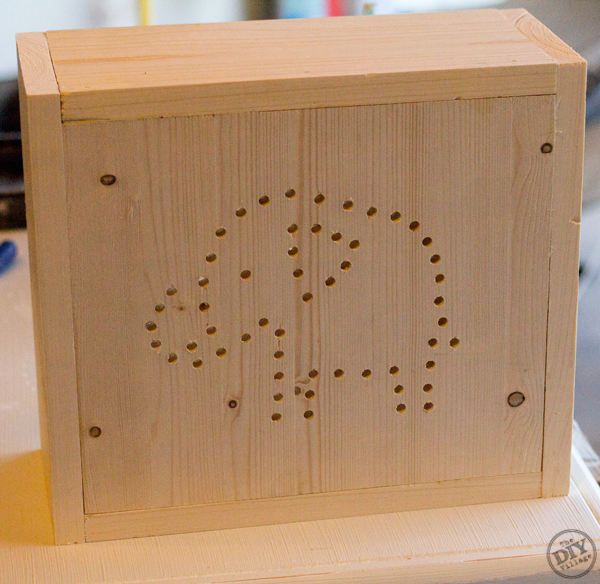 Once you've assembled the night light, fill in the cracks and nail holes with a wood filler, then sand until smooth.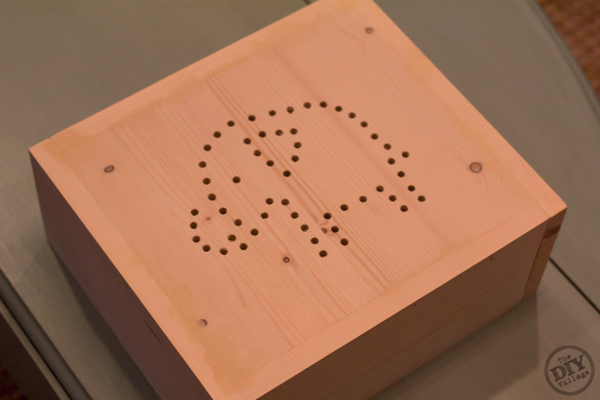 Next, prime the night light box.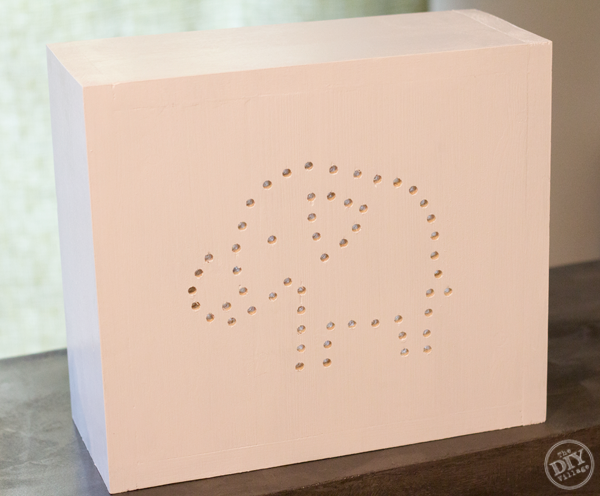 Now get creative and deck out the front of your night light!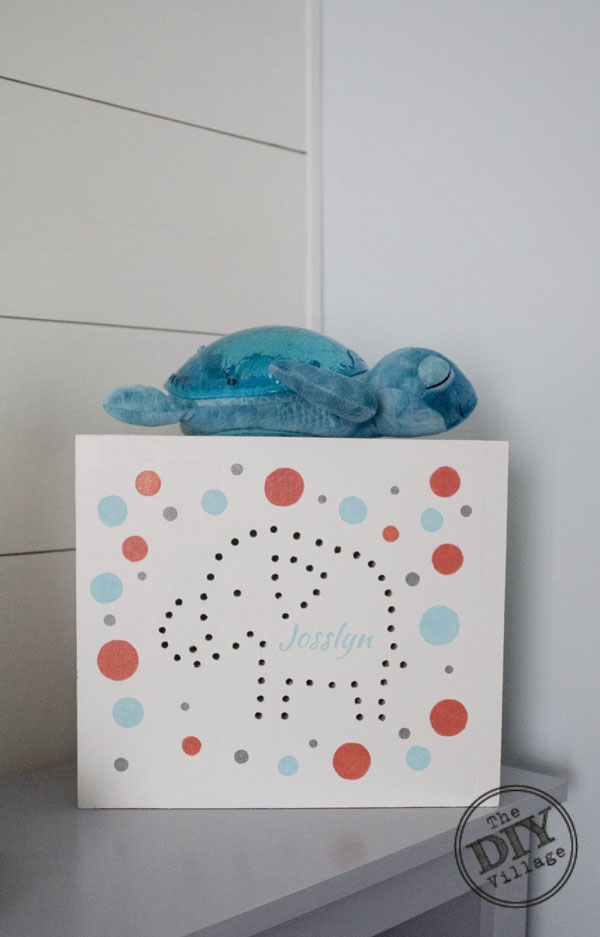 With the outside of the night light complete, now it's time to add the lights!  Lowe's sells this Sylvania Mosaic Flexible LED Lighting Kit.  It's super easy to work with and it allows you to add multi-color options and patterns to your custom night light!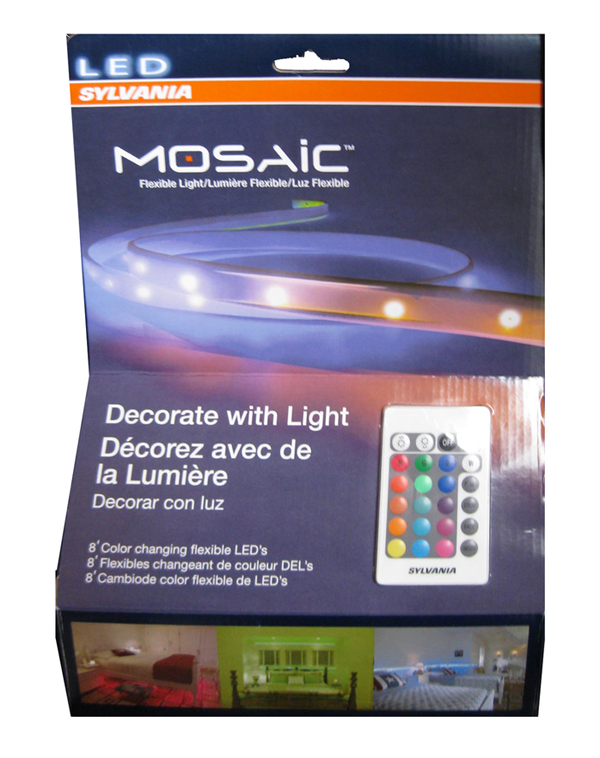 The LED strips have adhesive on their backsides, so remove the paper backing and secure the strips around the inside of your night light box.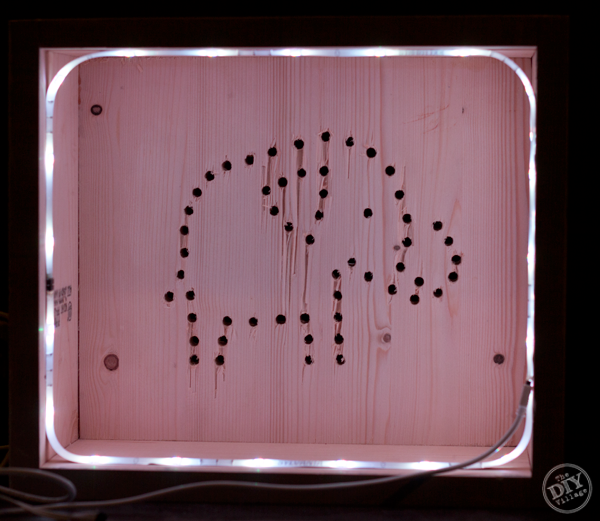 To finish off your night light, trim the drop cloth down to approximately to 12″ x 12″ to cover the open back of your night light.  With the drop cloth cut , staple it in place using some 5/8″ staples.  The drop cloth fabric diffuses the light that comes from the back of the night light.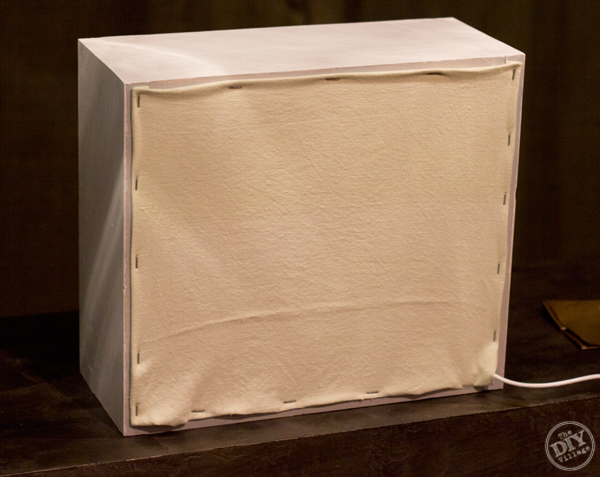 With Josslyn's early arrival, we've had a chance to try out her night light and we couldn't be happier with it!  I just hope that all of the gifts I make for her will turn out this perfect!  Since we plan on continuing on with our make-a-gift tradition, I'll have plenty of practice!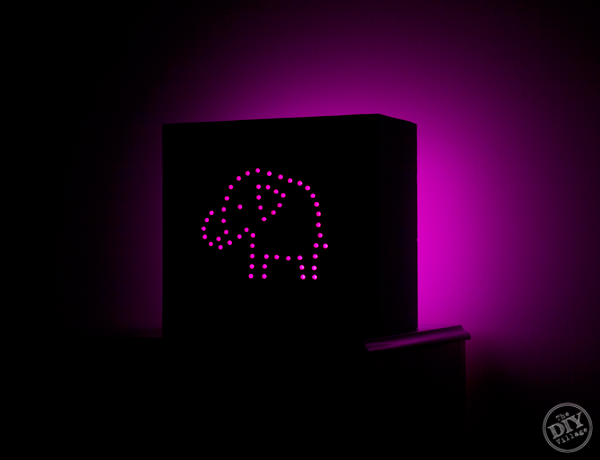 Using the same concept, you could easily make up your own pattern for whomever you're making the night light for. I think a boat or an airplane would be a pretty cool pattern!  What other patterns do you think would work well? Keep an eye out over the next few weeks as we reveal the work we've been doing in her nursery!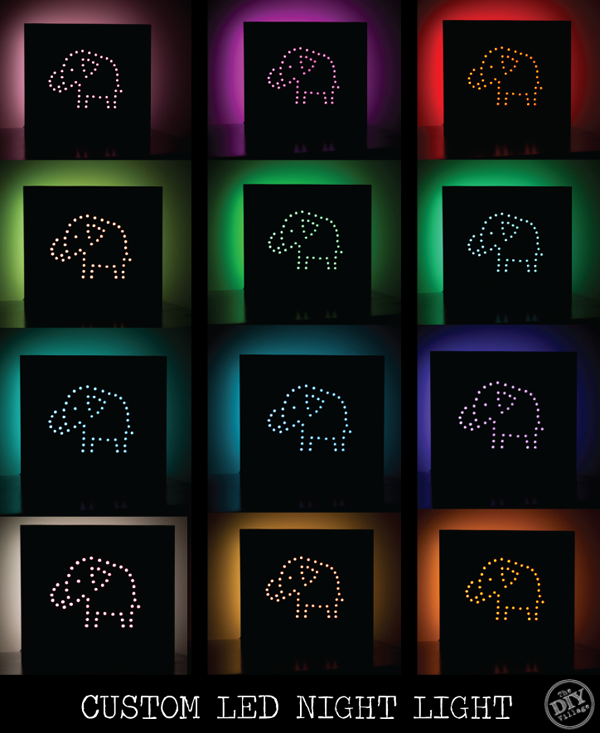 UPDATE 2016:  When I found out we were having a little boy I knew I had to make him, his own nightlight.  Since Josslyn got the Elephant I went with a Whale for our little mans room.  It's rustic and fun.  these are still the best night lights ever!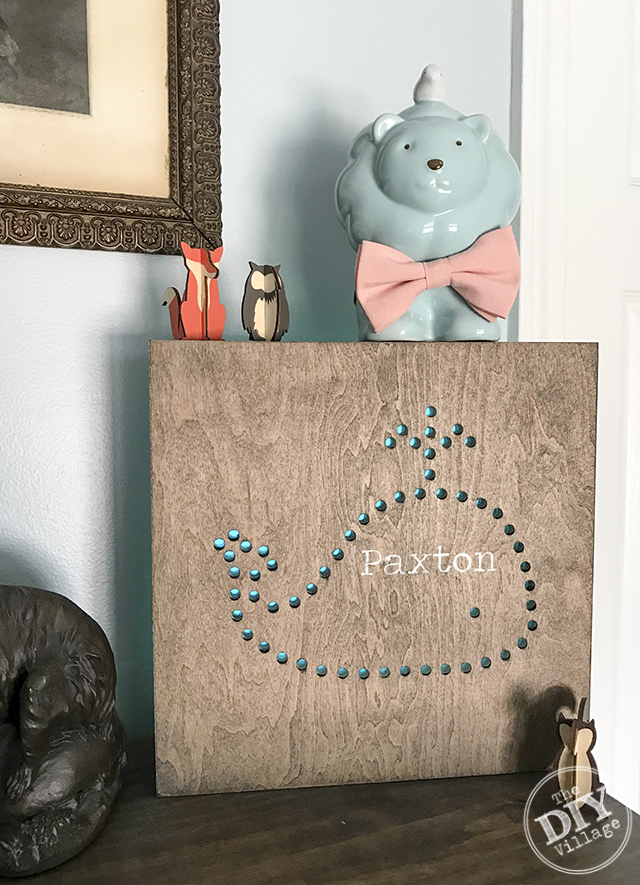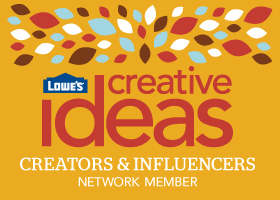 Disclosure: As a Lowe's Creative Ideas Handyman, I was challenged to complete a project that involved creating a handmade holiday gift.  I was provided a gift card to cover the cost of materials for my project, but I was not told what to write.  All the ideas and words found here within are my own
Looking for more Lighting projects?  We've got you covered!