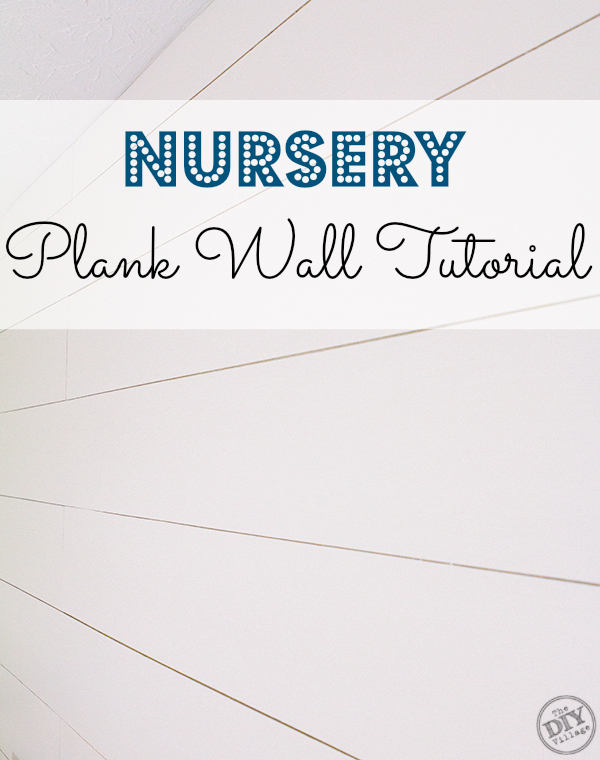 There's one special room in our home that we've anxiously been waiting to overhaul.  Josslyn's nursery!  It had stayed almost completely empty since we moved in back in 2011.  The only thing we'd done in there was give it a fresh coat of paint and installed a ceiling fan.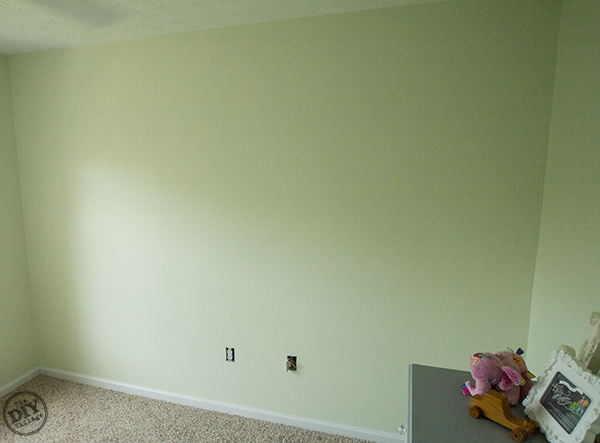 Jacque and I both agreed that even with the fresh coat of paint, the nursery felt a bit too plain.  We spent a lot of time talking about how we'd like to spruce it up and finally came to the agreement that we'd try our hand at installing a nursery plank wall.
Jacque's Dad introduced her to PureBond plywood, a really beautiful quality plywood that he's used on some of his DIY projects.  She suggested that we use PureBond for the plank wall.  I looked into the company a little closer and was pleasantly surprised to find that there products are "family-friendly" as they are formaldehyde-free.  That fact alone made me confident that we were using the right quality wood!   So we purchased three sheets of 1/4″  4'x8′ Oak Hardwood.  This was my first time using PureBond Plywood…And all I can say is WOW!!! I'm kicking myself for not using it sooner.  This wood is absolutely gorgeous.  And what really surprised me was how affordable it is!
In our research, we've seen a lot of homeowners install plank walls, but not many used 8″ wood planks. Most of what I found was 6″ planks or less.  We like the look of the wider 8″ boards, as around East Tennessee, that's what a lot of the old barns use!  We ripped down the 4'x8′ sheets using a table saw.
Next, we needed to prep the wall.  Using a stud finder, we marked the location of the studs across the wall.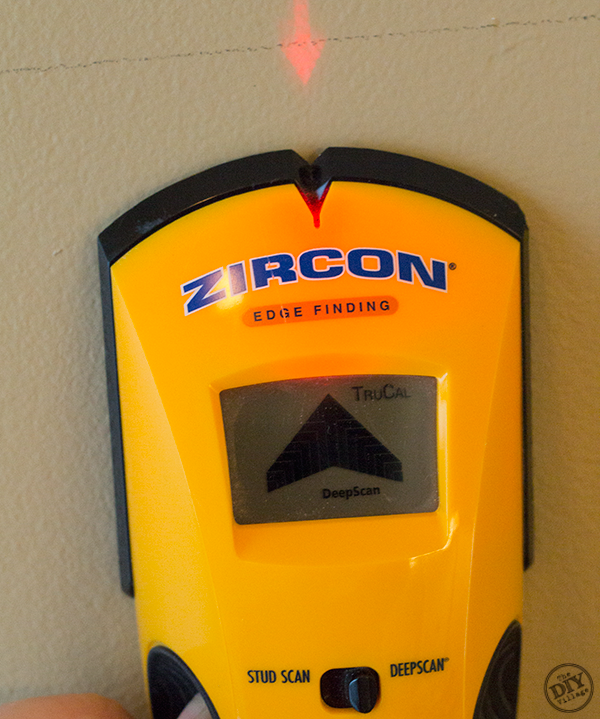 Our goal was to make as few cuts as necessary, so we came up with a layout that would maximize full 8′ planks. Since our wall measures 10′-11″, we chose to make each horizontal row a combination of an 8′ plank along with a 34-1/2″ plank.  (That left roughly 1/2″ of play.)  With each new row, we'd alternate the side where the 8′ plank would be placed. Here's an illustration of the layout.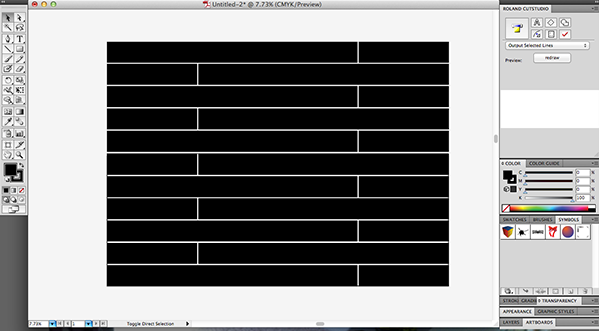 This was the perfect project to try out the newest addition to our tool cache, the Ryobi 18V Brad Nailer.  (If you haven't had a chance to get your hands on one, you're missing out!  Plus, using it meant not having to lug an air compressor, hose, and a nail gun upstairs)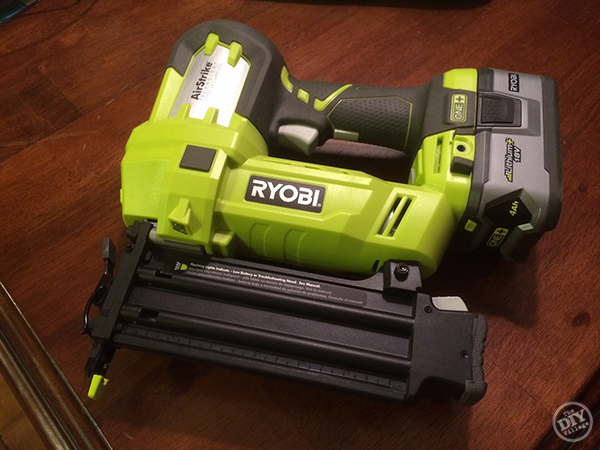 We started with the first 8′ plank against the left corner of the wall about a 1/4″ up from the baseboard, double checked that it was level, and secured it in place with a nail.  Then we placed the 34-1/2″ piece next to it, finishing off the first row.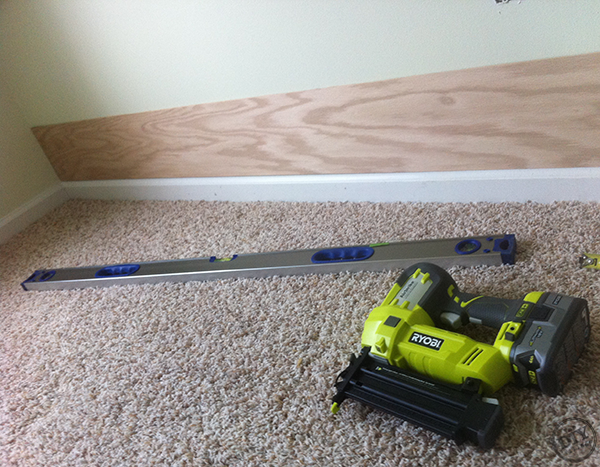 As we started on the second row we had to work around an 2 different outlets.  With the plank held in place, we marked the location of the box and notched the plank using our Ryobi Job Plus Tool.

We continued installing rows, alternating sides with the 8′ planks.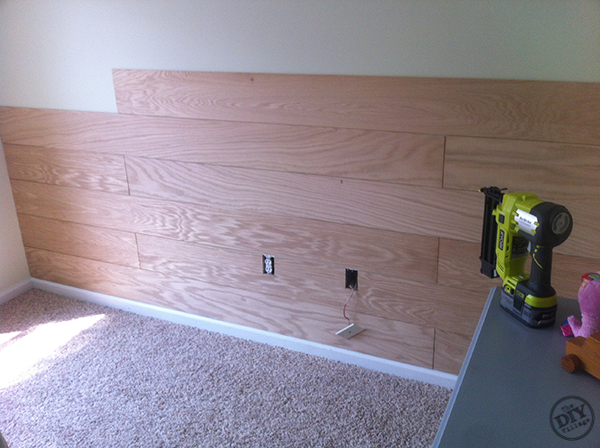 Once all of the planks had been installed, we filled the nail holes with wood filler, let them setup, and then sanded them smooth. (To reduce the sanding dust, we used 3M's Clean Sander System.  It has a vacuum attachment and impressively reduces the sanding remnants.)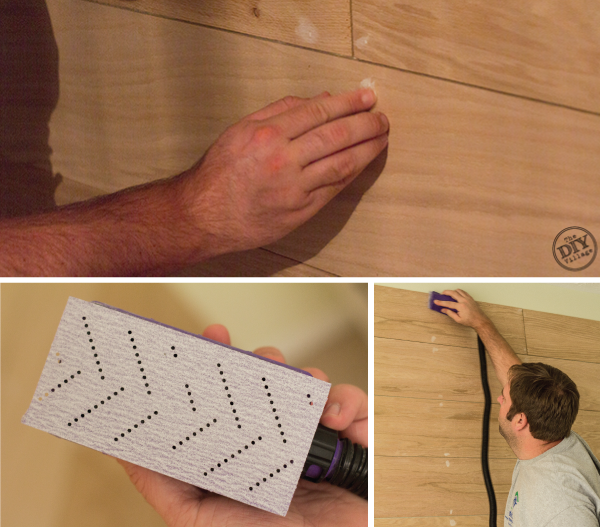 Lastly, we painted the plank wall with a Valspar Paint and Primer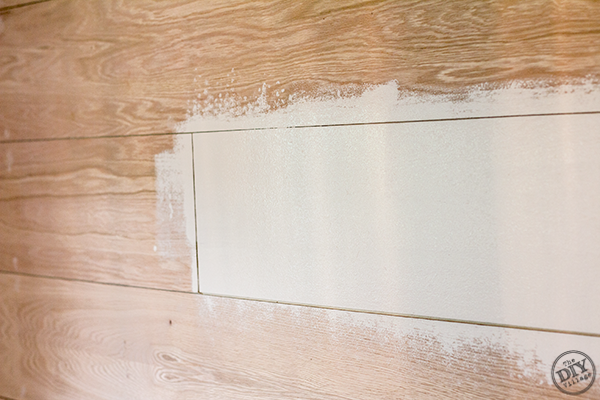 And here's the nursery plank wall fully painted!  We love the farmhouse feel that the planks add!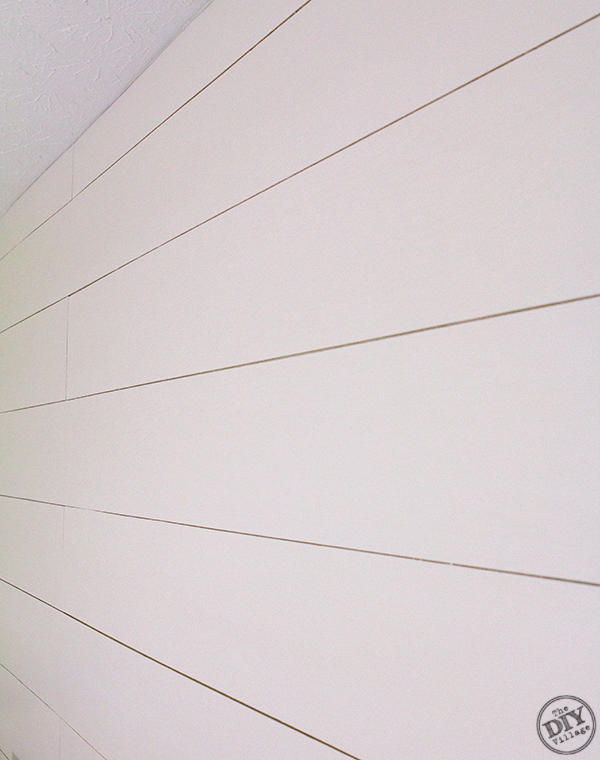 Now, we don't want to share too much!  Over the next few weeks we'll be revealing more of the work we've been doing in the nursery, so be sure to check back to see what we've been up to!