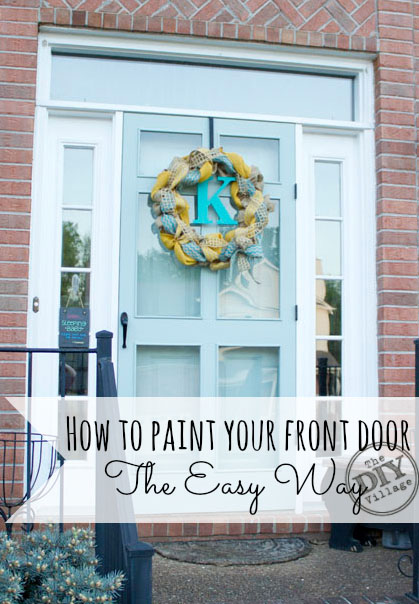 Back in the fall one of the projects on our never-ending honey-do list was to paint the front door.  I had planned out the exact weekend that I was going to paint the door and even had all of my supplies rounded up.  This is probably shocking to some that know me to be quite the procrastinator, but it's true I was really ready to do this project.
Painting the front door had been a huge dream of mine for quite some time.  To fully understand why one would ever actually dream of such a day, you have to know that I lived in a condo community for 11 years.  That's right folks for 11 years I wasn't allowed to do so much as hang a wreath on my front door without the Blue Haired Mafia having an opinion about it's placement or theme.
It took some time but I figured out my own ways to express my individuality and still adhere to their rules.  One of my most favorite by-laws was, "Everything from the drywall in, is property of the owner".  That included the drywall in my two car street facing garage.  One fateful Tuesday evening at the monthly homeowners meeting the BHM pushed me to my breaking point, they denied my request to paint my front door.  I even suggested 4 different options for them to choose, all very tasteful in my opinion.  I left that meeting crushed but not defeated and began to plot the most fabulous passive-aggressive revenge one could imagine.
One Saturday morning I got up bright and early and headed to the local home store and bought two gallons of the cheapest paint they carried.  Before leaving I did one more thing, I had them tint the paint.  One was Chartreuse Green and the other was Hot Pink.  The man at the paint counter thought I was off my rocker, but I knew exactly what I was doing.
As soon as I got home I started painting the walls Chartreuse with the garage door wide open.  I heard a few chuckles as neighbors walked by on their morning walks and even a few gasps.  While I was painting the door from the garage into the house, also extremely visible from the road, Hot Pink the BHM leader stopped and asked what in the world I was doing.  With a smile, I looked up and said, " Oh you know,  just painting my garage."  She already had a horrified look on her face and she asked, "Why on earth would you paint your garage these colors, if you leave the garage door open everyone will see them."   I smiled a little bigger this time and in a very serious voice said, "Yes, I know I will probably leave it open from the time I get home, till the time I go to bed."  I could tell I was really getting to her and figured it was time to get to the point and said, "I bet now you are wishing you would have just let me paint my front door."  She left in a huff and for 9 glorious years I lived with my chartreuse garage walls and hot pink door.  Of course I painted all of this over before I put my condo up for sale.  And since Matt has made it MORE than clear that we will never have a garage that looks like that again.
With his point being made I knew it was time for me to just go ahead and paint my front door.  Only one minor problem occurred ,the weekend I picked to paint my front door was also the very same weekend after my daughter was born.  So here we are 6 months later and my door is finally painted.  I had a few tools that made the process simple and now I'm going to share those with you!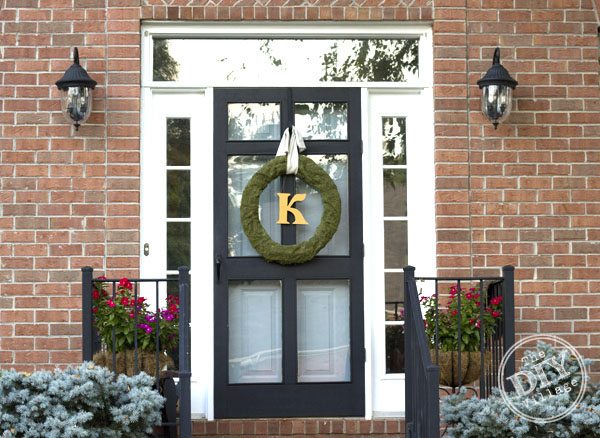 I do need to admit that I had jumped the gun a bit a few years ago and decided to paint the inside door blue.  The same blue as the leftover paint from our master bedroom.  And I basically hated the look of the blue door and black storm door.  After a lot of consideration I decided that they both needed to be the same color.  And that color was Wythe Blue!  Before you just go off and start painting your door you will need a few materials.
ScotchBlue™ Painter's Tape for Exterior Surfaces (2097)
Exterior Paint
Paint Brush
Rag
Soapy Water
3M™ SandBlaster™ Paint Stripping Sanding Sponge
Screwdriver or drill
Instructions: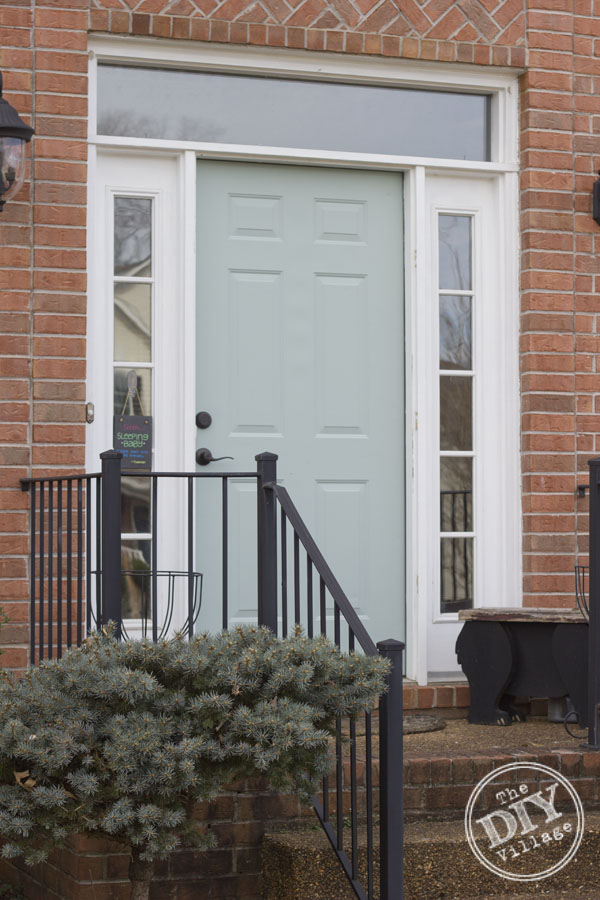 Start by removing the existing storm door from the hinges.  While the door is off paint the front portion of the door.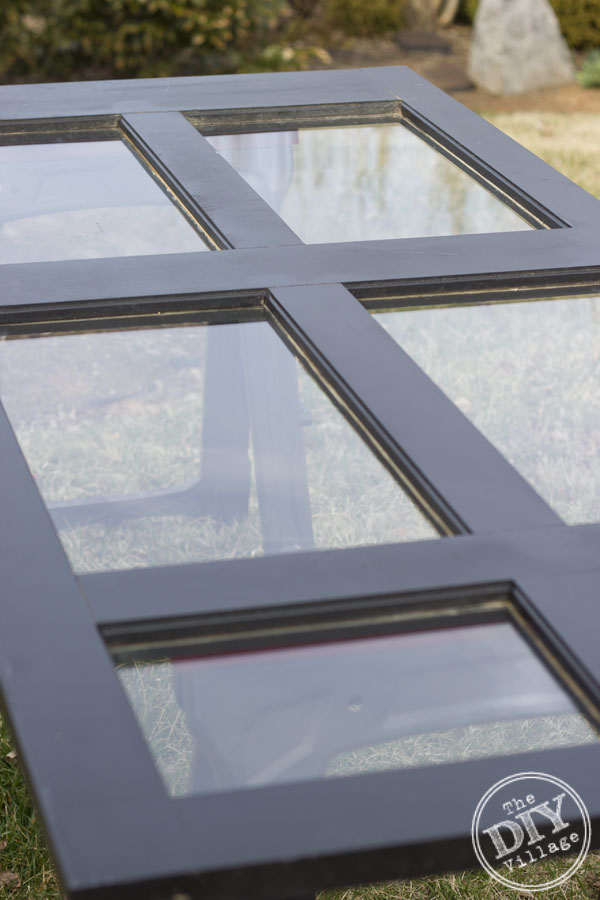 Clean the surface of the door and glass to remove any residues that may be present.  This will allow your paint to stick to your door better and the tape to stick onto the glass.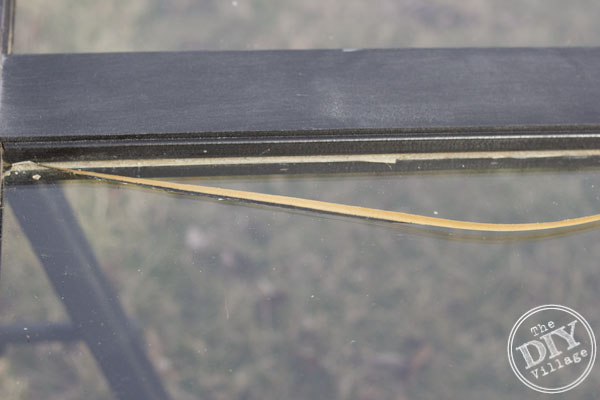 This also includes anything else that might be on the door.  For example if kids have decorated your glass with fancy stickers.  In my case it was to try and remove all of the adhesive backed paper the previous owner had used to mask of the glass instead of tape.  Please keep in mind this was painted 3 years ago and I am STILL trying to get all of the paper removed.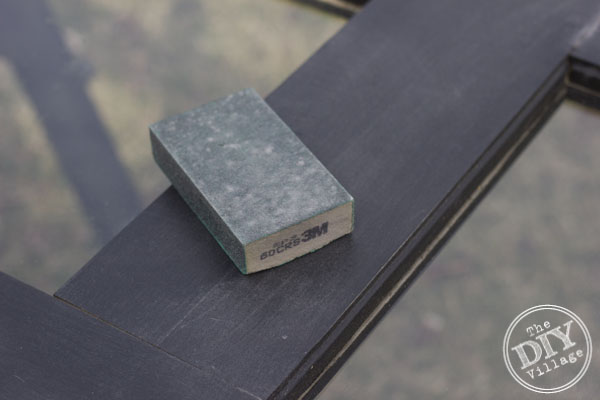 Once everything is cleaned go ahead and lightly sand your door, that is if the door is wood, I used a 60 grit 3M SandBlaster™ Paint Stripping Sanding Sponge.  Wipe any residue caused by the sanding away with a damp rag.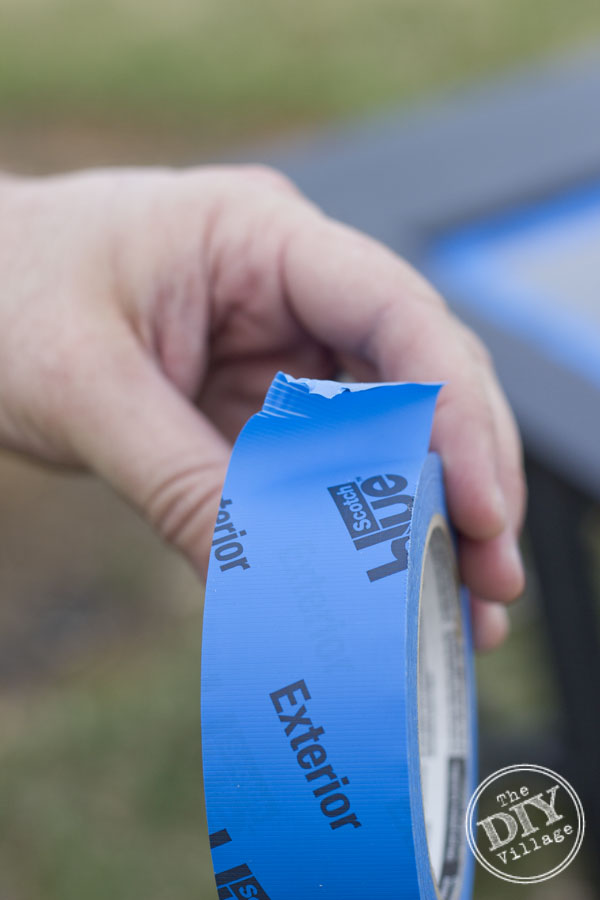 When you open the ScotchBlue™ Painter's Tape for Exterior Surfaces you will notice that it has easy tear perforations that give you the perfect 90 degree angle tear every time!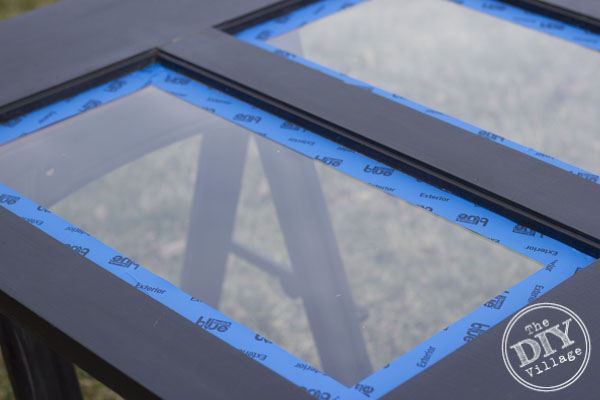 Tape off the glass as close to the trim as possible.  Press the edges of the tape down to ensure that no tape sneaks under the top.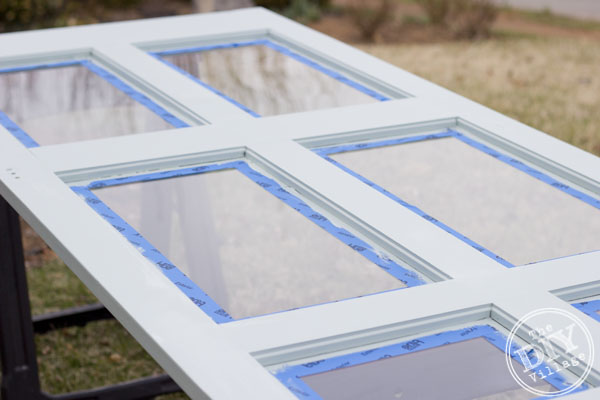 Go ahead and paint the door at this point.  Your door may need a few coats and if for some reason it takes a few days for you to complete the process don't worry ScotchBlue™ Painter's Tape for Exterior Surfaces can stay on for up to 7 days with clean removal and has a water-proof backing that will stand up to most outdoor conditions.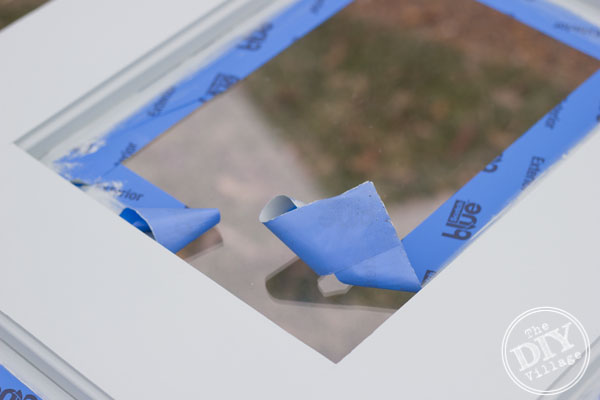 Once the door has the desired number of coats of paint remove the tape.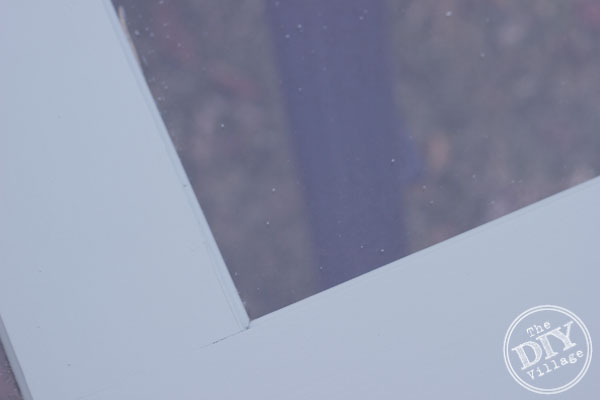 I took mine off while the paint was still wet but if you like you can wait till the paint is dry.  Either way you will be amazed at the crisp lines left by using this tape.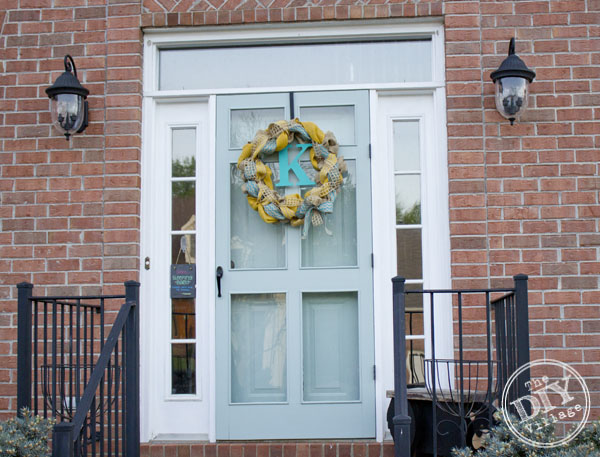 In all this project took me an afternoon to complete and I will be the first person to admit the 14 year wait to having my front door painted was worth the wait.  I smile every time I drive up the street and see my beautiful blue door!  It's amazing how something as seemingly simple as a painted front door can make your day … or dare I say year!
Do have your own favorite ScotchBlue™ DIY?  Enter the Home of ScotchBlue™ Painter's Tape Contest at www.scotchblue.com/homecontest now through July 15, 2014 and you could win $5,000 to put towards a home makeover! The first 500 to submit an eligible entry will receive one (1) roll of the new ScotchBlue™ Painter's Tape with Advanced Edge-Lock™ Paint Line Protector!
Check out this project as a featured project example in the contest!
Contest open to legal residents of the U.S. and D.C. (excluding AZ, MD, NJ, ND, TN and VT), who are 18+ (19+ in AL & NE and 21+ in MS) at the time of entry. Void where prohibited. Enter from June 2, 2014 at 12:00:01 a.m. CT through 11:59:59 p.m. CT on July 15 2014. All contest communications, entry/judging criteria and details subject to the full Official Rules. Sponsor: 3M Construction and Home Improvement Markets Division, St. Paul, MN.
You can also keep up by liking ScotchBlue™ Painter's Tape Facebook page , following ScotchBlue™ Painter's Tape Twitter page , subscribing to ScotchBlue™ Painter's Tape YouTube Page, following ScotchBlue™ Painter's Tape Pinterest page , or just checking out ScotchBlue.com  for inspirations and tips!
I am proud to be a 3M sponsored blogger, and, as part of my responsibilities, I get the opportunity to evaluate new products from ScotchBlue™ Painter's Tape. Opinions are my own and additional product used in the project were selected by me.