A few months ago, I was given the opportunity to get up close and personal with the new line of Kobalt 40V Max Outdoor Power Equipment.  It's comprised of 7 different tools that all run off of the same 40V lithium ion battery; A chainsaw, pole saw, hedge trimmer, string trimmer, blower, and two different lawn mowers.  I've spent the last few months putting these tools through the ringer to be able to offer a thorough review, not only of how these products perform at a testing facility, I put them to the test in my own yard, so if something doesn't fit the bill, I promise to let you know it!
The first two tools to get put to the test were the chainsaw and pole saw.
Using one interchangeable fully charged battery, I was able to take down an entire 25 ft tall bradford pear tree, trunk and all!  I started off by limbing up the tree using the pole saw.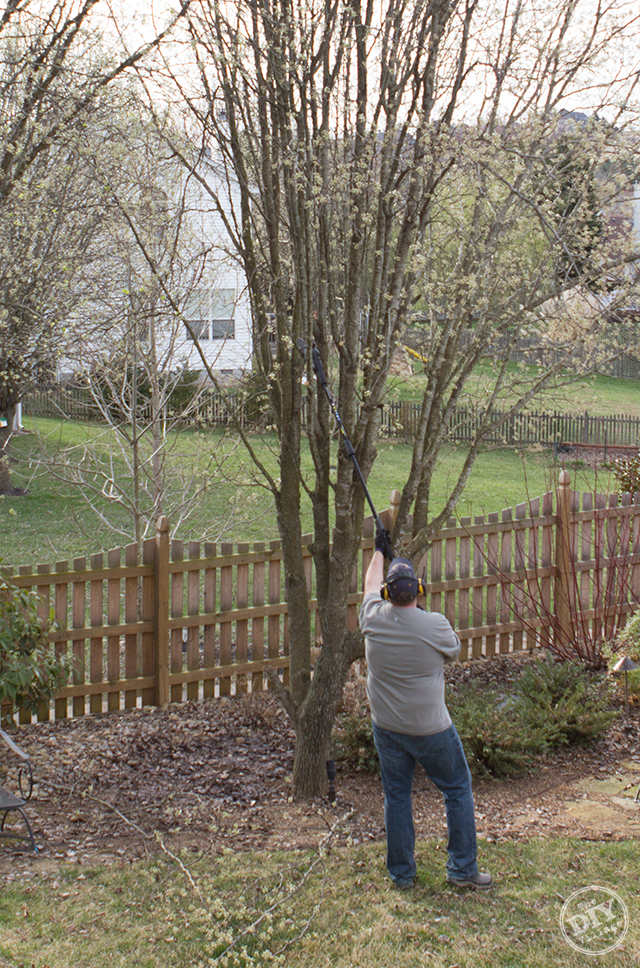 After just a few minutes, I was really impressed with how well it was performing.  It was surprisingly easy to handle and never felt overly heavy. With the included pole extension, it has a reach of 10.75 ft, which came in pretty handy for those hard to reach places!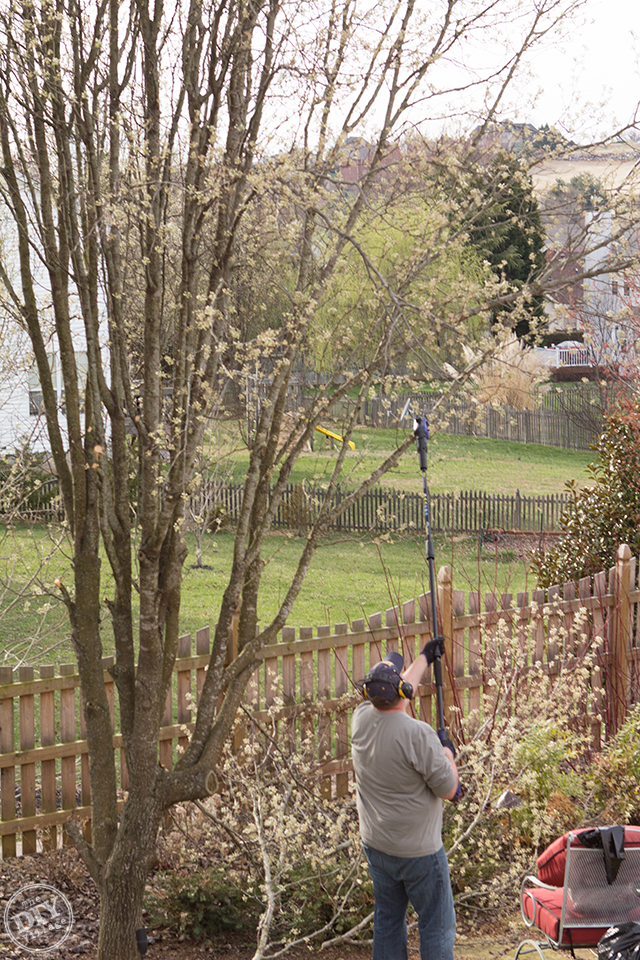 When I switched to the chainsaw, I was equally as impressed at its performance in taking down the rest of the tree.
Tool free tensioning makes easy work of last minute chain adjustments!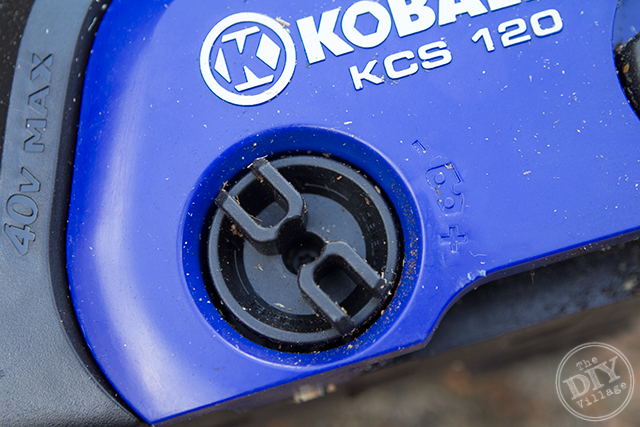 Admittedly, if I were making a living as a lumberjack, I may not trade in my gas powered chainsaw for this one, but for my residential needs, I found it to be a worthwhile addition to my outdoor equipment.  It's much more quiet, than a traditional chainsaw, but definitely held its own cutting through the entire 11″ diameter of the bradford pears trunk.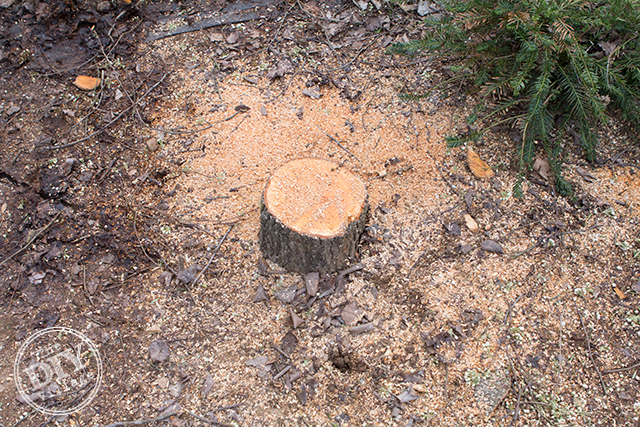 The Kobalt 40V Max Hedge Trimmers proved to be light weight, comfortable to hold, and without the hassle of lugging around an extension power cord, made trimming up my boxwoods easy and convenient! With it's 22″ cutting length, you shouldn't have any problem tackling even your biggest shrubs!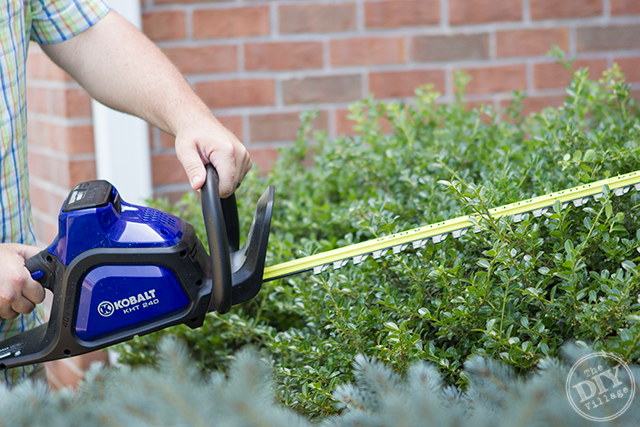 Next up is the Kobalt 40V Max String Trimmer.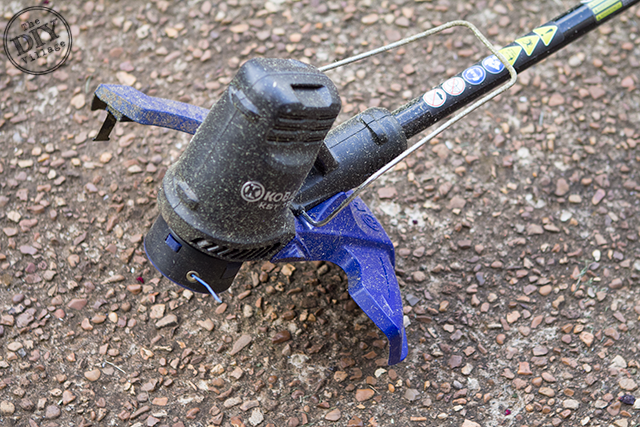 I'll start off by pointing out that as a 6′-5″ man, I found the string trimmer comfortable to hold.  It's got an adjustable handle to allow for custom comfort.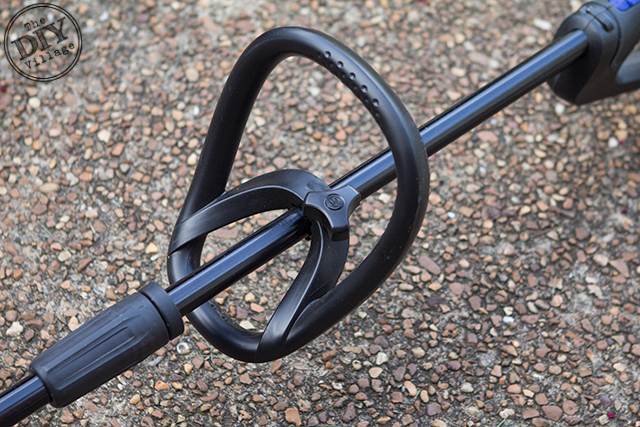 The trimmer uses a thinner gauge string then what I'm accustomed to using, but for general weed eating around the house, it worked great!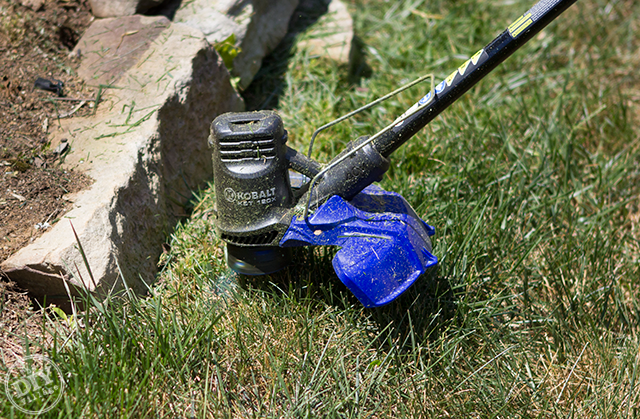 The auto feed string feature does take some getting used to.  The key seems to be consistency with the throttle.  Each time you completely let off the throttle and start up again, it feeds about a 1/4″ out at a time. With a little practice and a steady throttle, I don't see this as a long term concern. For those that don't like the hassle of having to restring your weed eater, this might be the perfect solution for you, as the string is available in pre-strung cartridges.
Now let's bring on the big guns, the Kobalt 40V Max 20″ lawn mower!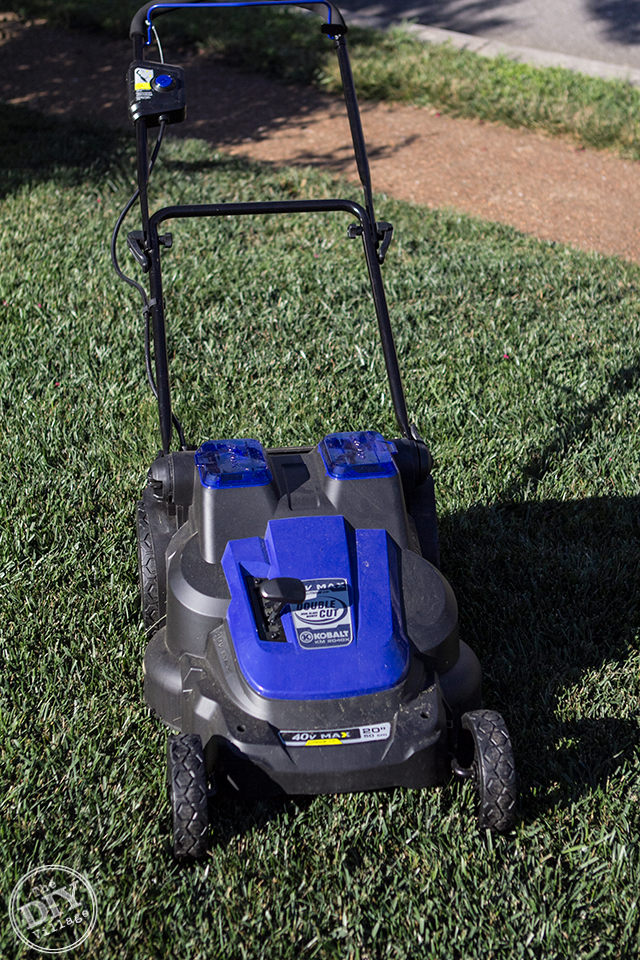 Given that this was my first encounter with a battery powered lawn mower, I was a bit skeptical about whether or not this mower would actually pass the test of time.  When I powered it up for the first time, I couldn't believe how quiet it was! Setting the deck height is extremely easy with the single level height adjuster.  It allows you to conveniently change the deck height in one place, rather then having to readjust at every wheel.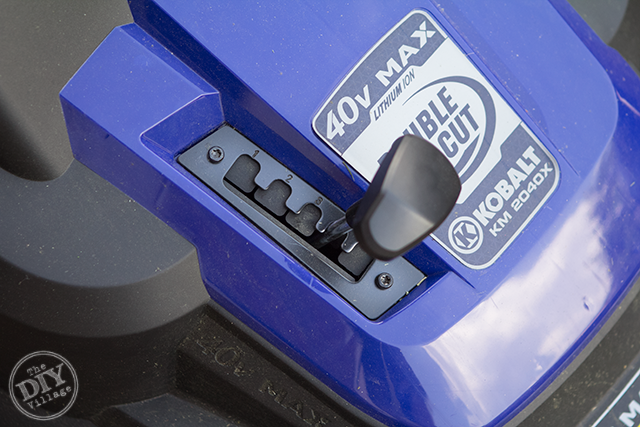 The mower is not self propelled, but it's light, so it doesn't need to be!  The Kobalt 40V Max 20″ mower has dual battery system and comes with a Lithium ion 40V-4-Ah Long Run Battery and a Quick Charge 40V-2-Ah battery as well.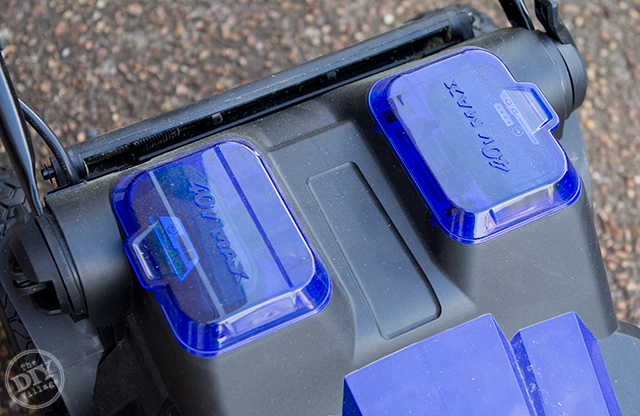 The mower just uses one battery at a time, but if you run the first one down, the secondary takes over. I've got a small to medium sized yard, and have found that I can usually get two full cuts when utilizing both battery chambers.  It does well whether you're bagging or using the mulching insert.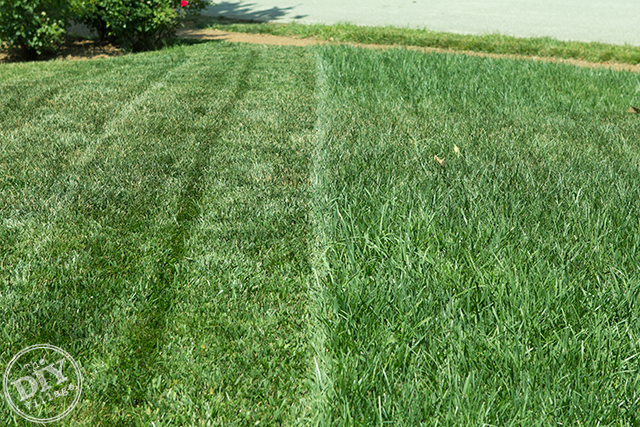 Not once have I had to stop and replace either battery during a mowing session. Aside from sharpening the blades, it's about as maintenance free a mower as you can find!  No oil to change, no gas to worry about going bad over the winter!  And when you've finished up the mowing, it stows away for quick and easy storage!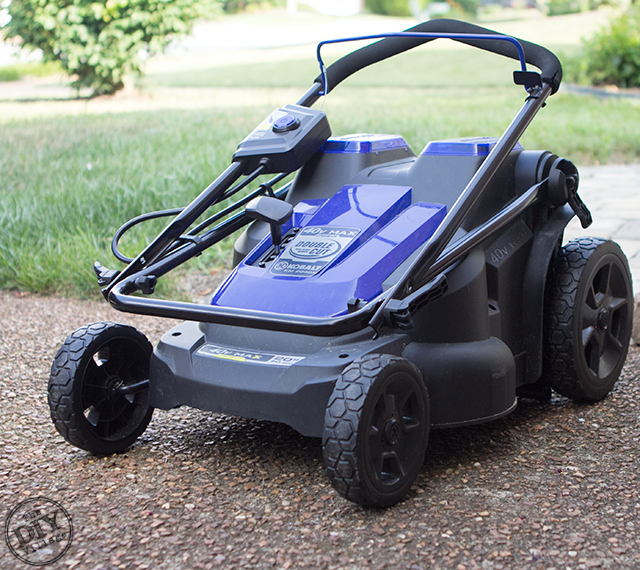 The last power tool I got to try out was the Kobalt 40V Max Blower!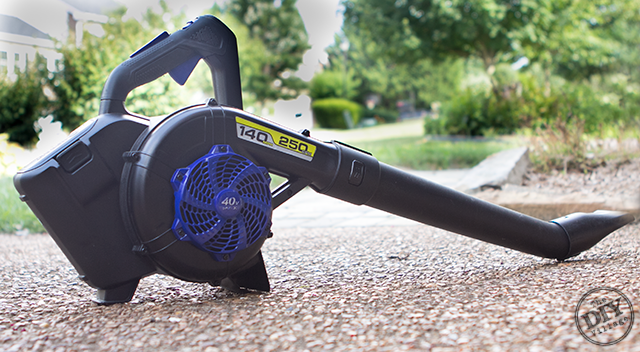 It's capable of moving an impressive 250 CFM.  If you're asking yourself, well what does that mean, it means it's got enough "umph", to meet your blower needs!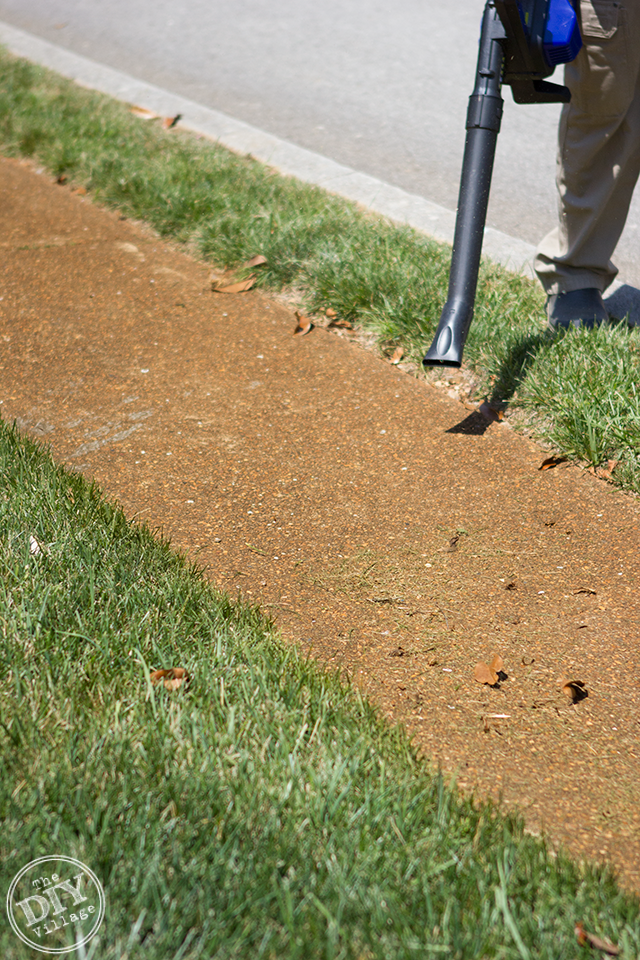 I've put it to the test blowing out my landscape beds after trimming the hedges, clearing my walkways after a mowing, and my favorite, blowing out my garage/workspace without leaving it (or me) smelling like nasty fumes!
Now let's briefly talk batteries!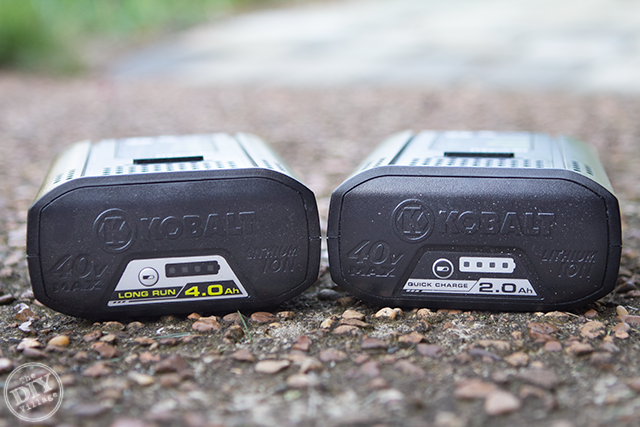 Each tool comes with at least one 40V-2-Ah Lithium Ion battery that will deliver a fade free power supply with no memory loss after it's charged.  Each battery has an easy to see power level indicator that keys you into when you're ready for to recharge.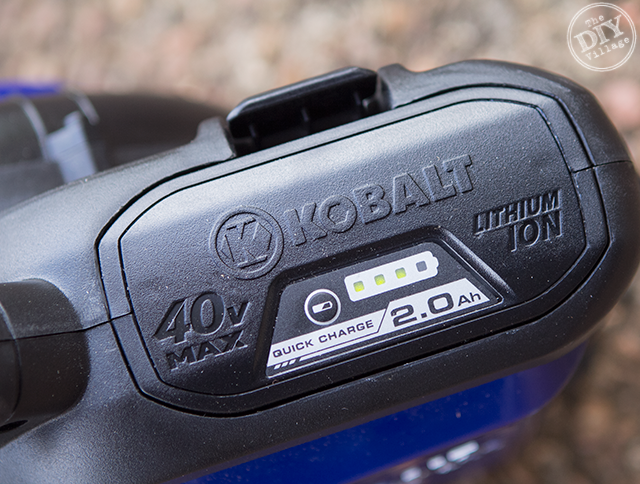 The 4oV-2-Ah battery is quick charge, so if the power is fully used up, the 40V-2-Ah battery will be fully charged in less then an hour!  Likewise if you're in need of recharging the "Long Run" 40V-4-Ah battery that comes with the mower, you're looking at a minimal 120 minutes to fully recharge! (Pretty Impressive!)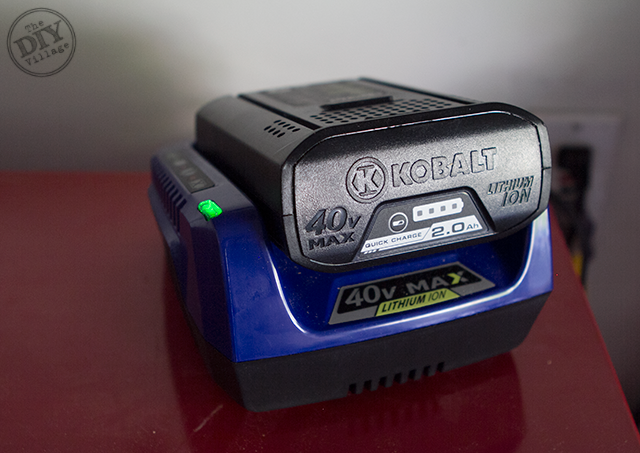 One of the most impressive features of the Kobalt 40V Max Outdoor Power Equipment is that each tool comes with a 5 year Hassle Free Tool Guarantee!  You can't beat that!
After going on 4 months of using these tools and cycling through batteries, I can say without hesitation that I'll be taking care of my landscape with these tools for years to come!  I can't say enough about how great it is not having to deal with gas, oil and cranking issues.  Kobalt has made these great tools practically maintenance free, which means you can spend more time doing what you love!
Disclaimer: Lowe's was kind enough to supply me with the above mentioned Kobalt 40V Max Outdoor Power Equipment for the purposes of this review.  But, I want to make it clear, this is my yard that I tested these products on, I'm not going to settle for using less than adequate tools to take care of my own landscape.  
(There is a second mower in the Kobalt 40V Max OPE Line that is not included within my review.  For more information on it, visit Lowe's.com!)