Myself  and 80+ blog buddies got together to bring you 80+ DIY Halloween costumes, including Josslyn's DIY Cruella de Vil costume!  I'm teaming up with Jamie Dorobek and her handmade Halloween costume site, Really Awesome Costumes to bring y'all tons of easy ideas to craft up DIY Halloween costumes for everyone including your pets, family costumes, and even a trunk or treat idea!
There is no bigger pressure for me than making sure Josslyn's 2nd Halloween is as amazing as her 1st.  But let's be honest being BORN is a hard act to follow!  I wanted her to be something unique and fun that would fit in with our home.  Somewhere along the way I got it in my head that she needed to be the one and only Cruella de Vil and have her super cute Dalmatian companion (aka Fenway) at her side! It wasn't until recently that I realized that I have in fact made my daughter a pretty nasty villain!  Well at least we can only go up from here right?  Making the DIY Cruella de Vil costume was so much fun and easy to boot!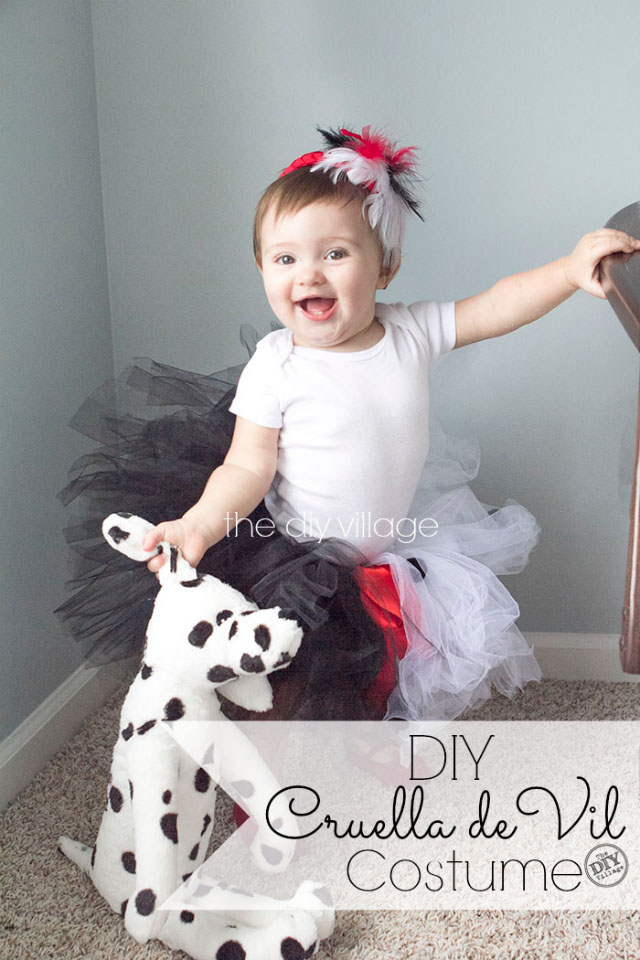 Along with my Cruella de Vil costume, I'm sharing 88+ more really awesome handmade costume ideas from talented bloggers everywhere!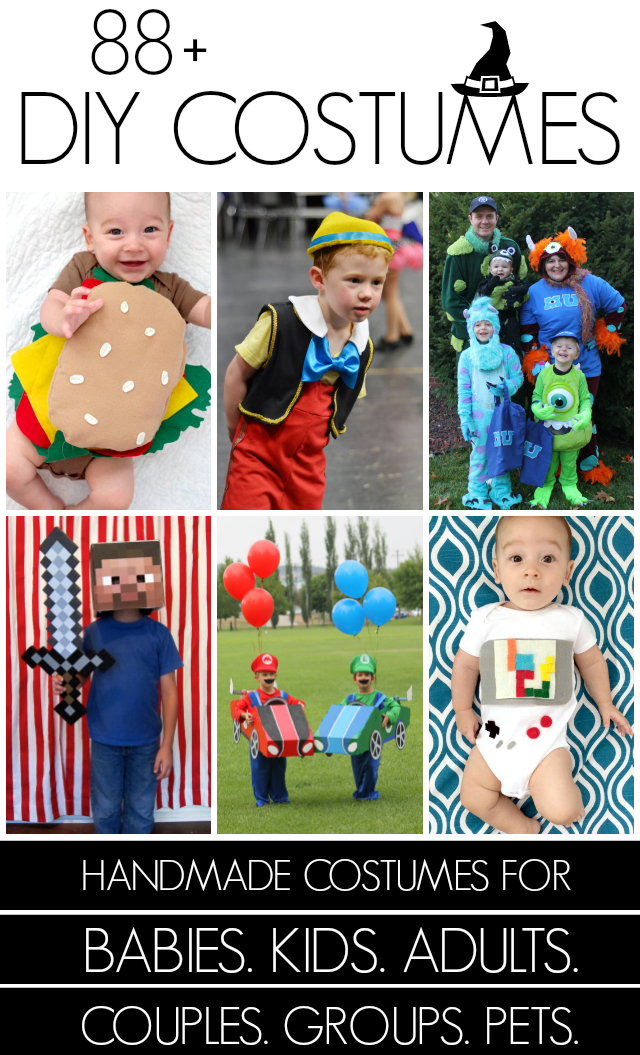 DIY Cruella de Vil Costume:
MATERIALS:
Two Rolls 6″ Tulle – Black & White
1/2″ Braided Elastic
Black Thread
Needle
Scissors
Book(s)
Red Double Faced Satin Ribbon
Feather Clip – White (Michaels Christmas Section)
Feathers – Black and Red
Red Shoes
Red Headband
White Onesie
White tights (optional)
Tacky Glue
Pom-Poms (1 12″, 1″, 3/4″, 1/2″)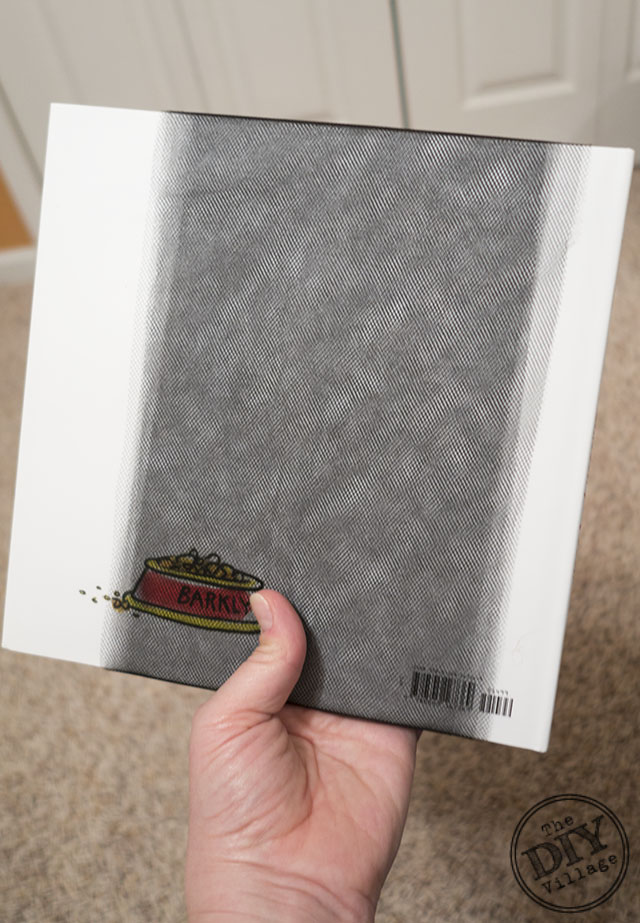 Start by deciding how long you want your tutu.  Josslyn is 11months so I wanted her tutu to be about 9″ long therefore each strip will need to be 18″ in length.  In order to keep from having to measure and cut each piece one after another find a book or frame, something that is the same length as you want the tutu and begin wrapping the book till the spool of tulle is empty.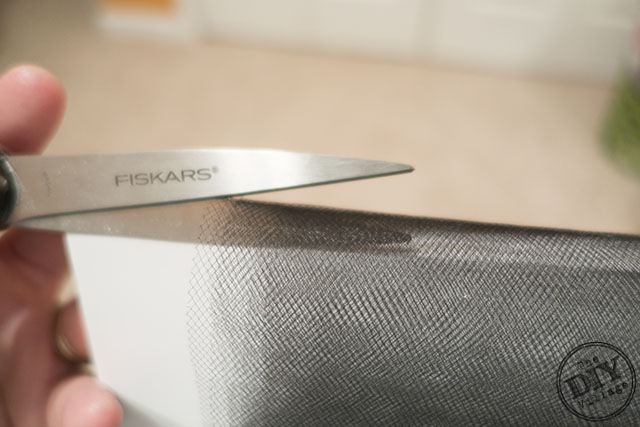 At on end of the book trim the tulle.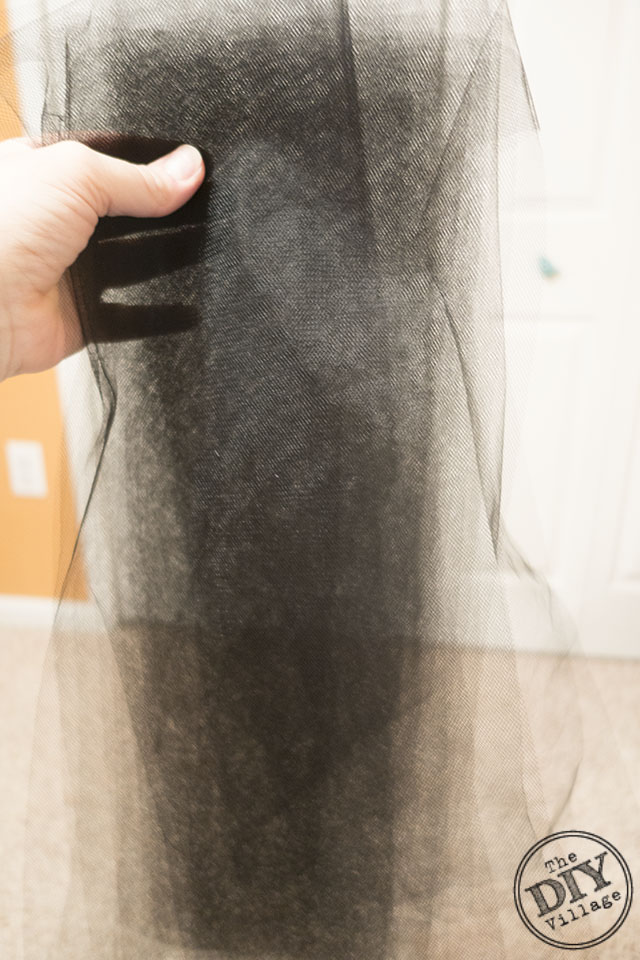 You will end up with a massive amount of 18″ strips ready for your tutu.  (pretty easy huh?)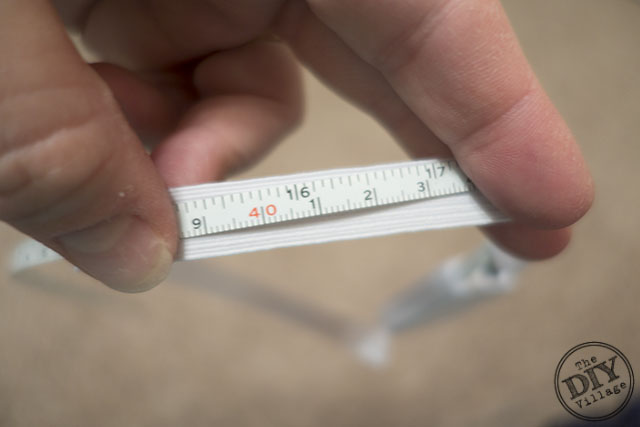 Measure your child's waste and subtract about 1.5-2″ this will help keep the tutu on without being too tight.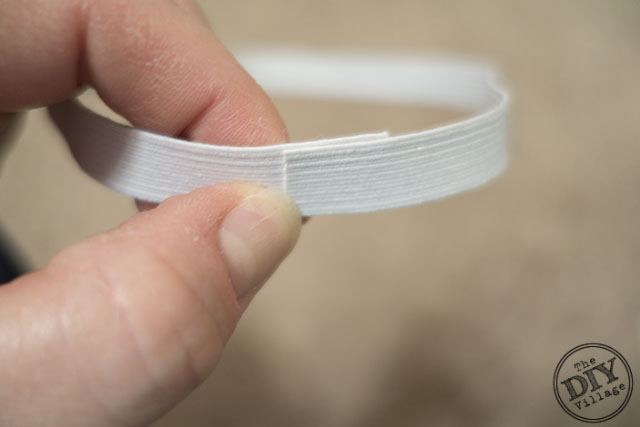 Overlap your ends about 3/4″.  You can either use a sewing machine to stitch this closed or hand stitch.  I opted to hand stitch, I won't be passing this costume down and she will wear it two times.  Maybe again for imaginary play when she is older but it did not warrant me getting the sewing machine out. hehe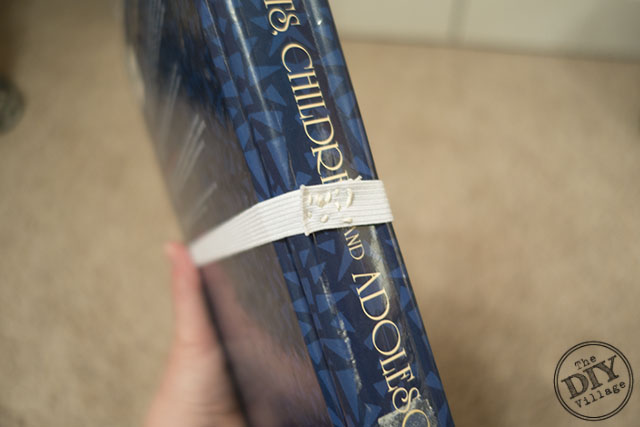 Slide the elastic over a large book.  Move the stitched part of the elastic to the side this will help you find your stopping and starting point for the two colors.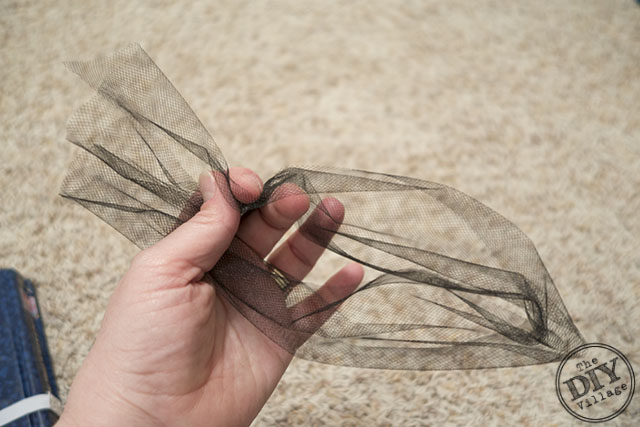 Fold the tulle strip in half.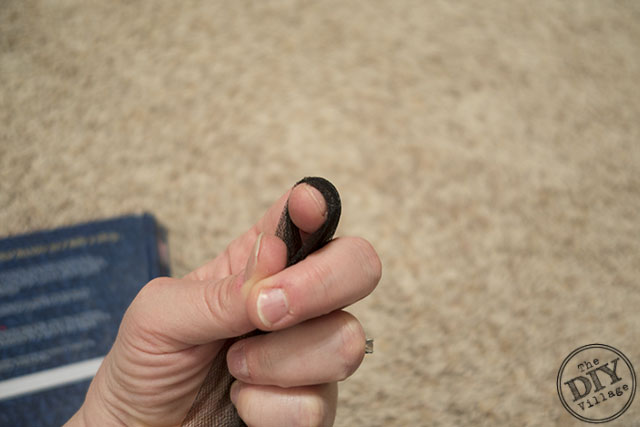 Create a tight loop by pulling down over your finger.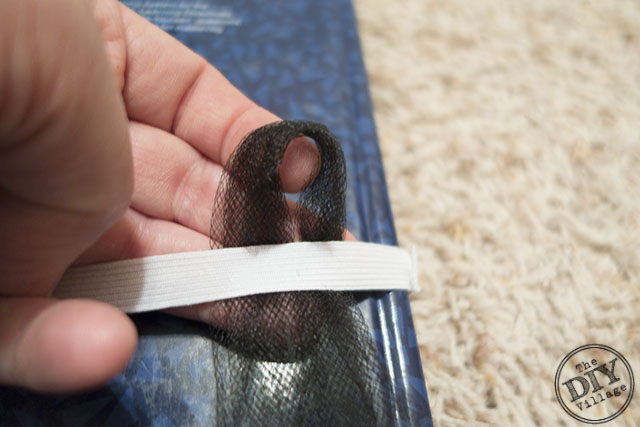 Slide the tulle under the elastic.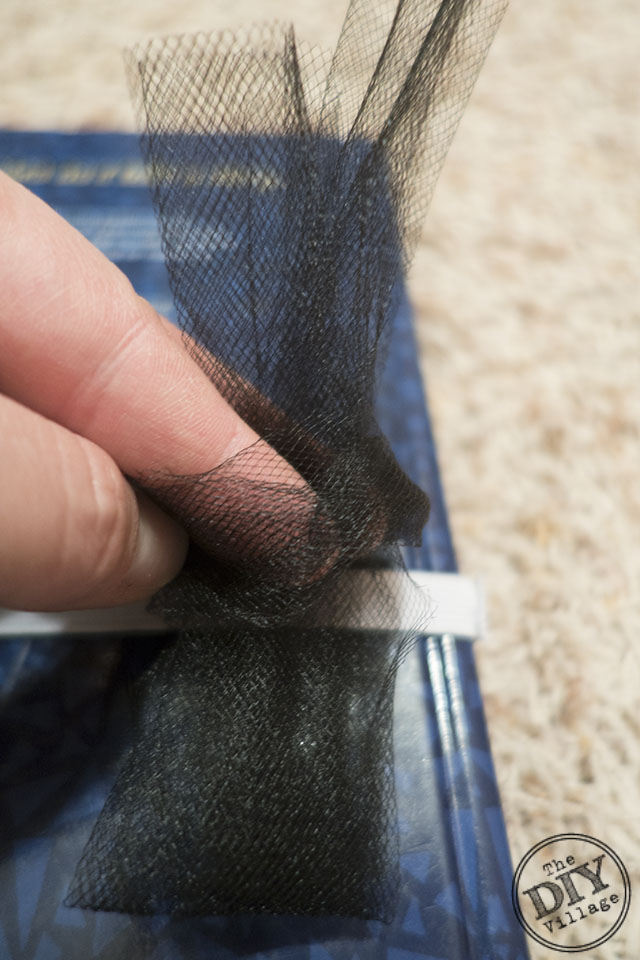 Pull the ends of the tulle up and through the loop you have created.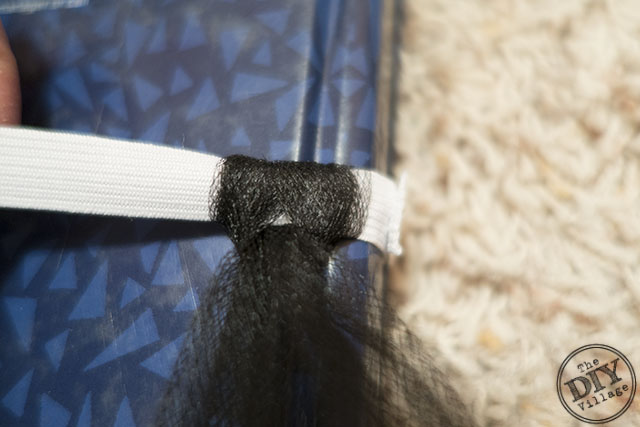 Pull tight and move the tulle to the side.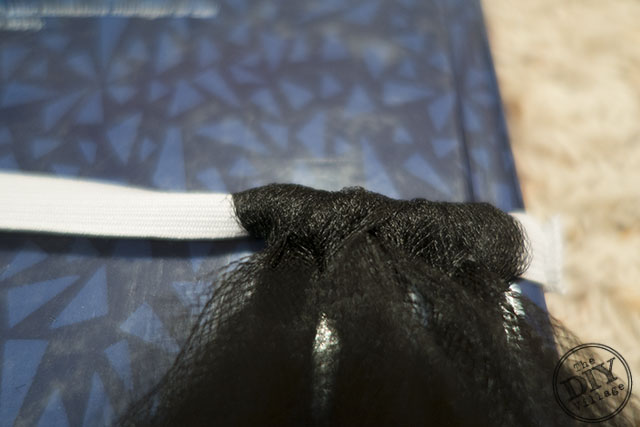 Repeat the process until the elastic is completely covered with tulle.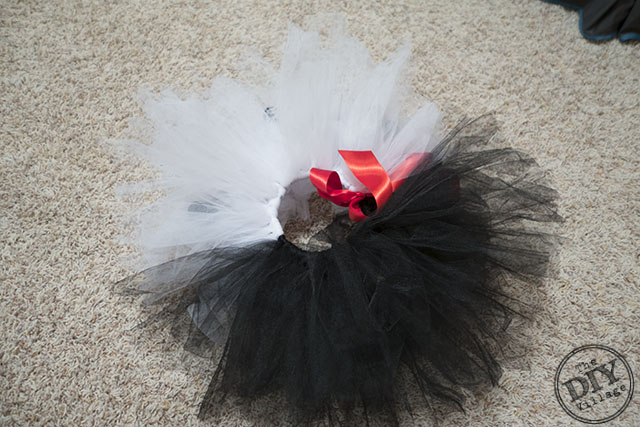 At this point your tutu will look something like this!  Go ahead and add the red satin ribbon.  Make sure to keep the ends from fraying by heating them with flame or using fray-check!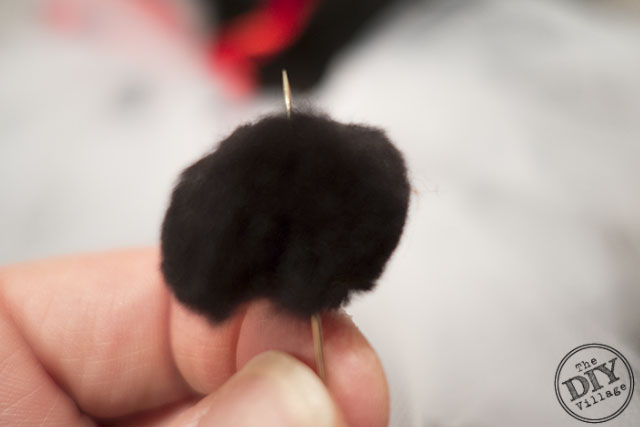 Now you are ready for the spots!  Double your thread over and tie a knot in the end.  Push the needle through the pom pom till the knot catches at the end.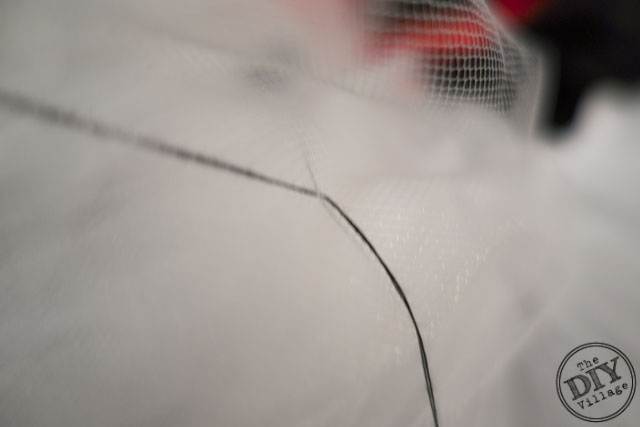 Locate where you want your spot and sew it onto your tutu.  I pushed the needle through 4 or 5 passes to make sure it was secure.  You can use hot glue if you have a child you are not concerned with eating the pom-poms.  Since everything goes in Josslyn's mouth right now I sewed them on.  Sew them randomly onto the white side of your tutu.  Remember dalmatian spots are random so there is no way you can mess this up!  Do as many or as few as you like!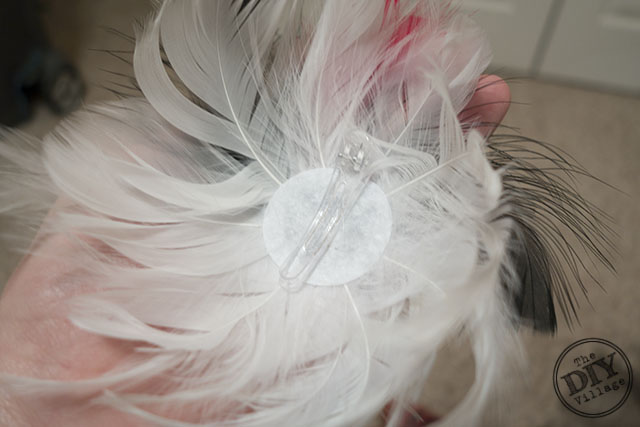 I picked up this white feather clip at Michael's in the Christmas section.  Using tacky glue I added bits of black and red feathers to the top of the clip.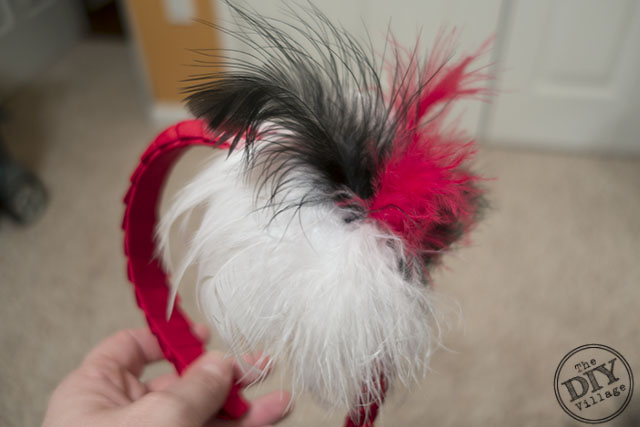 Slip the clip through a woven section of your headband.  If you don't have a woven headband like I do you can hot glue the clip to the headband.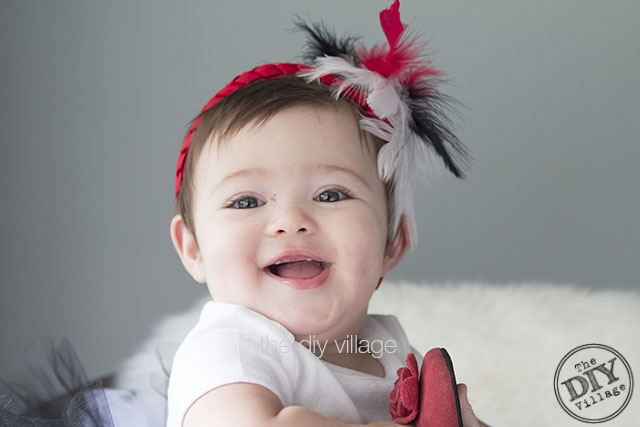 Add your red shoes, white onesie, and favorite Dalmatian, and you are DONE!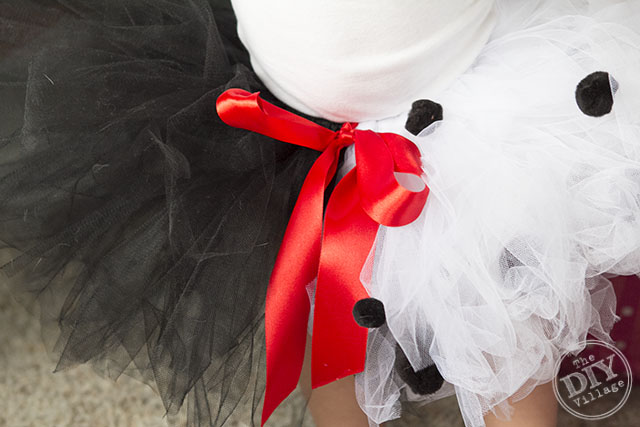 You will have the sweetest Cruella de Vil costume on the block!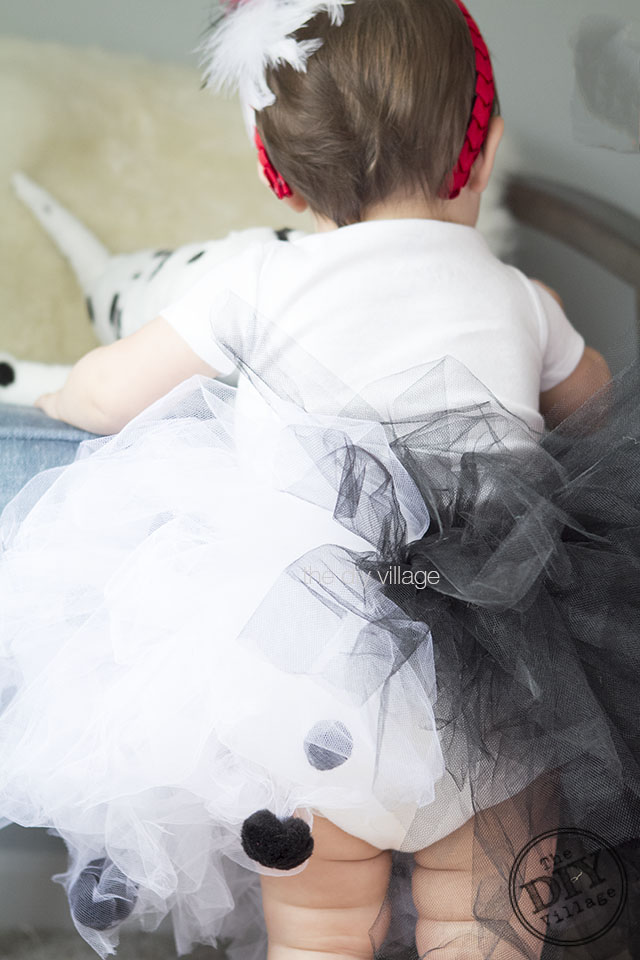 I may have made Josslyn a villain her first trick or treat Halloween but I'm pretty positive she is the cutest one you will have ever seen!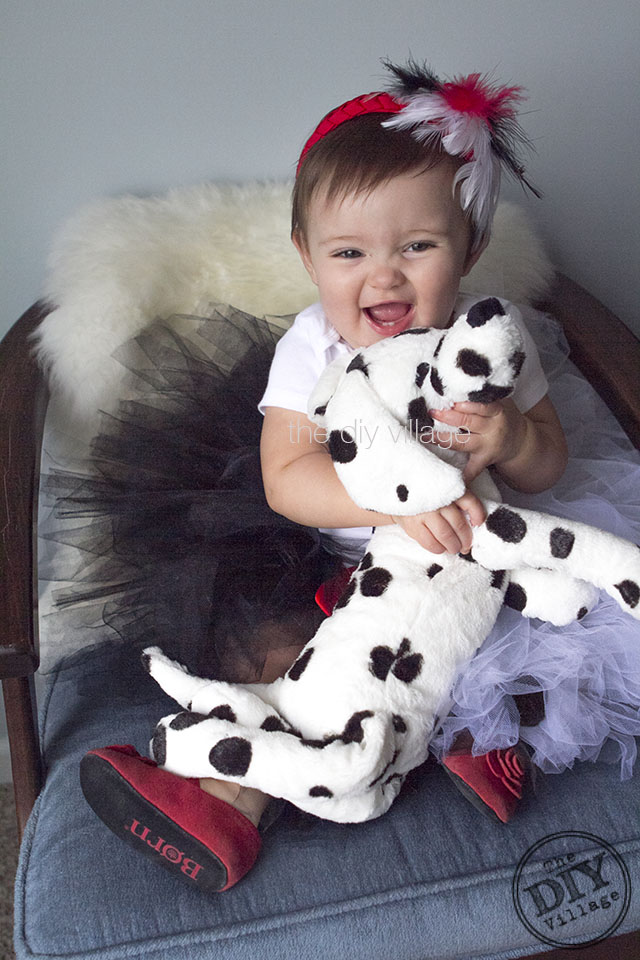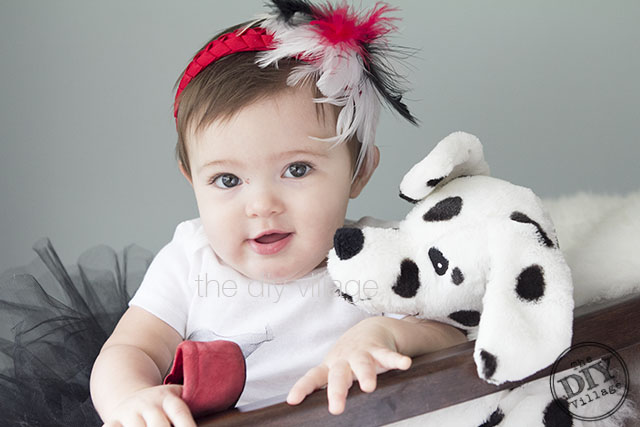 Now for the rest of the story (please tell me someone remembers Paul Harvey??).  Time to get inspired with over 89 more costume ideas!!!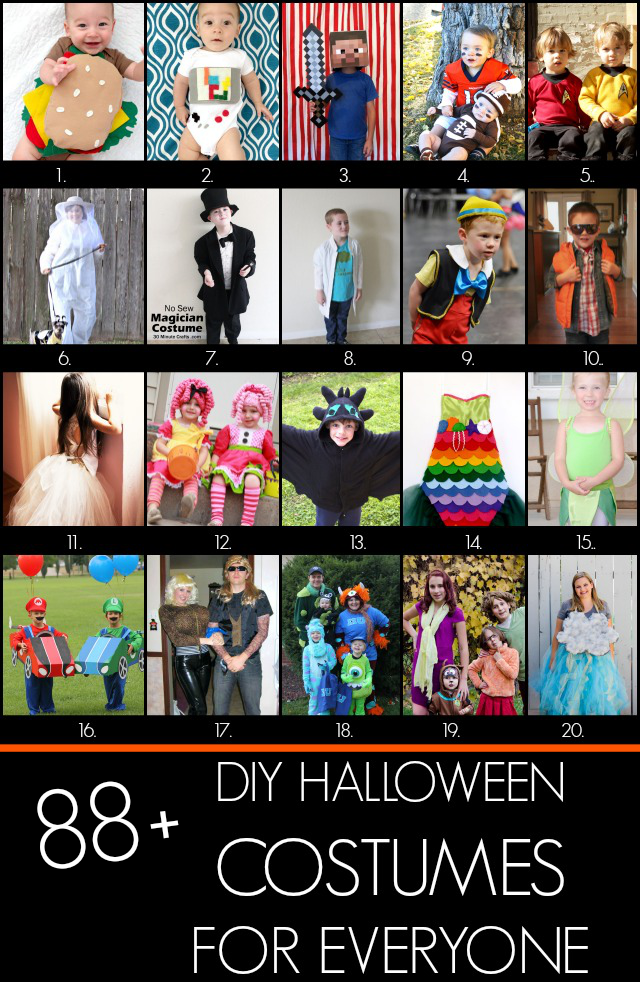 1. Handmade Baby Hamburger Costume
3. DIY Minecraft Steve Costume
4. Football Brothers Halloween Costumes with DIY Pads and Onesie
5. Star Trek Halloween Costume for Kids
9. Pinocchio
10. Marty McFly
11. Princess Wedding Dress Costume
12. Handmade Lalaloopsy Doll Costume
13. Homemade Toothless Costume
14. DIY Mermaid For Less Than $20 (No-Sew Option)
16. Mario and Luigi Go Kart Costumes
17. Dog The Bounty Hunter and Beth
18. Family Monsters University Costumes
19. Scooby Doo family costumes
20. DIY Storm Cloud Costume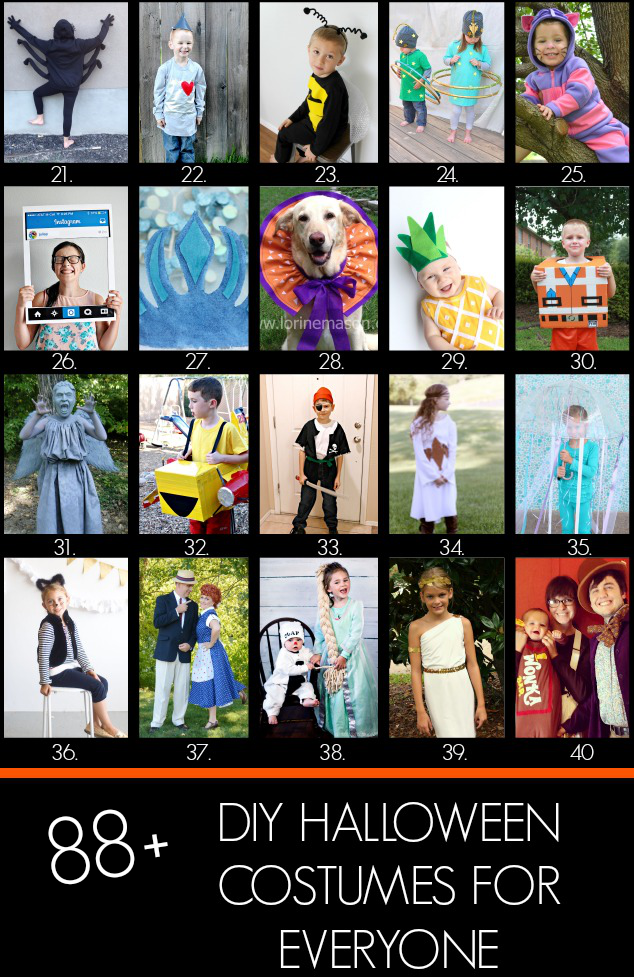 21. Cheap and Easy DIY Spider Costume
27. Elsa crown
29. DIY Pineapple Baby Costume
32. Disney Planes Costume: Dipper
34. Easy Costume Idea – Renaissance Girl
35. 10 Minute Homemade Jellyfish Costume
36. DIY Cat Costume
39. Easy Greek Goddess Costume
40. DIY Family Willy Wonka Costumes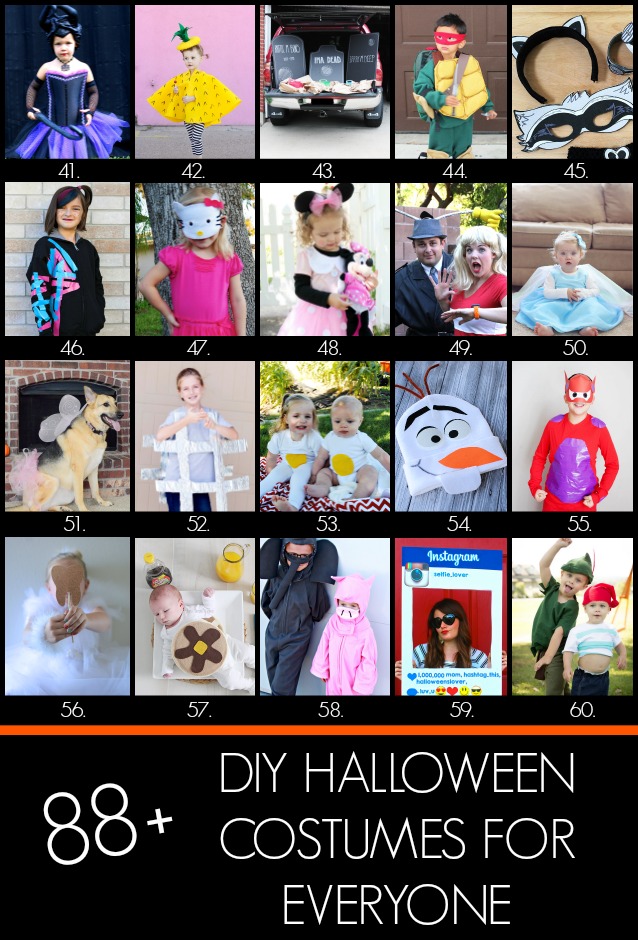 41. DIY No Sew Maleficent Costume
42. No Sew Pineapple Halloween Costume
43. Graveyard Bean Bag Toss: Trunk or Treat Car Costume
44. DIY Teenage Mutant Ninja Turtles Costumes
45. DIY Raccoon Costume with Printable Mask
46. Easy WildStyle Lego Movie Costume
47. Simple Hello Kitty Costume
48. No Sew Minnie Mouse Costume
49. DIY Inspector Gadget and Penny Costumes
50. DIY Frozen Elsa Dress Baby Edition
51. Fairy Princess Dog Costume
52. DIY Hashtag Halloween Costume
53. Toddler or Baby Egg Costume
57. Baby Short Stack Pancake Costume
58. Elephant and Piggie Halloween Costumes
59. Instagram Halloween Costume
60. Peter Pan & Mr. Smee Halloween Costume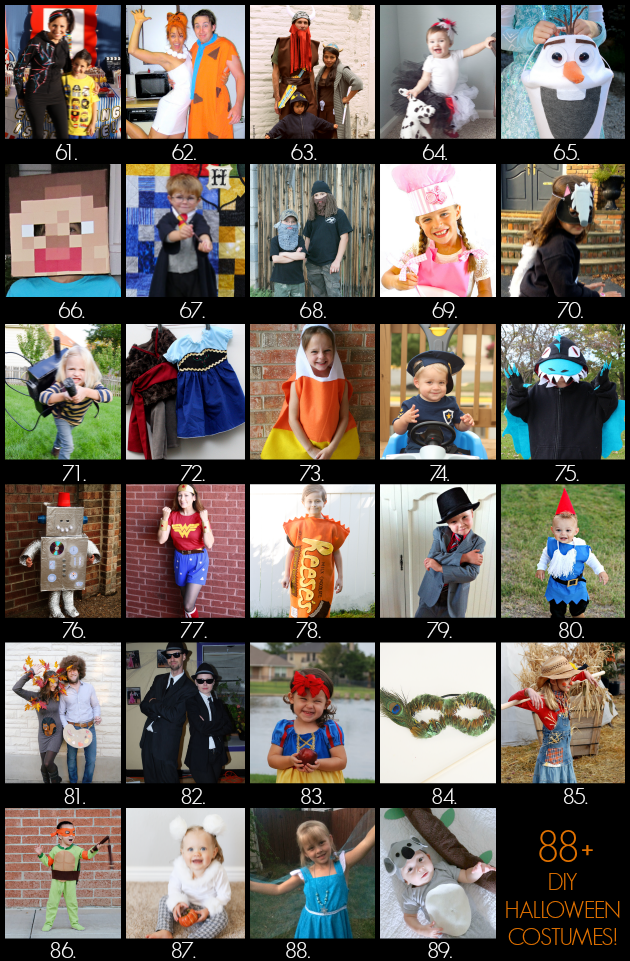 61. Wildstyle Costume from the Lego Movie
62. Fred and Wilma Couples Costume
64. DIY Cruella de Vil Costume for a child
65. Disney Frozen Olaf Halloween Treat Bucket
66. How to Make a Minecraft Steve Head
69. No Sew Cupcake Baker Halloween Costume
70. DIY Skunk Mask
71. Ghostbusters Proton Pack DIY
72. Frozen Anna Costume Tutorial
74. Paw Patrol Halloween Costume
75. No Sew Toothless Dragon Costume
76. DIY Robot Costume
78. Reese's Peanut Butter Cup Costume
79. Thrifted Gentleman Spy DIY Halloween Costume
80. DIY Boy Garden Gnome Costume
81. Group Costume: Bob Ross, Happy Tree, & Squirrel
82. DIY Blues Brothers Costumes
85. Scarecrow Costume
86. Easy Teenage Mutant Ninja Turtle Costume
87. Handmade Teddy Bear Costume
88. Princess Elsa and the Spy Kid