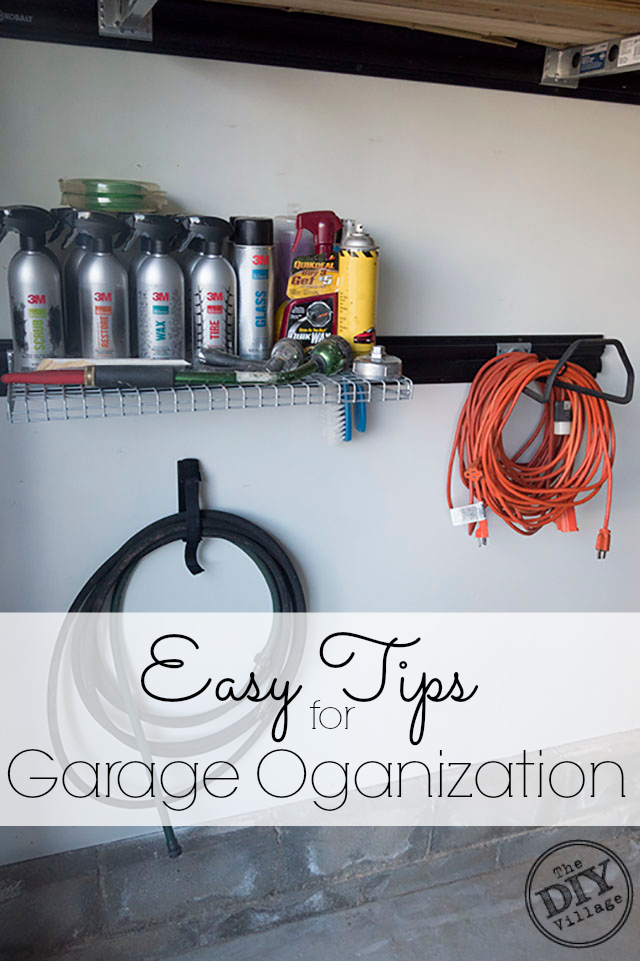 One project that seems to keep popping up on our never ending honey-do list is cleaning out the garage.  I'm pretty sure DIYer and Crafter are really code for hoarder.  Seriously, we have had so much stuff in our garage, those 'someday' projects, that until recently we both parked outside.  That's right all of our stuff was nice and cozy in the garage while our poor cars sat sad and lonely in the driveway.  This summer we decided enough was enough and knew we had to do something about the impending hoard and started clearing out the crap and put a little focus on garage organization!  I would show you pictures but I am almost positive my better half would never approve of such a display so you will just have to take my word for it, we have a lot of crap!

**Disclaimer  – I have been provided compensation for this post, but as always all opinions and words are my own.  No one has told me what to say! **
We have started small and begun with organizing certain areas of the garage.  Some key items that needed help are our watering hose, extension cords (those are like clamps, you can never have too many), and my collection of license plates and an old street sign.  The collection of license plates happened by accident.  When we were clearing out my grandparents farm house in Kansas some 14 years ago my aunts found quite a few old tags and set them aside for me.  I have had them stored in a box just waiting for the perfect time to hang them!  No time like the present right?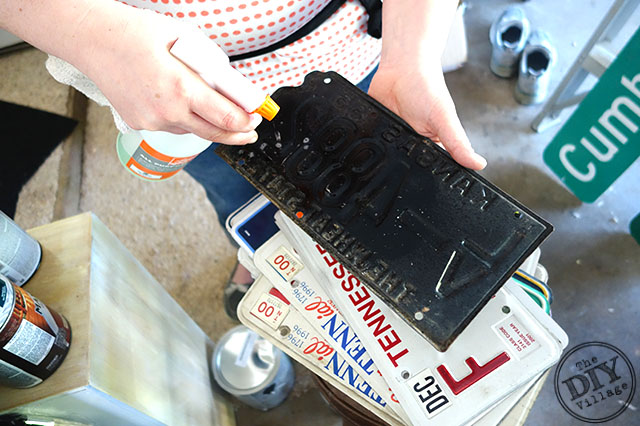 I decided that I didn't want to use any nails to hang my plates so instead opted for Scotch Outdoor Mounting Tape for a cleaner look!   We started by cleaning the wall surface to remove any debris or oils.  Then moved onto clean the license plates.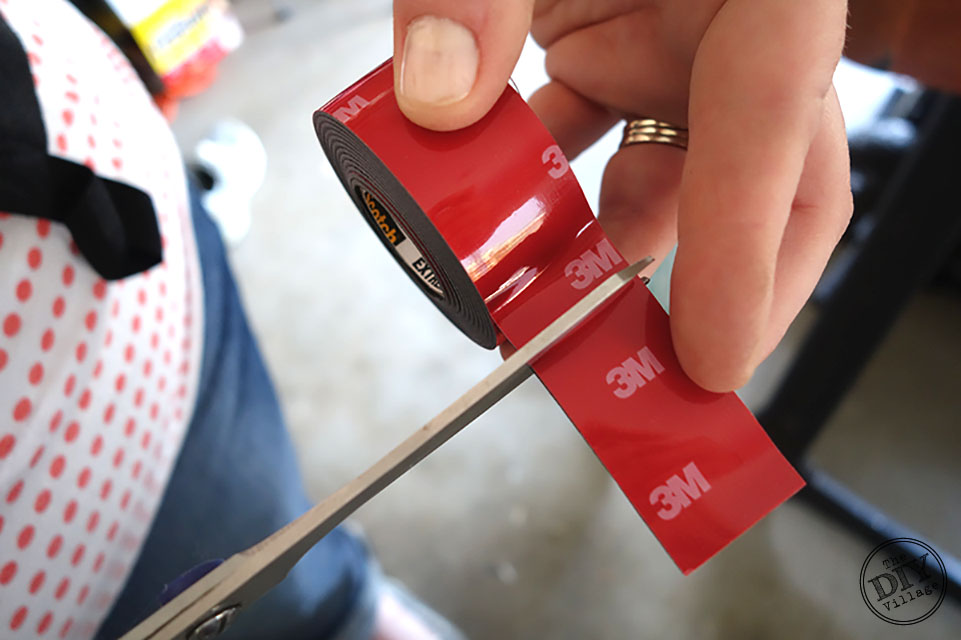 Measure off small sections of the Scotch mounting tape and trim to the desired length.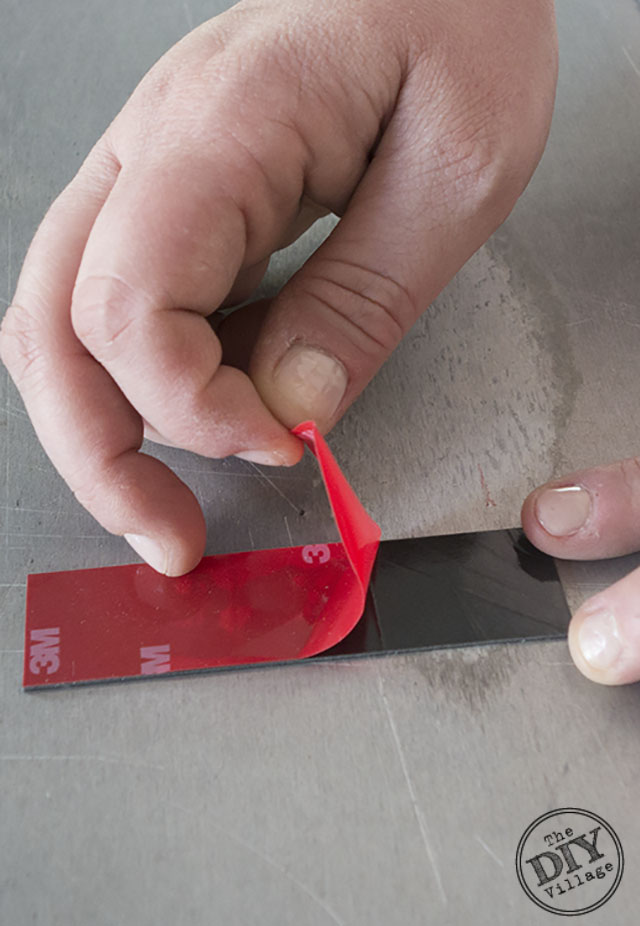 Apply tacky side to back side of license plant  and remove red liner from Mounting Tape.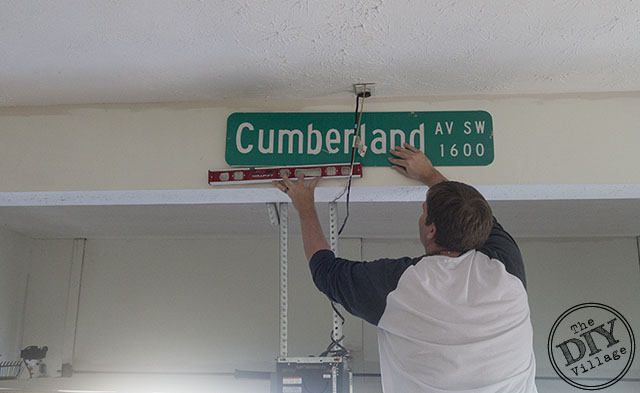 Decide on location of license plates and press the plate firmly to the wall.  Continue cutting and mounting your plates till they are all hung!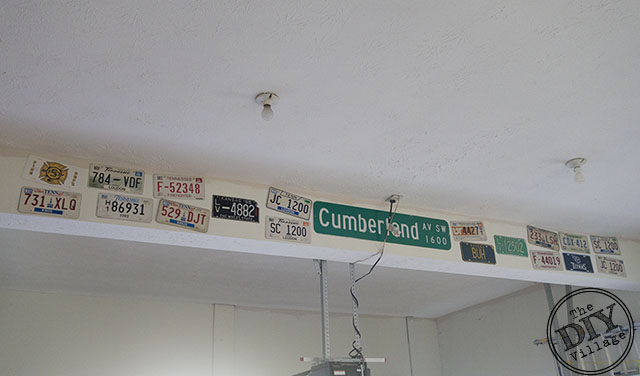 I think my favorite part of the plates is that I have them from both of my grandparents.  All the Kansas ones from my dads side and the JC/SC ones from my moms side!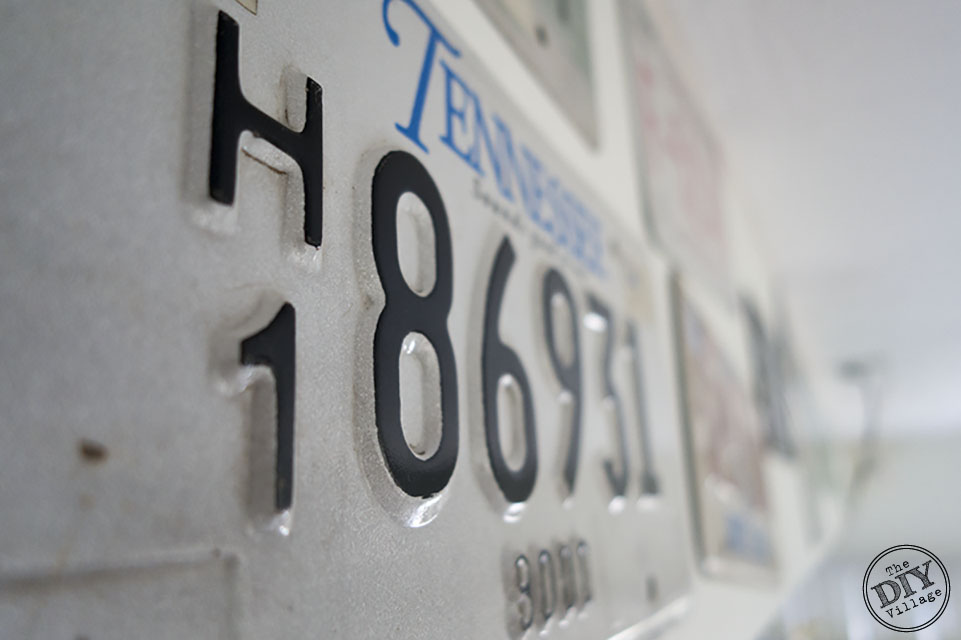 And let's not forget about the bicenTENNial plate, ohh Tennessee department of transportation  you are so whitty …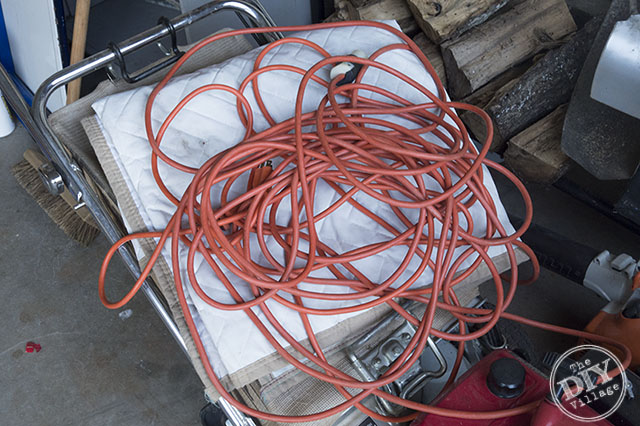 Now onto the fun area of the garage.  You know what I'm talking about, that corner where everything gets dumped.  Right now it is where our extension cords reside.  Nice and cozy next to the wood pile, go figure!  Messy extension cords are a no no in our home but it still happens.  There isn't much more annoying than going out the garage to work on a project and spending 20 minutes untangling a cord so you can cut a piece of wood.  Let's do the math shall we?  20 min untangling cord and 15 seconds cutting wood.  Those don't add up in my opinion.  Our solution Scotch Bundling Straps.  These little boogers are awesome!  Attach the strap to one end, coil your cord, and close the strap over itself.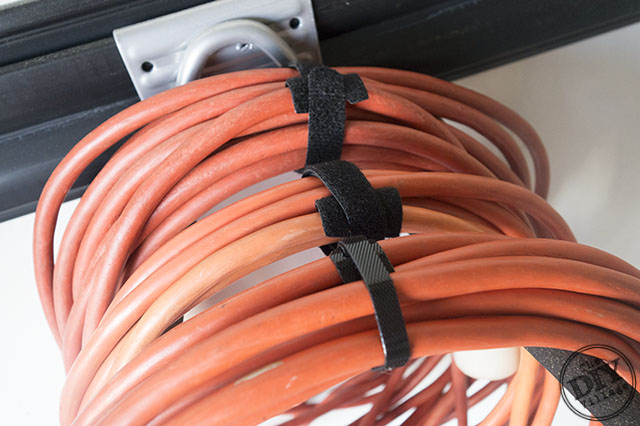 These three cords took less than 5 min to hang and now I will be ready to cut, chop, or saw in no time flat.
My last annoyance is my soaker hose for my lovely Endless Summer Hydrangeas!  If the hose isn't being left outside, it's being left in the garage, in my way!  My weapon of choice?  The Scotch Garage Organizer Bundling Strap.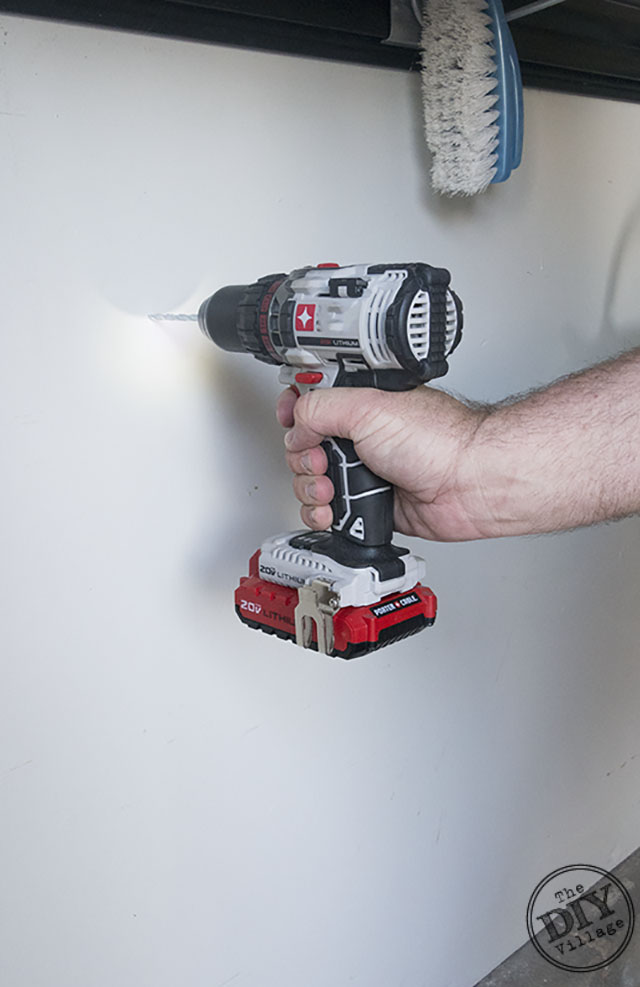 I marked where I wanted the garage organizer to be hung and then Matt pre-drilled two small holes in the wall to insert the wall anchors.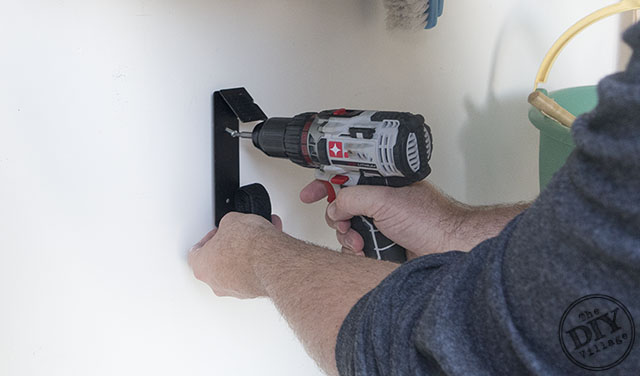 Using a drill gun with a phillips bit attach the screws to the wall via the wall anchors you inserted. The total installation took less than 5 min (including the 2 minutes it took me to find a knife to cut the safety strap off the packaging).
Don't be deceived by how quickly we installed this garage organizer bundling strap.  This little guy has a 30″ heavy duty strap and the bracket is steel construction and can hold up to 20 lbs.  So yes, I'd say it might be small but it packs a serious punch.  I wonder what else I could hang from there?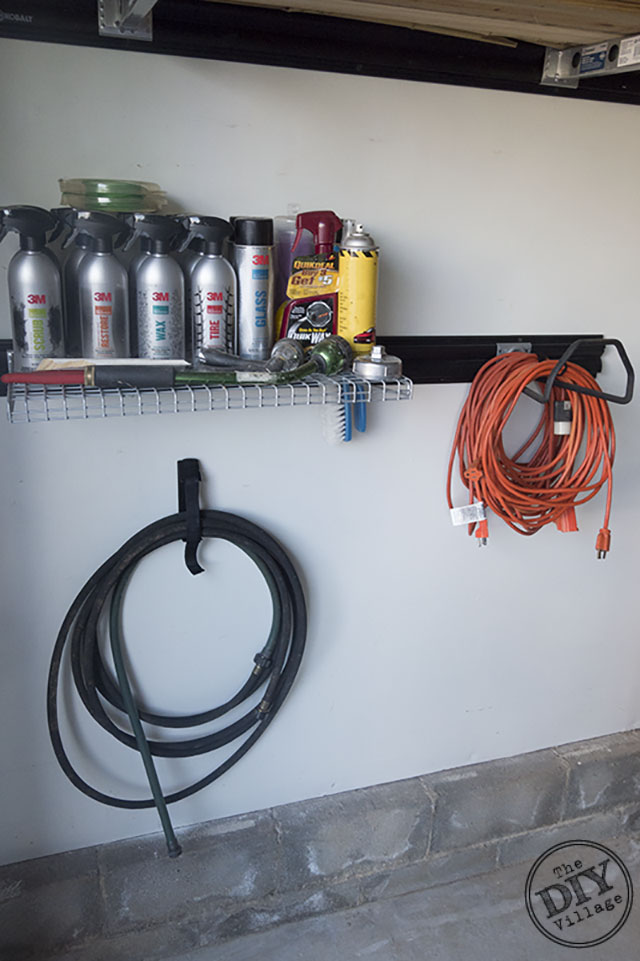 In all we spent about an hour hanging plates and coiling cords but it was all worth it and we are one step closer to both parking in the garage!  I can hear that, no laughing!!