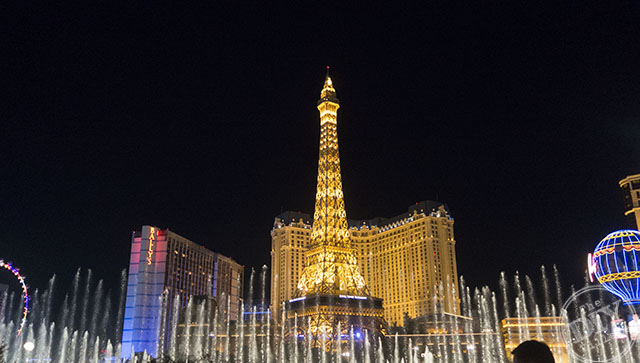 Jacque and I recently had the opportunity to take part in a Habitat for Humanity build…Oh, did I forget to mention that the build was in Las Vegas! With the Kobalt 400 taking place at Las Vegas Motor Speedway, Lowe's and Habitat for Humanity invited us, along with a few friends to be a part of building a home for a family in need!

Let me start off by giving you a little backstory. Habitat for Humanity is an international, non-profit organization that brings people together to build homes, communities, and hope.  Using volunteer labor, they build simple, decent, and affordable homes for families in need.
In 2003, Lowe's set out to increase their impact in improving communities by teaming up with Habitat for Humanity.  Along the way, they've contributed millions of dollars and countless hours of volunteer support.
"Lowe's involvement with Women Build is much more than a financial arrangement—it is a reflection of our commitment to address the nationwide issue of substandard housing. We are helping to build homes everyone can take pride in—our employees, the volunteers, the partner families and the communities." — Larry Stone, chairman of Lowe's Charitable and Educational Foundation.
We started out Saturday morning with a quick trip from our hotel to the Las Vegas Motor Speedway, where the Lowe's and H4H volunteers had already began construction.  After a quick tour of the Kobalt grounds, we were introduced to the site foremen and then fell right into place with the rest of the volunteers!
Participating in worthwhile causes like Habitat for Humanity will put you in a position to meet some extraordinary people!  We were lucky enough to get to meet a few future Habitat Homeowners they were amazing women who deserve this more than anything!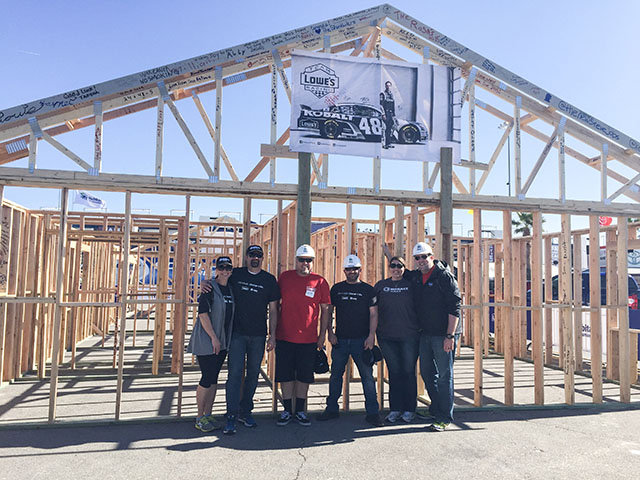 Here's a look at the talented blogging crew that we were lucky enough to be working with! Traci & Cy from Beneath My Heart, Marty & Pete from dadand, and of course Jacque and myself!
Look closely at the lumber and you'll see words of encouragement from all of the nascar fans that stopped by the build site.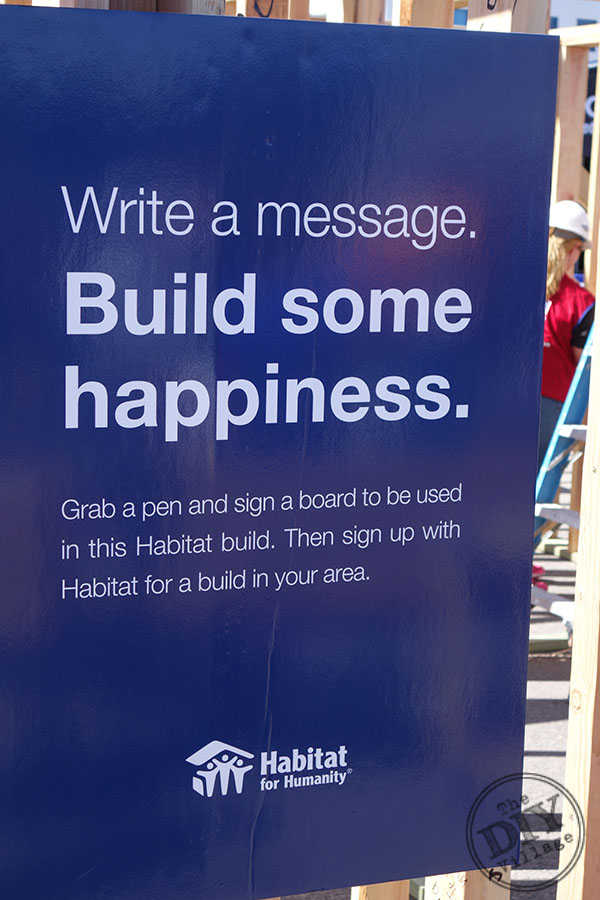 Once a piece of lumber was full of messages, it was taken from the fence row and was used in building the habitat home!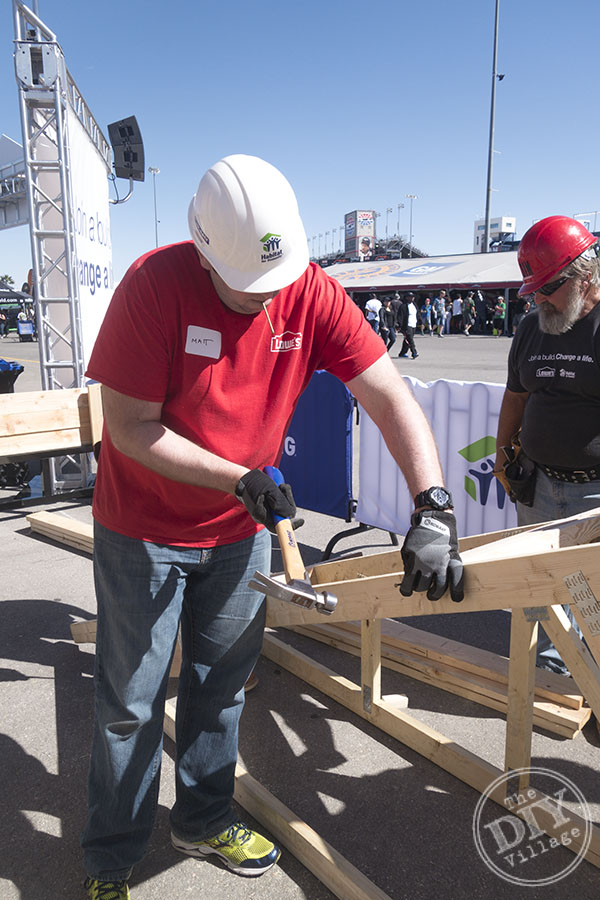 We spent the rest of the afternoon installing cross supports on in the walls and helping install the roof trusses.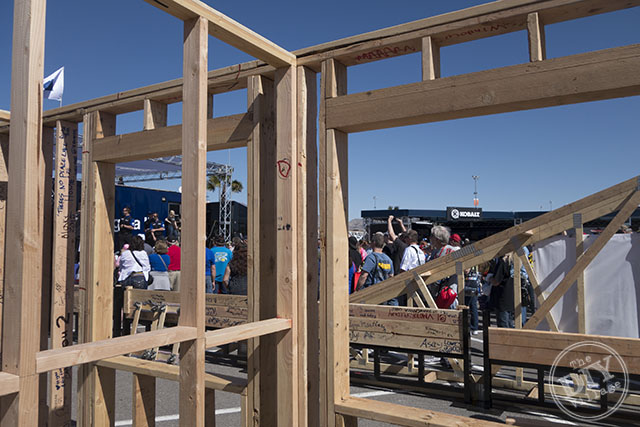 This particular build was done off site at the Las Vegas Motor Speedway to help bring awareness to Habitat for Humanity.  The home was built in multiple sections held together in various places like this one with the big red circle around the bolt.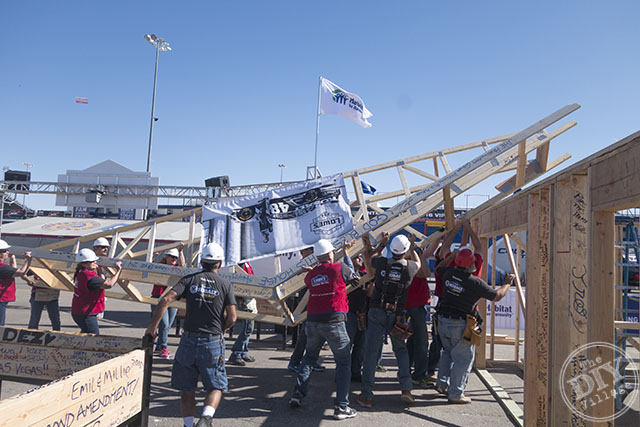 Once the framing is complete the home will be taken apart and transported to it's forever home!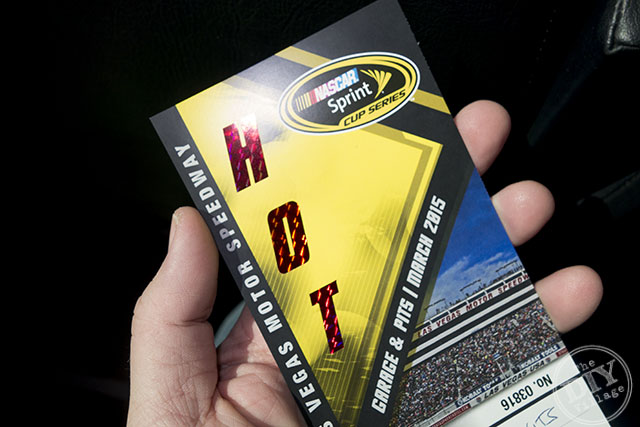 Unfortunately we didn't get to stay for day two of the trip which was the Kobalt 400.  Jacque and I were both pretty bummed about that but extremely grateful to have been able to participate in the build!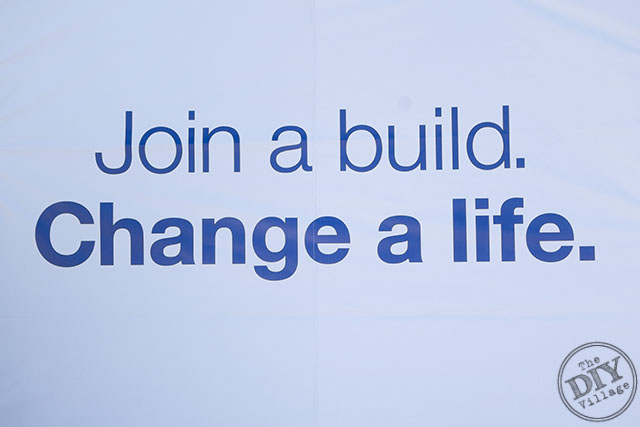 If you are interested in joining a local build head over HERE!  And just remember if you can't join in a build you can always volunteer your time other ways or even donate money!  Everything is helpful and fully appreciated!