It wasn't something I noticed right away. In fact it took almost 6 months before I REALLY noticed what was going on.  I was a little surprised but not at all shocked, the home we purchased had two different styles of hardware on the doors.  I'll be more specific by saying that the first floor had a 21st century style door hardware and color while our 2nd floor was entirely outfitted with round brass door knobs.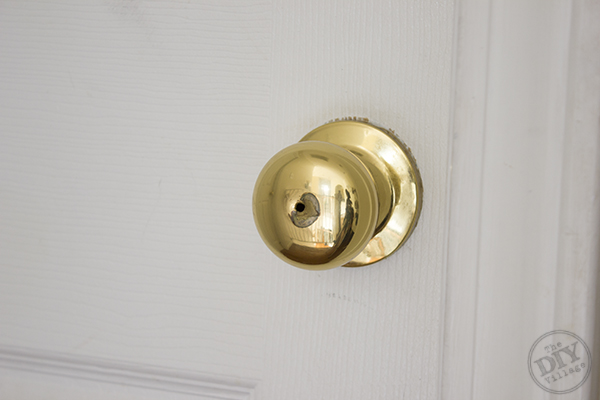 Admit it, you are just a little bit jealous of these beauties, right? Not only are they out dated but they were WELL used by the previous owners.  I have a sneaking suspicion that they were often locked out of the master bedroom.  It's never happened to us, but clearly was an issue for them.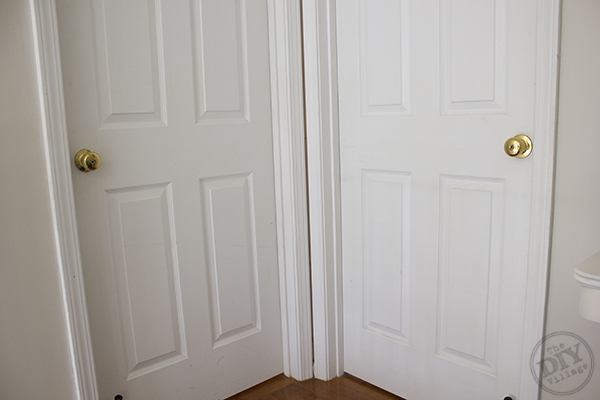 But here is the best part of the whole brass knob issue, we have 14 doors on our 2nd floor.  Is that a tad excessive, um YEAH, but it's true.  I had to count and re-count multiple times and even had Matt count once for good measure because it seemed like a ridiculous amount of doors for a 4 bedroom house.
So here we are some 4 years later with miss-matched door hardware in our house a crap ton of doors to change out.  When the good folks at Schlage contacted us about making over an entire floor of our home using their new Polished Nickel or Satin Brass finishes I jumped at the chance.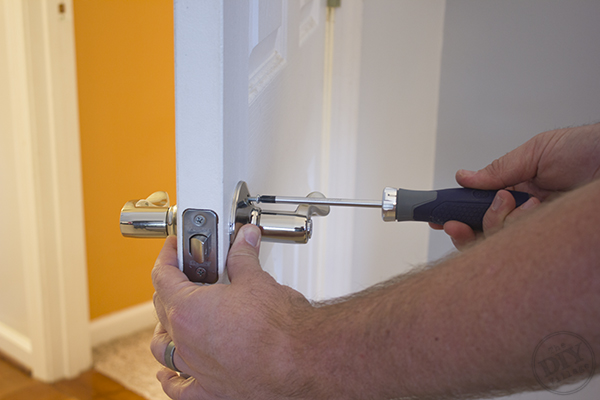 There are so many styles and the finishes are just beautiful!  I spent what I consider too much time making the perfect choice and finally selected the Polished Nickel to give our house the much needed update!  As soon as our package arrived Matt and I started changing out hardware.  The installation was super easy and went rather smooth!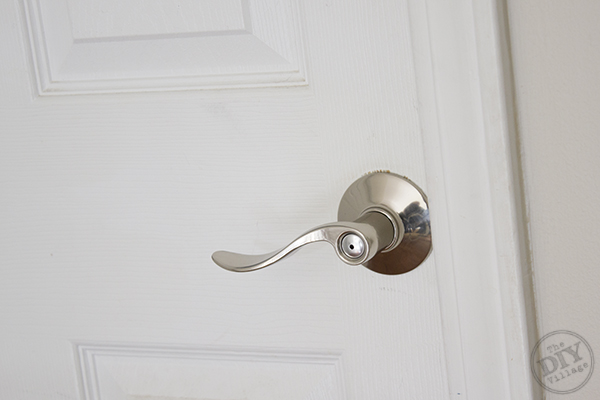 We weren't able to complete the swap out all in one day, you can only do so much while Little Bit naps, but we finished them over the next few days.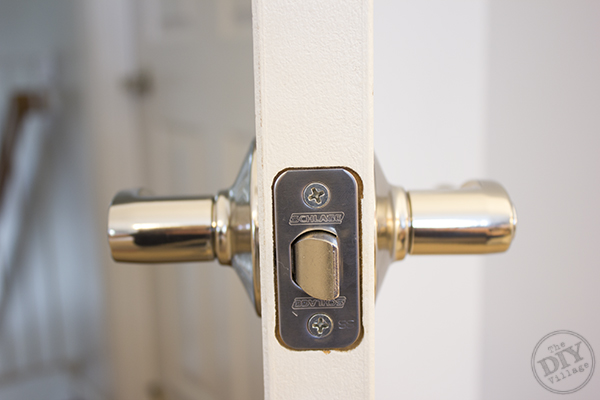 I am happy to also report that Little Bit is super pleased with our hardware selection as she can now open and close doors without need assistance.  I'm still not sure how to feel about this but am slowly coming to terms with the fact that she can lock us out of rooms!
Okay so now for the best part!  Not only did Schlage send me some awesome hardware they want to do the same thing for one (1) lucky reader!  Here's what you have to do, first wait for the rafflecopter to load, then enter one of three ways, or all three if you are feeling froggy!
a Rafflecopter giveaway

Terms and Conditions: By entering this giveaway, you agree to complete a written questionnaire with feedback surrounding Schlage products and installation. Once the prize has been shipped to the lucky winner and they've had time to install and use the hardware, a Schlage representative will get in touch for feedback. Opinions you provide will be used in future communications from Schlage.
Giveaway eligible only to those 18 years of age or older and currently living in the Continental US. The giveaway will run from October 30th ending November 6th. The winner will be selected and notified on November 6th and will have three days to respond before another winner will be selected.