A few years ago Matt completed my small raised bed garden on the side of our house.  It serves as an incredible place for me to try my hand at growing vegetables.  I have planted green peppers, strawberries, onions, basil, oregano, jalapeños, blueberries, and of course tomatoes.  I always plant a few extra tomato plants with the expectations that a few will die.  Much to my surprise they not only lived but they thrived to insane proportions and produced over 2 bushel which is equivalent to over 100 lbs of tomatoes.  That's a whole lot of tomatoes my friends!  I was knee deep in tomatoes and quickly taught myself how to can tomato sauce.
Last year I chose to stake the tomatoes using 5′ plastic garden stakes and garden support tape.  It worked great for a little while but when the tomatoes got to a certain size the stakes started to bend from the weight of the plants.
This year I am doing things differently to make sure my plants get the support they need.
MATERIALS:
– U-Style Fence Post 6′
– Hand Shovel
– Straw
– Garden Support Tape
– Tomato Plant
– Rubber Mallet
INSTRUCTIONS: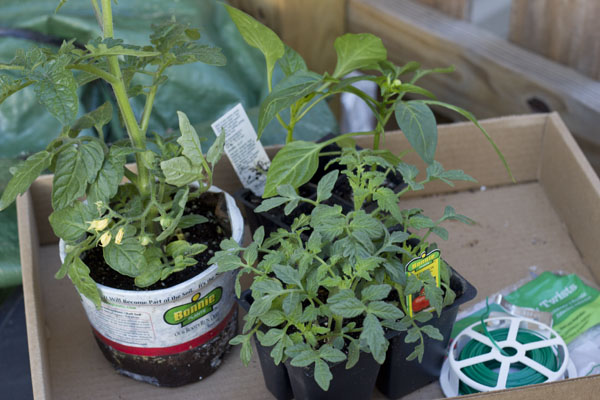 Gather the materials and decide the placement of the plants.  Check the tag on your plant some varieties of tomatoes require 2ft spacing while others require 3ft spacing.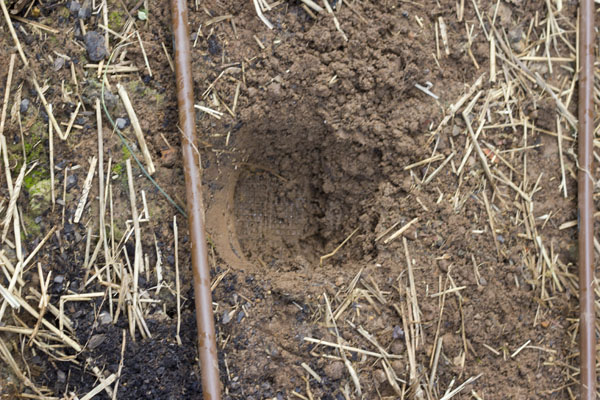 With the plant locations determined begin digging the hole at a depth of about 2/3 of the height of the plant.  Remember tomatoes like to be buried deep and will develop a much better root system.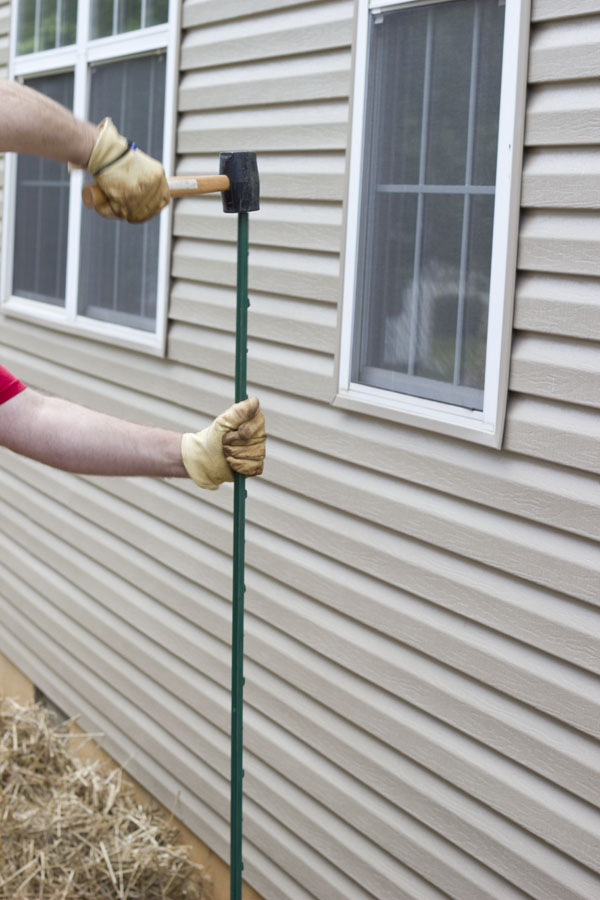 With the hole dug it's time to install the U-Style fence post.  Using a rubber mallet drive the fence post into the ground to a depth at least 4 – 5 inches above the U on the post.  U-style posts are extremely sturdy and have hooks on the back side where fencing could be attached but is perfect for attaching garden tape and keeping the tape from slipping down the post.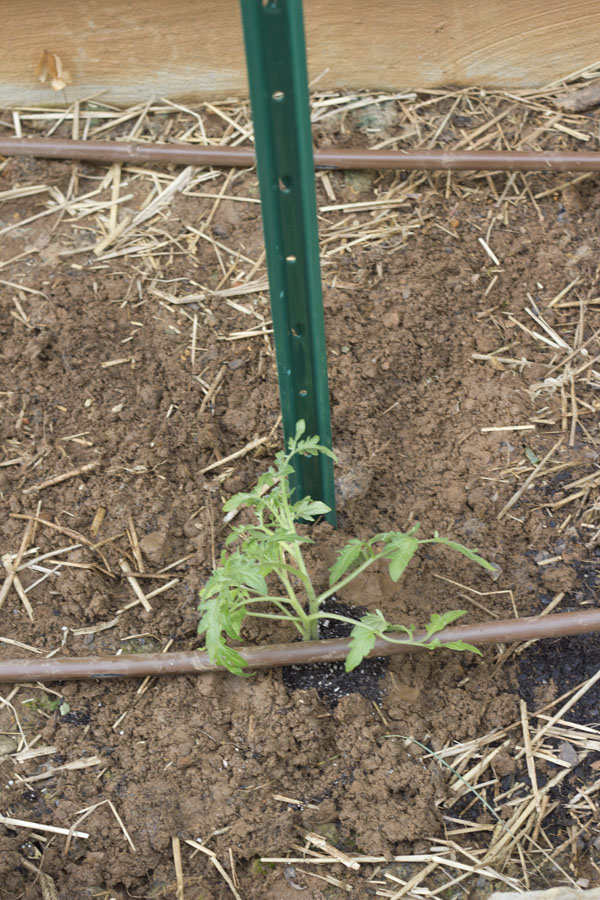 Plant tomato plant about 6″ away from the stake.  If you wait to install the stakes after the plants have been in the ground for a little while you run the risk of damaging the roots.  Installing stakes at the same time as planting removes this risk.  At this point if you like, additional garden soil mixture can be added to your tomato plant hole.  New soil mixture will add additional nutrients to the garden that your plant will love.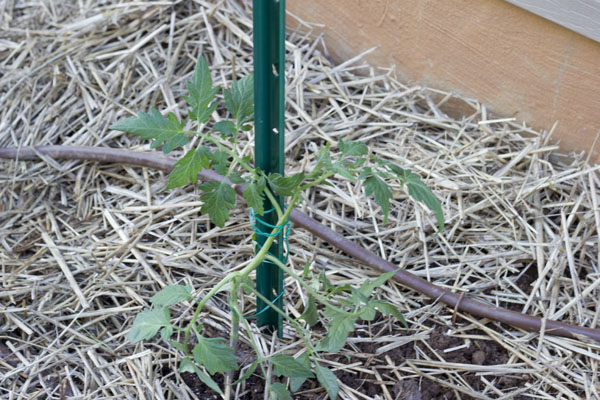 Once the tomato plant has good height to it you can begin staking it to your post.  This will not only help to support your plant off of the ground.  But also makes it easier to harvest your fruit, keeps your fruit clean, and helps your plant to avoid common tomato diseases.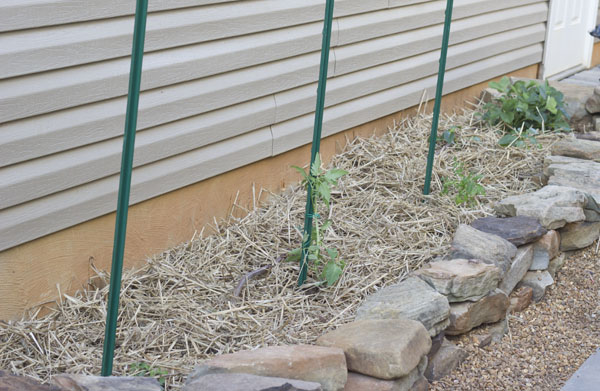 HAPPY TOMATO TIPS: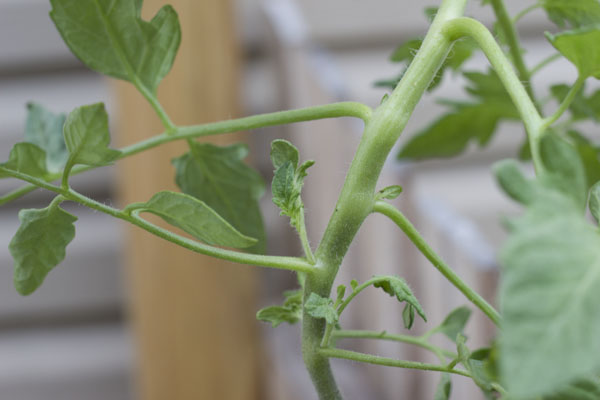 Remove any leaves or stems (aka suckers) that begin to grow in the crotch between two branches.  It takes a lot of energy for the plant to produces these suckers that will not produce any fruit.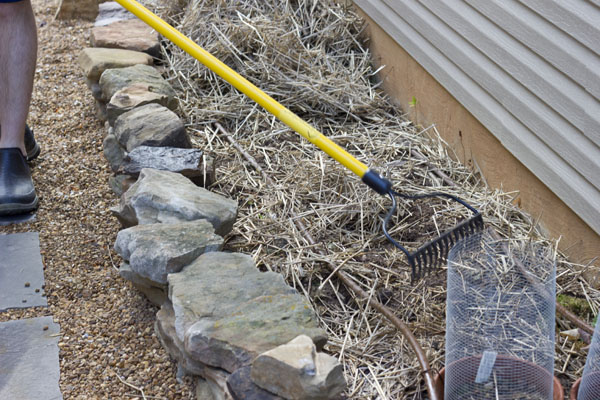 Do not water tomatoes at night.  Water on the leaves can lead to diseases that can ultimately ruin the tomato crop.  To keep rain water from splashing up on the tomato leaves add mulch (or straw) to the garden.  Not only will this keep mud and water from splashing up it also works great to help hold moisture in the soil promoting growth in the plants.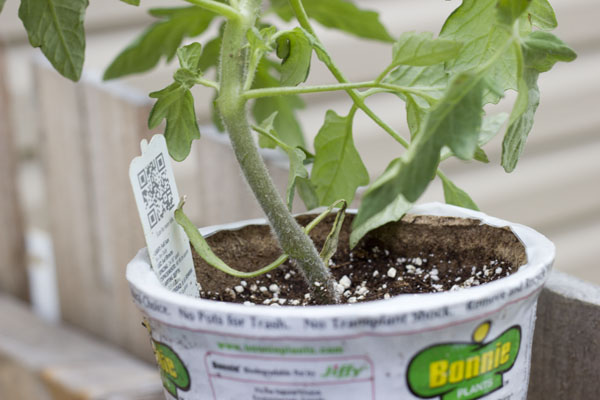 Trim any leaves or stems off of the lower 7″ of the plant once the plant reaches 10 – 12″ in height.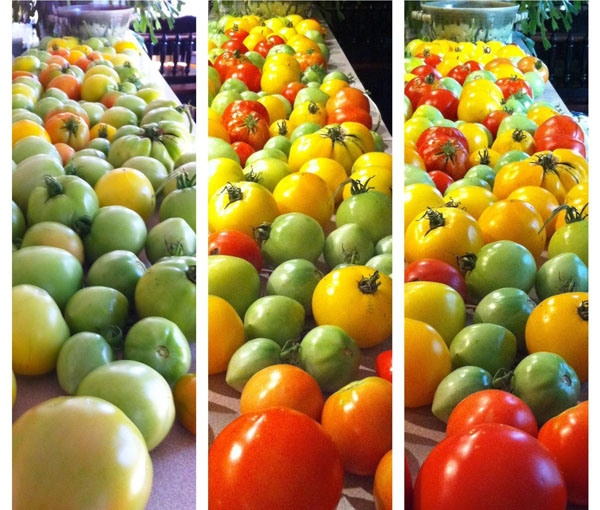 Tomatoes love water but inconsistent watering can cause your tomatoes to split.  If the weather is dry and then suddenly very rainy keep an eye on the tomatoes and once they get to a decent size remove them from the vine, even if they are not ripe.  The tomatoes can be brought inside and left to rippen in the kitchen.  The tomatoes pictured above were photographed over a 5 day period.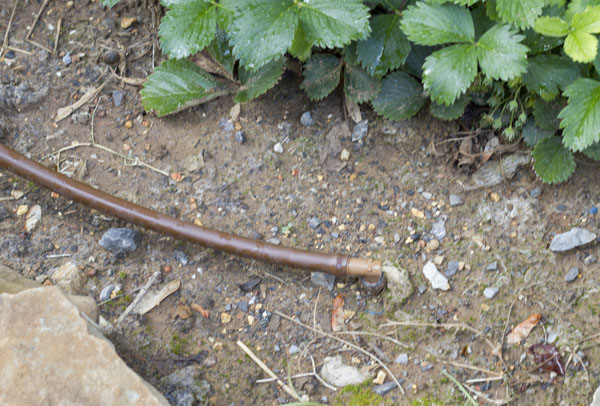 If you are lucky enough to have an irrigation system you can easily convert regular spray heads into drip irrigation.  Vegetable gardens love drip irrigation.  Adapters and drip line can be installed for as little as $30.00 depending on the size of your garden.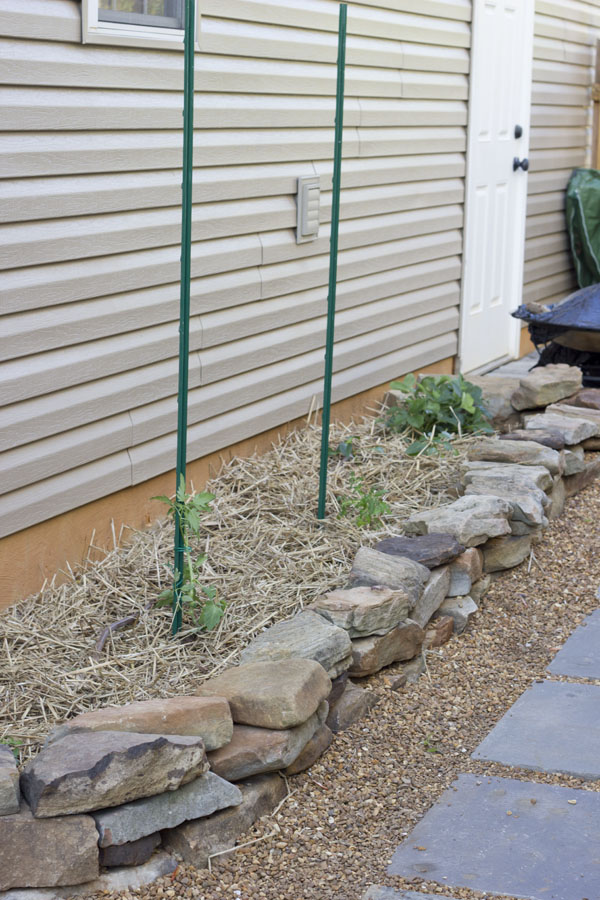 Before you know it your garden will be producing fruit that you can eat fresh, can, and share with others!