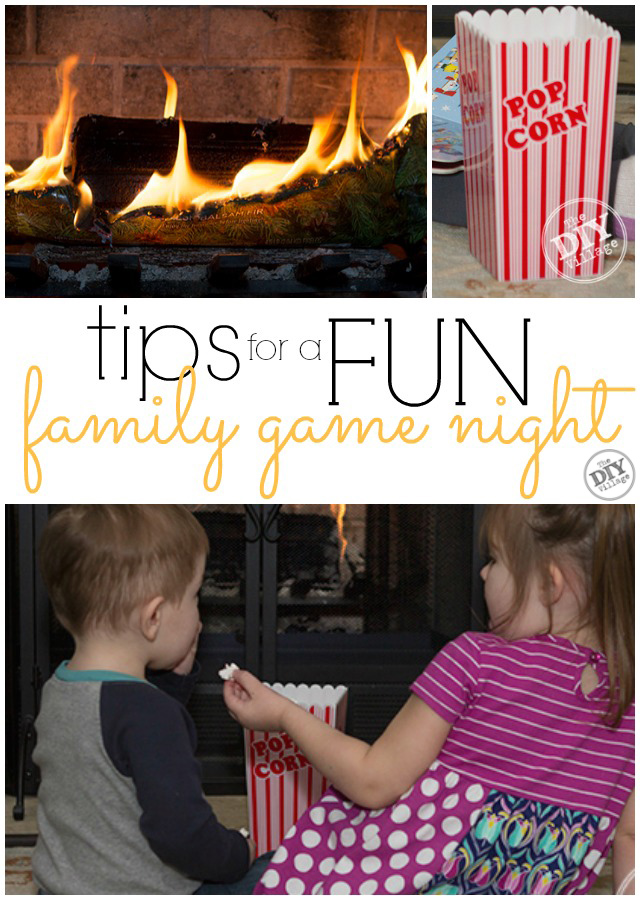 What does it take to have a successful Family Game Night with kiddos 5 and under?  Patience.  Kidding, well sort of.  If you have little ones running or crawling around you you know patience isn't just a virtue, it's a must.  Matt and I both love games but it's hard to play games with kids that have the attention span of a gnat. Sorry, it's the truth, little ones are all over the place.
In winter months we are indoors a lot more, usually because of cold and rain.  And often because it get's dark so much earlier, thanks day light saving. With little ones I have a few things that will help make your family game night a hit!

Get Cozy
Make a big deal about the family game night.  Start talking about it that morning.  Remind the kids that after dinner you have special things planned just for them.
If it's cold start a fire, in the fireplace of course.  We love the American Home by Yankee Candle Fresh Balsam Fir firelog .  (Found HERE).  The Fresh Balsam Fir firelogs light quickly and burn for 3 hours.  The family game night may only last 1 hour, due to the age of the kids, but having up to 3 hours is perfect for older kids and adults! And let's not forget about how great they smell.  Joss thinks they are, "super yummy". They also burn cleaner than ordinary cordwood, producing up to 75% less particulate matter* and up to 80% less carbon monoxide.  This is a huge deal in our home.  Matt will talk more about that in another post we have in the works.
Plan Ahead
What games are going to be played? We like to do puzzles, books, checkers (though checkers is more of a color matching game for Joss right now), and Duplo blocks for Paxton. While the kids are napping gather all of your game night actives and put them in a box, and set it aside. If your kiddos don't nap, as many don't, get everything together the night before, after you put the kids to bed.  The next evening when you bring everything out you can make a big event of the "unboxing".  Talk about excited kiddos!
Must have SNACKS
Pop some popcorn.  Kids love popcorn and especially love it when they can have it in a special container. For Christmas my in-laws got me this killer microwave popcorn popper. (found HERE)  In 1:45 we have a pot of healthy popcorn and the kids go nuts!
Tonight isn't the night for just water and milk.  Have some fun get out the juice boxes or Hot Chocolate! I know, I know it may not sound woohoo tie down the chandlier fun, but when your 3 and only get a juice box on special occasions this is huge!
Consider a special treat; fruit snacks, rice crispy treats, cookies, a cupcake. Anything that you don't always give the kids but you know they will love.
Be Clear on Expectations
The last thing you need is your young children melting down because they are tired and not ready to end family game night.  Let your kids know up front that you will have family night for 1 -3 hours.  Whichever timespan you think your kids can handle.  If you need to set a timer, let the kids know the timer is set.
Allow for clean up of any games and toys before you expect your kids to be heading to bath or bed.  Pre-school age children need gentle reminders.  Younger children are usually motivated by a fun clean up song.
Give your kids a time warning.  I like to do a 15 min warning all the way down to two minutes.  I like football and am a big fan of the two minute warning.  "In 15 minutes we will start cleaning up, get yourself to a stopping point." "We are going to bed in 5 minutes, make sure all of your toys are put away."
Have FUN and be Present
This is the key to a good family game night experience.  The parents need to be ready to have FUN.  Put your phones down, unless you're snapping cute cute pictures of your kiddos.  But even if you are snapping pics don't post them right away.  Wait until your kids are asleep, don't miss out because you are distracted.
I hope after reading these tips you are now armed with the ability to create and execute an awesome family game night!  So get out there, spend some time with those kiddos.  We all know they grow up fast, too fast!  If you have any tips or ideas to help make a family game night even better, leave us a comment I'd love to hear your ideas!
To learn more about Pine Mountain and their awesome products:
Like & Follow on Facebook
Subscribe on

YouTube