According the NFPA Home Fires Involving Heating Equipment Report:
Heating equipment fires accounted for 16% of all reported home fires in 2009-2013 (second behind cooking) and 19% of home fire deaths (second behind smoking materials).
Space heaters are the type of heating equipment most often involved in home heating fires, figuring in two of every five of these fires and accounting for 84% of associated civilian deaths, 75% of civilian injuries, and 52% of direct property damage.
The leading factor contributing to ignition for home heating fire deaths (56%) was heating equipment too close to things that can burn, such as upholstered furniture, clothing, mattress, or bedding.
As scary as these statistics can be all of this is avoidable by being responsible safe home heat, portable heater, users and educating yourself.  There are a few tips to help make your use of the portable heater as safe as possible. Check out our video as Matt will go over those with you.
If you are having trouble remembering everything Matt mentioned in the video or would like something for future reference  check out the 
Home Heating Checklist
. The check lists has most everything you will need to remember when using your heater.  You can use the link above to print your own PDF and check things off as you go!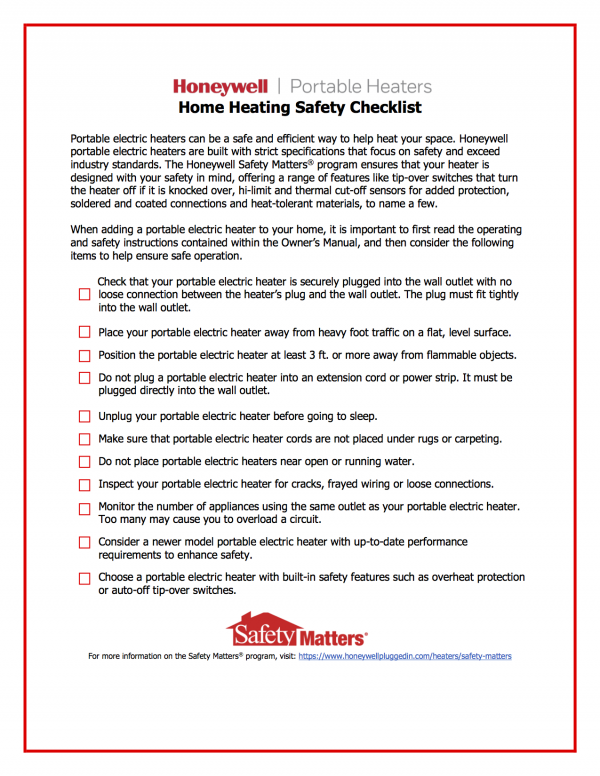 In addition to all of the awesome technologies Honeywell has added to their portable heaters like tip protection and timers they have also created an entire program around safety of portable heaters, the
Safety Matters program
.  Safety Matters ensures that their products are made with the most innovative, tried and tested safety features.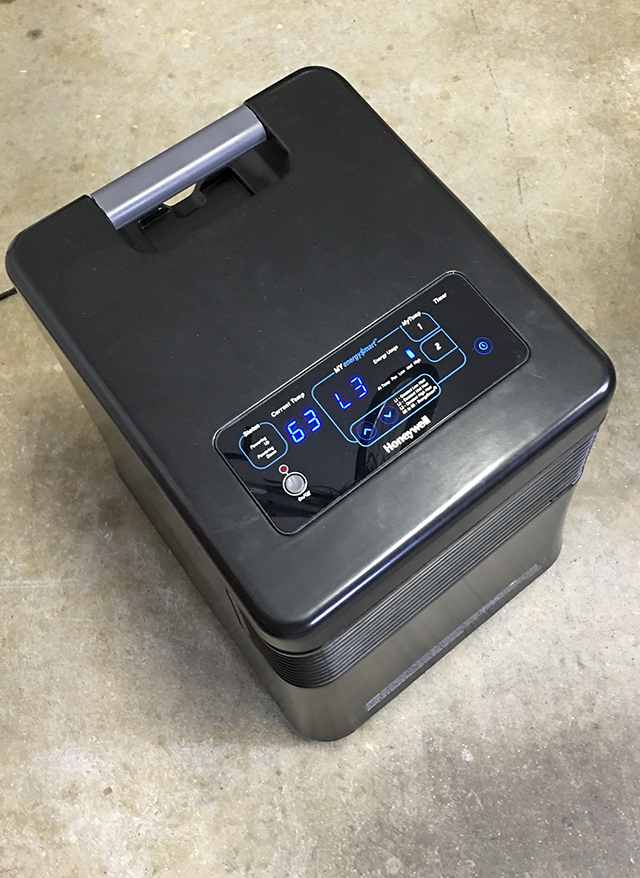 Currently in our home we regularly use two different portable heaters in two very different applications.  In our garage we have the Honeywell MyEnergySmart Infared Whole Room Heater.  This heater has been a huge life saver for me this past winter.  Normally we can't get any painting projects done because it's too cold. With the MyEnergySmart heater we can both work in the garage without freezing.  I cannot believe we went this long without a heart in our garage during the winter. I recommend that anyone who likes to work in the garage have one.  No questions asked.
The other portable heater we are currently using is the Honeywell HeatGenius Ceramic Heater in our playroom.  You might recognize our playroom.  It used to be or living room, you can check out that old look HERE, but now is the home to our kids toys, train table, playhouse, and Jossie's beloved "Beber house".  This room is open to our two story foyer with no door to close. In fact it only has 3 full walls and barely anything on the 4th wall side.  We chose the HeatGenius heater for this space because of it's cool touch housing, and safety tip protection, as well as the two hour auto off timer.  Sometimes mom brain gets the best of me and I completely space on turning things off, like my alarm. I'm definitely not going to have a portable heater let us become part of a sad preventable statistic.
Don't be afraid of portable heaters, they can be great additions to most all homes. Just be responsible, follow the manufacturers guidelines, do the checklist, and sit back and relax.