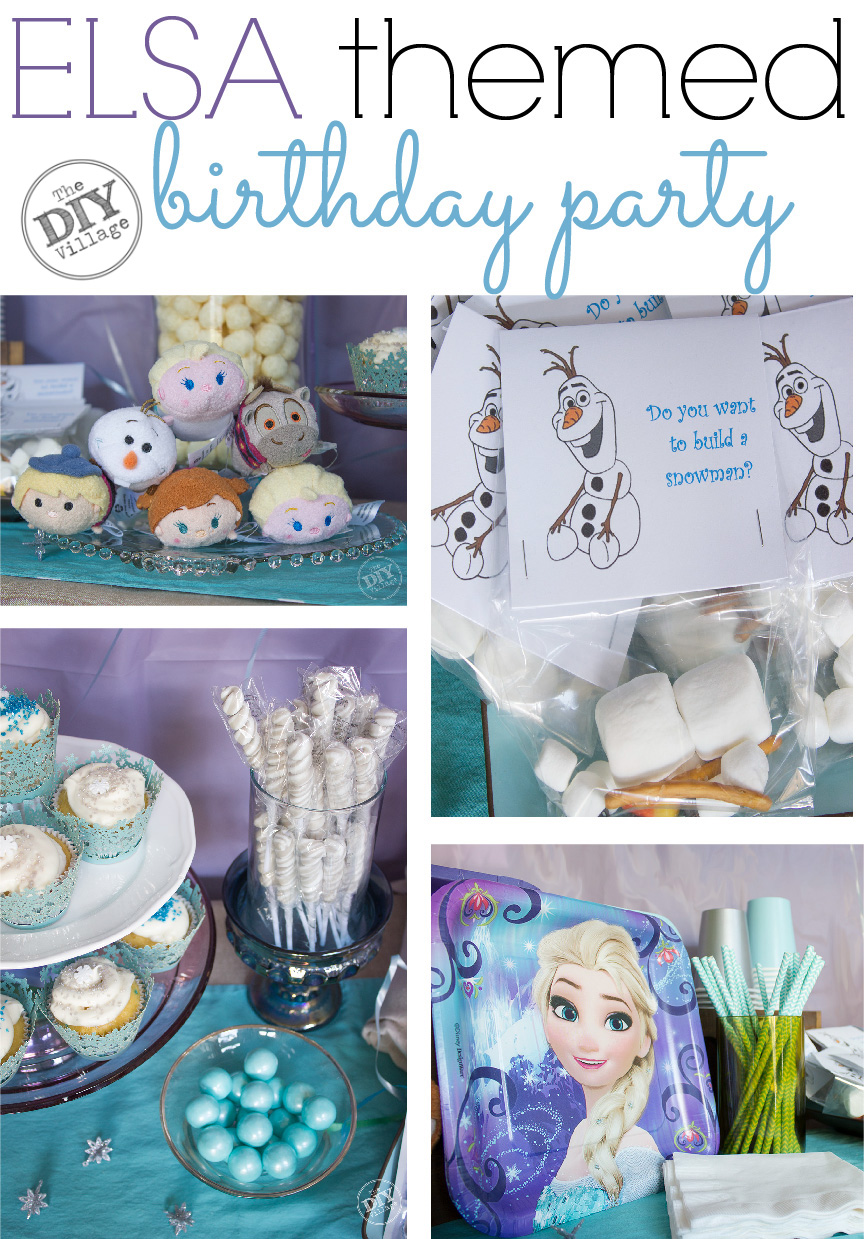 What does a busy mom who has a daughter set on an Elsa themed birthday party do when she has no idea her kiddo even liked the movie Frozen?  If you are like me you panic and once you recover you clarify.
"So, you want a Frozen party with everyone right?"
Almost 4 year old, "No, just Elsa. She's so sparkly!".
Cue internal mumbling again about how in the world you are going to find only Elsa items.  The good news, finding theme related items was fairly easy.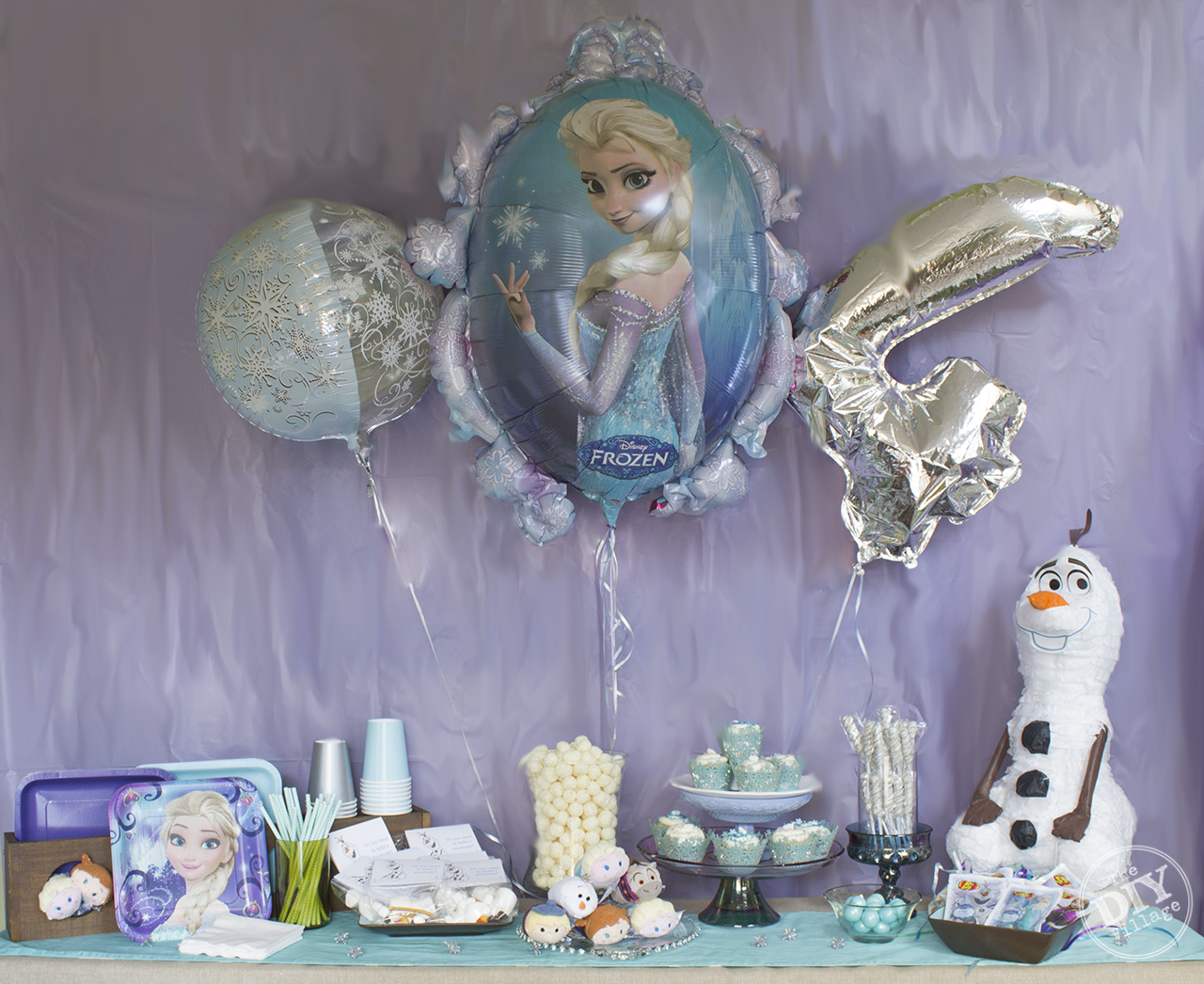 I always love getting fun balloons for the parties.  This year a classic silver 4, two sided GIANT Elsa balloon, and the round snowflake balloon were the obvious winners.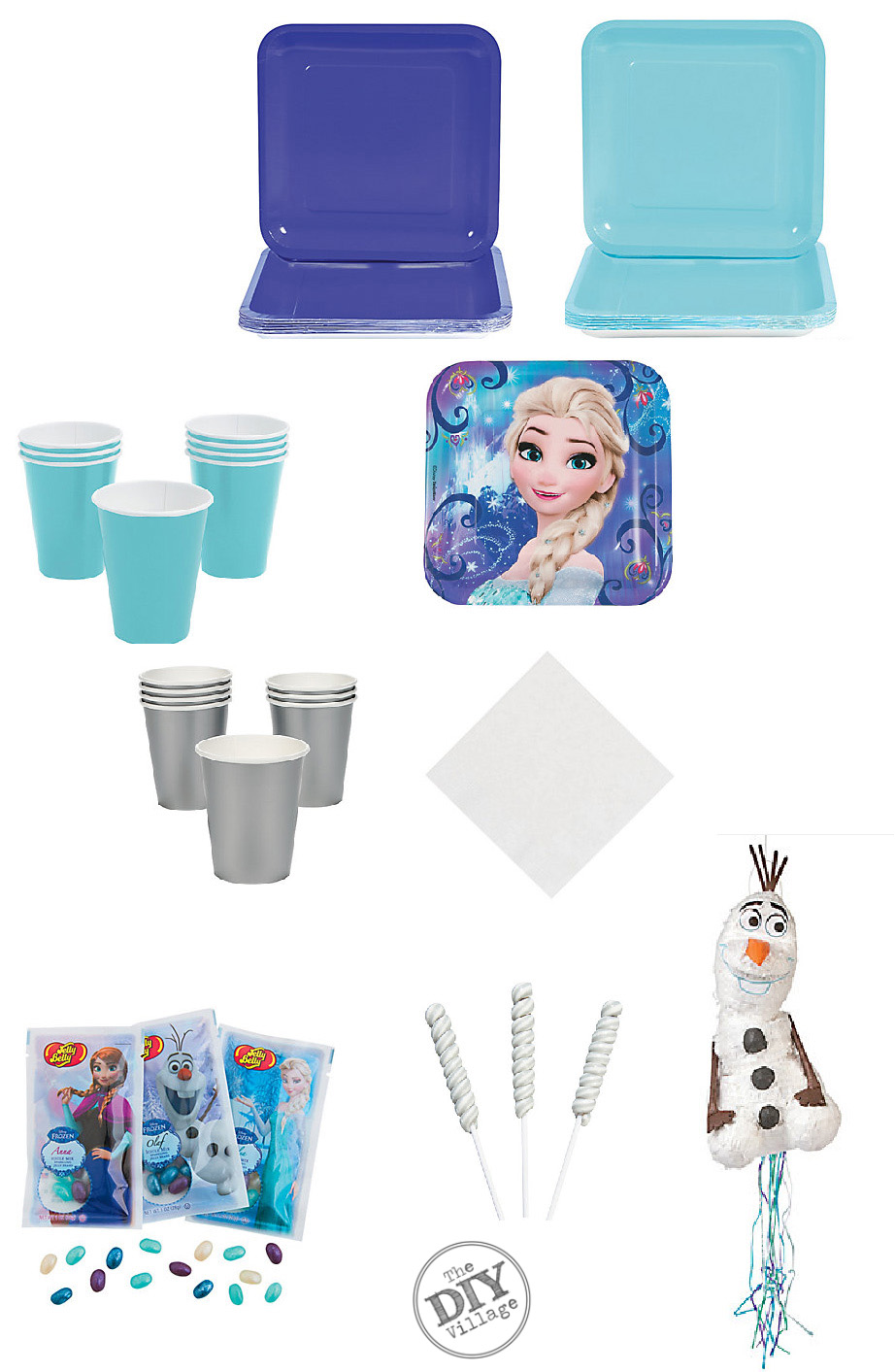 My first stop online stop was to Oriental Trading to see if they might by chance have anything that would work.  Odds were in my favor and they had a plethora of goodies.
I tried to stick with a few focal pieces and plan the rest of the party around them.  First on the list of must haves Elsa plates.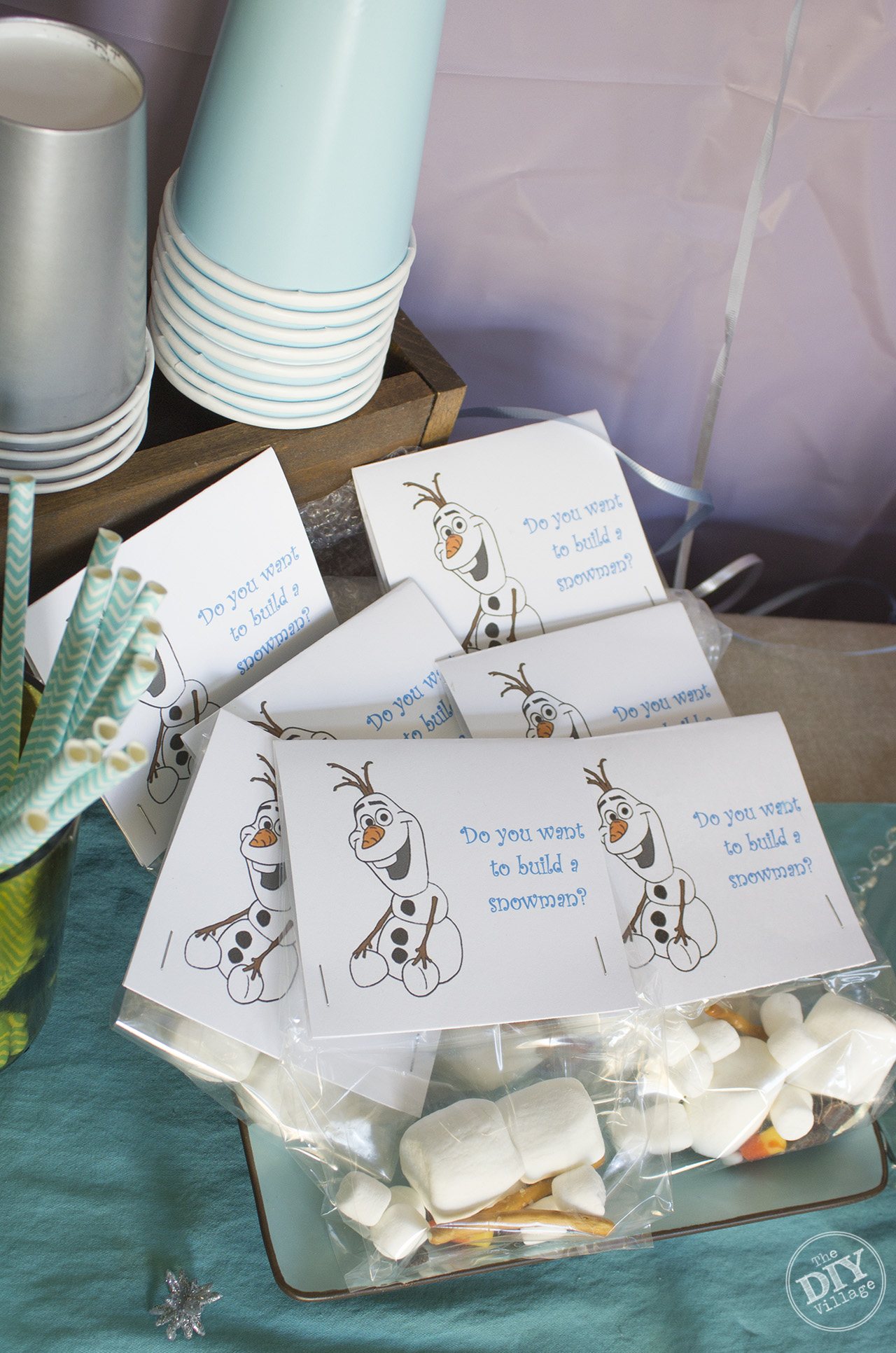 My mother-in-law asked if there was anything she could help with.  Since I'm not willing to turn that down I tasked her with putting these adorable build a snowman kits!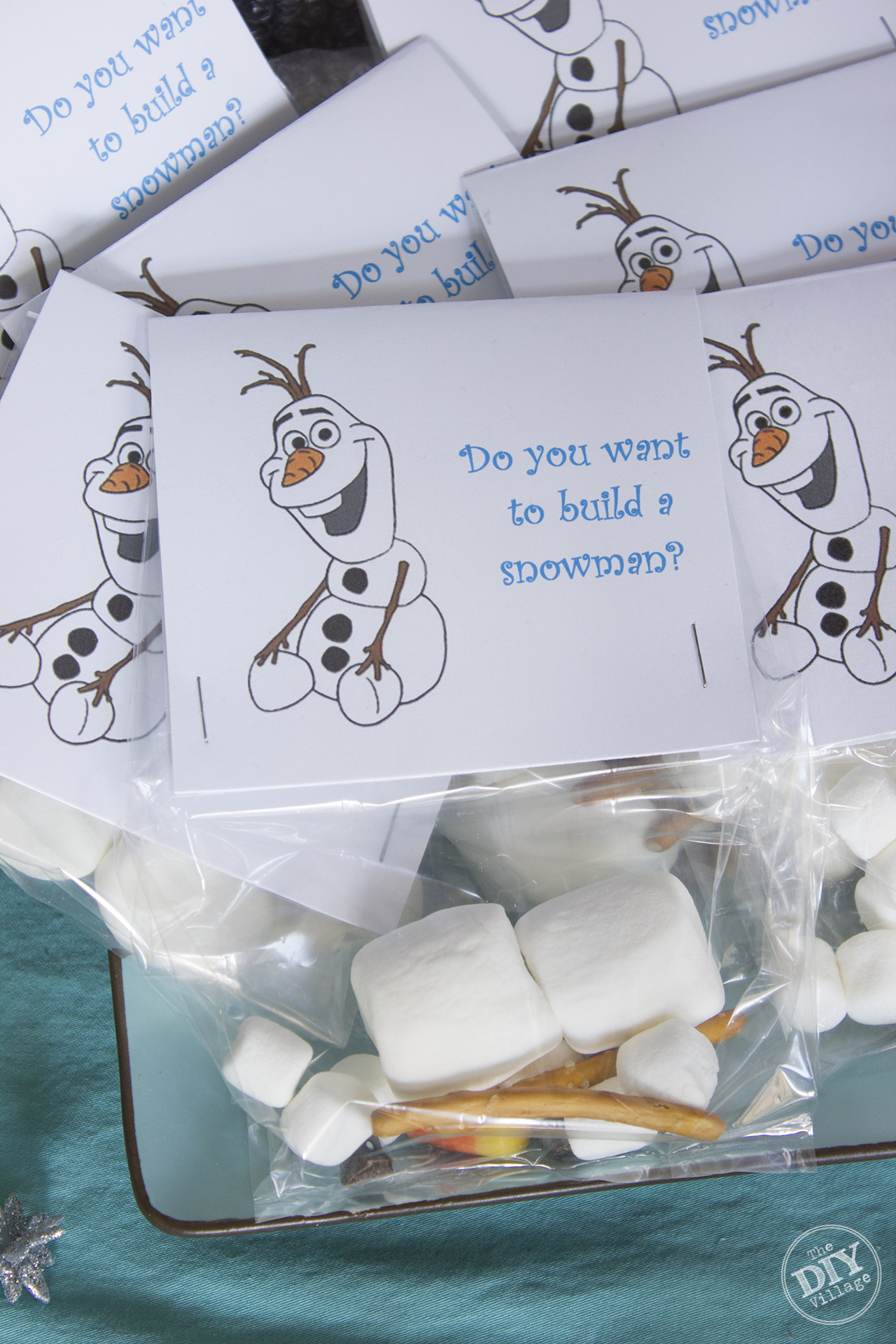 One went home with each kiddo as part of their goody bags.  Are these not the cutest?  She definitely outdid herself with these cuties!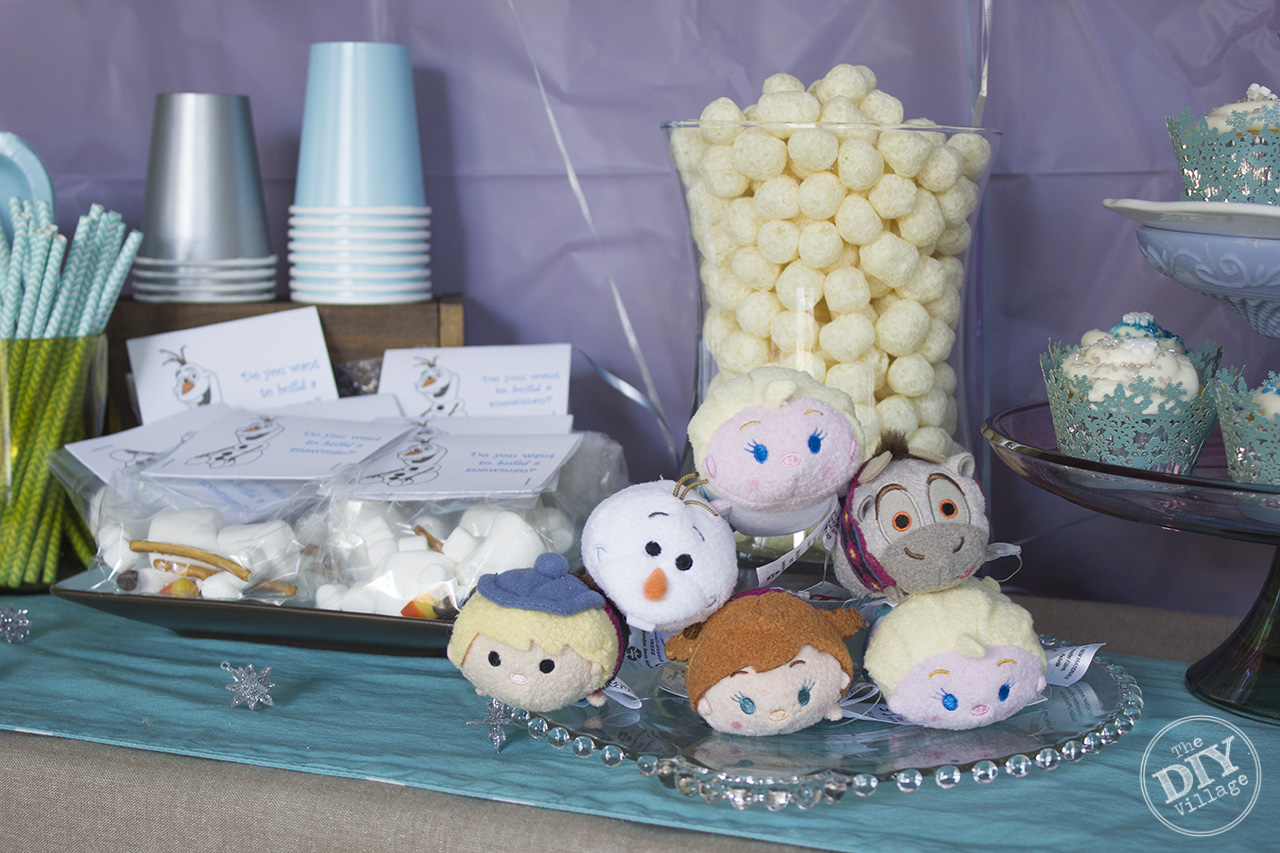 The party was held at an event location in the morning.  Most of our attendees would have already eaten breakfast and since the party was over before lunch I stuck to a quick snack and dessert for the party food.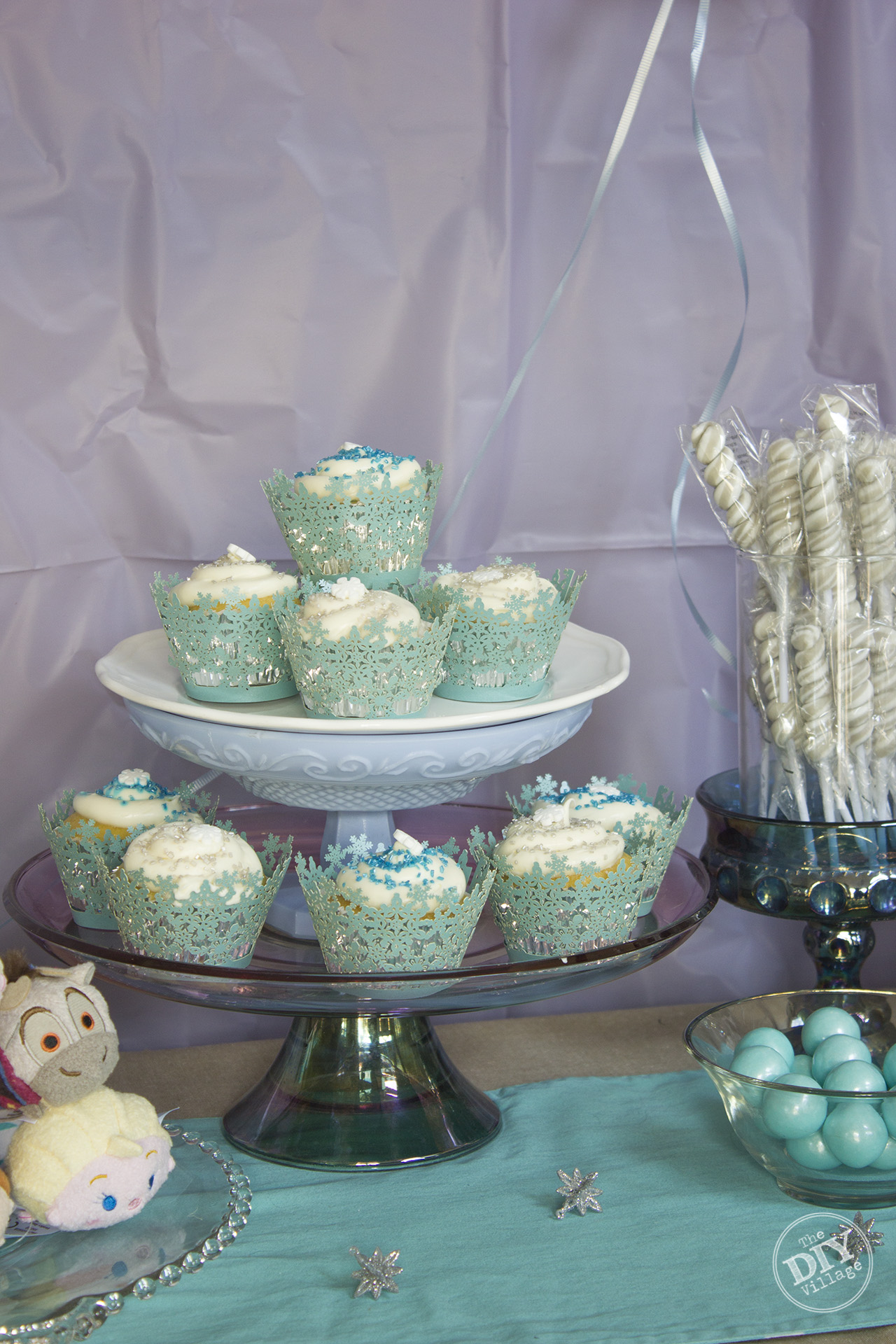 I made the cupcakes a few days before the party and iced them the night before.  Making sure not to forget to add sparkle!

White cheddar cheese balls were the food of choice and doubled as "Elsa's Snowballs".  What kid doesn't love cheese balls?  Oh that's right the birthday girl.  In her defense she loves cheese balls but only the orange ones, haha.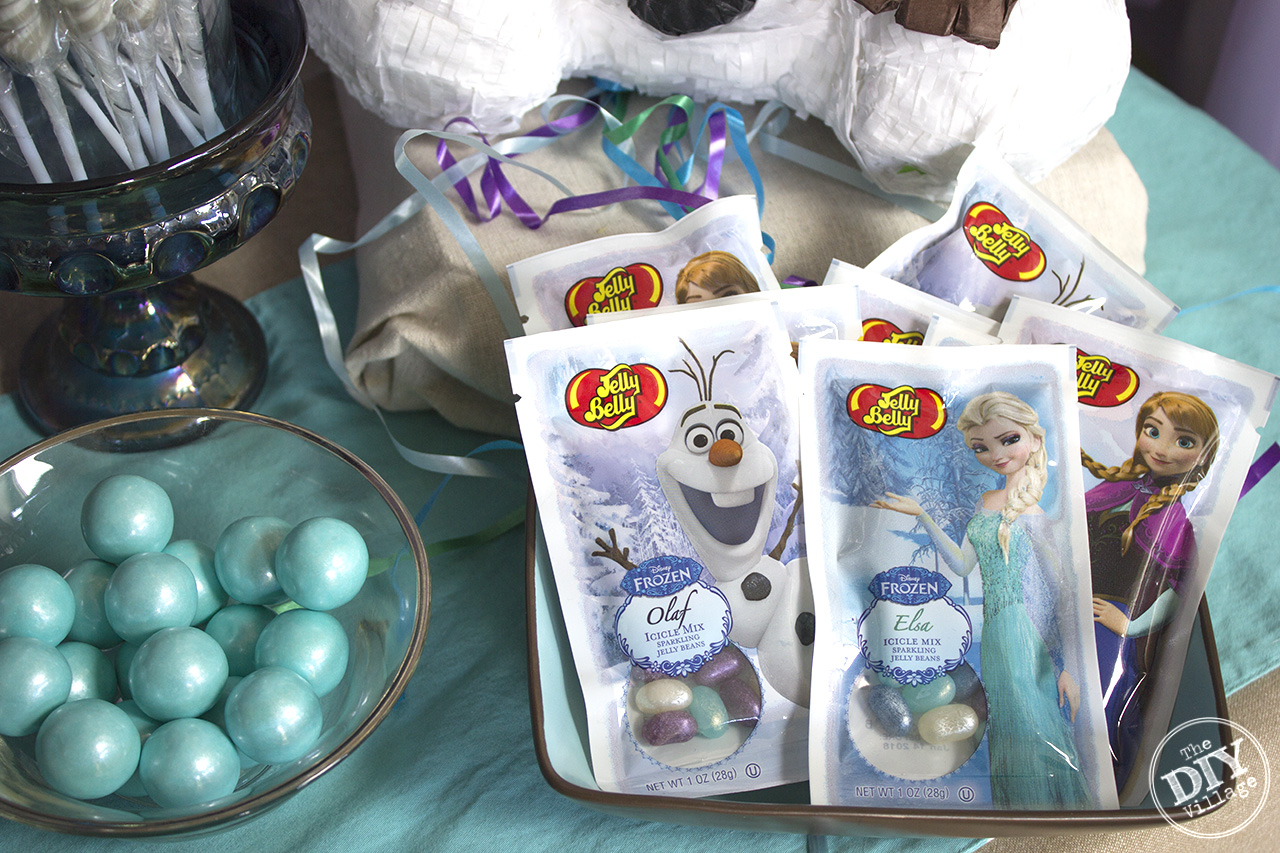 Another great find were these Frozen themed Jelly Belly's!  One pack went home in every favor bag.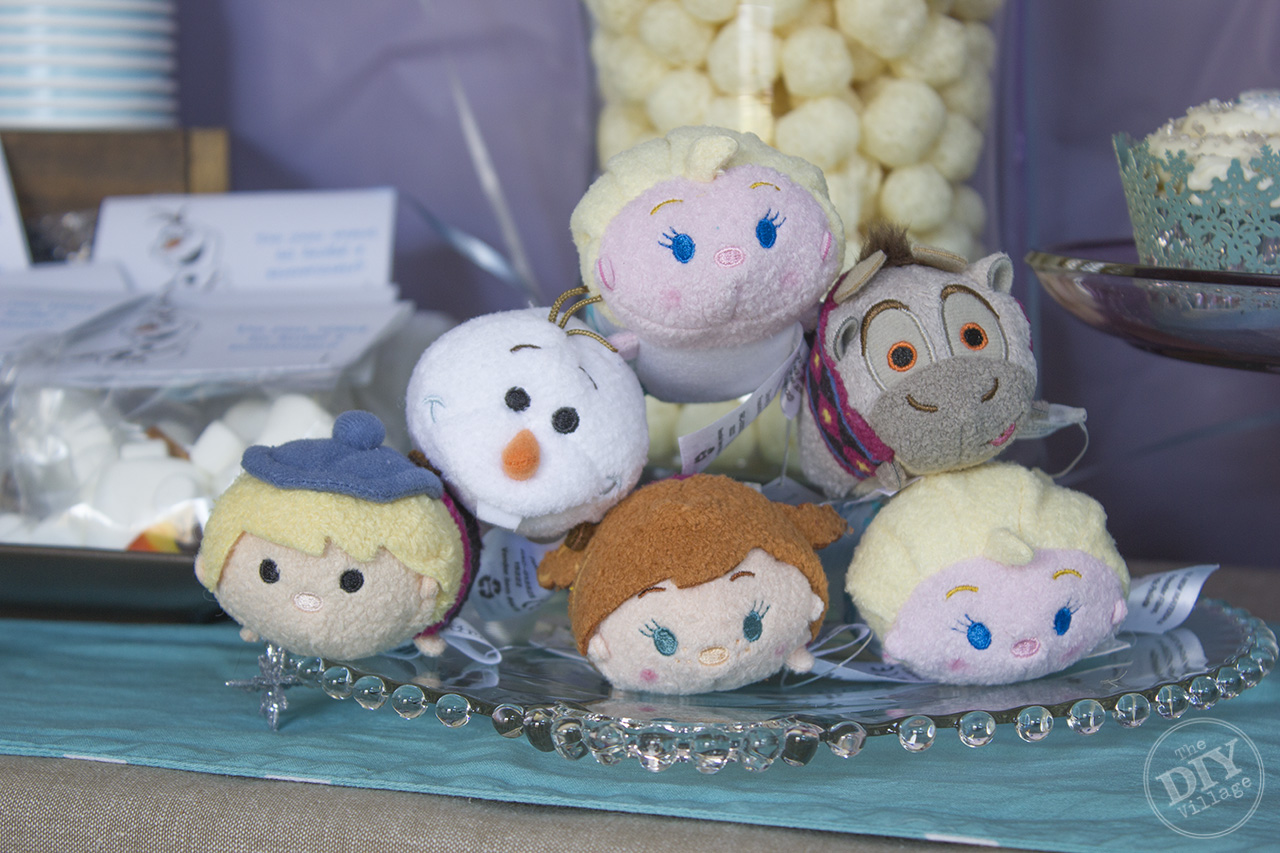 Now to these little guys.  I ran across the entire cast of Tsum Tsum Frozen characters for 50% at Target I grabbed them up for party favors.  I didn't buy them all, but I didn't leave many for other people.  The even had "Hans".  We all know Hans is super shady so we skipped that one.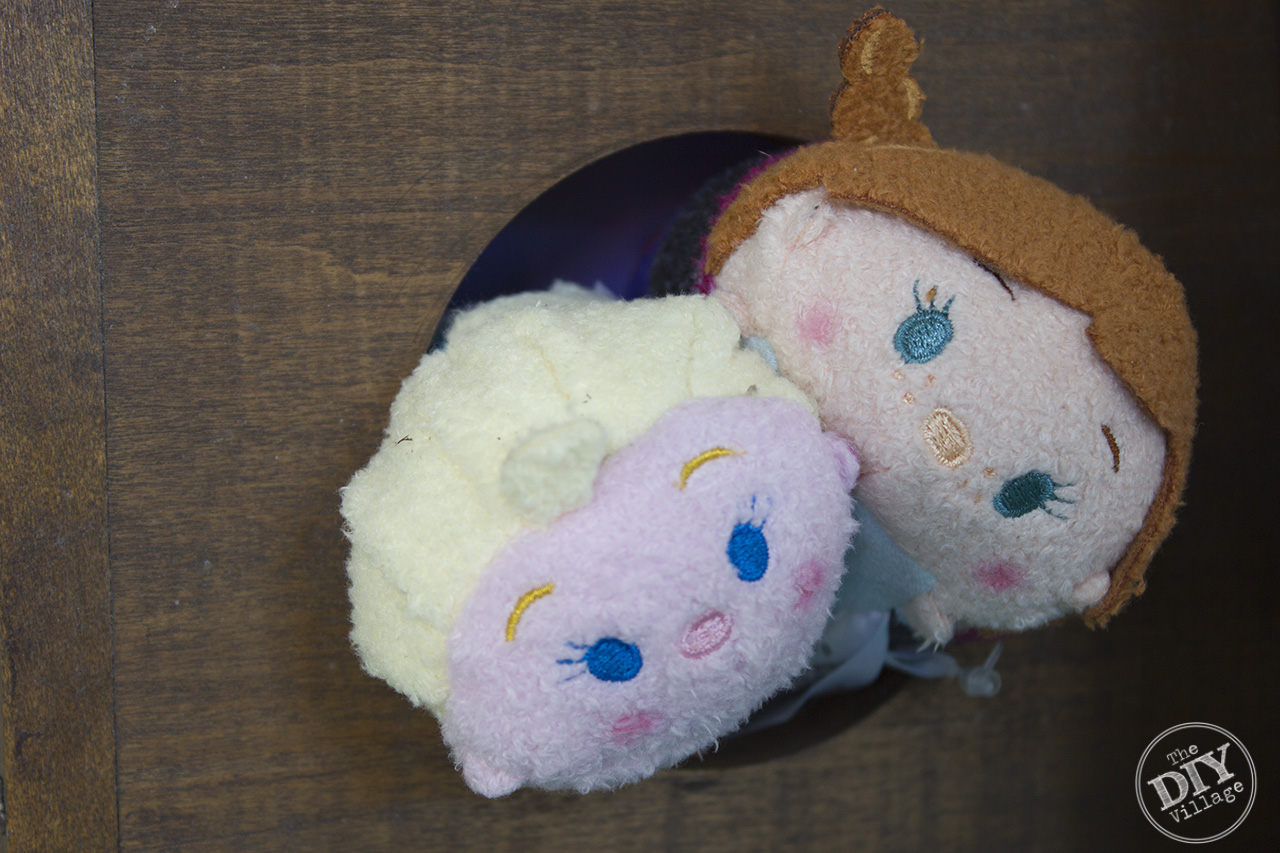 Little bit has happily claimed one of each for her personal stash.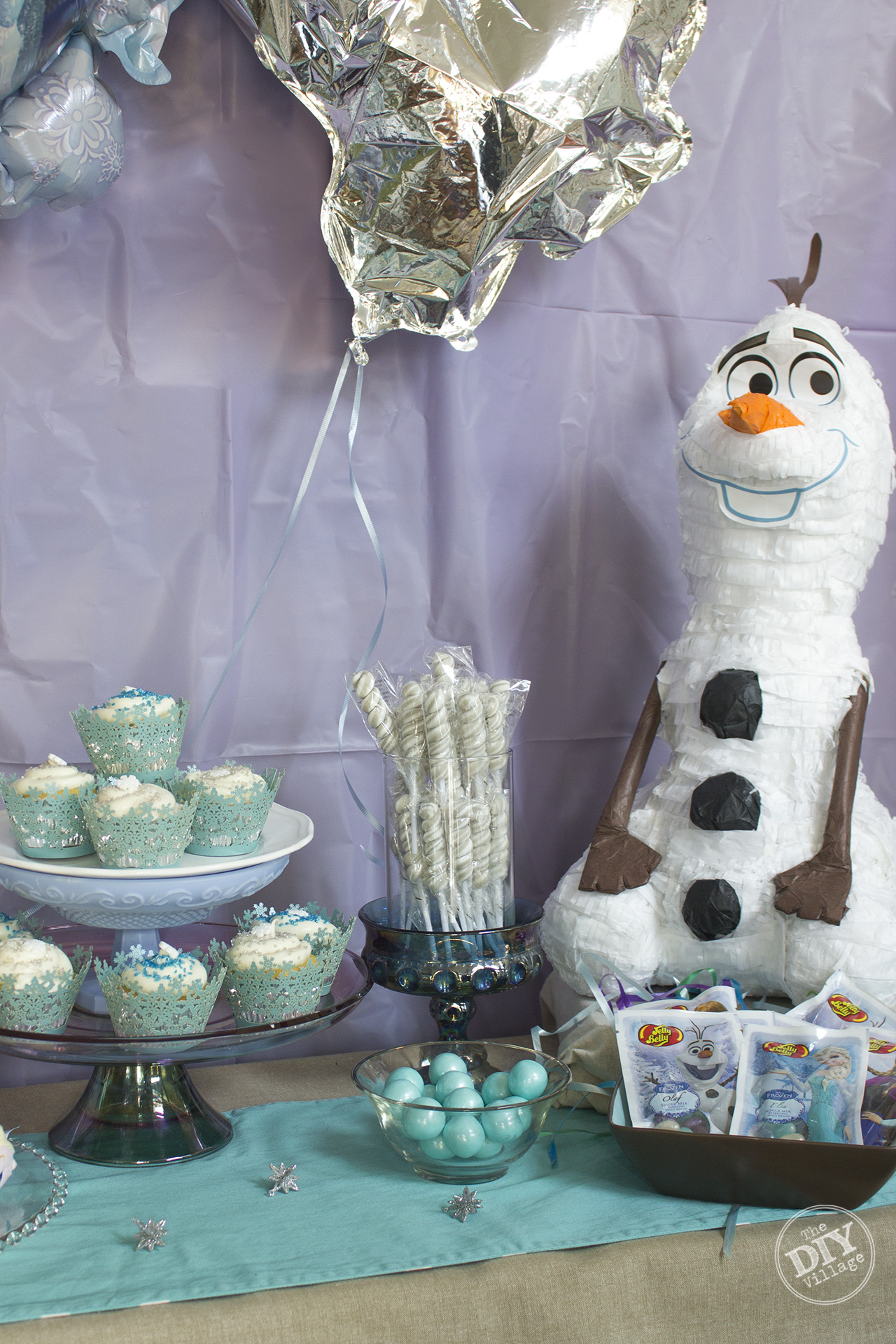 Now for the one approved character that isn't Elsa, Olaf.  I wanted to add Olaf but the birthday girl wasn't having any part of this idea.  Until I found an Olaf piñata!  Piñatas are super fun and also mean, more candy.  (See, I told you these parents were going to love me!)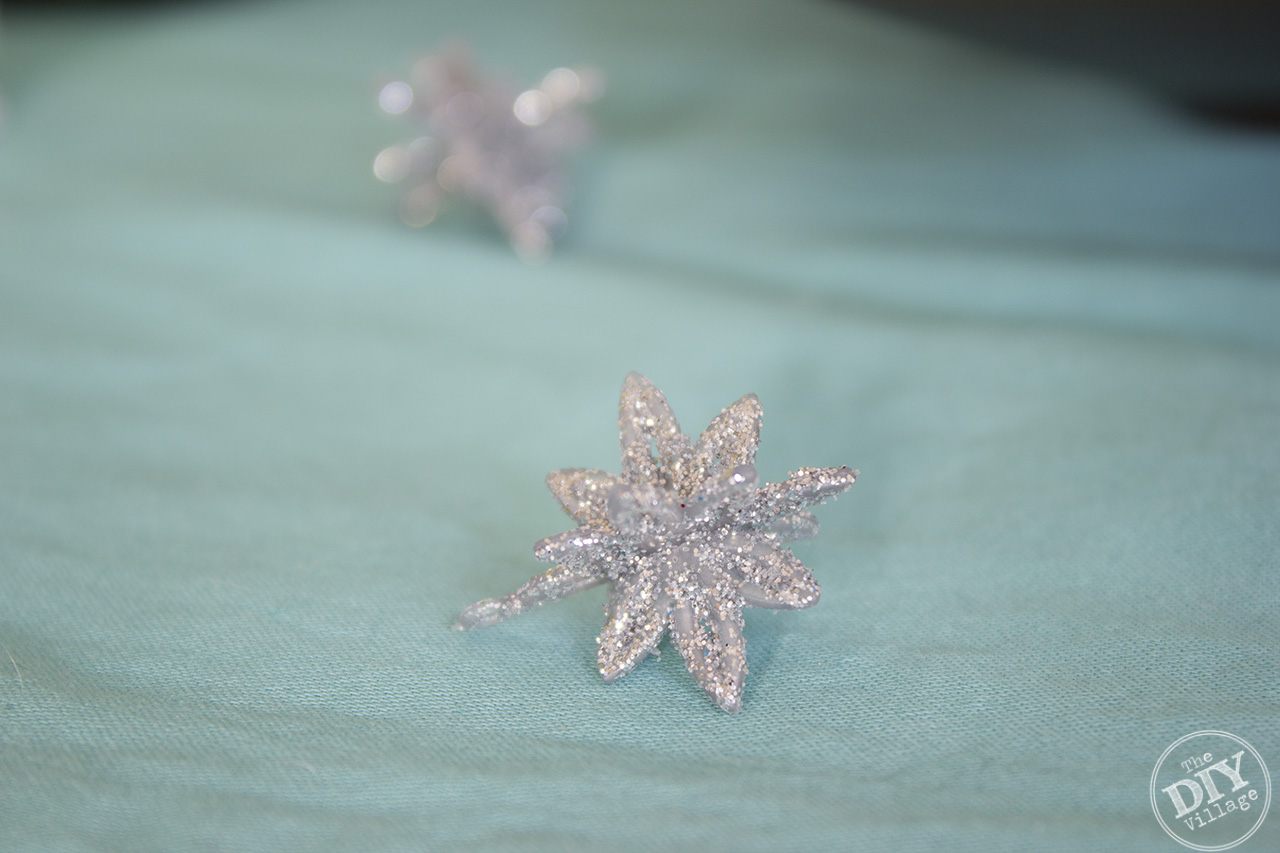 To add a little sparkle to the table I added miniature glitter snowflake ornaments from the craft store.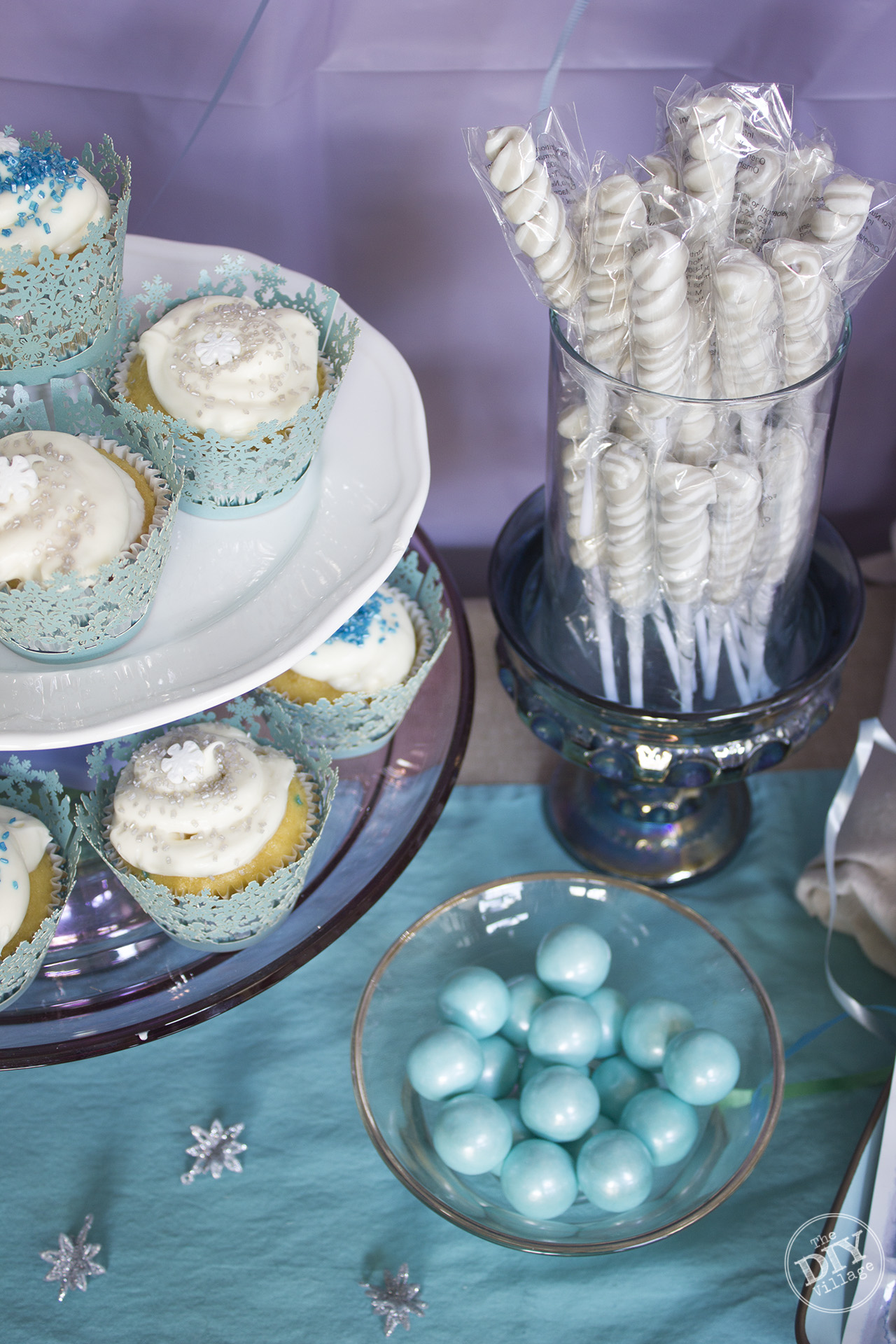 I'm hoping that the parents of the kids that attended the party don't hate me because of all of the candy in the goody bags. But since I wasn't too worried each bag also had a silver spiral lollipop and two gum balls.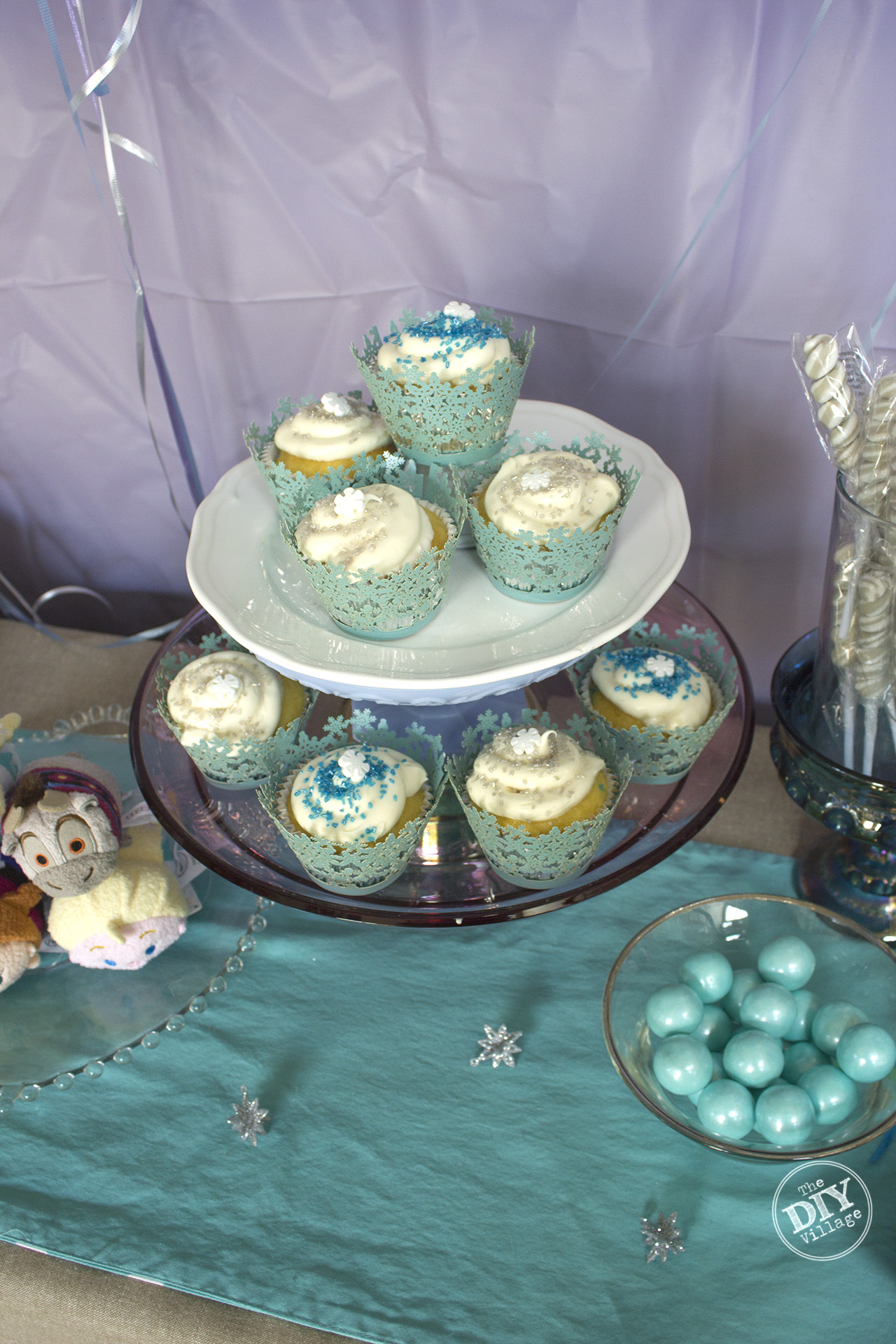 The gumballs were a birthday girl selection.  I was hesitant but when we found a bag on clearance at Target, how could I say no?
The party was a blast.  The kids had fun, the parents had fun, and most importantly the birthday girl had the best time.  Since the party was at an event play space the fact that it was pouring rain had no bearing on our party plans.
I'm curious to see what she comes up with next year, this kid is always full of surprises.  In the meantime it's time to start planning baby brothers 2nd birthday bash!
SOURCES
Elsa Balloon
Snowflake Balloon
Number 4 Balloon
Olaf Pinata (HERE & HERE)
Elsa Plates (HERE & HERE)
Purple & Blue Plates
Silver & Blue Cups
Napkins
Silver Twist Lollipop
Frozen Jelly Belly
Tsum Tsum's – Elsa, Anna, Kristoph, Sven, Olaf
(Get a 6 pack HERE and save)
Snowflake Cupcake Wraps
Zig Zag Paper Straw
Miniature Snowflakes (found in store at Hobby Lobby)
Gumballs HERE and HERE
Snowflake Sprinkles
Cheddar "Snow Balls"
Purple Backdrop
Teal Runner