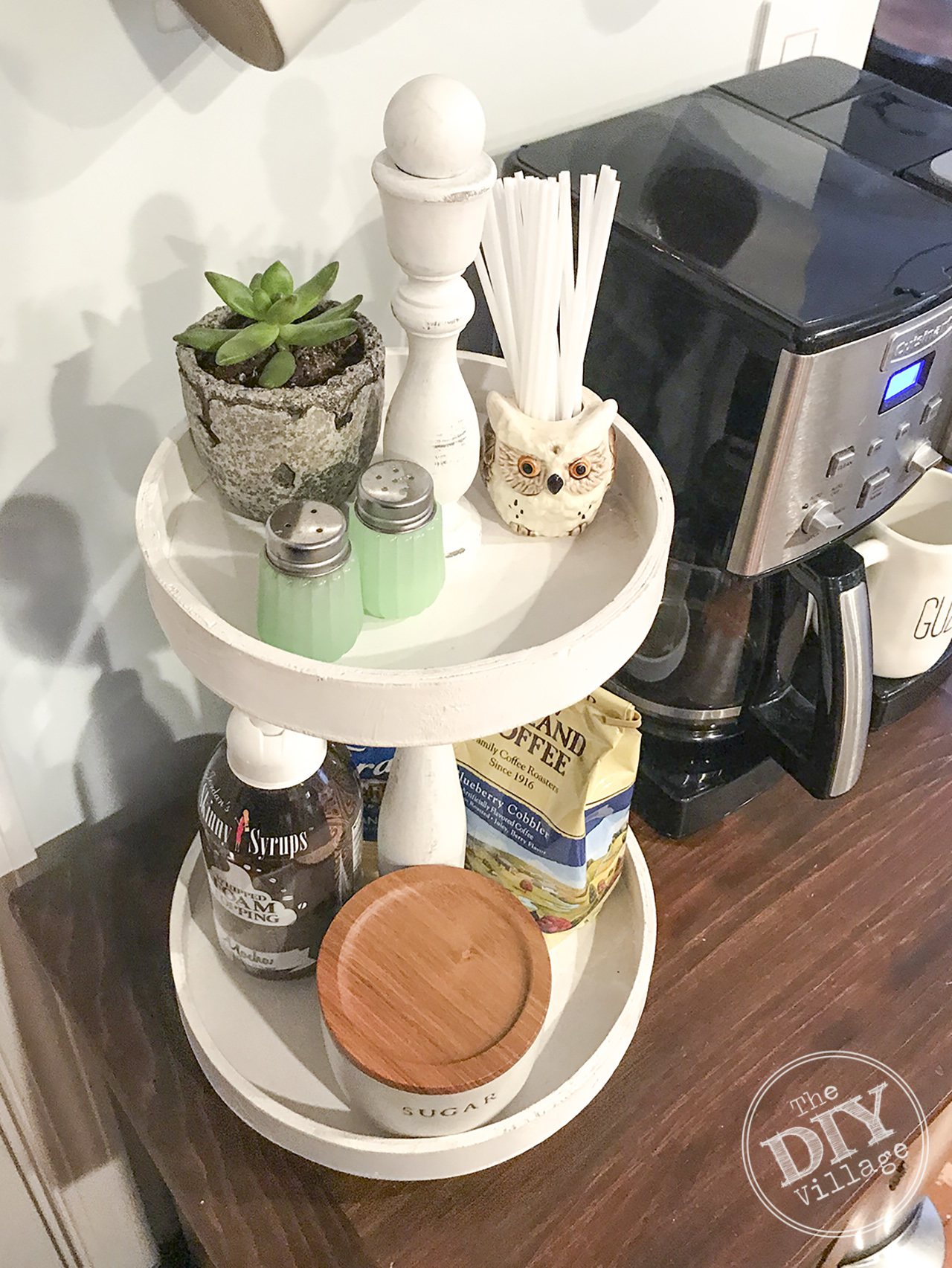 For a long time I have had a problem in our kitchen organizing my coffee goodies.  I wasn't 100% sold on having a full fledged coffee station but after some time and years I decided it was go time.  The biggest issue I faced was the space where I wanted to put one.  Way back when my dad had made a replica wood ice box that now houses our booze and travel coffee mugs. On top is where our coffee maker lives.  I'm not in any hurry to part with this piece but with the size of our coffee pot all of the kitchen caddies available online and in stores were too wide at the base.  Plus I wasn't a huge fan of the price tag of many of these.  What does a girl do when she has a need for something but can't find it in the stores do? She makes it, and that is exactly what I did and now I can show you how to make your own DIY Kitchen Caddy.
MATERIALS
Candle Sticks – Found HERE & HERE
Wood Trays – Found HERE
Wood Rounds – Found HERE
Wood Glue – Found HERE
Stain – Found HERE
Paint – Found HERE
Brushes – Found HERE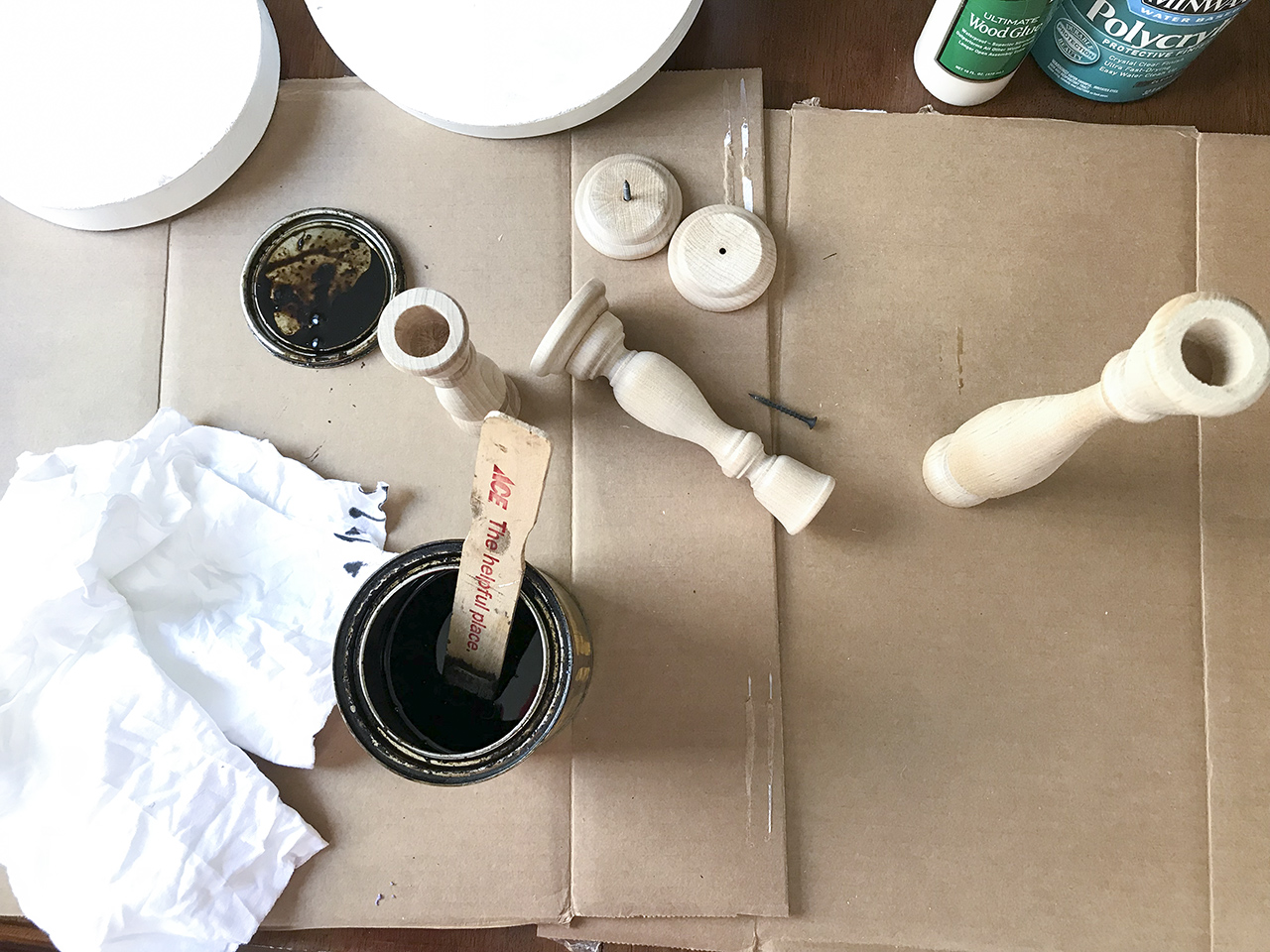 Start by unscrewing the bases of the candlesticks from the candlestick stems.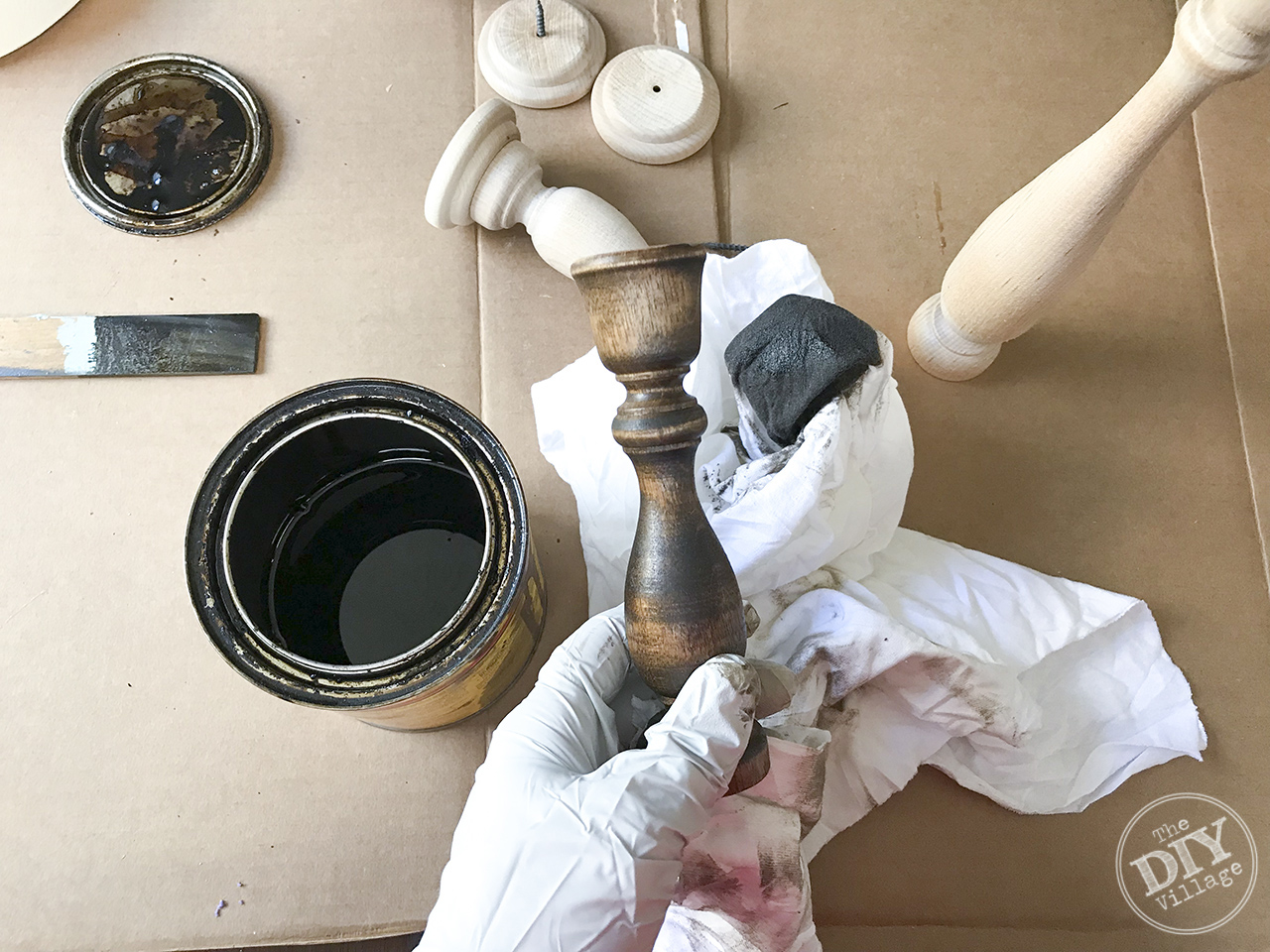 To achieve a more antique look stain the candlesticks with a dark stain. Wipe off stain excess and set aside to dry.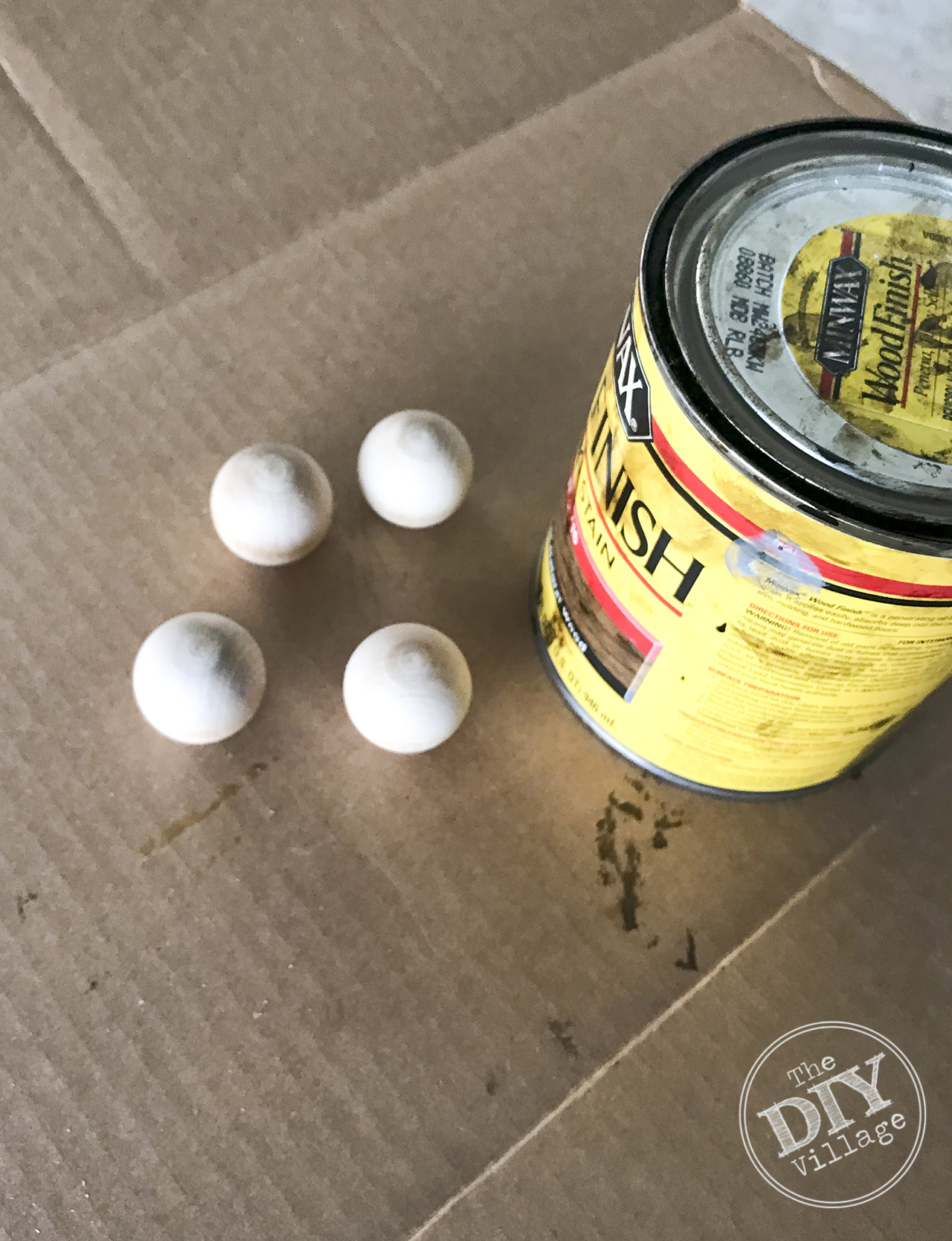 While the candlesticks are drying go ahead and stain the rounds.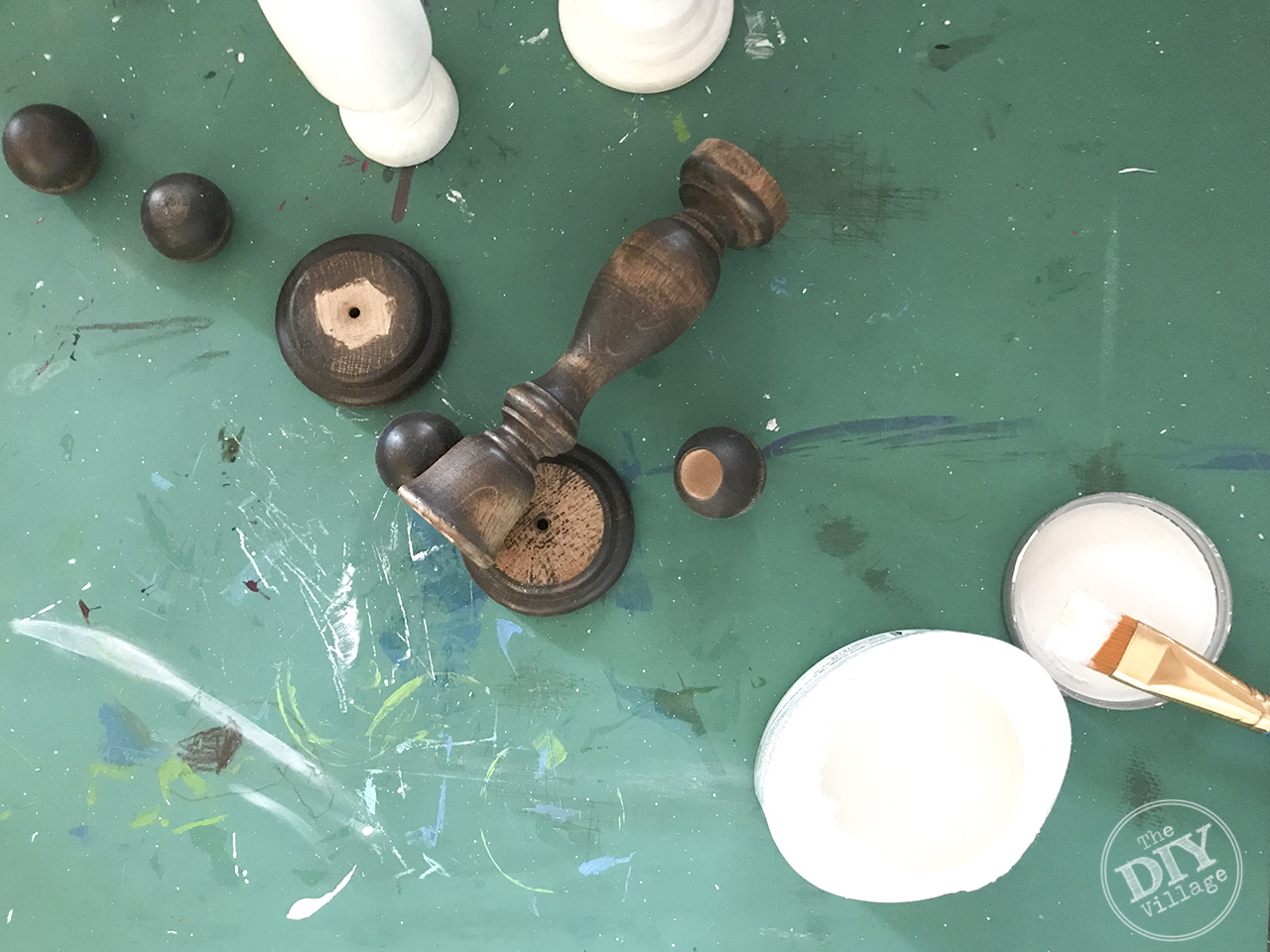 After the stain has had a chance to dry you are ready for your white paint.  Paint all of the rounds and candlesticks with a coat of white paint.  Let the paint dry and lightly sand the raised places on the candlesticks.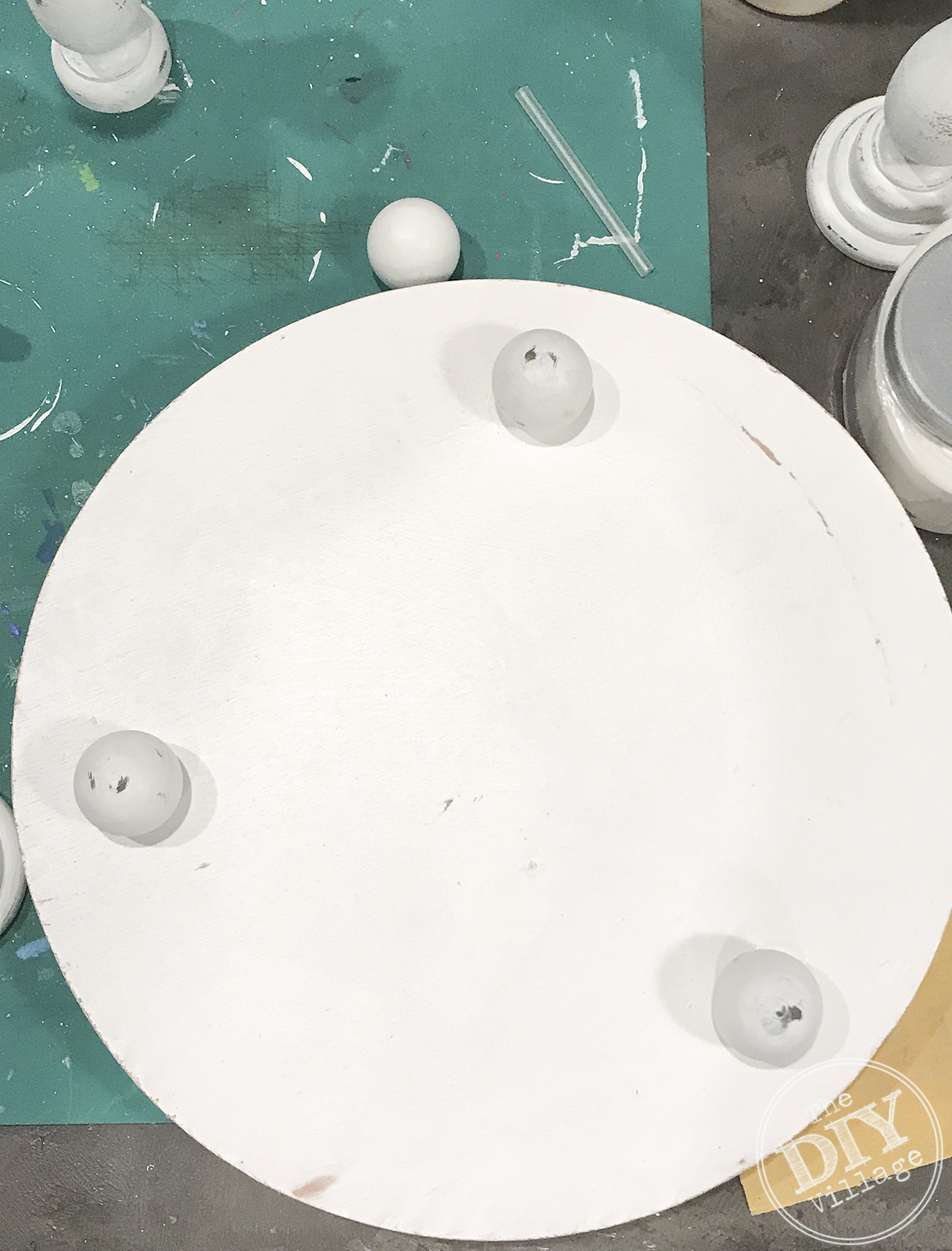 You're ready for assembly.  Make sure your glue is ready.  Start by placing the feet on the base piece in the shape of a triangle.  If you like you can add 4 rounds but I prefer the this type of base support.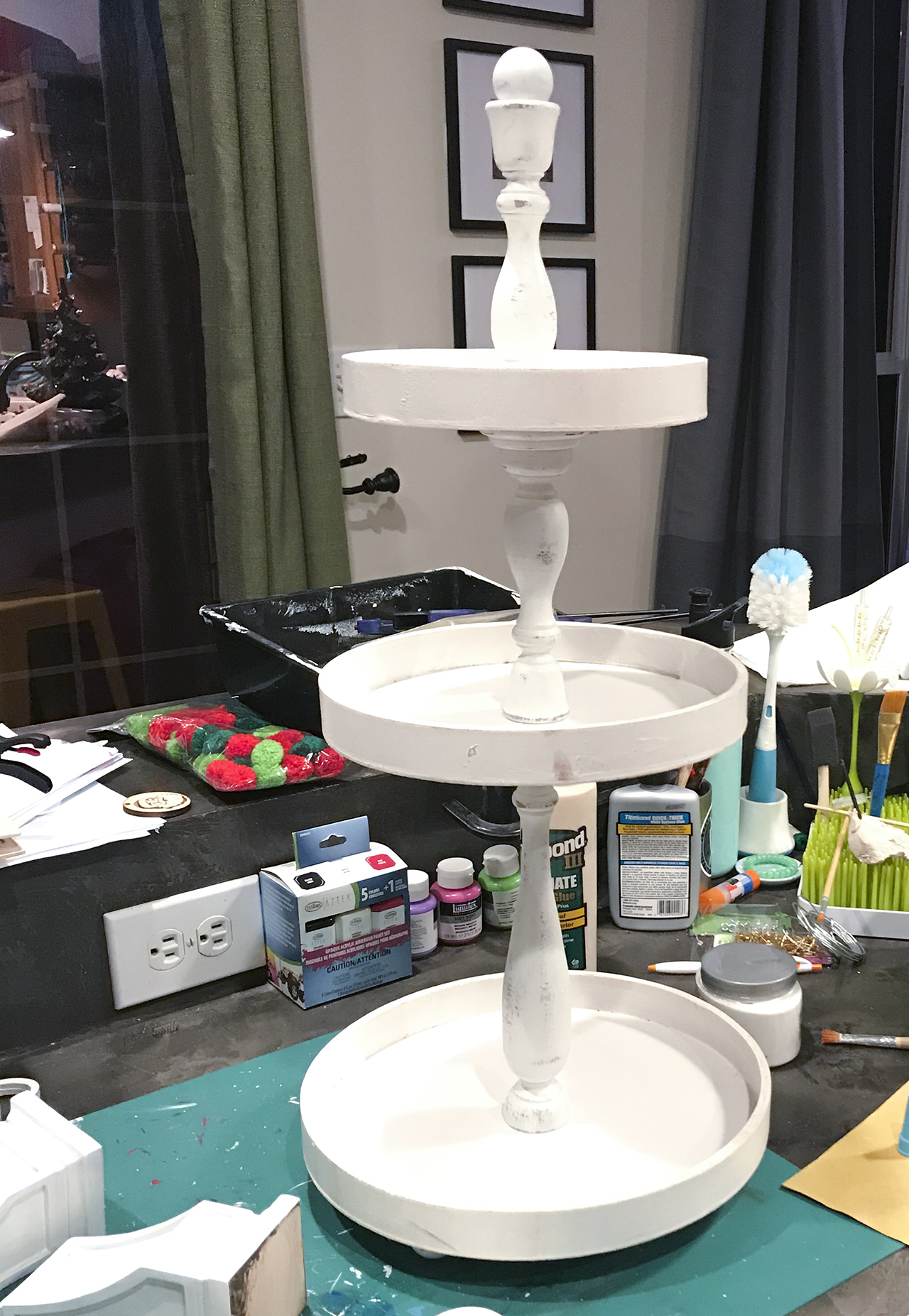 The trays come in a set of 3 so you will want to experiment with how tall you would like it to be.  I decided mine was best like with two tiers only.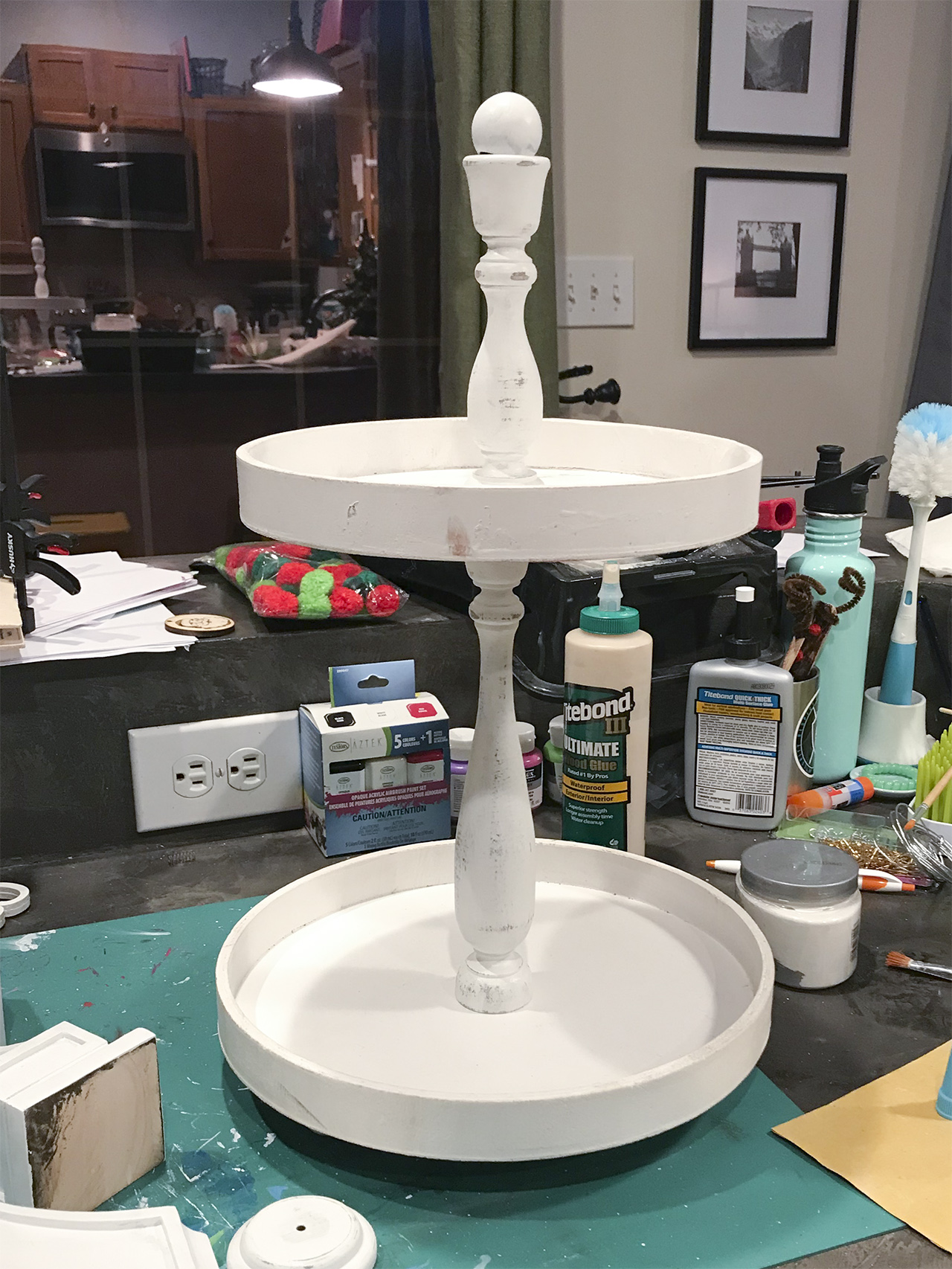 Once you figure out your configuration find center on your trays and glue the candlesticks in place.  Glue your last 4th round onto the top of the shorter candlestick.  I ended up leaving the base pieces off of both candlesticks to allow for more storage space.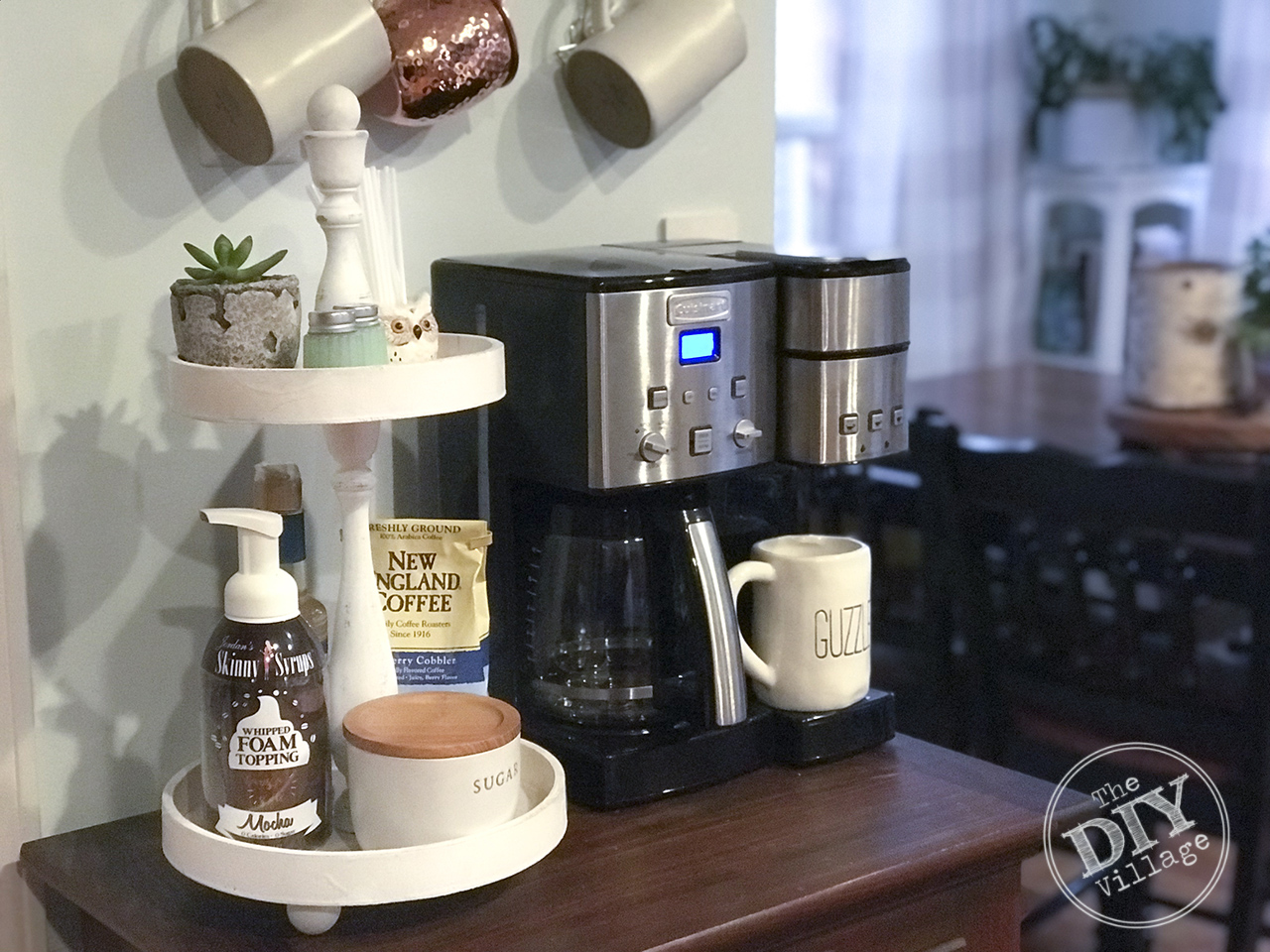 The caddy has been a wonderful addition to our kitchen.  I love having everything in one place.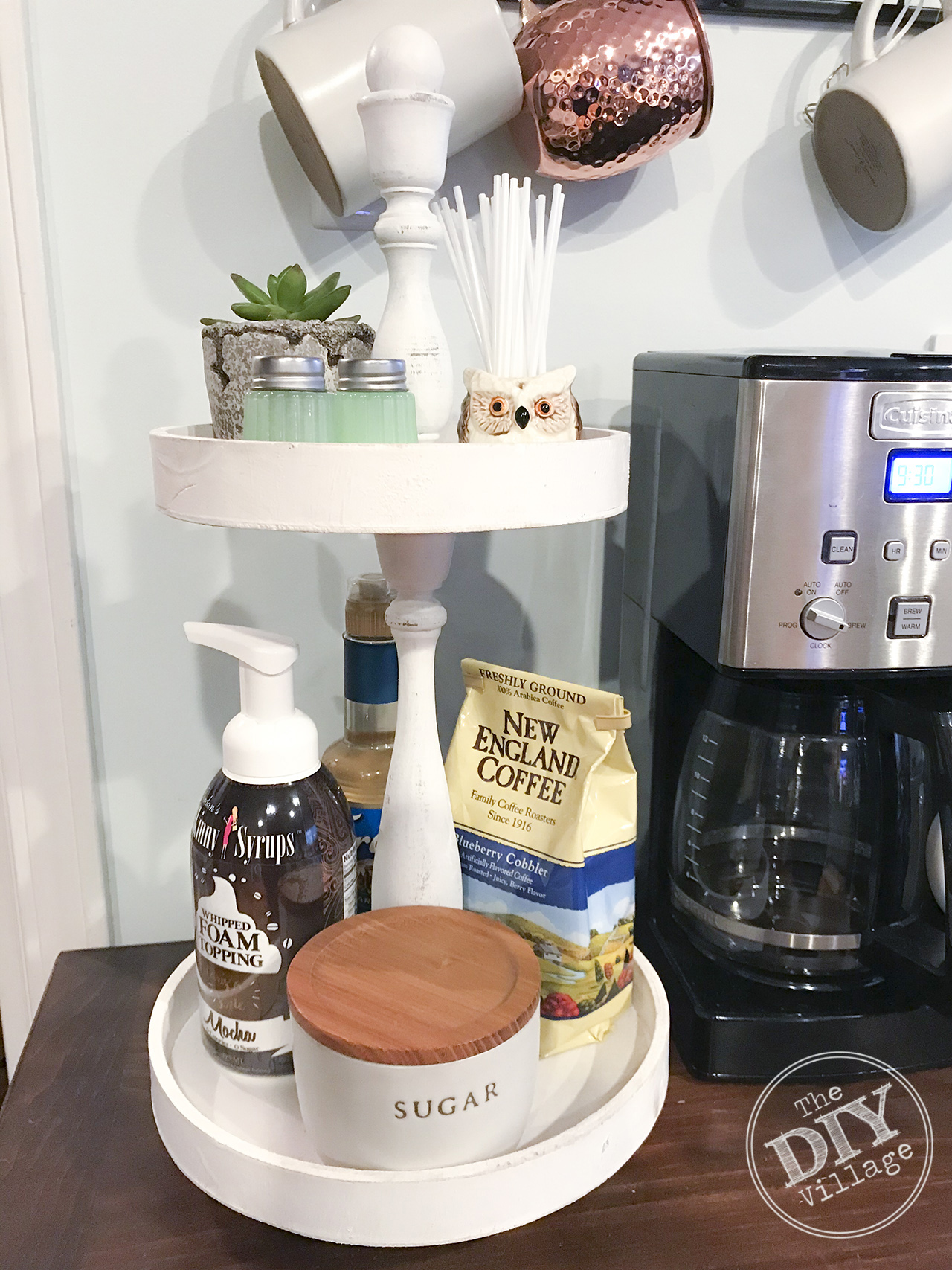 I've had to add the salt and pepper to the top of the tray to keep my salt loving 5 year old from going into sodium shock during meals.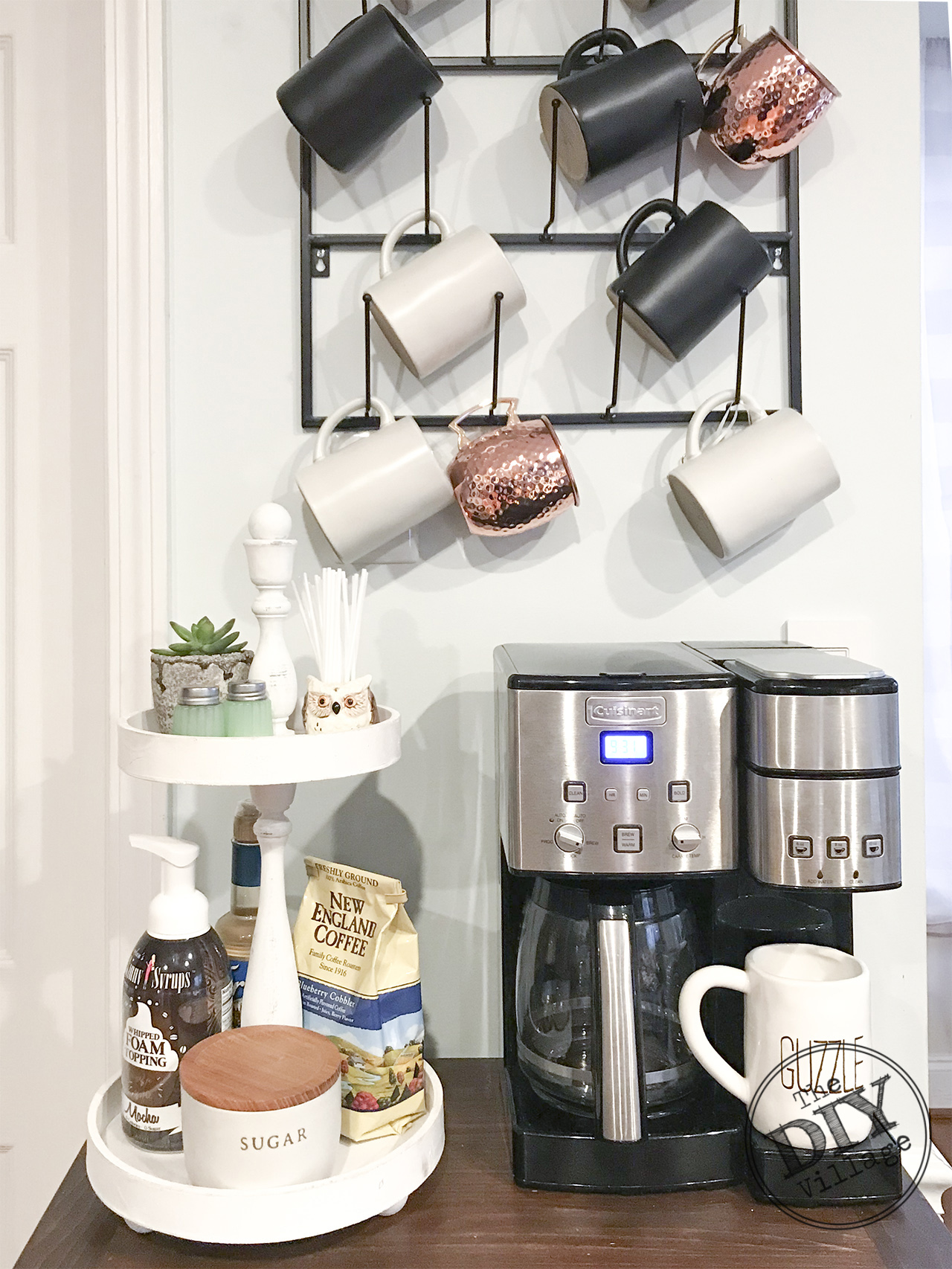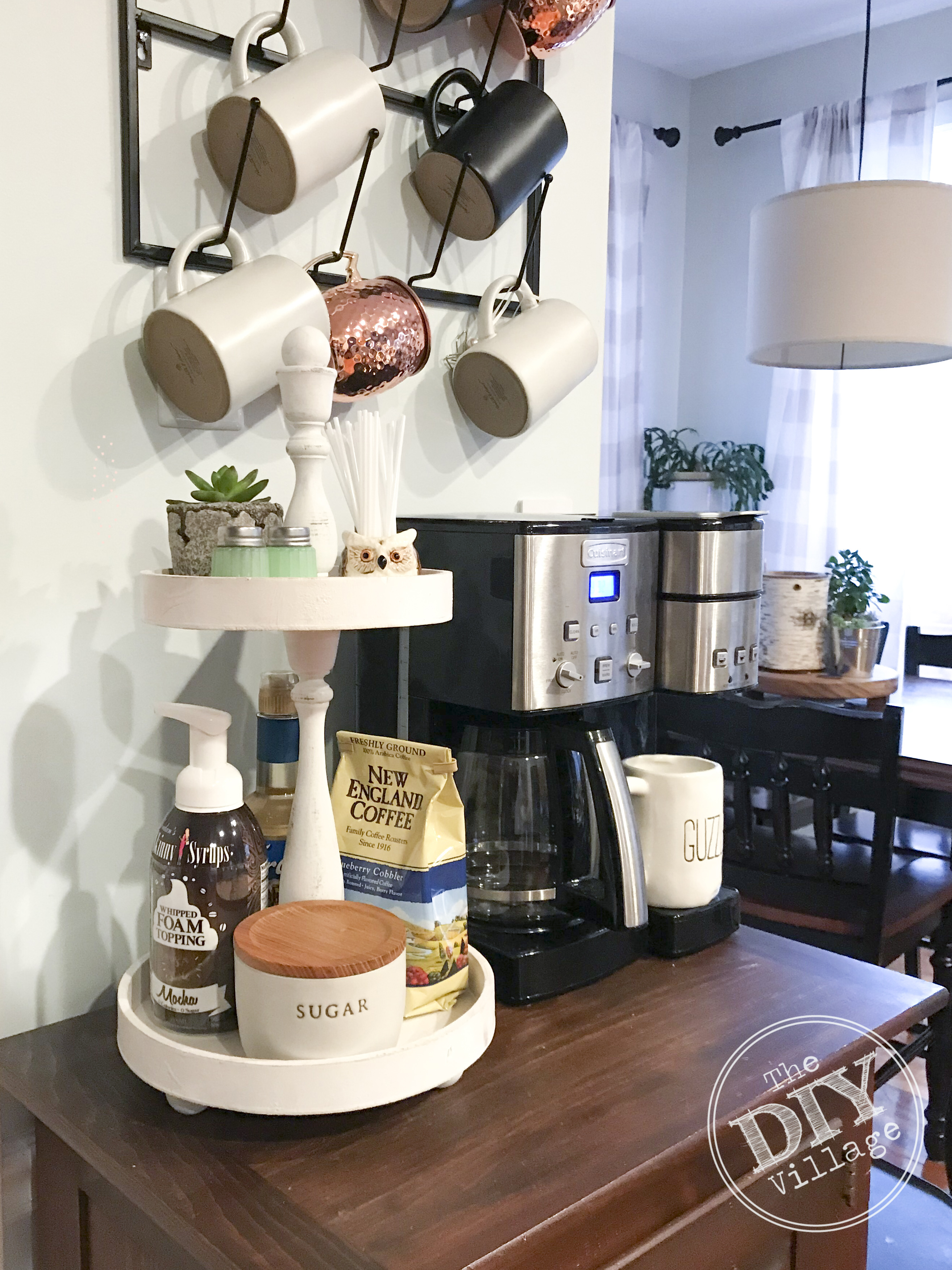 We officially have a coffee station and the best part of the location of our station, the adult beverages are right there too.  Anyone up for some coffee and Baileys?
This was in collaboration with 40 other bloggers as part of a AT HOME DIY Challenge. This months topic, "Build To Organize"  Please make sure to check out all the other amazing projects linked up in this challenge!
1905 Farmhouse
,
Abbots at Home
,
Bitterroot DIY
,
By Brittany Goldwyn
,
Creative Ramblings
,
Cribbs Style
,
Delicious & DIY
,
DIY Beautify
,
DIY Danielle
,
Dukes and Duchesses
,
Girl, Just DIY
,
Happily Ever After, Etc
,
Health, Home & Heart
,
House by the Bay Design
,
House on Longwood Lane
,
Just Measuring Up
,
Kenya Rae
,
Little Bits of Home
,
Living Letter Home
,
My Kitchen My Craft
,
Pinspired to DIY
,
Red Cottage Chronicles
,
Refashionably Late
,
Renovating Mapleson Manor
,
Savvy Apron
,
Shine Your Light
,
Shrimp Salad Circus
,
Songbird Blog
,
Southern Revivals
,
T.Moore Home
,
The DIY Dreamer
,
The DIY Village
,
The Frugal Homemaker
,
The Handyman's Daughter
,
Two Feet First
,
What Meegan Makes
,
Zucchini Sisters