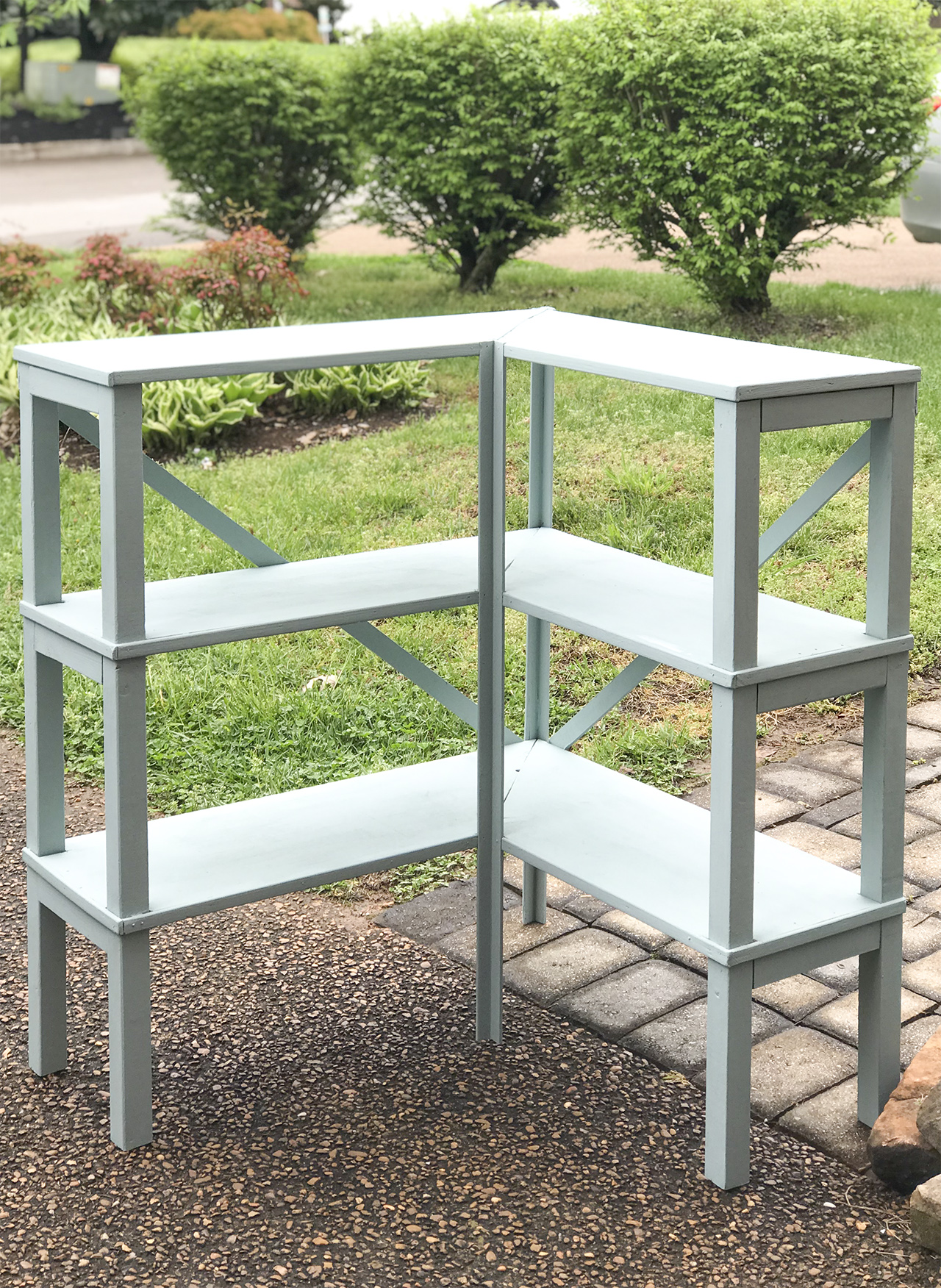 We are so excited that our other gig Ktown Creative has found some retail space to sell some of our creations.  In itself is a terrifying venture to put yourself out there like that but all of the preparation to get our space together is overwhelming and exhausting.  One important must for a space is a place to display things.  Of course we can make things on our own but that wouldn't be very thrifty of us, instead I've decided to makeover a few thrift store pieces.  Which fits in perfectly with this months Thrifty Decor Team Challenge (Don't forget to check the projects out at the end of the post.) The best part about a up-cycling furniture is that you can make a big impact with a simple thrift store shelf makeover.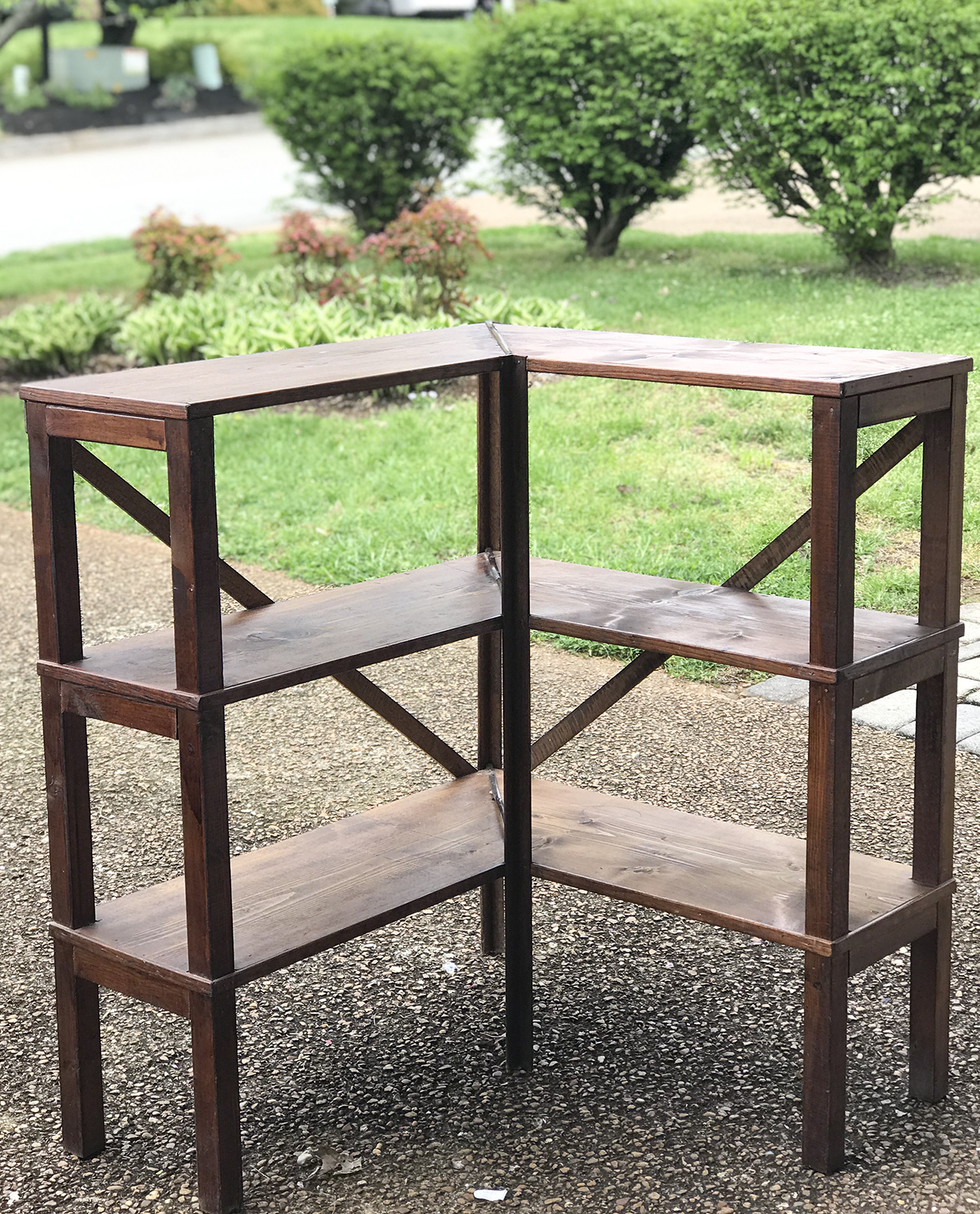 I started out with a pine corner shelf purchased for $30.  The shelf is not only light weight but the perfect dimensions for a corner of our space.  I started by cleaning and lightly sanding down the shelf.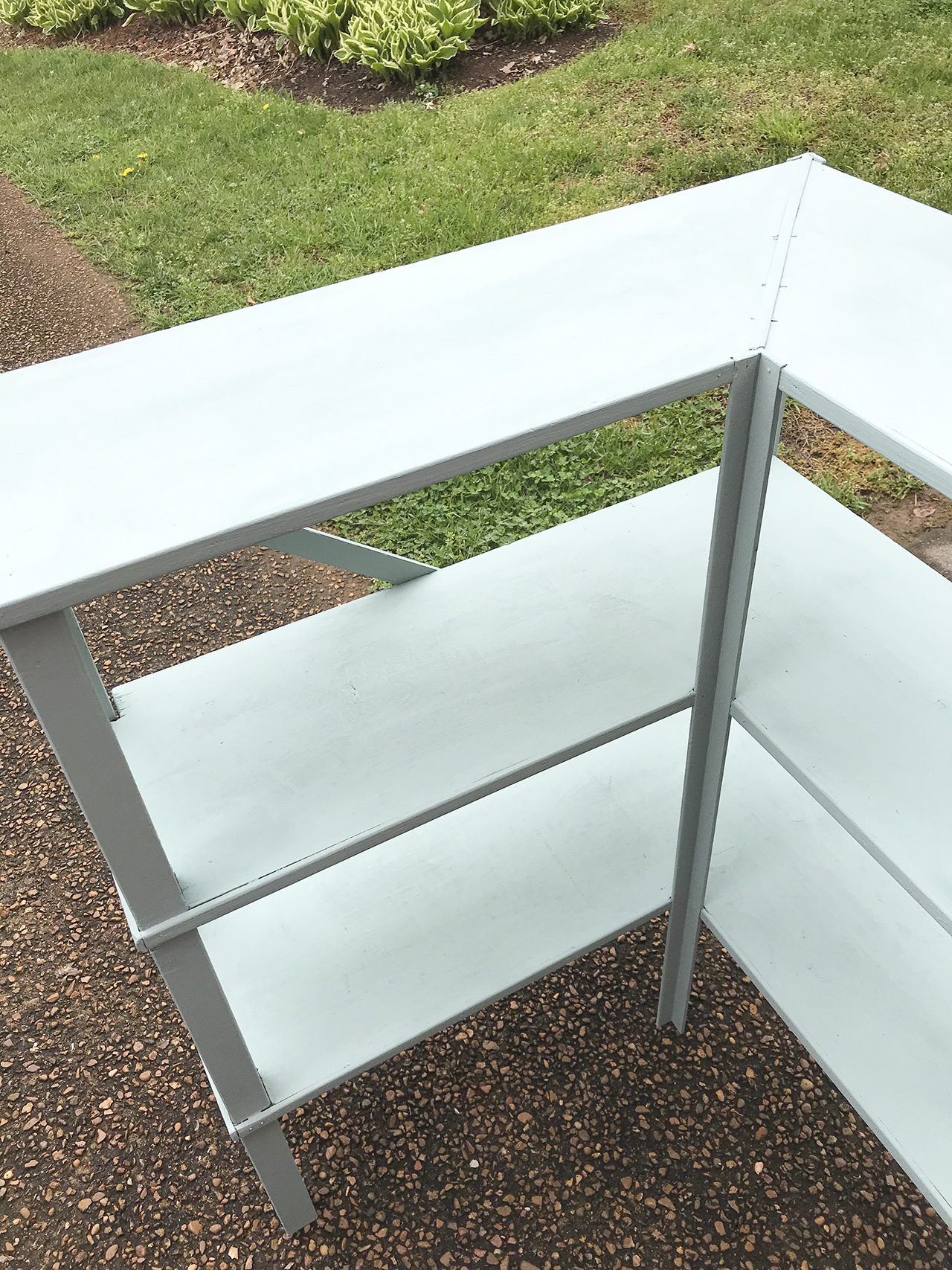 Up next were a few coats of Blue chalk paint – found HERE.  I love using chalk paint on old furniture because of the cover-ability.  I'm not sure if that is a word, but let's just pretend shall we?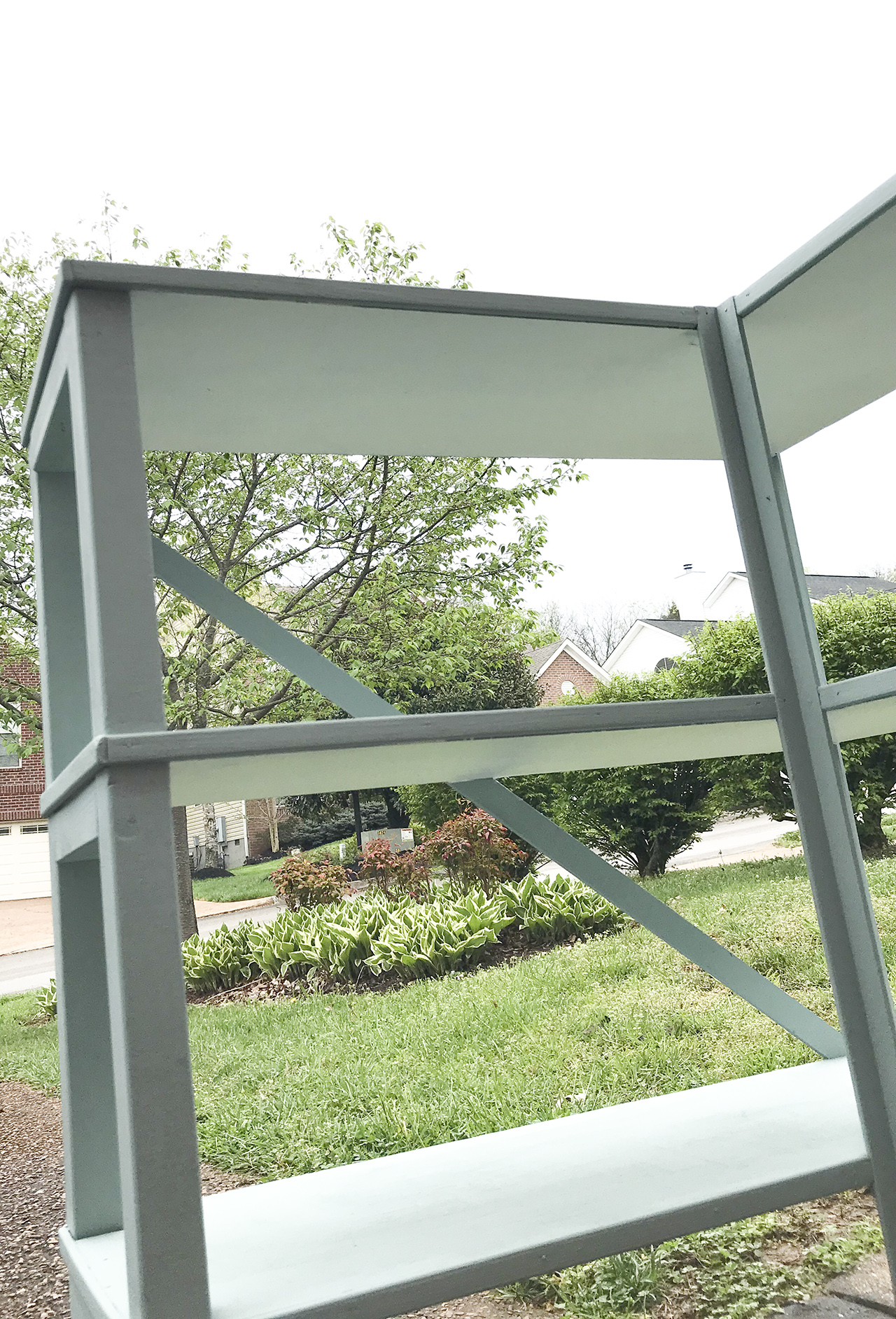 Because this shelf will be in the corner I want to make sure my products get the best lighting they can.  Rather than paint the entire shelf blue I painted the underside of the shelves white.  Why white you ask?  To help reflect any light (ambient or natural) onto our products.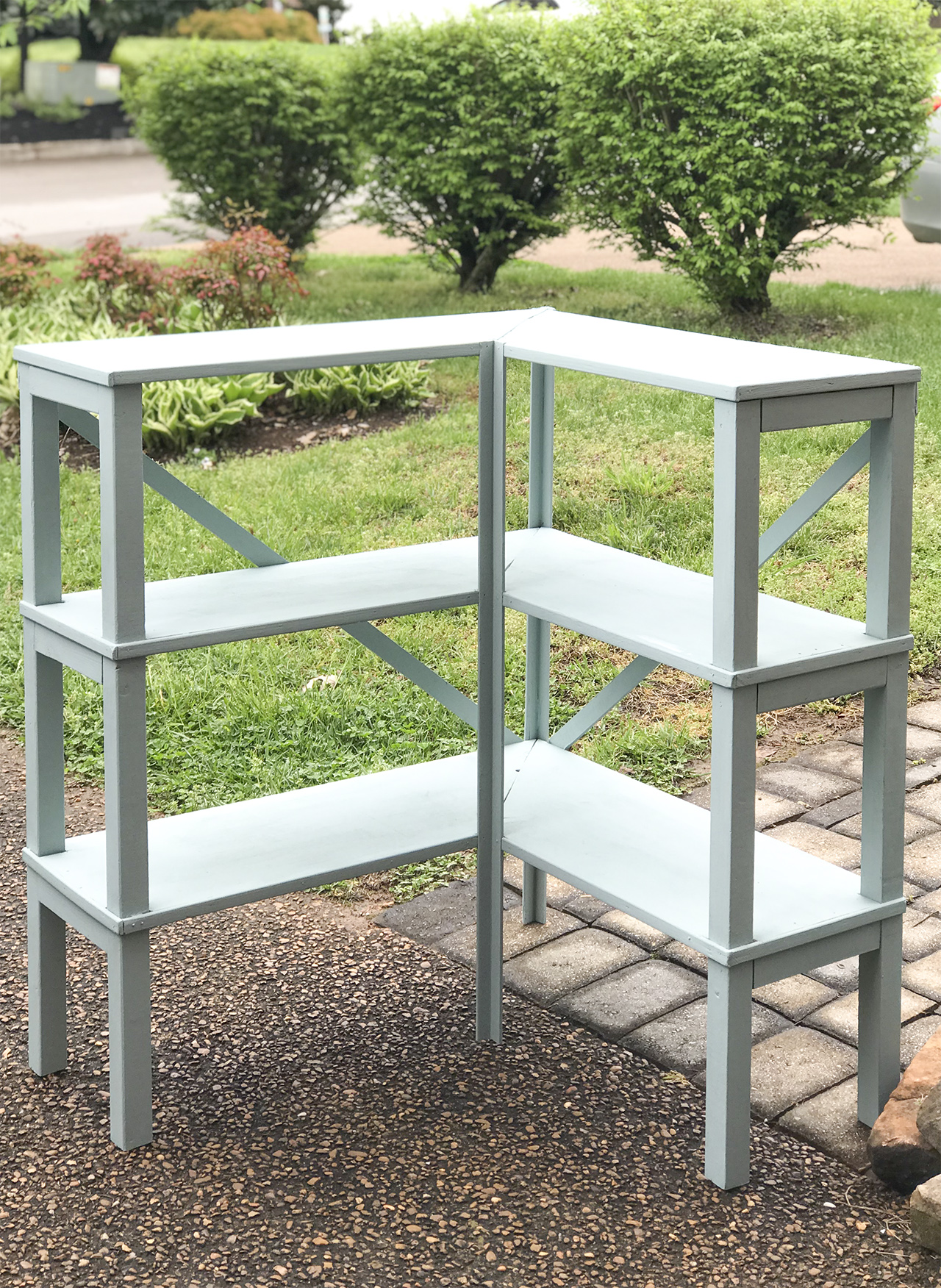 After the painting was completed I added a few coats of polycrylic – found HERE – to add to the durability. We need this shelf to be able to stand up to lots of hands, belts, purses … whatever rubbing against it on a regular basis.  I love the end result and love even more that it took two hours from start to finish to complete the makeover!
Make sure to stick around and check out all of the other Thrifty Style Team projects this month. You are going to love what they have come up with.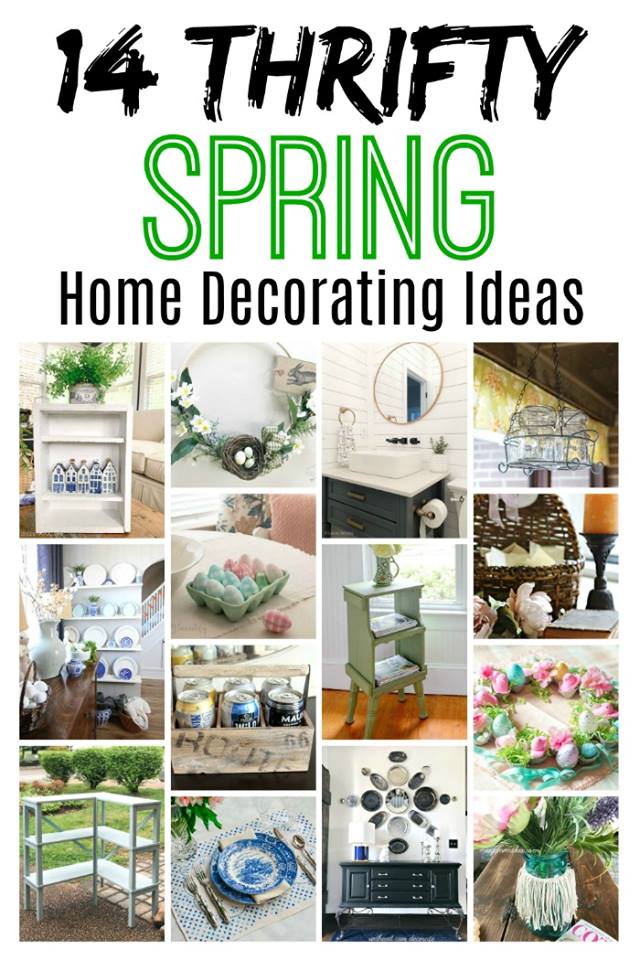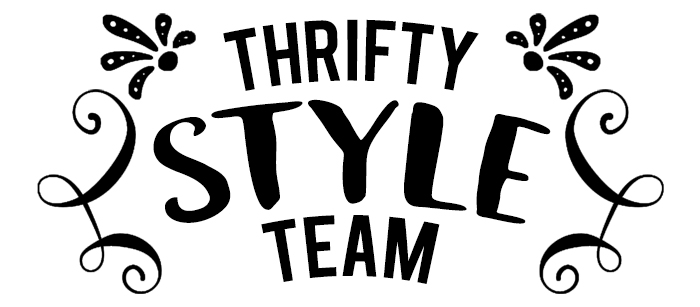 INEXPENSIVE PLATE WALL by The Creekline House
EASTER EGG CRAFTS by DIY Beautify
DOLLAR STORE SPRING CENTERPIECE by The How-To Home
VINTAGE LINEN USES & CARE TIPS by I Should Be Mopping the Floor
DIY MASON JAR CHANDELIER by Hearth and Vine
EMBROIDERY HOOP EASTER WREATH by Homeroad
THRIFTED PRAYER BASKET by Salvage Sister & Mister
THRIFTY SPRING FOYER by Redhead Can Decorate
THRIFTY BATHROOM UPDATE by Duke Manor Farm
DIY BEER TOTE by Bliss Ranch
THRIFT STORE SHELF MAKEOVER by The DIY Village
DIY STRING FRINGE TUTORIAL by What Meegan Makes
COTTAGE STYLE MAGAZINE RACK by Cottage at the Crossroads
PAINTED SHELF MAKEOVER by 2 Bees in a Pod