Well it was bound to happen.
My first documented Craft Fail … in fact I failed at this particular
project so many times I had to try three different techniques to get it right!
But I did eventually get it right so that is all that matters!
I had a vision in mind of a cute little printed burlap laundry sign that
that gave every little detail and made this look so easy.
How could I NOT try this, right?
With my Freezer paper, fresh printer ink and Adobe Illustrator image in hand I carefully ironed
the freezer paper to the back of my burlap, shiny side AWAY from the iron.
Then I trimmed my fabric/paper to the dimensions I needed and had laid out, 8 1/2″ x 24″.
This is where everything started to go horribly wrong!
You are probably saying to yourself It's so obvious she just forgot to rotate to landscape format.
Ahh but if only it were that easy.
A huge error on my part was not TEST printing on a blank piece of paper.
 So we tried that as well and still nada.
At this point I was fully convinced it was my printer and was ready to try a printer at work to get it right.
I prepared a second piece of burlap with freezer paper this time my measurements were off so my sign is now going to be 8 1/2″ x 19″ … don't ask.
New fabric/paper in hand I carefully laid it in the printer tray (this time I had done test prints) and BAM just like that it miss feeds and cuts off part off the F in Fluff.
So that printer was out as well!
BOOOOO!
Come to find out no matter how fabulous a standard printer you have, it is still just a standard printer.  Most are capable of only printing up to 8 1/2″ x 14″.  Just keep that little tid-bit in the back of your head if you ever decide to attempt printing on burlap!
I did not have a back up plan but I was determined to get this sign made so back to the
drawing
 pinterst board for more inspiration and ideas.
Okay so I know this isn't burlap but we do have some old decking boards laying around the
garage so I figured I would give this one a try and attempt to transfer from printed paper to wood.
Umm yeah easier said than done.
Let's just say what you can read through the paper is easier to read than what transferred from the paper to the wood.  I can only assume that since I was using a sketchy font there wasn't enough ink to transfer over.  I still plan on trying this technique but using a different font for sure!
Fast forward a day or two and once again the brilliant husband offers up a suggestion of using
Iron-on T-Shirt transfer paper.
I just happened to have a coupon for a certain office supply store so I headed over the
next day and picked some up!
Since the transfer paper is for t-shirts I went ahead and ironed freezer paper to the back of my burlap again just to give it some extra stability!
Once again reverse printed the images, trimmed them, and laid them out on the burlap.
Finally I ironed and ironed and ironed. And then I ironed it some more …
 No way this one was getting messed up!
I did still have my fingers and toes crossed at this point because I was unsure of how well the transfer image would adhere to the burlap, remember I am using that sketchy font.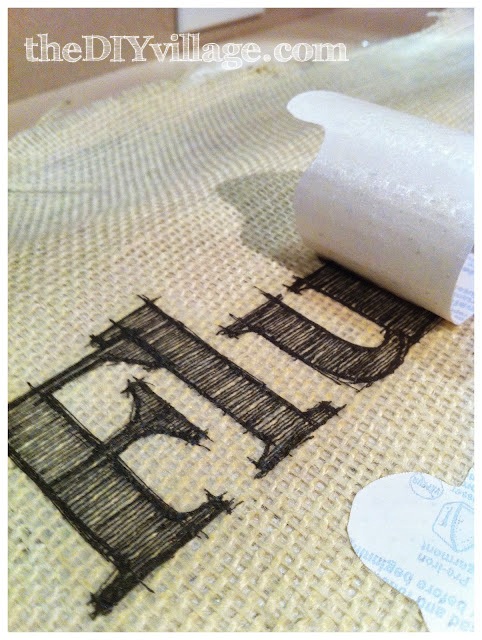 I'm pretty sure I was holding my breath as I started to peal back the first word.  I was so releaved to see that the words were sticking to the burlap and sticking well!
Just remember this is not a band-aid folks, ripping it off fast won't make it any less painful.
Take your time slowly pulling back on the paper just in case there is an area that needs more ironing!
The laundry sign turned out just like I had imagined it.  I painted the board white so it would help the words stand out on the burlap.  Then wrapped and staple gunned the burlap to the board.
It isn't very pretty on the back but that doesn't matter because I am positive that the wall does NOT care what the back of my sign looks like!
Do you have any craft fail moments you would like to share?  Let us know we would love to hear them, add links if you have a blog and have posted about them!