This month we are teaming up with Moen to giveaway 4 Moen Kelsa Sink & Faucets (learn more about the sink HERE), one every week of the month!  If you aren't excited you should be, the sink/faucet combo has a $369 dollar value.  And with a name like Moen on then you can bet they are great!  This is our last week so DO NOT miss out on your chance to win this amazing prize, I want one of these bad boys for myself.  I have been mentally planning my kitchen makeover in my head already!  If you remember a while back we made of our kitchen counters (check it out HERE) and while they are amazing we pretty much ruined our sink. And don't get me started on what years of cleaning paint brushes in a sink can do … it's a crying shame I tell you!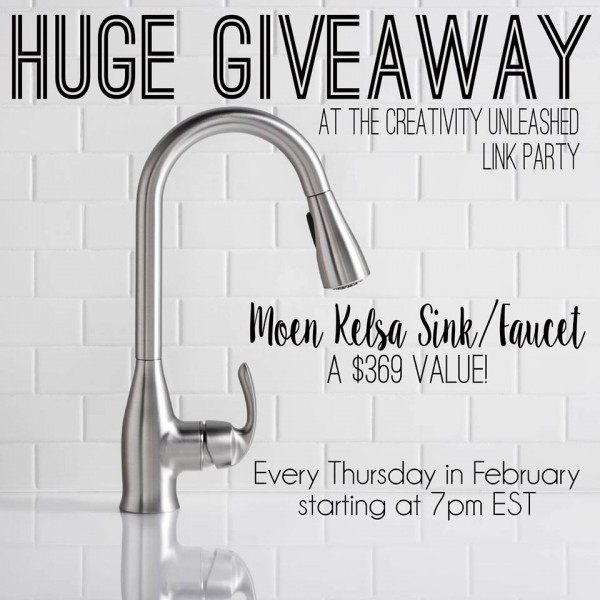 Before we get to the party let's take a look at week No.108's Mega Rockstar! Congratulations to Cheryl from Moms & Munchkins for her Loaded Baked Potato Nachos! Hello, how amazing do these look?!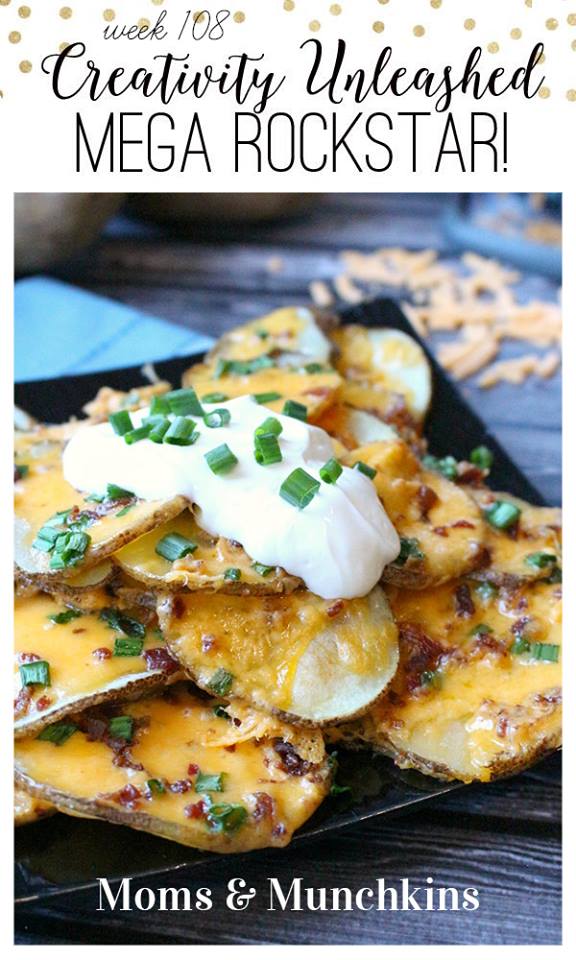 Welcome to Creativity Unleashed!  We've made a few super exciting changes to the link party to make it even more awesome for you guys! The party itself is the same; as always, we want to see your latest and greatest crafts, DIY projects, and recipes each week! If you created it, link it up here so we and our readers can see it! The new part is the Mega Rockstar contest each week! Every week, each host will pick a Rockstar from the projects that were linked up that week, for a total of five Rockstars. Then we will open up voting for Mega Rockstar of the week. Stop by, vote for your favorite project, and tell your friends to stop by and cast their vote too! Once the voting period is over, the project with the most votes will be the Mega Rockstar of the week! So, besides the awesome title of "Mega Rockstar of the week", what else is in it for you if you win? Well, here are the benefits to being Mega Rockstar of the week:
Tons of exposure from everyone who casts a vote in the contest! (Actually, all five Rockstars for the week will get this!)

Each of the five Rockstar projects will be pinned to the Creativity Unleashed Fabulous Features Pinterest board! (Again, all five Rockstars get this!)

The Mega Rockstar project will be featured on all of our social media networks (that's FB, Twitter, Pinterest, and G+ shoutouts from five different bloggers!!!)

Each host will visit the Mega Rockstar's blog that week and we'll pin a bucketload of any other great content we find to some of our largest group boards!

The Mega Rockstar of the week will get an invite to our secret group Pinterest board where you can pin your own great content. We go through that board each week when we are looking for great, new content to pin, so this means that even months after you've won the Mega Rockstar of the week, we can still find and pin your newest awesome content!
Creativity Unleashed Guidelines:
Feel free to share any of your latest projects, as long as they are your projects.

Please don't link up Etsy shops, giveaways, link parties, etc.

Link directly to a specific post, not your home page.

Link up your newest projects! Please don't share ideas you've already shared before.

By linking up, you're giving us permission to feature your photos and project on our blogs. Images will always be featured with proper credit and a link back.

Vote for last weeks RockStar before or after linking up!  Let's make this fun!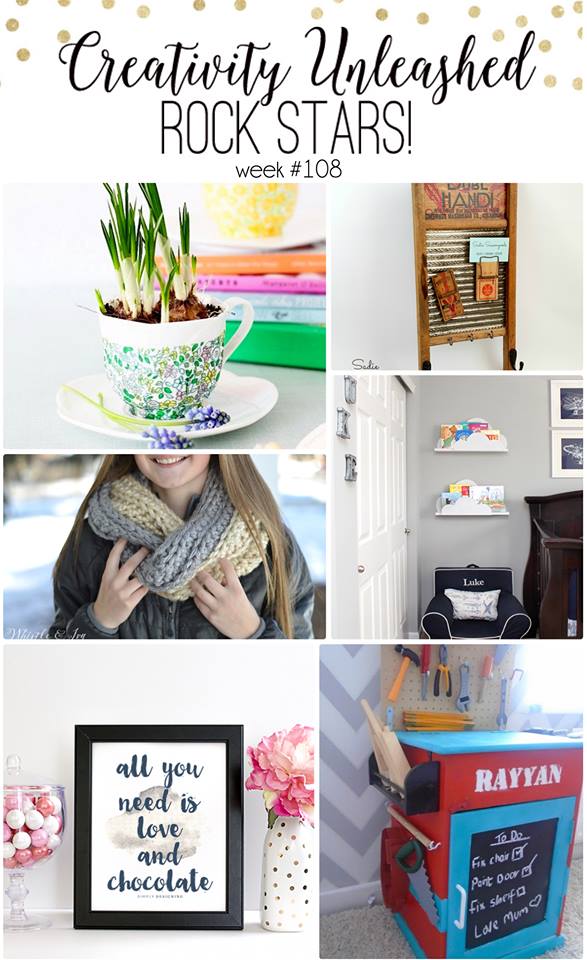 DIY Spring Planters from Heart Handmade
Vintage Washboard Message & Reminder Center from Sadie Seasongoods
Chunky Ribbed Infinity Scarf from Whistle & Joy
DIY Cloud Bookshelf Ledges from How to Nest for Less
All You Need Is Love and Chocolate Printable from Simply Designing
DIY Kid's Tool Bench from Grillo Designs
a Creativity Unleashed giveaway>
Don't forget to Vote for your favorite RockStar from last week!