A while back I took a plunge and showed you all our kitchen tour.  I love the open space our kitchen offers, but the countertops … not so much.  They are an interesting tan/beige/pink color full of nicks and stains from the previous owners.  So when Encore Countertops (found HERE) contacted me about possibly trying out their product I said yes.  Didn't even ask Matt (whoops).  I probably should have asked first but I read that the product was low VOC and Green so that meant being pregnant would not stop me from being able to do the work!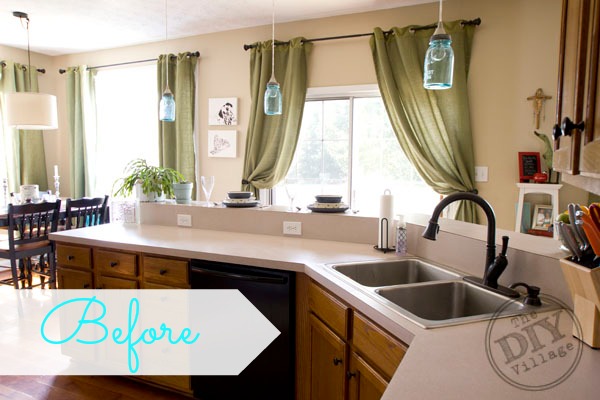 I selected the Sterling Gray color and our package arrived quickly!  Encore has their kit broken down into a 3 day process and each day is clearly labeled.  They also include a great instructional DVD in the box that I highly recommend watching before starting the process.  Just like that our countertop makeover was under way!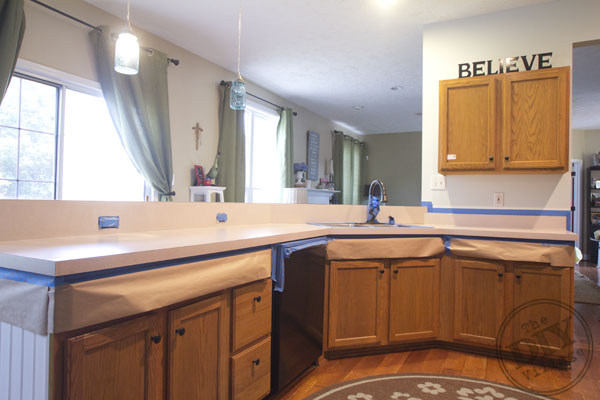 We started of by cleaning the countertops thoroughly with a household cleaner and taped off all areas that we did not want the product to stick to.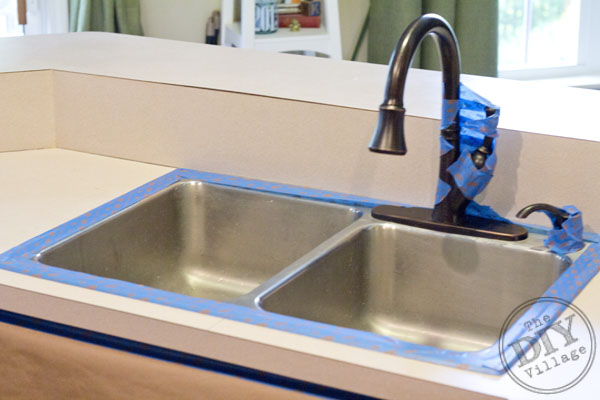 The directions state that if you chose not to remove your sink you can tape it off.  That is exactly what we did but do not recommend this as it made things more difficult in the end.  I will go over that more later, but for now if you can remove your sink I highly suggest doing so.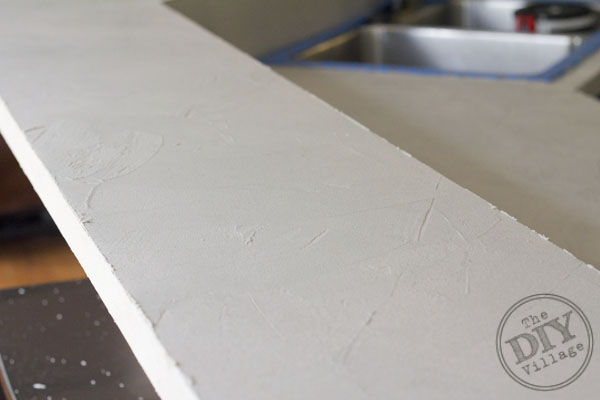 Day 1 steps 1 & 2 are to apply the bonding agent to the counters.  Using a wide joint compound knife we spread the bonding agent out onto the counters, let part one dry.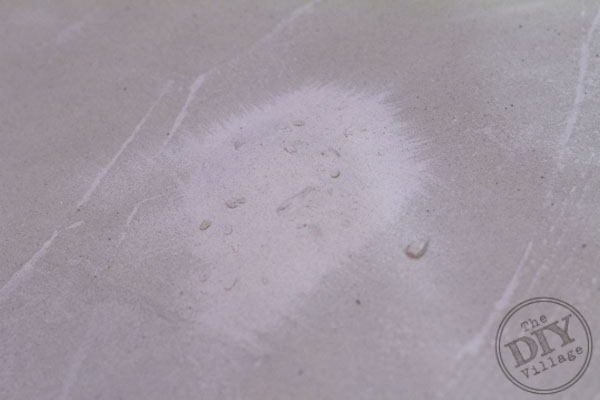 When after step one dries you sand all the raised areas and then add another coat of bonding agent.  Let dry and sand.  We let ours sit over night before moving onto Day 2.
Day 2 has three steps, you will spend a majority of this day waiting for your steps to dry.  When you mix your powder you will want to make sure and have a thin pancake consistency.  If it is thick like grout, it's too thick and I suggest contacting the manufacturer.  You probably won't have enough product …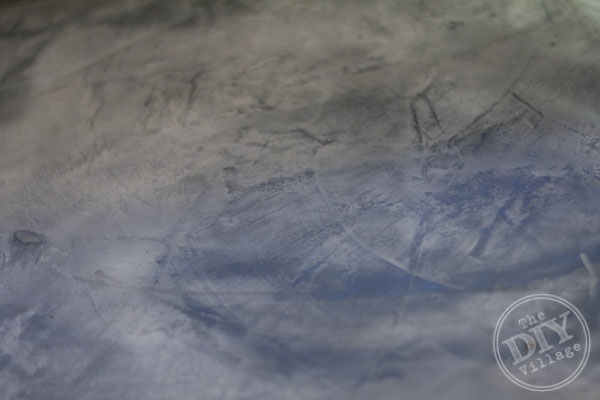 Sand smooth between each part of Day 2.  I was amazed at the different colors and textures but had no idea how amazed I would be till we got to Day 3.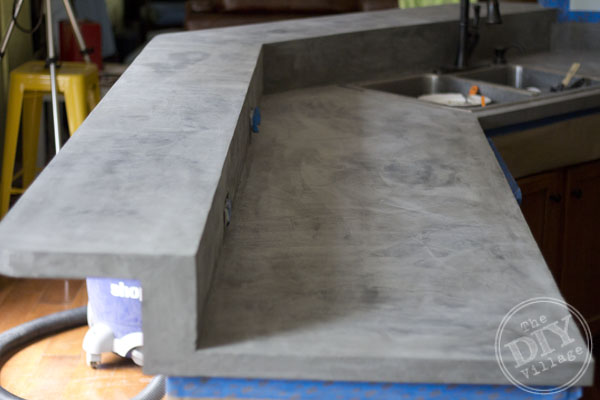 We made sure the countertops were free of all dust and debris before starting the final steps.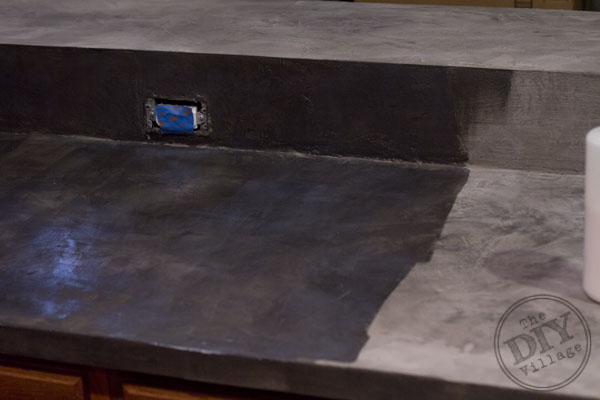 Day 3 step one is to apply the color lock using a foam roller.  You can see here that the color of the counters REALLY starts to show when you apply the color lock.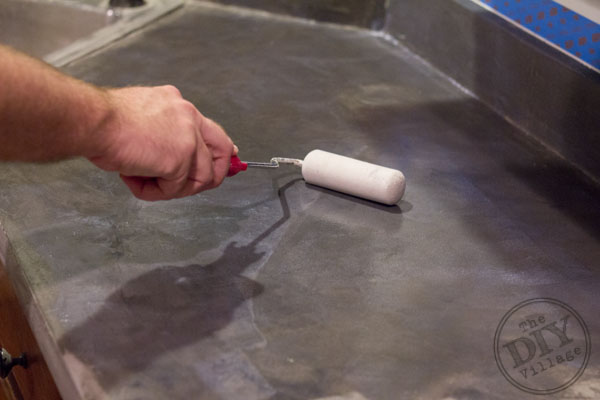 And Step 2 of Day 3 is to install the pro guard which will protect your countertop surface from every day wear and tear!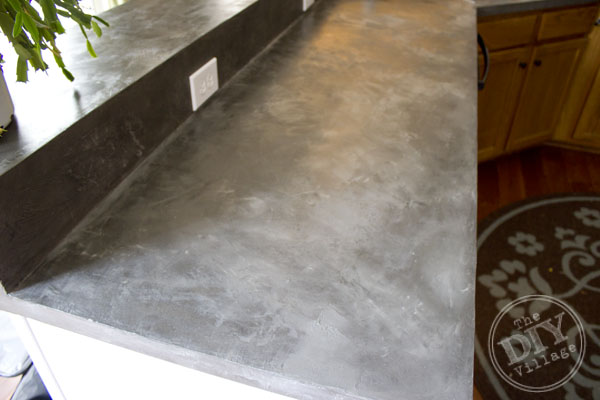 You can really see the shine the counters have in this final after picture!  We waited a full week before putting anything on the counters for more than a few minutes at a time.  After all the work we (Matt) had done the last thing I wanted to do was to mess the countertops up!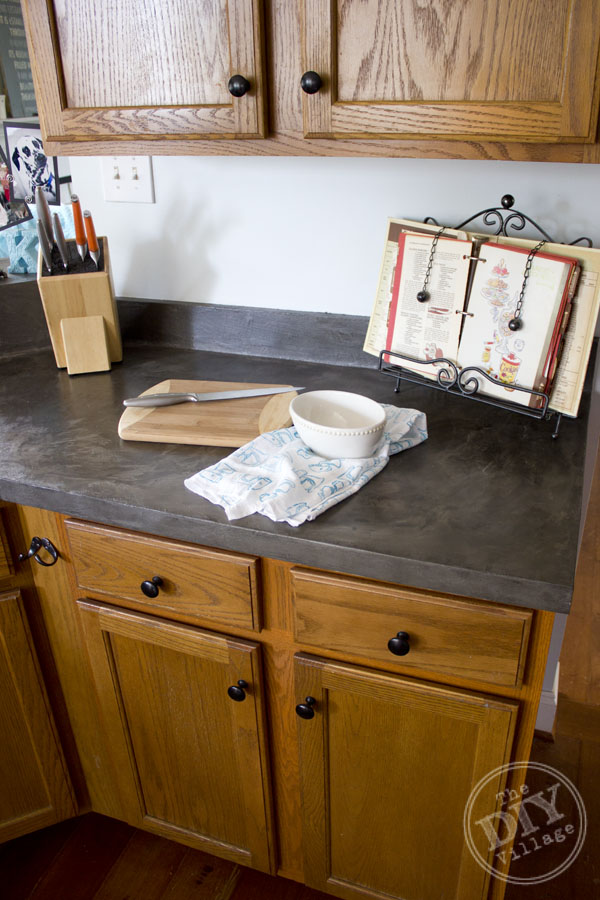 I love the look of the new Encore countertops and they so soft to the touch!  I was concerned for a little while that they would end up rough to the touch and drive me nuts but they didn't at all, they are perfectly smooth.  The end result is drastically different and just what we needed to get started on our kitchen makeover!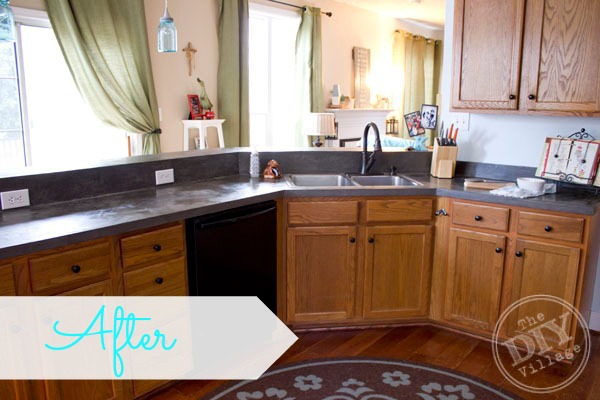 If I had this to do over again I know we would have done a few things differently in our countertop makeover process.  For one we would not have done it in the middle of the summer in the south.  The instructions state that dry times should be between 3 -4 hours.  I can only assume that these are not in high humidity situations.  We found that our coats to closer to 12 hours to completely dry before they could be sanded.  So our 3 day process turned more into a 7 day process.  Another thing we would have done differently would have been to pull the kitchen sink.  We taped off as per instructions but did not realize that we needed to re-tape between each coat (step).  Not doing this gave us more clean up in the end.  Not a deal breaker by any stretch but something I would have preferred not to do had I known better.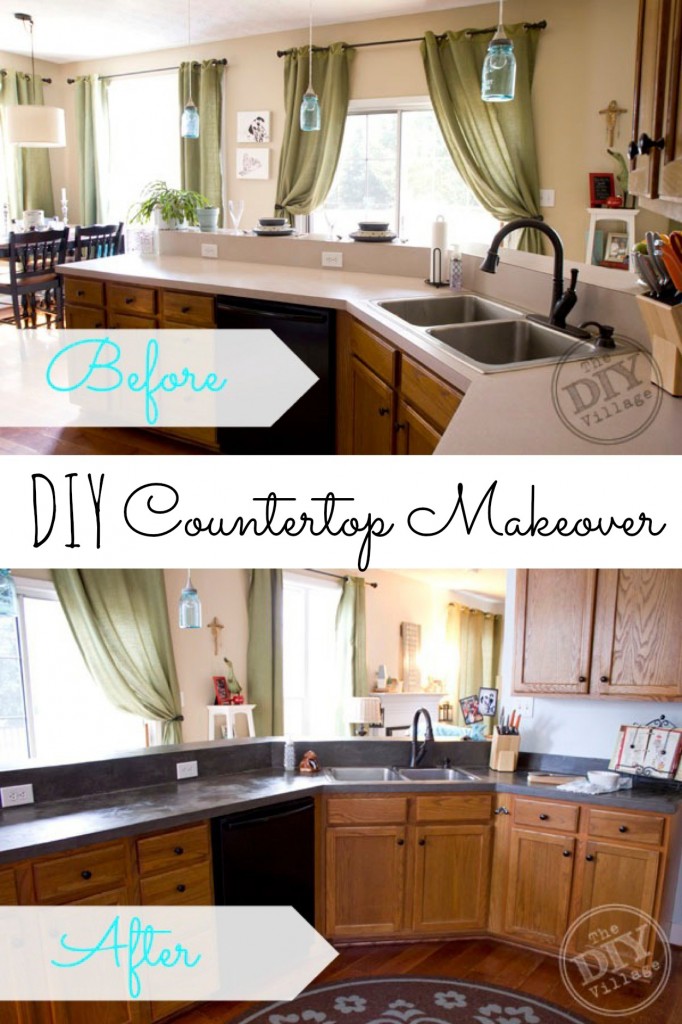 I love the overall look of the countertop makeover kit and am glad this gave us the push to get the rest of the kitchen going!   … And the Never Ending Honey-Do list continues!  Up next new lighting!
**This is not a sponsored post.  Encore Decorative Countertops provided me with a kit to use on our countertop makeover but as usual all opinions and experiences were our own. **