When Matt decided to make me the pottery barn inspired Santa for me last year we had NO idea how well received it would be.
I knew I loved it, why wouldn't I, it's all sorts of awesome!
I like it so much that I asked Matt if we could keep it up well after Christmas.
Santa hung on our wall till June of this year.
People would come visit and thankfully they liked good ole Saint Nick too because no one once asked why we still had Santa hanging on the wall (when it was 90 degrees outside).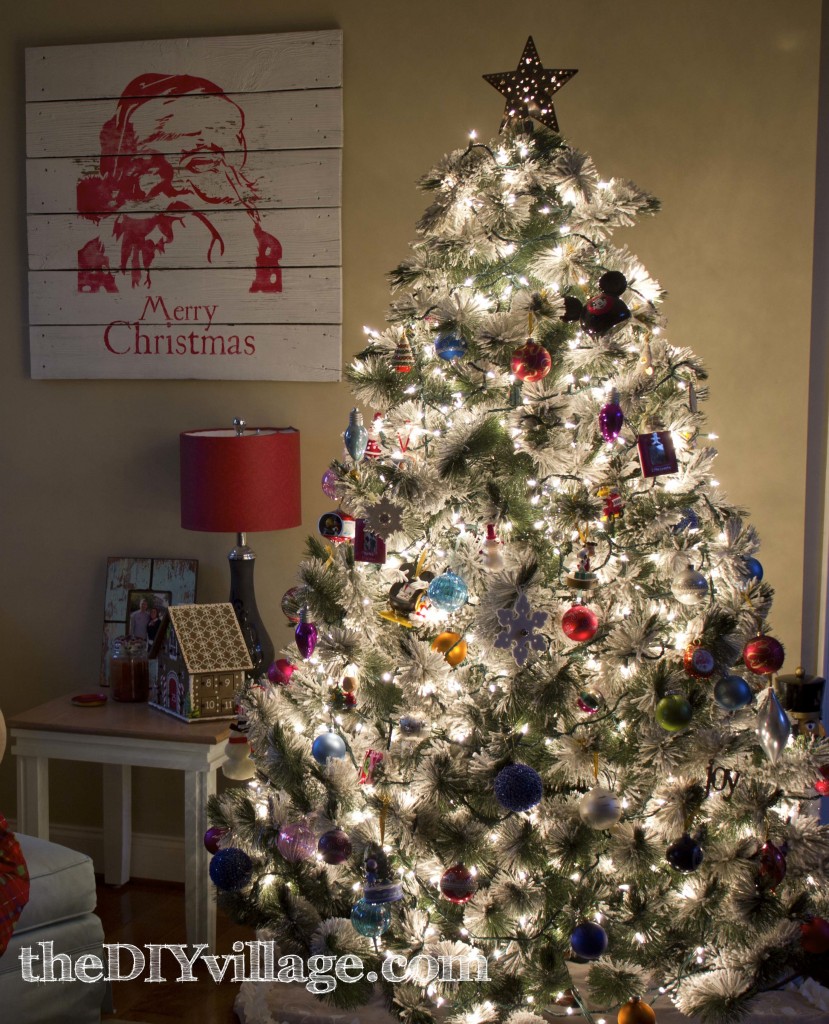 Our Santa is big 3′ x 3′ to be exact.
He is made out of old decking boards from my parents home.
Learn more about how Matt made Santa HERE
Reduce Reuse Recycle!
A few family members have begged requested a Santa from us as gifts.
As well as readers asking if they can buy one from us.
Since we won't be selling any Santa's we are going to the next best thing…
DrumRoll Please!
We are going to be giving away a 12″ x 12″ version of our Santa!
Are you excited yet?
It gets better …
Bad Kitty Bakery has joined forces with us and is going to be giving away some goodies as well!

6 Chocolate Chip Sandwiches
AND
One (1) lb of Chocolate Bark!
Is your mouth watering yet?
What goes better than Santa and Cookies at Christmas time?
Right now Bad Kitty Bakery is offering an awesome Holiday Pack full of wonderful goodies on their ETSY shop.
Head over and check it out!
To be entered to win you need to go to theDIYvillage.com starting 12/6/12. At the bottom of the post you will find an area where you can register. You will need to like BOTH theDIYvillage.com & Bad Kitty Bakery Facebook Fan Pages.
Once you like both of us you can select the Green "I'm a Fan" Button for two chances per page to win! Thats 4 entries! The contest will run through 12/12/12 and the winner will be announced at www.theDIYvillage.com and on our fan pages!
***Remember you have to like both pages to be eligible.***
**This contest is only open to those living in the Continental United States (for shipping purposes).**
a Rafflecopter giveaway