Earlier this month I got the February issue of Country Living.
Do you remember last month when I took a simple dollar store pine box and made it into a monogrammed jewelry box?
I gave it to my mother for Christmas.
She absolutely loved it, that was until I took it back from her (she can thank Country Living for that).
As soon as I saw this project I knew I had to convert her jewelry box into a fun pop up photo box.
Plus with my parent's 43rd wedding anniversary coming up I thought this would be great.
It was really easy to make.
MATERIALS:
Scrap Book Paper
Glue
Ribbon
Wood Box
Stain
Paint
Stencil
Protective Finish Coat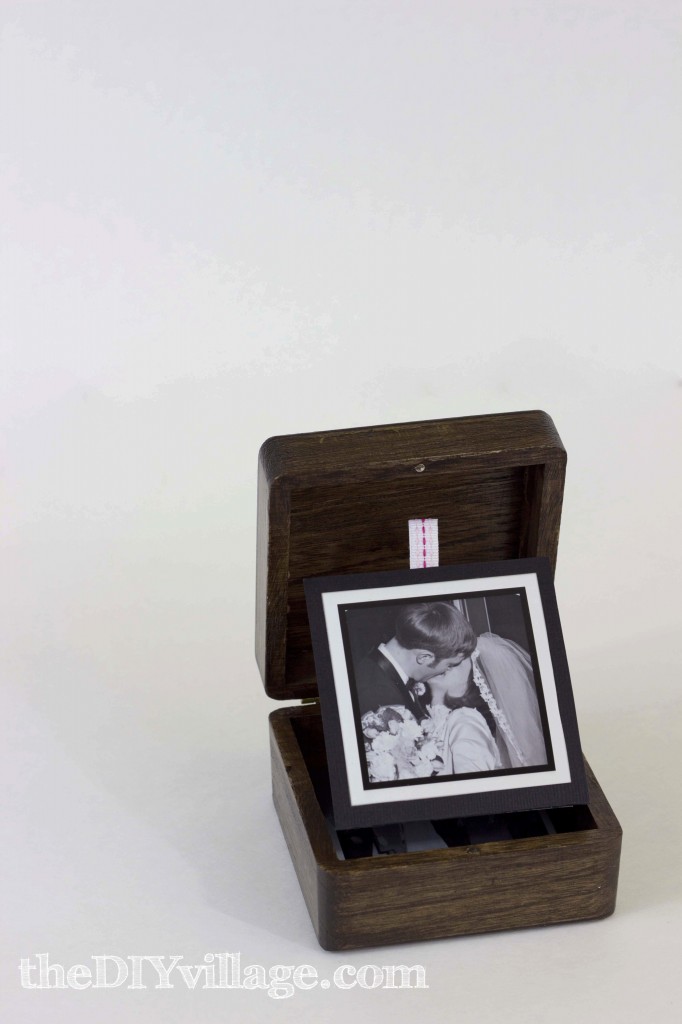 I picked photos from their wedding album.
Squared them up in Photoshop (found HERE), and then had them printed at the local pharmacy.
HOW TO:
Cut an legal size 8 1/2″W × 14″L piece of scrap book paper to a width of your box. (in my case it was 2 13/16″). Using a ruler and a pencil, measure and lightly mark the scrap book paper, every 2 13/16 inches.
Fold the scrap book paper at the first mark, creasing it to get a precise line. At the next mark, fold and crease the scrap book paper in the opposite direction. Continue the accordion folds for the remaining marks, then erase the marks.
Position the folded scrap book paper on a flat surface with the topmost fold facing you. Cut three images into two-inch squares, then center one on each scrap book paper square and adhere with glue stick. Allow to dry.
Fit your folded scrap book paper in the box. If you'd like, hot-glue the back side of the bottom square to the inside bottom of the box, and let dry. Finally, use hot glue to adhere a loop of ribbon to the top back edge of the top square, and let dry.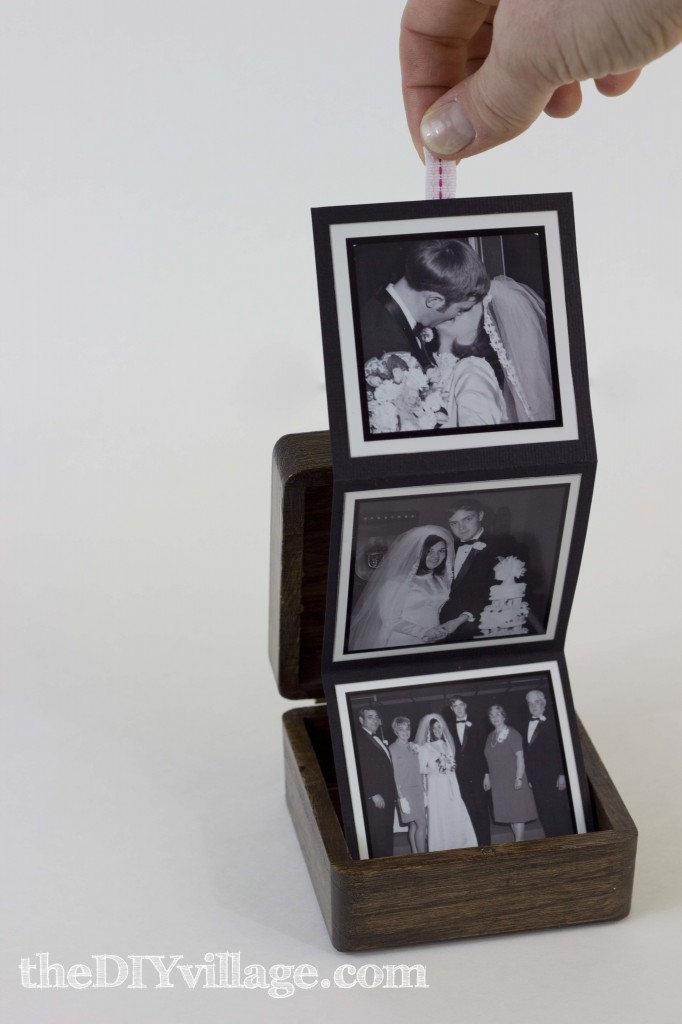 I love how this turned out, so much that I am going to make one for Matt and I.
And seriously how cute are my parents?
For two hours time I have a great way to remember their special day!