When Better Homes and Gardens  recently contacted us about being part of a Bathroom Refresh I jumped at the chance.  I mean why wouldn't I?  I would finally have the chance to give our master bathroom the much needed love it had been lacking using Better Homes and Garden products available exclusively at Walmart.  This is a win win for me!  Updated bathroom and a fun trip to Walmart!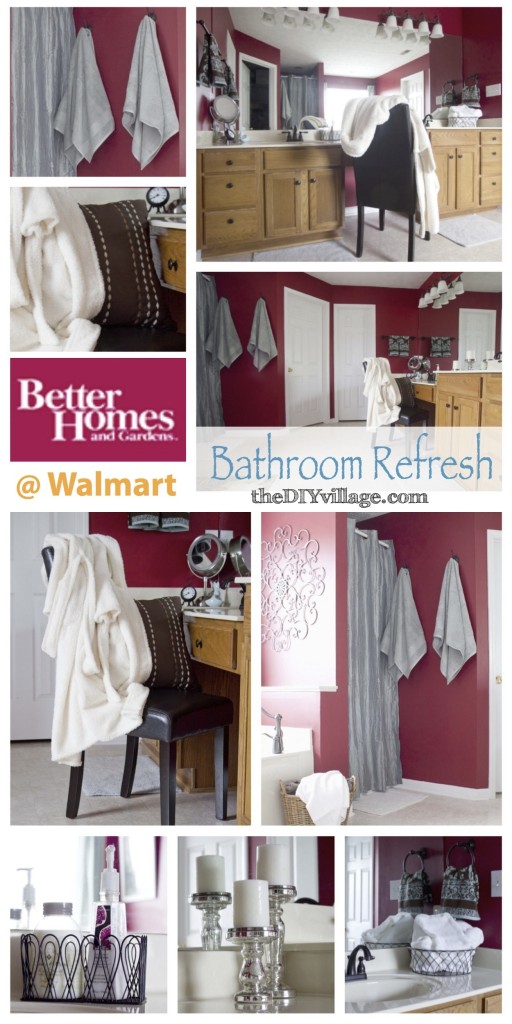 When we bought the house the master bathroom was already painted red, rather than repaint I thought it would be best if I just dealt with the color and made burlap and trellis curtains for the big picture window over the tub.  And then I stopped!  We still had quite a few issues in the bathroom that needed to be taken care of …
I think the most troublesome issue in the bathroom is the see through shower, it has bothered me for a very long time!  I was easily able to solve that problem by purchasing one 84″ BH&G Crushed Taffeta curtain panel in Blue.  A basic white bath mat solved the issue of possibly slipping on the floor when we get out of the shower.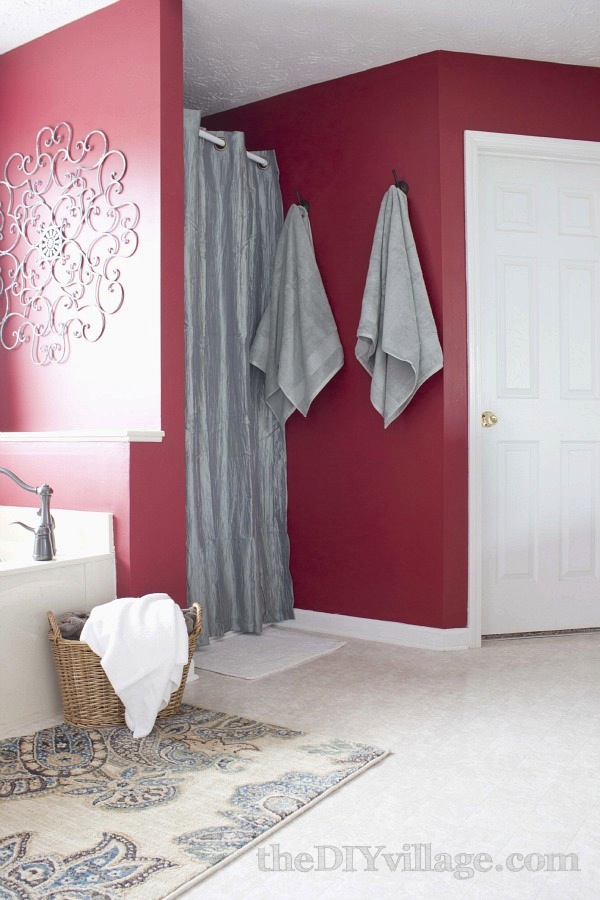 The other major issue with our bathroom is the vanity area.  It is a really cool idea but since we didn't have a chair for the area it was wasted space.  Enter the BH&G parson's chair, talk about perfect!  I won't be spending time sitting here putting on my makeup but it's great for putting on shoes, tights, and all those other fun things in the morning.  Did you see the cute brown, cream, and blue pillow I added to the chair!  It's reversible and I love it!
Our once mismatched bathroom towels have been replaced with coordinating hand and bath towels.  We even picked up two of the large oversized bath sheets!  See that basket holding our towels?  It's a fruit bowl!  No really it is, and it is the perfect size for holding our hand towels.
I found a coordinating recipe card holder that is perfect for holding hand soap and lotions.
But I have to save the best for last my absolute favorite items we picked up are these fabulous silver mercury pillar candle holders!  Aren't they beautiful? And the warm vanilla candles smell wonderful!
Check out our before and after!  Painting over the red is going to be a task and not something I want to tackle yet.  But by adding new BH&G products I was able to freshen up the look of the room and make it feel more adult and less college apartment!
 ** Disclosure – In accordance with the FTC Guidelines, I am disclosing that I received compensation from Better Homes & Garden for my time and participation in the Better Homes & Garden Refresh Challenge. Although we have a material connection, any publicly stated opinions of Better Homes & Garden and their products remain our own. **