Since sharing our Kitchen Pantry Reveal, we've gotten a lot of emails from our readers asking about how to build a pantry.  After having an opportunity to learn some basics of Google Sketch Up from the super talented, Rayan Turner from The Design Confidenital, I thought it would be fun to sketch up our pantry cabinet plans and share how to build a pantry!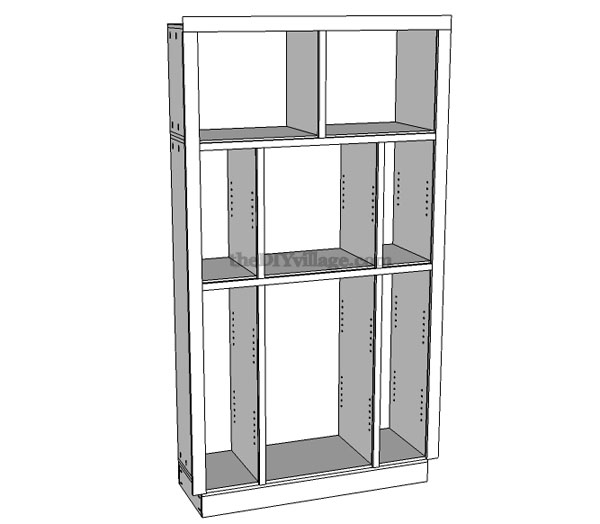 Here's a quick reminder of the before and after pics of our pantry!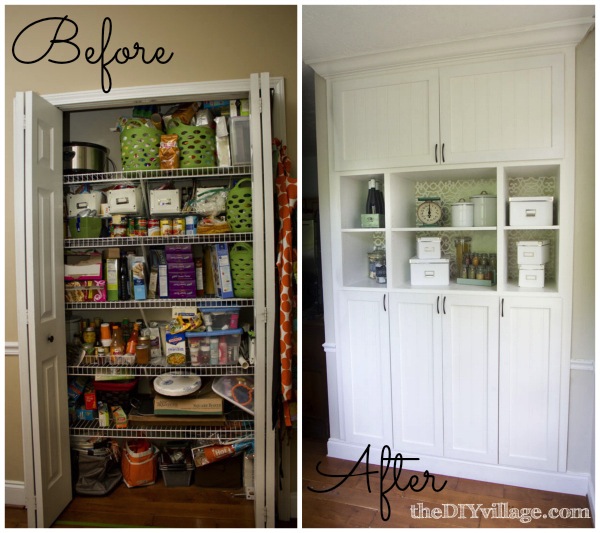 And for those that are intimidated by the idea of taking on such a large project, consider getting in touch with our amazingly talented friend, Sandra of Sawdust Girl!  She coaches DIY'ers through projects just like this! Check out this massive Studio-Craft Room that one of her clients was able to build!
Just a quick note:  For those of you wanting to build a pantry based on these plans, you may need to modify the height of the cabinets, as we have 9′ ceilings which I don't believe to be the norm!
Material List:
6- 4′ x 8′ Sheets of 3/4″ Cabinet Grade Plywood
2 – 4′ x 8′ Sheets of 1/4″ Luon
2 – 1 x 4 x 8′ Poplar Boards
2- 1 x 3 x 10′ Poplar Boards
1-1/4″ Kreg Fine Thread Screws
18g Brad Nails
3/4″ Premium Wood Screws
2-1/2″ Premium Wood Screws
Tool List:
Table Saw

Circular Saw
Miter Saw
Drill
Kreg Jig Jr.
KREG Shelf Pin Jig
Air Compressor and Brad Nailer
Pantry Cabinet Cut List:
6 – 3/4″ Cabinet Grade Plywood @ 76″ x 20″
3 – 3/4″ Cabinet Grade Plywood @ 56″ x 20″
2 – 3/4″ Cabinet Grade Plywood @ 28″ x 20″
1 – 3/4″ Cabinet Grade Plywood @ 26 1/2″ x 20″
3 – 3/4″ Cabinet Grade Plywood @ 22 1/2″ x 20″
4 – 3/4″ Cabinet Grade Plywood @ 14″ x 20″
2 – 3/4″ Cabinet Grade Plywood @ 12 1/2 x 20″
2 – 3/4″ Cabinet Grade Plywood @ 5″ x 56″
3 – 3/4″ Cabinet Grade Plywood @ 5″ x 18 1/2″
1 – 1/4″ Luon @ 28″ x 76″
2 – 1/4″ Luon @ 14″ x 76″
1 – 1/4″ Luon @ 56″ x 24″
1 – Poplar @ 3″ x 60 1/2″
2 – Poplar @ 3″ x 100″
1 – Poplar @ 1 1/2″ x 22 1/2″
2 – Poplar @ 1 1/2″ x 54 1/2″
2 – Poplar @ 1 1/2″ x 46 1/4″
2 – Poplar @ 1 1/2″ x 28 1/4″
 Cutting Tip:
By taking a look at the cut list, you'll see that there are a number of  plywood pieces that are cut to the same length.  You may find it easier to cut some of the sheets to length first by using a circular saw and a straight edge.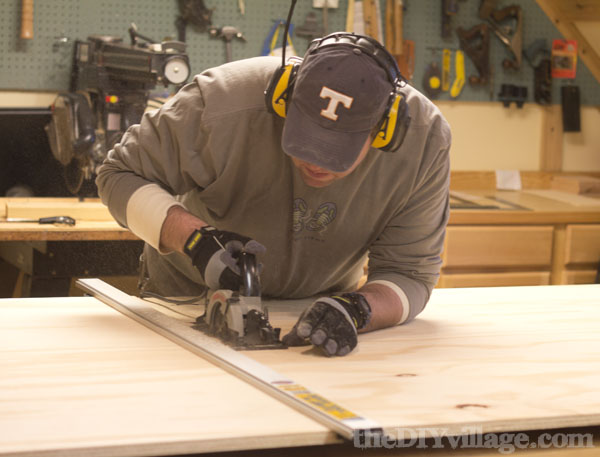 Using a table saw, rip the plywood and 4″ poplar boards to the correct widths. The poplar boards that get ripped down to 1-1/2″ will be used for facing once the cabinets are built and installed.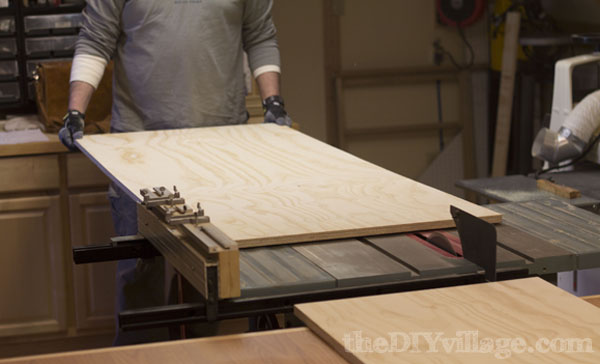 Pantry Cabinet Assembly:
With the plywood ripped and cut to length, it's time to build a pantry!  All of the cabinets are assembled using pocket holes made with a Kreg Jig.  If you're not familiar with how these work, take a minute to check out my walk through of how to use a Kreg Jig Jr.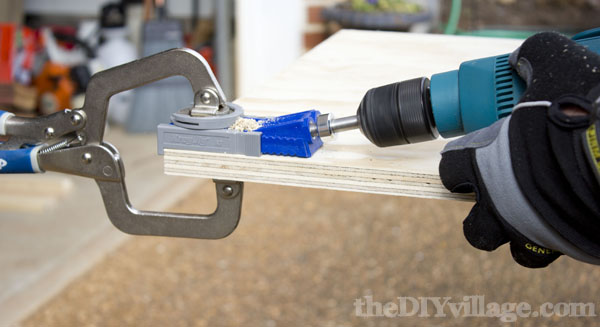 First, build the two outer cabinets.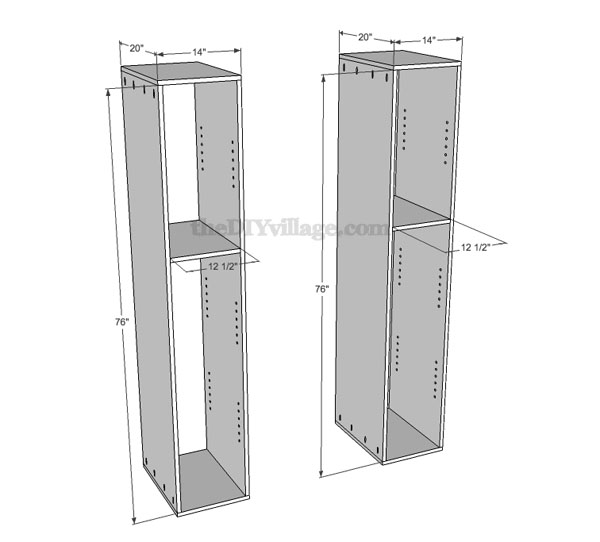 Measure down 29″ from the top of the frame and clamp a straight edge in place for the fixed shelf to rest against as you screw it into place.  For easier installation of the fixed shelf, screw it in place before attaching the second side of the cabinet.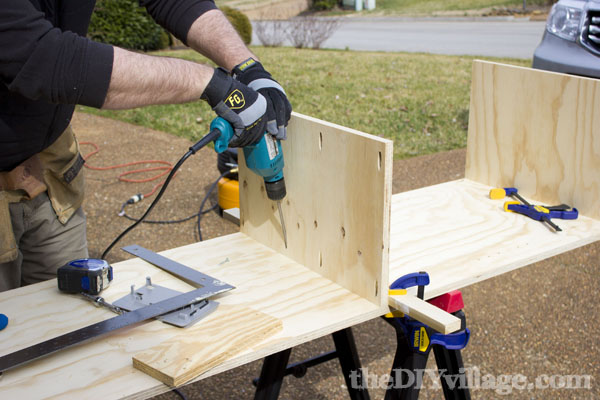 If you've never seen the KREG Shelf Pin Jig
,
you should add it to the top of your shopping list!  It makes it ridiculously easy to drill pin holes for adjustable shelves.  And since the jig has hardened case steel guides, your pin holes stay accurate and don't wobble.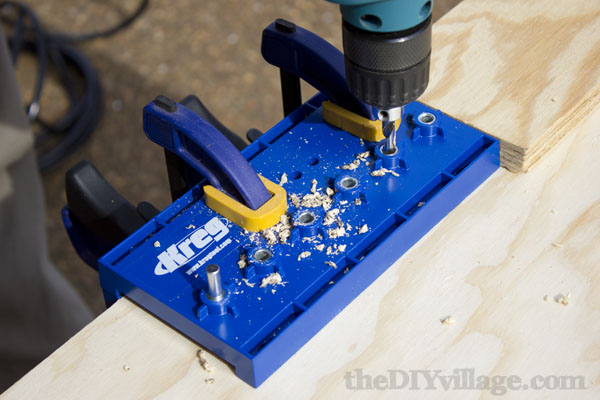 Use a 10″ piece of scrap wood as a spacer to accurately place the jig, resulting in level pin holes. Butt the shelf pin jig against the edge of your scrap wood and the edge of your plywood, then clamp it in place, and drill your holes for your shelf pins.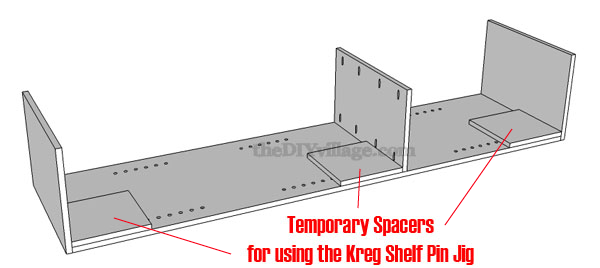 Once you've got the outer cabinets put together, move onto building the middle and upper cabinets.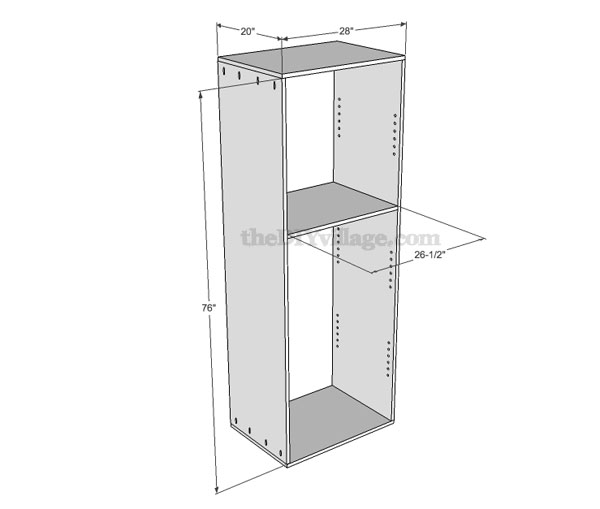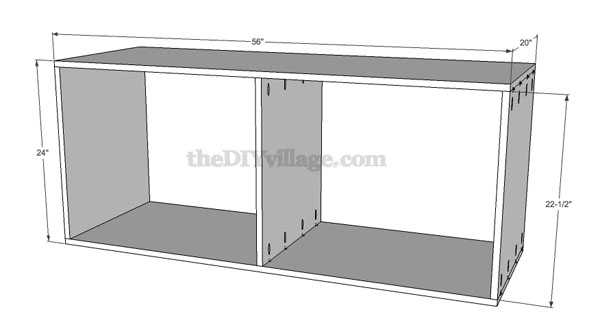 Lastly, build the platform that the cabinets will sit on.  The platform raises the cabinets up so that when you add baseboard molding, the lower shelf is slightly above the top of it.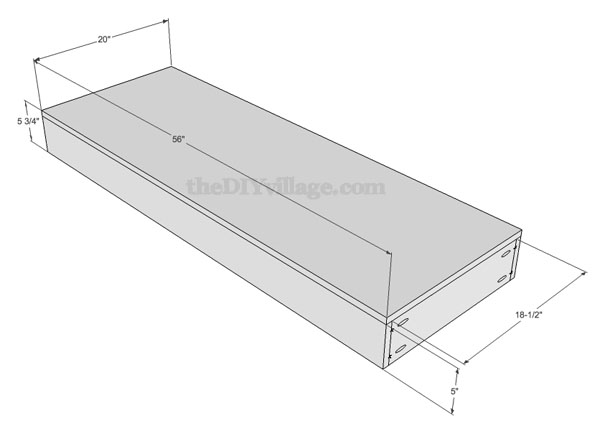 The platform has a support that runs along the center as seen below.  It is one of the 18-1/2″ x 5″ pieces accounted for in the cut sheet.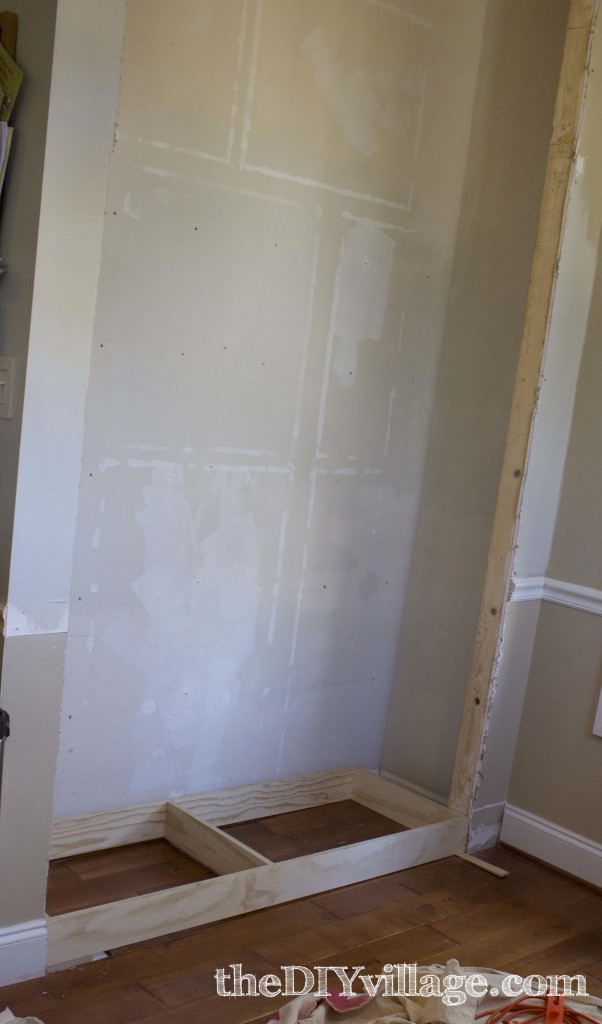 Using a nail gun with 18g 1-1/4″ brads, attach the plywood top to the platform frame.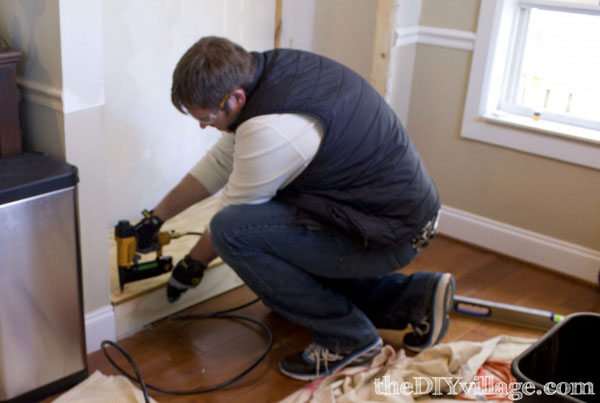 Before installing the cabinets, you'll need to attach the luon backing.  Check out how Jacque got creative during the pantry update using a Royal Design Studio Stencil on the backing to add her own unique touch!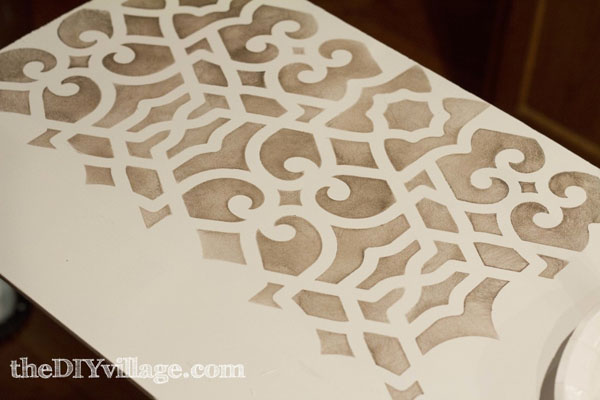 Installing and Securing the Pantry Cabinets in Place:
Place the three cabinets onto the raised platform connect them together using 3/4″ premium wood screws.  Next, install the upper cabinet directly on the top of the the other three and secure in place using 3/4″ premium wood screws. If possible, secure the cabinets to the surrounding stud wall using 2-1/2″ premium wood screws.
Lastly, to finish off the cabinet installation, attach the facing to the frame using a nail gun and  18g brads.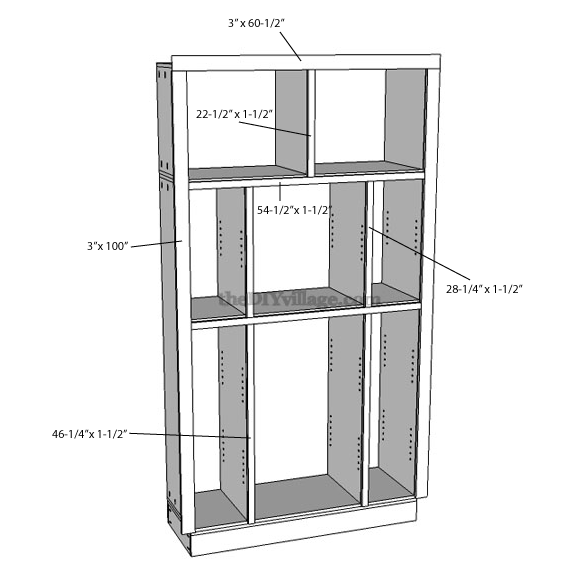 I think this is a good stopping point for part 1!  We'll be diligently working on getting part 2 out as soon as we can!
In the meantime, I'd love to get your feedback on the pantry plans.
After all, this is our first time using Google SketchUp on one of our projects!
There are affiliate links in this post, however, the opinions and statement found here within are completely my own.