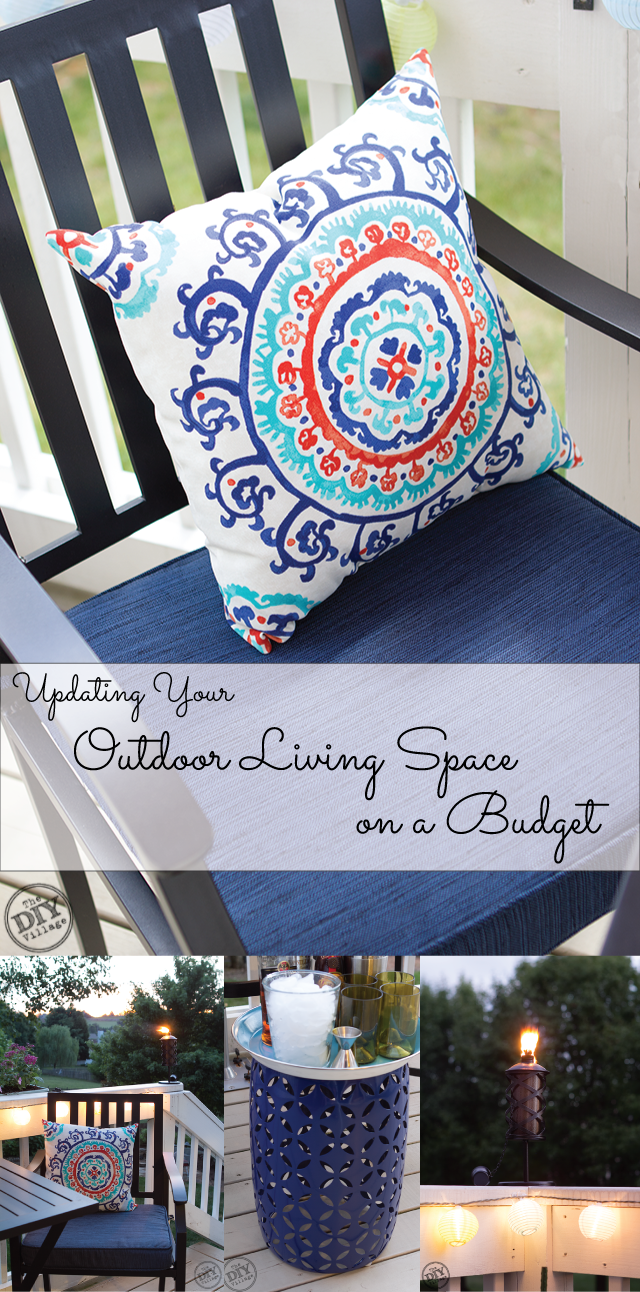 Last year, Jacque and I shared how we created an outdoor living space worth relaxing in.  We spent A LOT of time out there over the last year and have come to the conclusion that it's time for a refresh!  This year, we thought it would be fun to revisit the same space and show you how easy it is update your outdoor living space on a budget!
Here's a reminder of what our space looked like after the original makeover last year.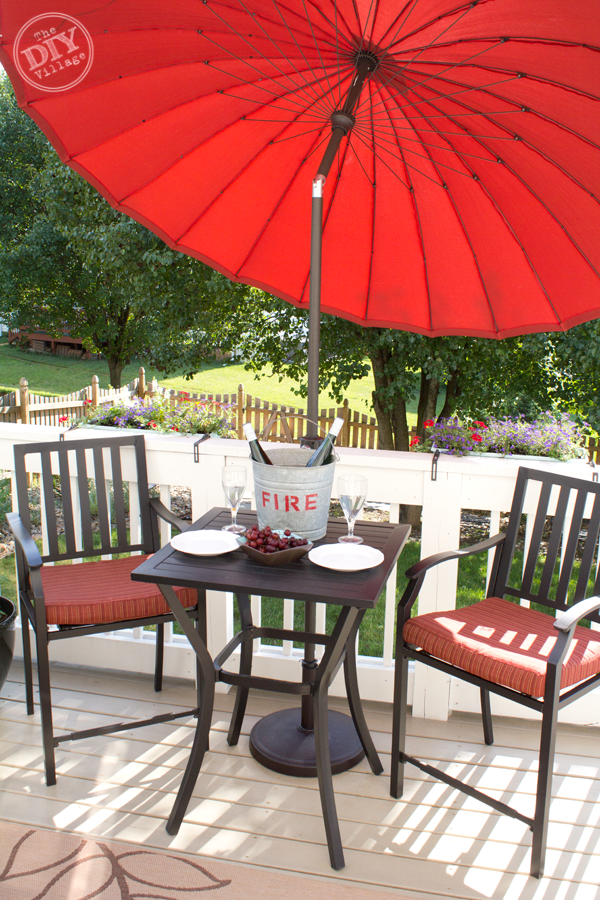 And here's same space after a touch up! As you can see, we kept our same deck furniture but changed some smaller inexpensive pieces around them to create a whole new look!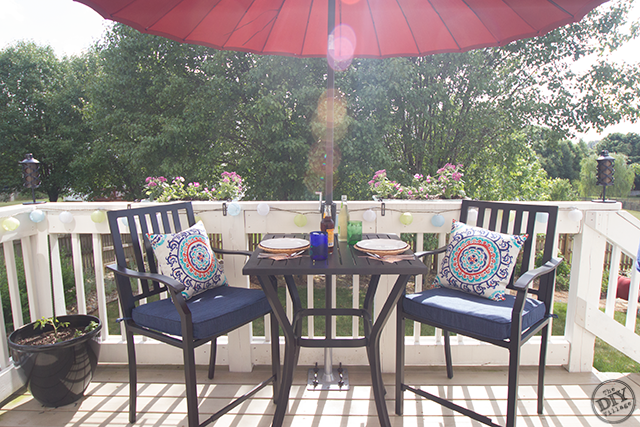 An easy way to breathe new life into your outdoor furniture is by replacing the old seat cushions.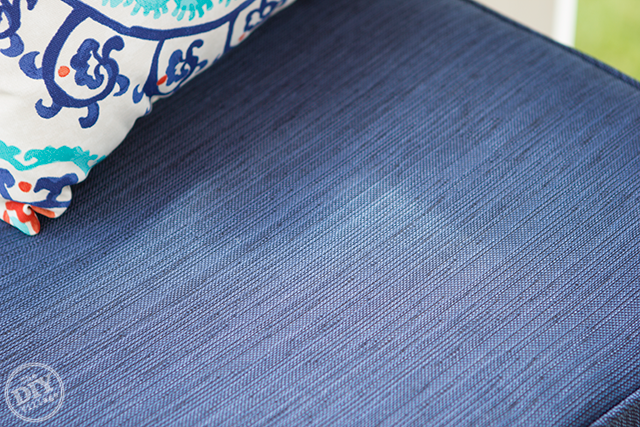 Something as simple as adding a new accent pillow can freshen up the look of your outdoor living space without having to incur the expense of new furniture.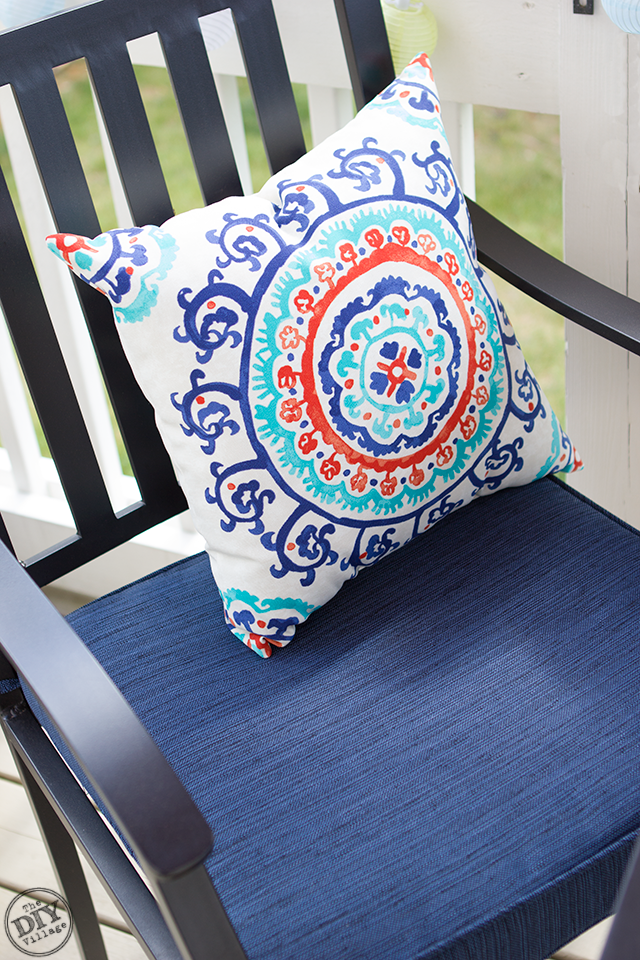 Probably the least expensive option is to add new flowers to your planter boxes!  (Looking for a true bargain deal?  Scout the clearance racks in the outdoor living section of Lowe's. We found a few 2.5 qt buckets of petunias for a whopping $3.00 each! )  We spent less than $15 on our arrangement of petunias and pentas.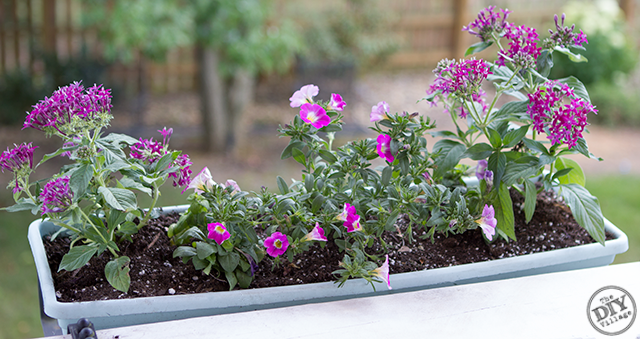 As you can see below, we hung some globe lights to add some fun visual decor for the daytime, but lights serve double duty as they offer functional lighting for those late summer nights!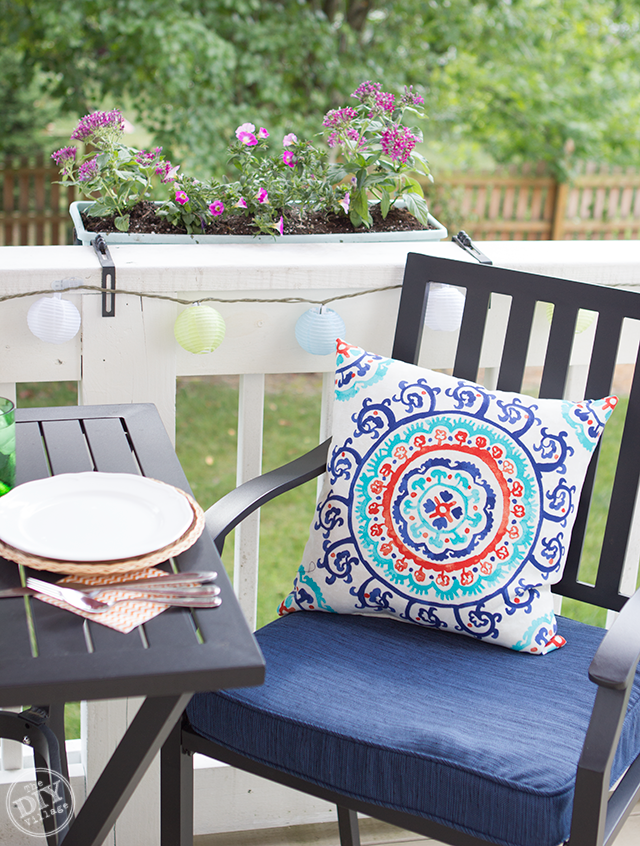 Since our backyard faces west, we've found the we spend the most time outside on the deck right around sunset, so with this update we wanted to make our outdoor living space more "night time" friendly!  Like I said before, that's one of the reasons why we added the globe lights to the decking handrail.  With the help of a few more inexpensive light sources and a few accent pieces we're ready to enjoy outdoor living past sunset!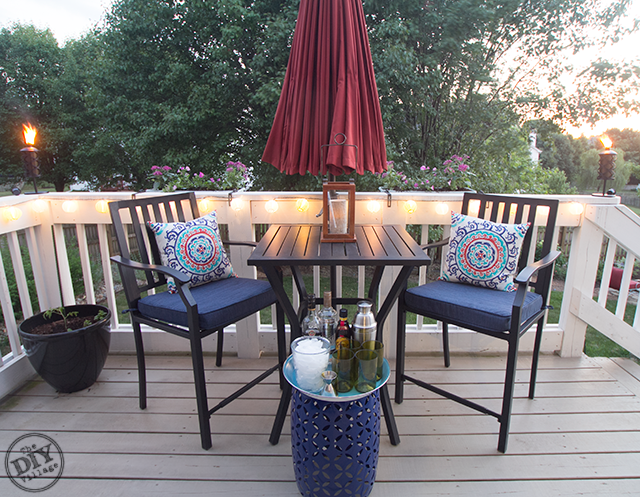 This garden stool makes for a great side table, an extra seat in a pinch, or in our case, a perfect place to call home to our outdoor bar set up!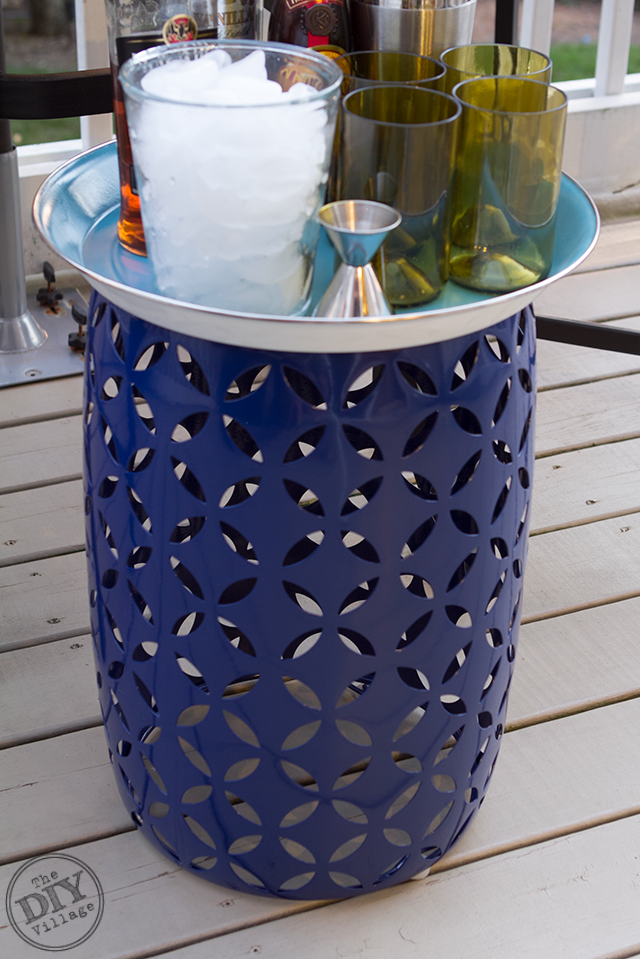 We added these tabletop citronella torches to the two outer corners of the deck.  To be safety conscious, we secured them in place using All Weather Scotch Fasteners! Again, a great source of light with the added bonus of keeping the pesky bugs away!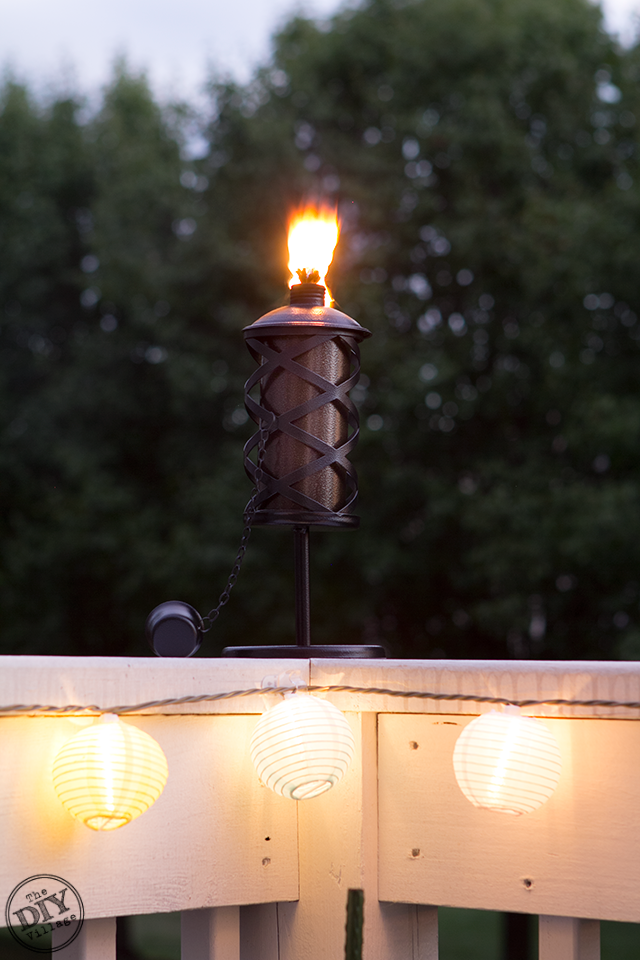 This Allen + Roth Natural Glass Outdoor Lanterns paired with a battery powered LED pillar candle offers a more subtle and romantic light source…Yep, even us DIY'ers need a little romance every once in awhile!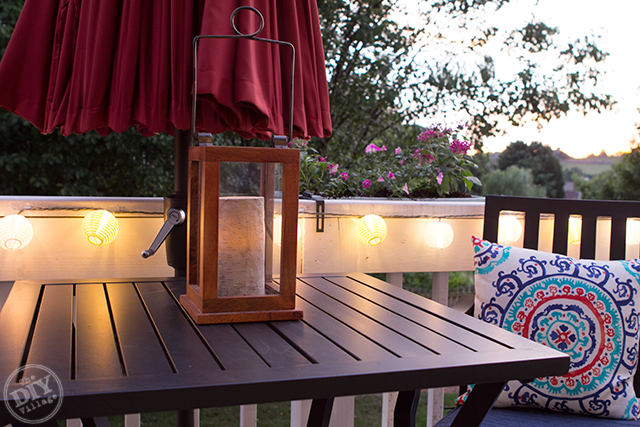 And of course, as I mentioned, here are the globe light strands!  At first glance, I thought they were made of paper, but was pleasantly surprised to find that they're actually made from a material that will handle outdoor use!  And for less than $12 per strand, these were definitely an affordable option for making our deck sunset ready!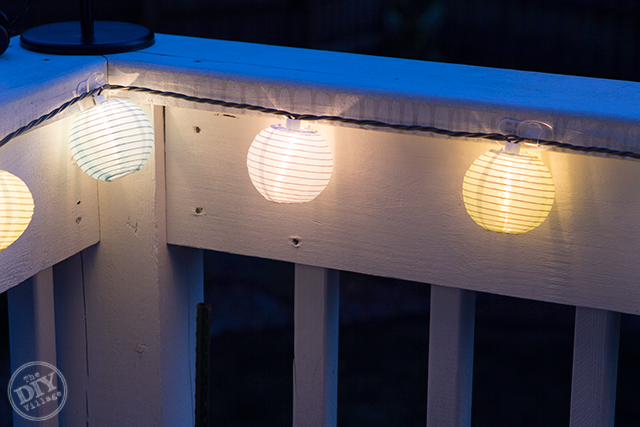 By focusing on updating and adding accent pieces, we've managed to give our outdoor living space a complete makeover and spend far less than if we had bought all new furniture.  Investing in outdoor furniture can definitely get costly, so don't forget to consider your other less expensive options first!  Now you'll have to excuse me, spending all this time talking about the outdoors has me ready for some quality outdoor time with the Mrs and our lil' one!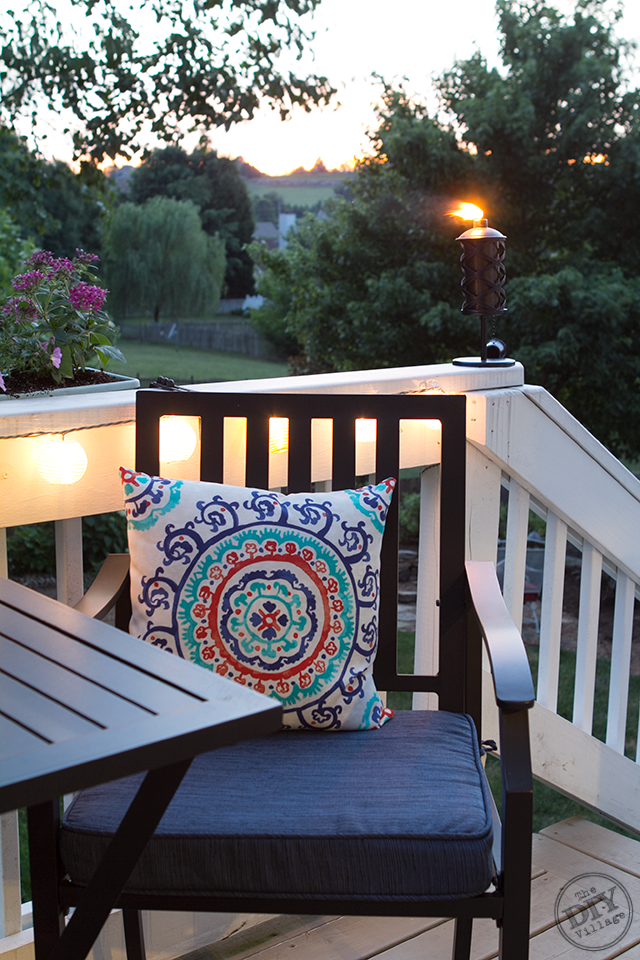 Be on the lookout for those and a ton more outdoor themed projects brought to you by the Lowe's Creators & Influencer!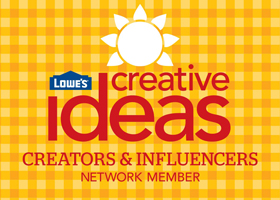 If you're an iPad or iPhone user, be sure to download the Lowe's Creative Ideas App to see some unique seasonal project ideas!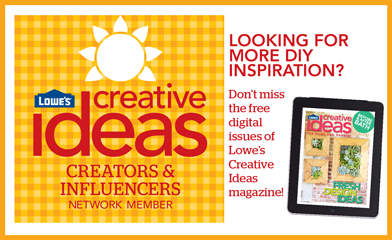 And if you need even more inspiration, follow Lowe's Home Improvement on Pinterest, Facebook, and Instagram   Disclosure: As a Lowe's Creative Ideas Handyman, I was provided a gift card to cover the cost of materials for my project, but I was not told what to write.  All the ideas and words found here within are honest and my own!