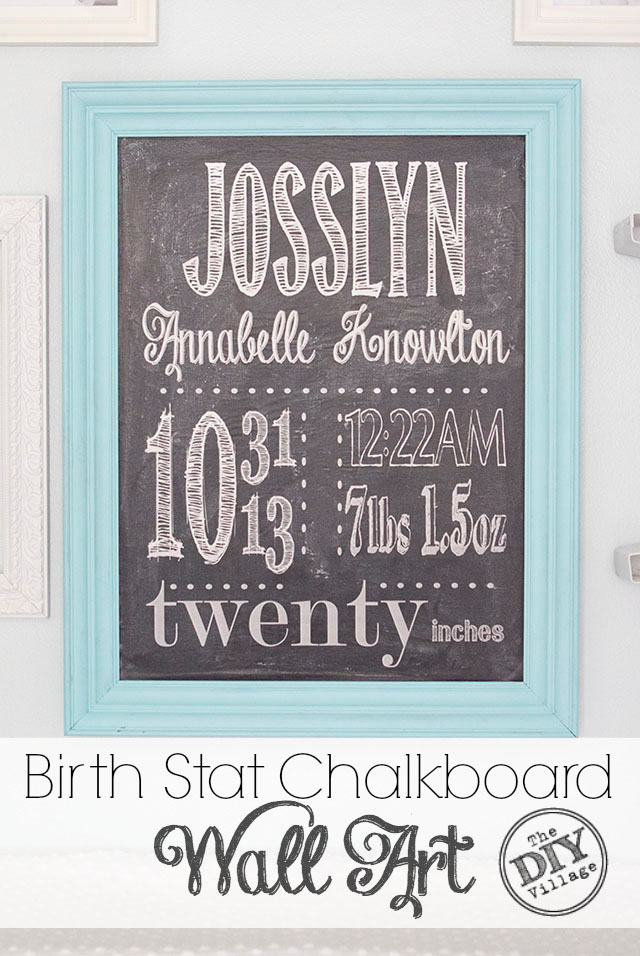 I'm pretty sure I deserve some kind of award for finally completing this chalkboard wall art!  Because the truth is, if you were following us on Instagram 36 weeks ago (to the day) you would have seen this image …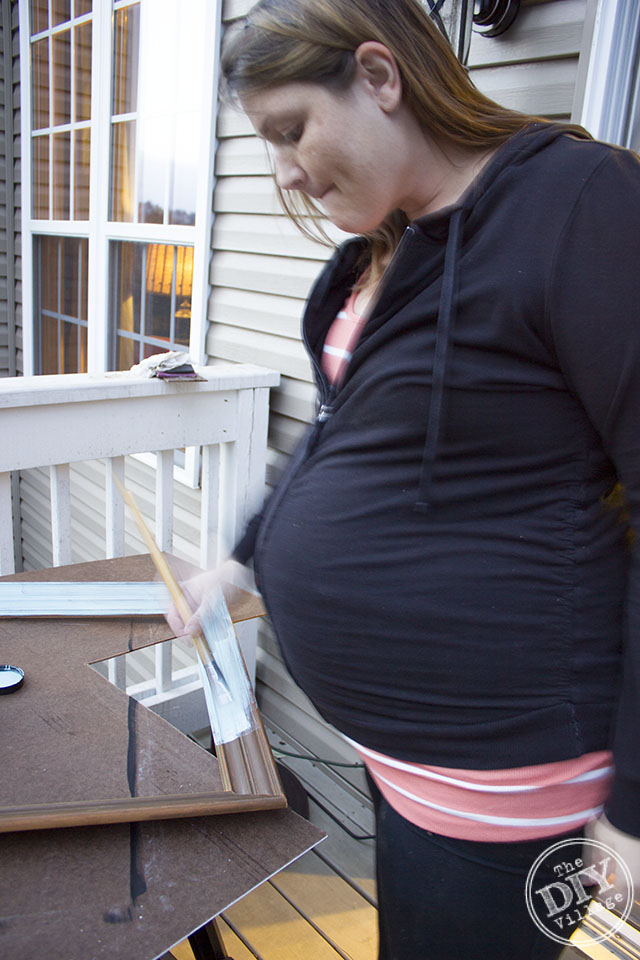 of me VERY pregnant (34w2d) with my happily frank breech little fire cracker!  I was painting the frame of what was supposed to become Josslyn's Birth stat wall art!  Little did I know at that moment baby girl would be coming into our lives sooner rather than later, in a little over 48 hours to be exact!  Her early arrival is really no excuse for me not having this done until now but truth be told this was one project I wanted to be perfect!
**This post contains affiliate links.**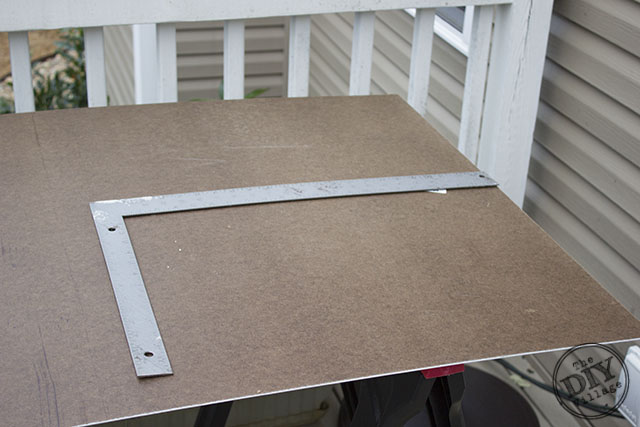 I started out with a full sheet of White/Gloss hardboard from Lowe's Home Improvement.  I measured the inside dimensions of my picture frame.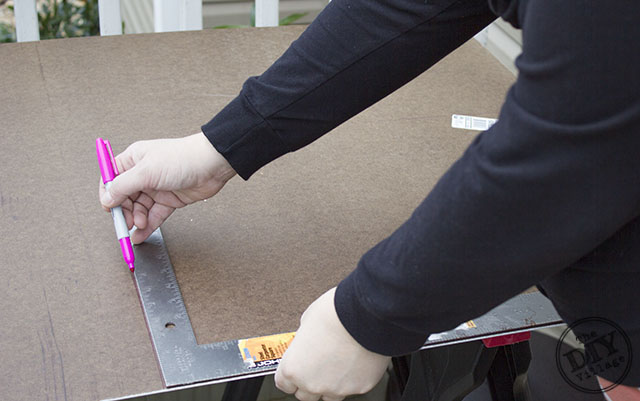 And transferred those measurements onto the hardboard panel, and cut out my piece using a jigsaw (reciprocating blade saw).  I could have also used a skill saw but couldn't find it in the garage so the jigsaw worked perfectly.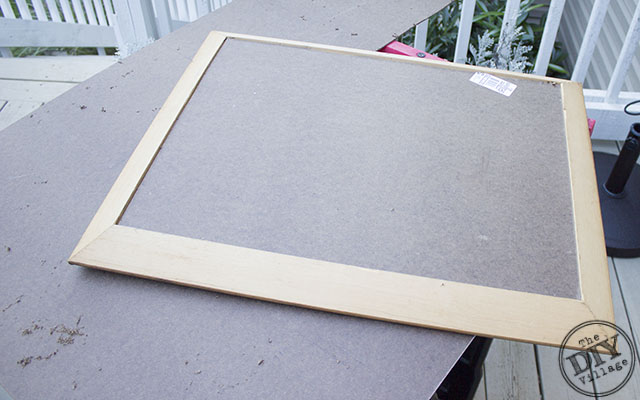 Do a dry fit of your sheet and sand or trim any areas if the piece does not fit into the frame.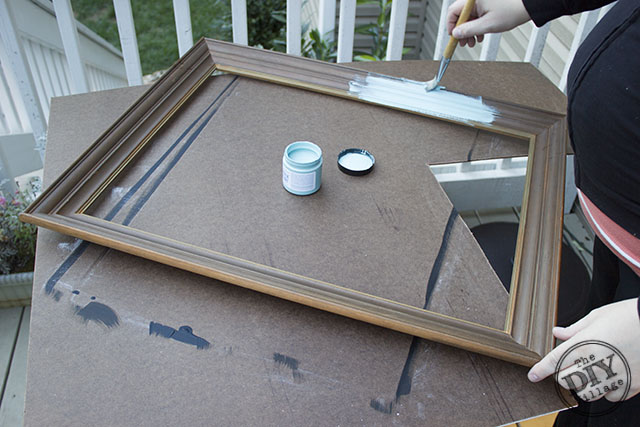 If you are using an old frame like I was a quick coat of paint will breathe new life into the frame!  I'd say she is good for another 15 years 8 years, you know till she gets an"opinion" on her room decor (sigh)!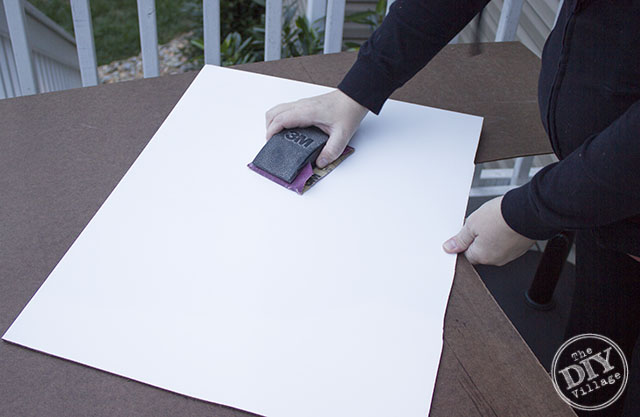 Sand the front of the hardboard in prep for the next step.
At this point you need to decide if you plan on hand chalking (drawing) the birth stats or you can do like I did and create the image in Adobe Illustrator and have it printed at a local print shop (I used FedEx and it ran about $3.00 for an 18×24 b&w).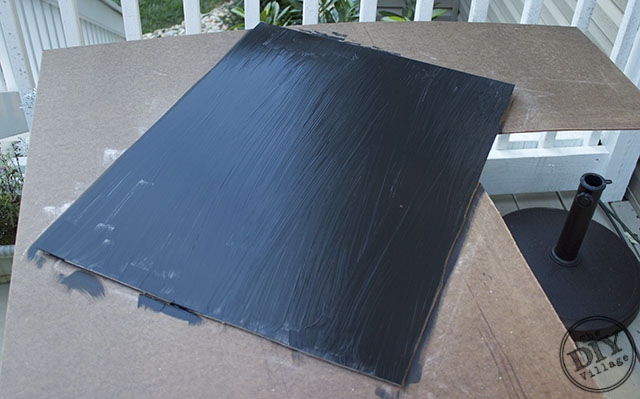 If you are hand chalking apply two coats of a chalkboard paint like the one made by DecoArt.  This paint goes on awesome and only takes two coats before it is ready!  Had I not planned on hanging the chalkboard wall art above the changing station, within reach of little hands, this would have been the way I went!  If you are interested in hand chalking check out this great tutorial from Brittany over at Pretty Handy Girl.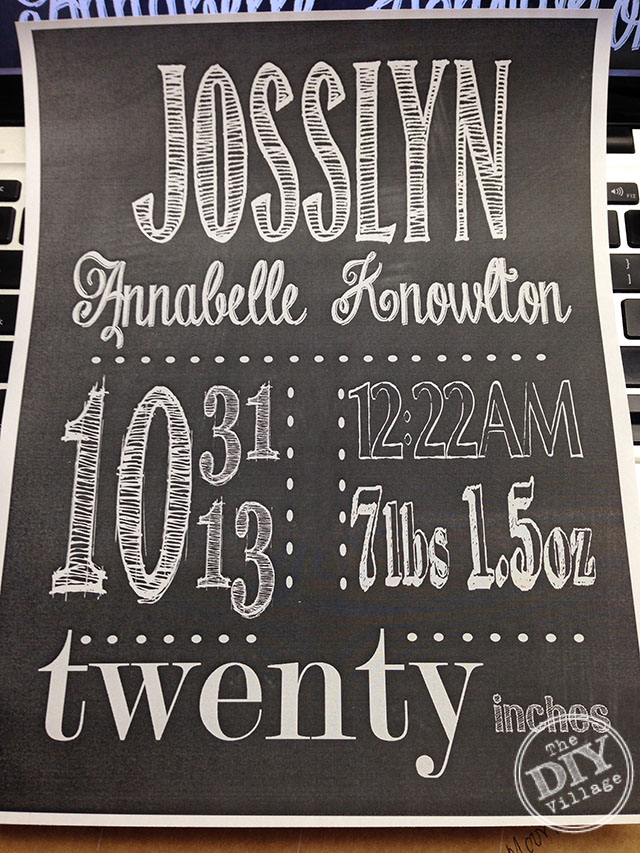 I created a custom file in Adobe Illustrator  that looks like it was hand chalked.  I did so by using a combination of "Chalkboard fonts" on a background that emulate the look of a blackboard.  Once I had everything laid out I did a few practice prints on a back and white copier/printer.  With my final test print successful I took the file to a print shop and had the size I needed printed.  Since the image is black and white it is very affordable.
Using a Decou-Page product I adhered the print to the white hardboard. (Sorry no picture it was super late at night when I did this.)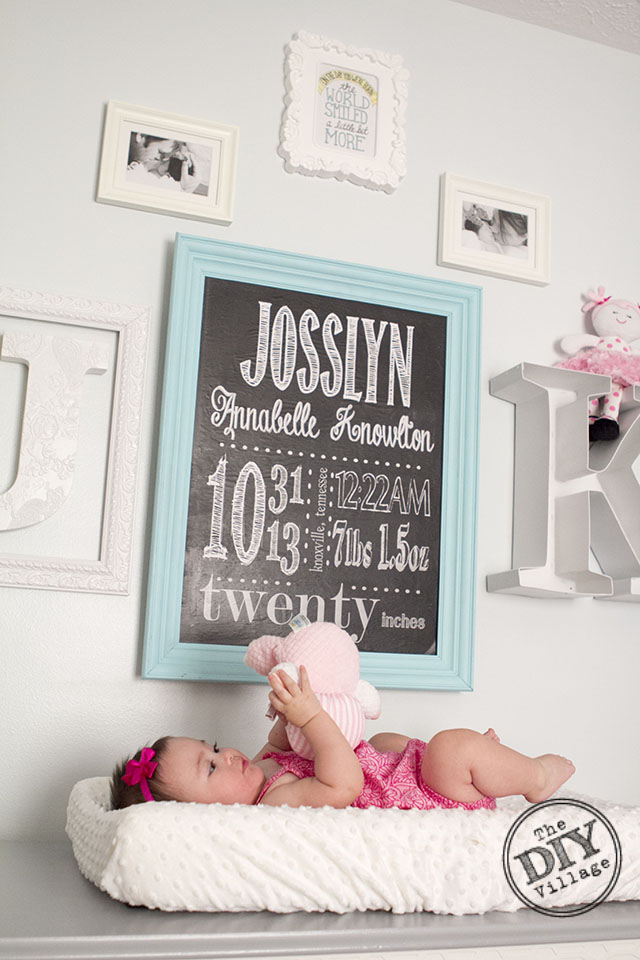 You can see a picture of Josslyn enjoying her birth stat wall art … but I wasn't happy with it yet.  As much as I loved it, the wall art was shiny and not very chalkboard like.  And then I remembered the awesome product I used on my  herringbone side table to turn it into a chalkboard – DecoArt's clear chalkboard coating.  This product basically turns ANYTHING into a chalkboard.  I did two coats of this finish over my wall art as per the manufacturers instructions.  And then seasoned my chalkboard.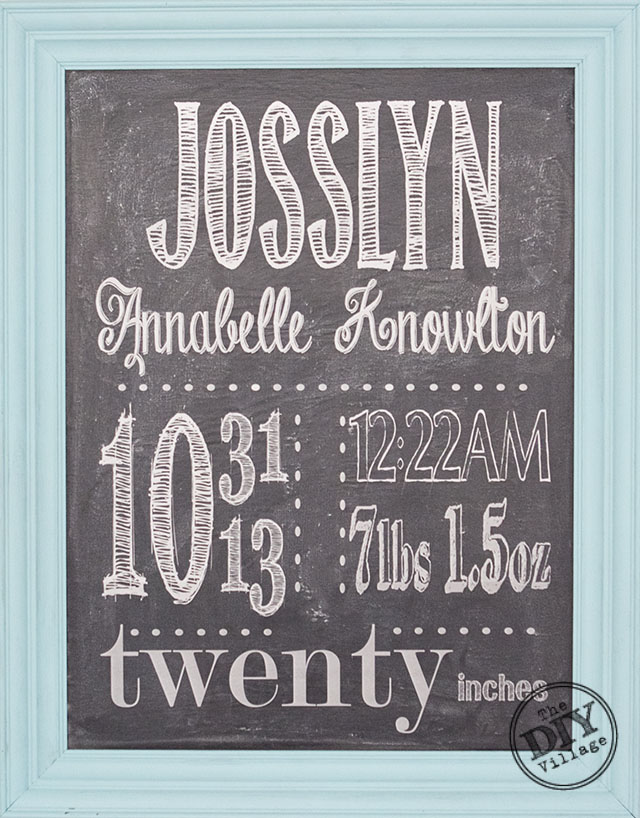 Once the bulk of the chalk was wiped away I was left with the perfect chalkboard finish!  If you look closely you can see little finger smudges in the chalk.  Compliments of one Josslyn Annabelle!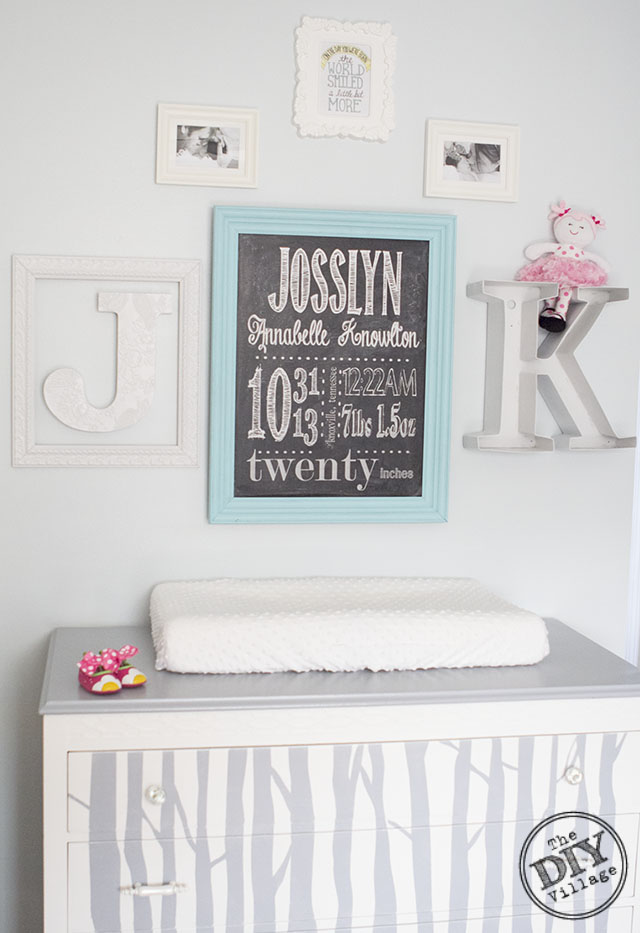 I'm not sure what she loves more about it, the fact that it's within reach or the fact that she is strong enough to pry the Command strips lose from the wall while I am in mid diaper change.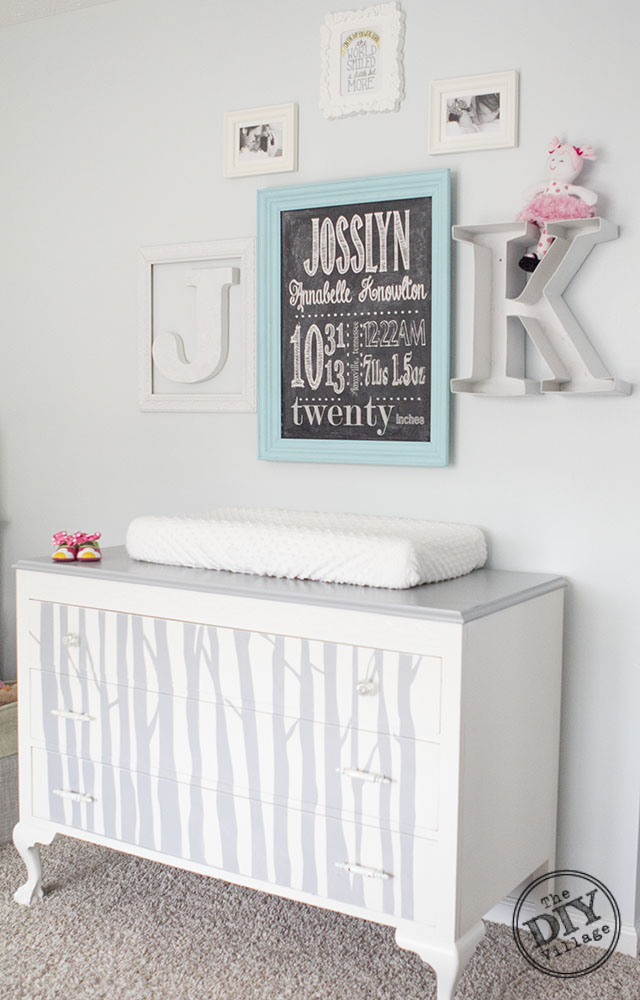 I am so glad I opted not to hand chalk her birth stat wall art.  Not only can it be changed out easily with other art but I will forever have the original in tact!  And I have to admit that I talked Matt into keeping the Woodland dresser he made a while back and using it as her changing station.  It could not be more perfect for a little girls nursery and hopefully someday a little girl's room!
To see how I added snaps to the safety straps on the changing pad to convert our dresser into a changing station check out this quick diy video tutorial.