Warning! This post is picture heavy so if you love looking at before and after pictures then boy do we have the post for you!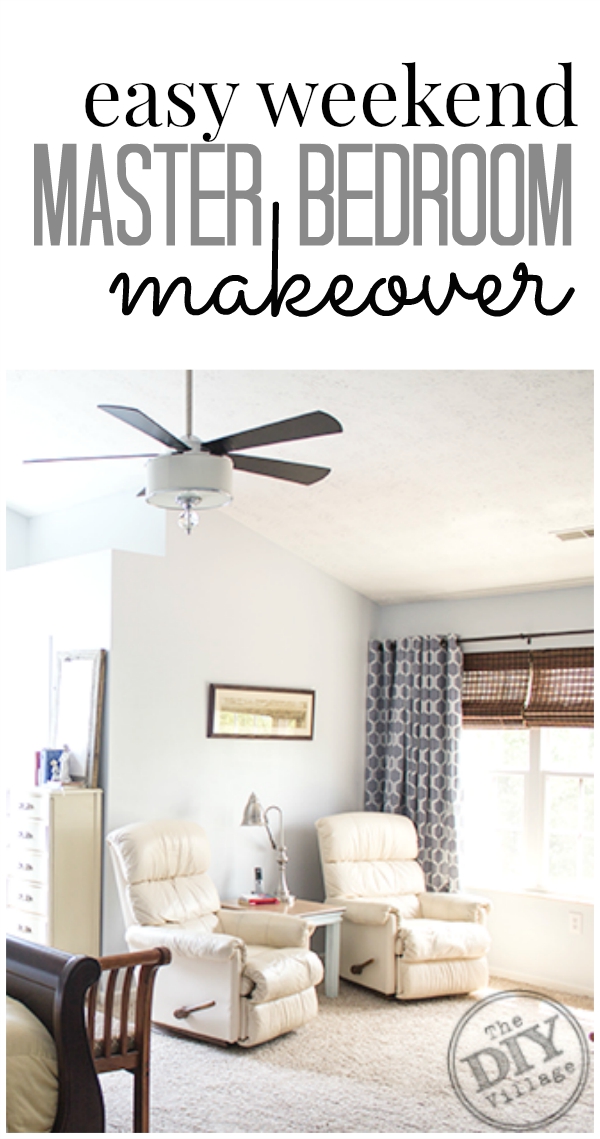 Our master bedroom is one room in the house that we haven't really done much with.  Before I get too far into what we have done I'll give you a quick look at what it looked like before we purchased the home back in 2011.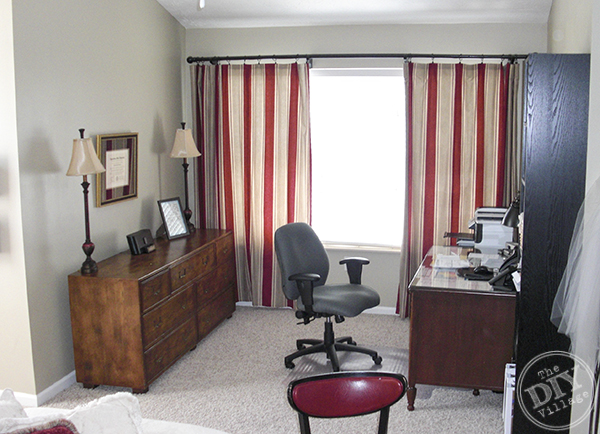 The previous owners were fond of the color red, very fond (don't forget about the dreaded red master bath).  The mom was a SAHM and homeschooled all 4 kids from home and the dad worked from home in this master bedroom office area.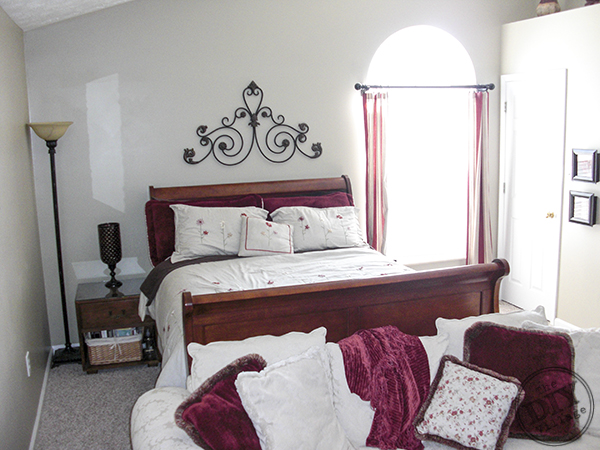 I love Matt but I don't know if I could handle homeschooling while he worked from home.  But it worked for them, so more power to them.  Another thing that worked for them that wasn't on my okay list are the curtains, they were well made but not my style at all.  Not to mention the baby poop colored walls.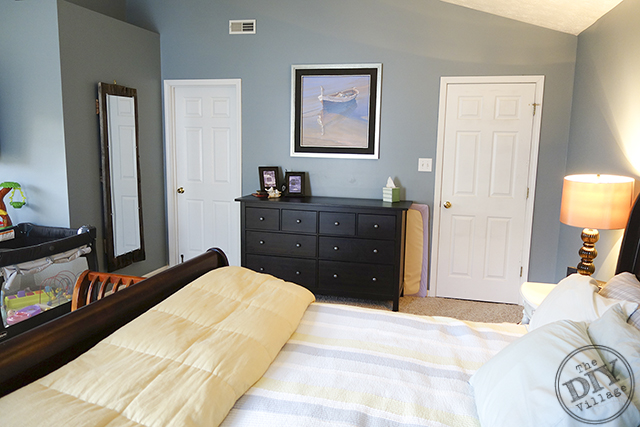 So a quick decision was made and one day while I was at work Matt painted our master bedroom.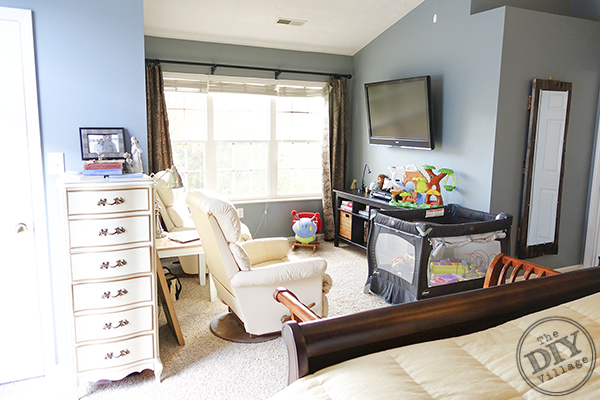 All of our master bedroom.  Poor guy! This room is ridiculously large and has a ton of wall space.  At the time Matt painted I also changed out the curtains and made a fun reclaimed wood mirror.  That's pretty much where I left everything. That was until I was trying to open the fake wood blinds one day and couldn't get them to stay up. In fact they kept pulling out of the wall.  They weighed a ton and looked horrible.  Enough was enough, our room needed a makeover in the worst way!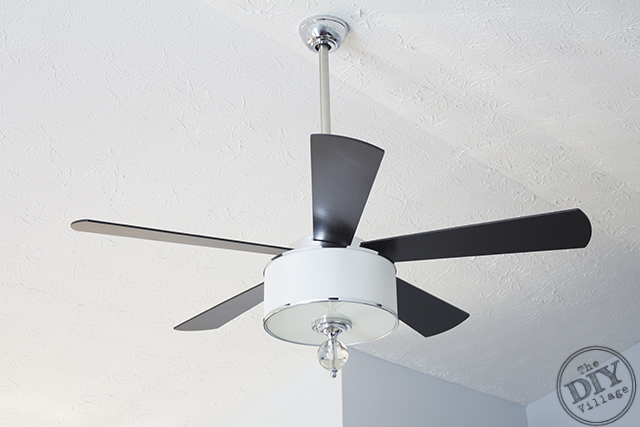 We started by changing out the ceiling fan to this beauty by Allen+Roth.  The old fan not only made me nervous, it would twist when you turned it on (totally normal right?), but it was very out of date and just plain sad!  I love the look of this fan, it's modern and chic and the price can't be beat!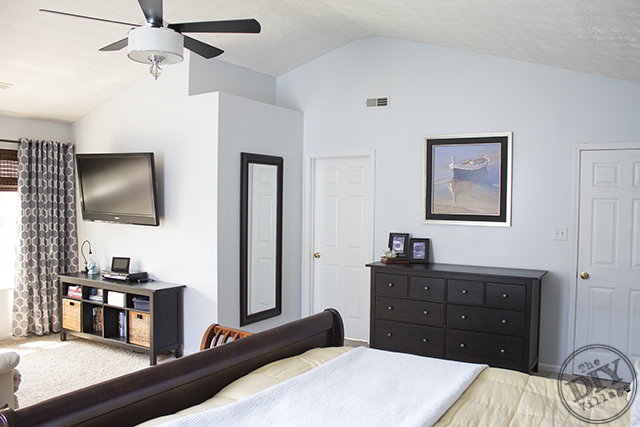 The most drastic change came with our wall color.  I have been painting rooms for over 15 years and I am always amazed at what a huge difference a gallon of paint can make to a room! Now in our case it was 2.5 gallons but you get the idea.  We opted to try out the new HGTV HOME by Sherwin-Williams Showcase line and cannot say enough good things about this paint!  Thankfully Matt and I were on the same page about colors and were able to pick a color in under 5 minutes.  I'm quite positive that is a record for us, and probably won't happen again in our lifetime!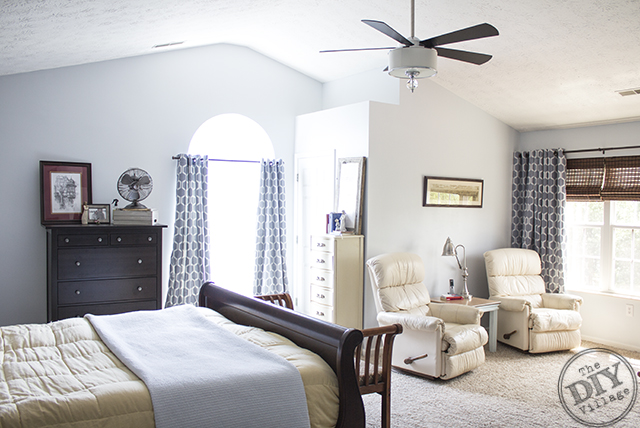 The next step was to get rid of the bulky curtain rods.  The old curtain rod that was just outside of Matt's closet had huge finials on each end that kept him from being able to open the door all the way.  Talk about a pain.  I opted for a much more minimal curtain rod that would allow him to open his door all the way and still keep the look I wanted.
With the new curtain rods I needed new window treatments.  Still disgusted with the cheap plastic blinds, I swore their replacement would be much more classic.  After hours of discussion, basically me trying to convince Matt that my vision was legit, we decided on the Levolor Bamboo Blind.  I am so glad he decided to trust me!  Not only are the blinds pretty to look at the glide open and closed with ease.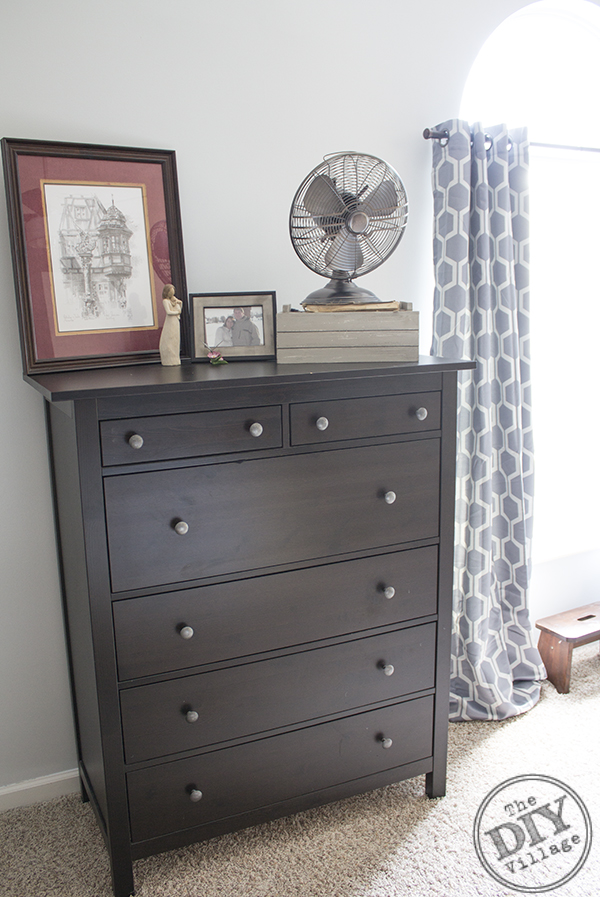 Keeping with the modern look of our new ceiling fan I went with a fun geometric curtain panel. The pattern almost resembles a honeycomb pattern and the best part they are lined with room DARKENING fabric.  They have an amazing weight to them and if the Little One is feeling under the weather we can close up the curtains and snuggle in bed.  Okay truth is I like to sleep in whenever possible so the room darkening was really for me, but it could be for the Little One if she is sick!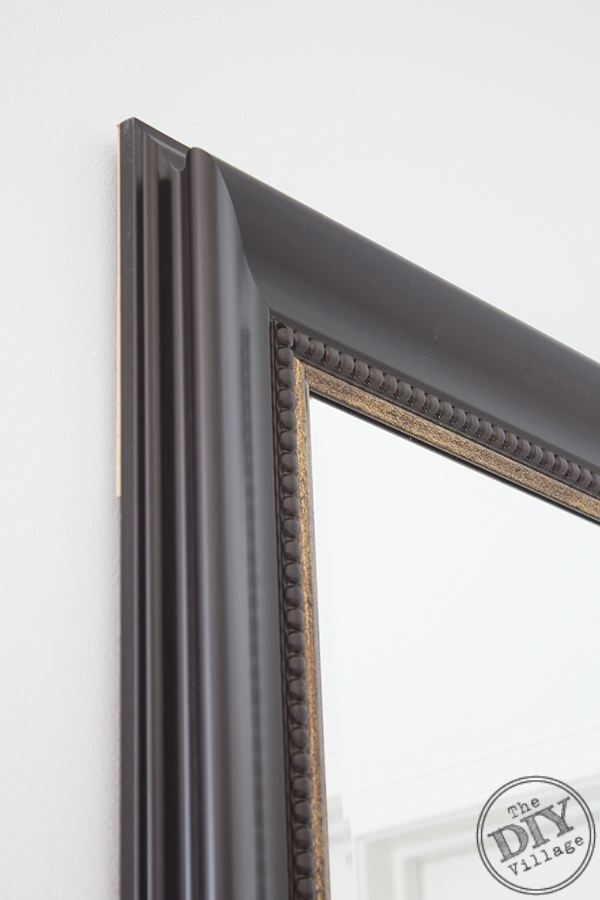 Matt also talked me into replacing the bulky reclaimed barnwood mirror with this beauty!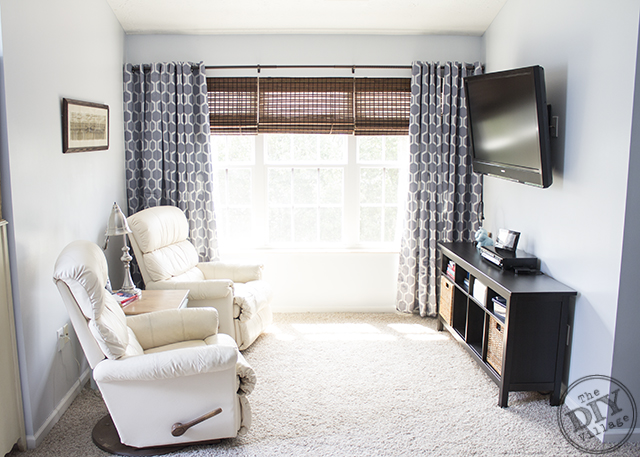 We still have a few things that we would like to do to the room, like replace the bedding, and new seating for the entertainment area.  Not that there is anything wrong with our cream leather La-Z-Boy recliners but I'm ready for a couch where the whole family can congregate.  Now this is what I call a Master Bedroom!