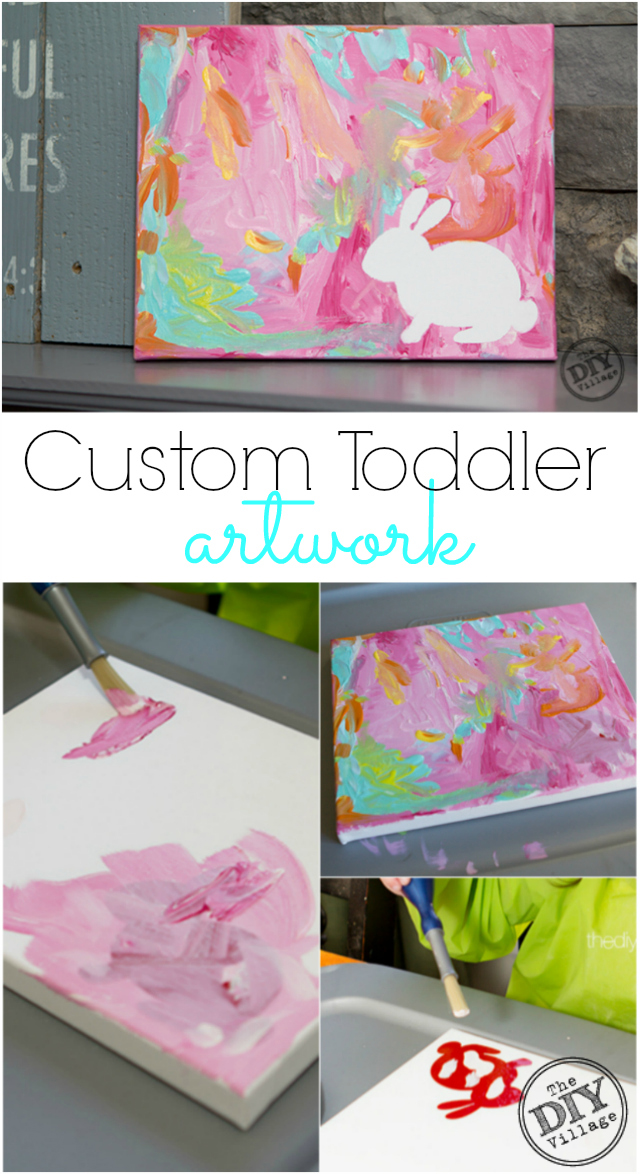 I still love doing art with Josslyn.  Artwork with toddlers can be super fun!  We have moved on from finger painting and onto holding brushes and manipulation of objects, scissors, crayons, markers … the good stuff.  With the new addition of Paxton I like to keep our projects fun but quick.  Time is of the essence.  Today's project is going to be under 15 minutes and we will be able to use it every year!  Here is what you are going to need!
MATERIALS:
Stretched Canvas (8×10) – found HERE
Paint Brushes (2-3) – found HERE 
Vinyl Image or Sticker – found HERE
Water
Paper Towels
Paper Plates
Q-Tips
Storage Tub Lid (optional)
Painters Smock (optional) – found HERE
INSTRUCTIONS: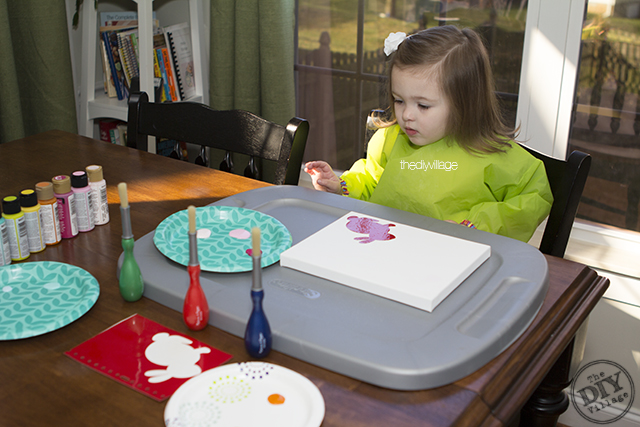 Place the sticker or vinyl image onto the canvas making sure it's adhered well to the canvas.  Choose a few coordinating colors or allow the kids to pick the colors. Place like colors on plates. Pinks, reds, and purples one one plate. Blues and greens on another. Yellows and Oranges on another.  One brush for each plate.  I love these large bulb brushes for toddlers that are practicing fine motor skills like painting.  You can find those brushes here.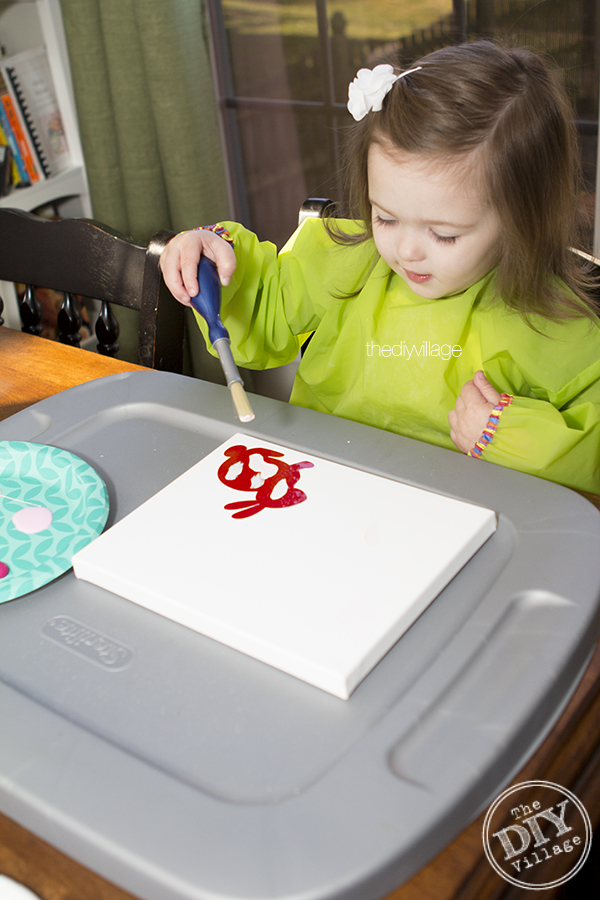 Start with the lightest colored paints and the ones that will cover the majority of the canvas. In our case it is the pinks and magenta.  Depending on how sticky the vinyl or stickers are you might need to help your child paint around them, but don't worry if some paint gets under, I have a trick for getting excess paint up later.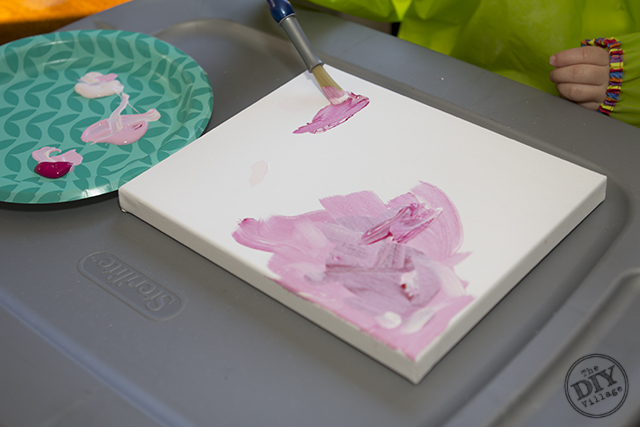 Continue painting the canvas with the first colors making sure to get good coverage.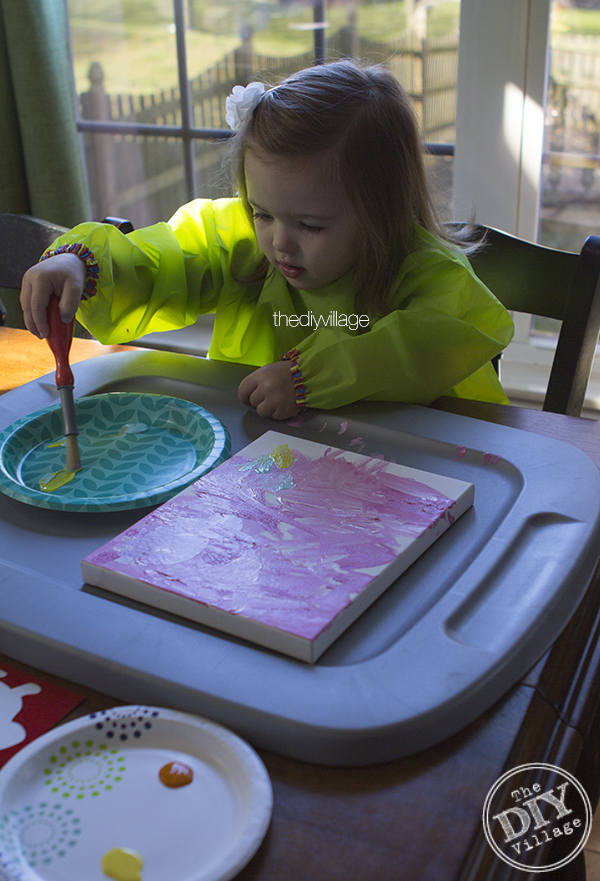 Then move onto some of the other brighter colors.  At this point you will need the water, just like a professional artist you will help your child clean their paint brushes.  You can teach them about keeping colors bright and show them what happens when they blend too many together and they "muddy" up.  I wasn't able to take any pictures of this process, but I can promise washing brushes is always a crowd pleaser! They even enjoy helping dry them off before tackling more painting!  I try not to tell her where to put the paint but I do encourage her to look for areas on the canvas that are white, and where there isn't any color.  Works every time!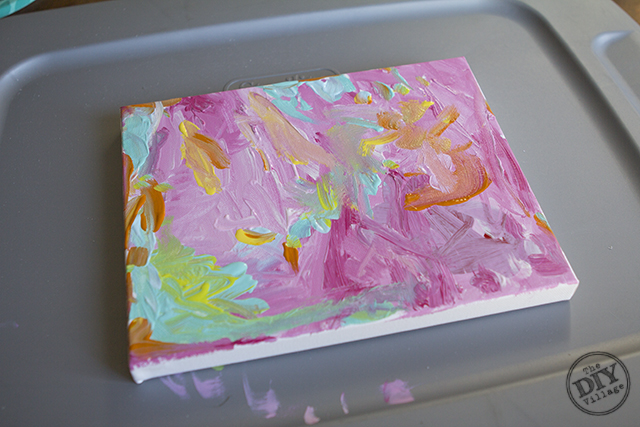 This is what her canvas ended up looking like before we removed the vinyl bunny!  I have to admit, this kid is good!  Part of me wishes there wasn't a bunny under there, I would totally hang this on our wall.  WOW!  While I was waiting for the paint to dry enough to remove the vinyl bunny I painted the sides of the canvas with the left over paint.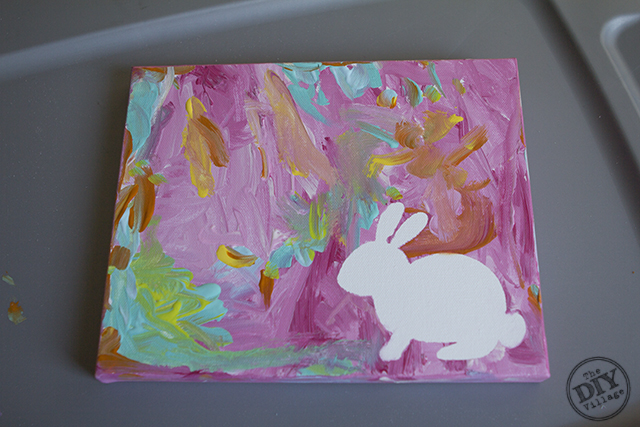 You want the paint to be tacky when you remove the stencil.  Too dry and you won't be able to correct mistakes easily, too wet and you can make a mess.
So what do you do if your paint bleeds under the sticker? That's where the Q-tips comes into play. Just take a Q-tip dip it into some water and clean up your edges.  Jossie's bunny could use a little more work, but her little brother was hungry and we all know babies rule over art any day!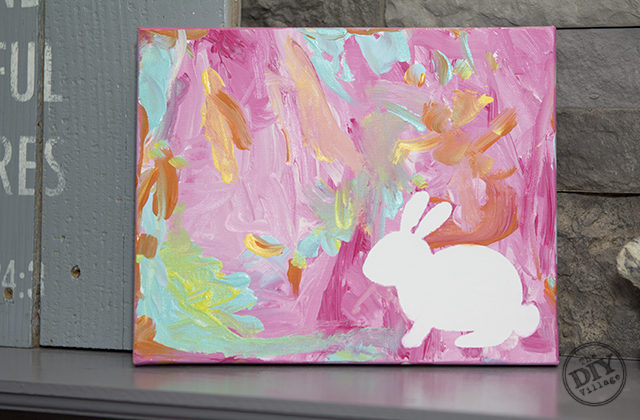 I hope you enjoyed our 15 min craft and aren't afraid to really get in there with your kiddos!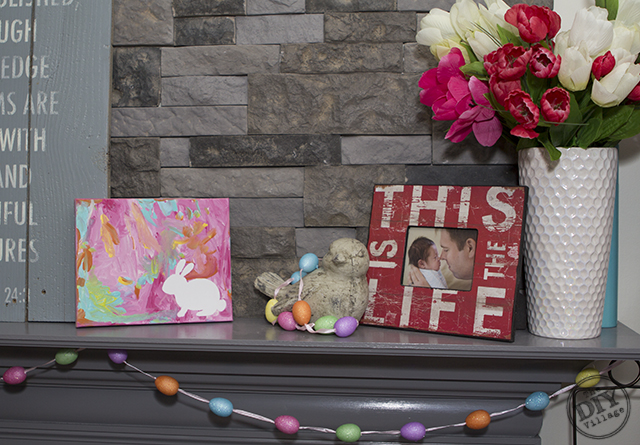 If you noticed I use the lid off of a storage tub to keep my kitchen table clean and thanks to IKEA a super inexpensive painters smock that keeps her clothes clean!  Art can be fun and it's great for kids.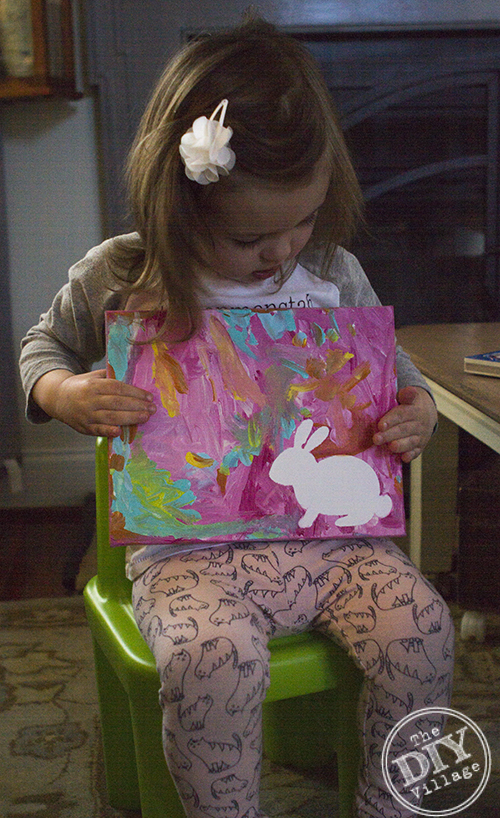 Jossie is so proud of her bunny art, she show's it off to everyone who comes through the door, rightly so!