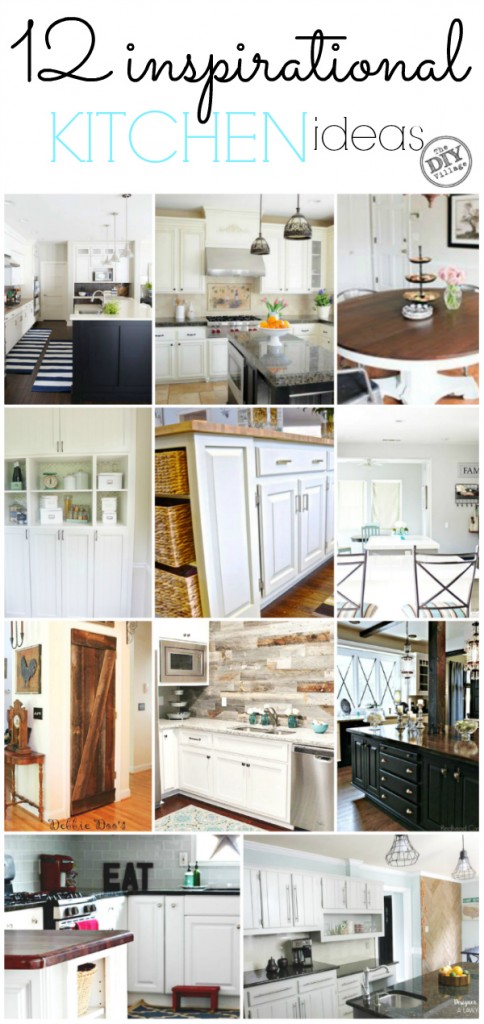 If you are new to The DIY Village you may not be aware that my husband, Matt, and myself have this little thing we like to call our Never Ending Honey-do list.  Well it's not so little and it seriously is never ending.  It is in need of some major updating with the addition of two little ones to our family but that is another story.  We will get to that later.  But for now I'm going to talk about 12 awesome inspirational kitchen ideas I am so excited to share with you all.
As DIY bloggers we are constantly making over and re-doing some portion of our home and currently I am chomping at the bit to rip a wall out of our kitchen and re-do most all of it.  With the exception of one area, one glorious area.  If you have been around you know I am talking about our pantry.  No one will be touching my pantry! With all of these amazing ideas swirling through my head of how I can make our kitchen even more awesome I am so excited to share with you 12 ideas that will have you ready to grab a sledge hammer and a gallon of paint and get busy in the kitchen!
If you are looking for more inspirations make sure and check out all of the sites from my fellow DIY Housewives, because these ladies kick ass and their skills will not disappoint!  Ohhh, and just for a heads up this is going to be a fun monthly post, with a new theme every month!  Up next month, just in time for summer, Gardening/Landscaping/Yard DIY Projects.  I'm so excited about this one too, I know it's going to be awesome!!!!   So don't forget 1st Wednesday of EVERY month!  Enjoy and see you soon!
Designer Trapped in a Lawyer's Body