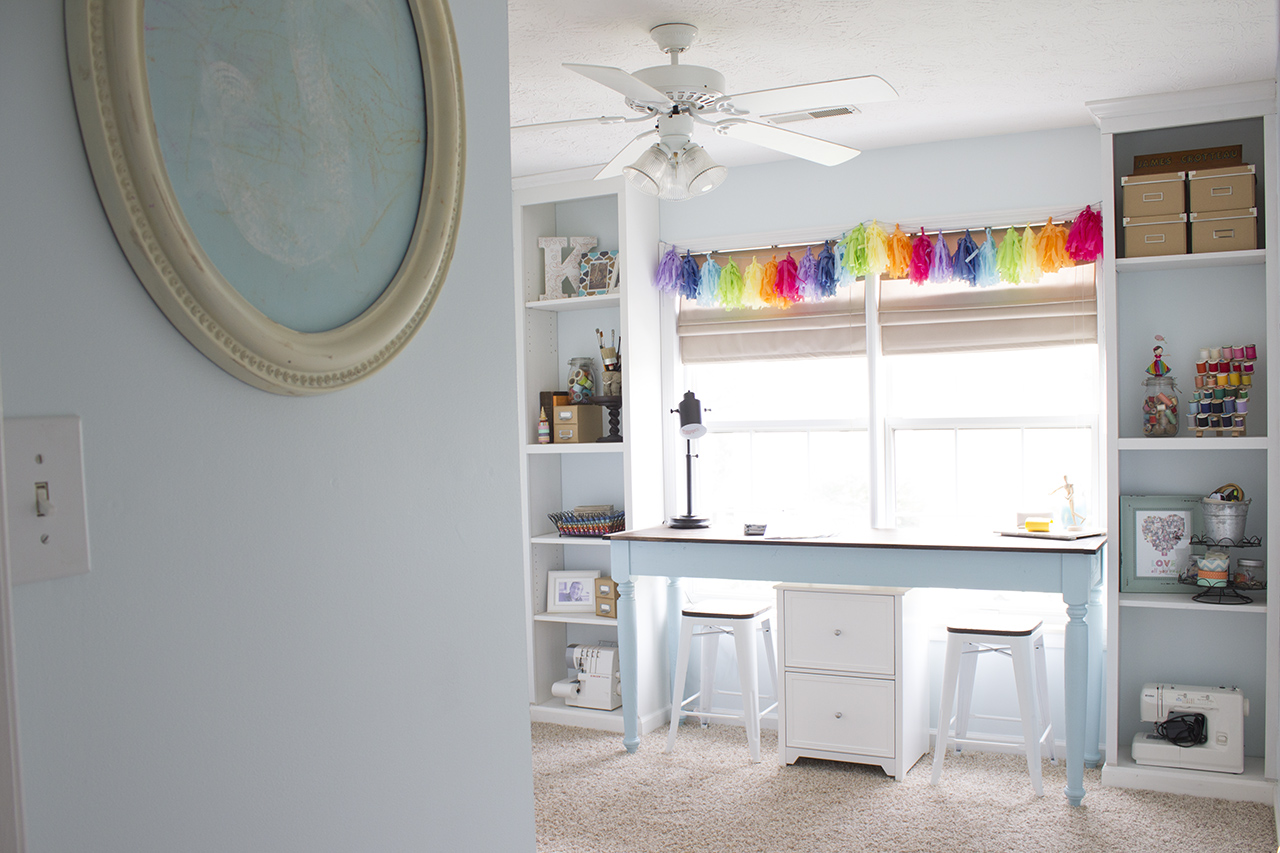 I've been working hard at getting my craft room / guest room back into shape.  It's easy for me to let the holiday's clutter this room.  Typically with things that we no longer want and need to donate or stuff that just flat out needs to be thrown away.  I think most homes deal with this on a regular basis.  Part of simplifying my life in 2018 also includes simplifying my things.  Even though I am pairing things down I still want to keep a colorful craft room.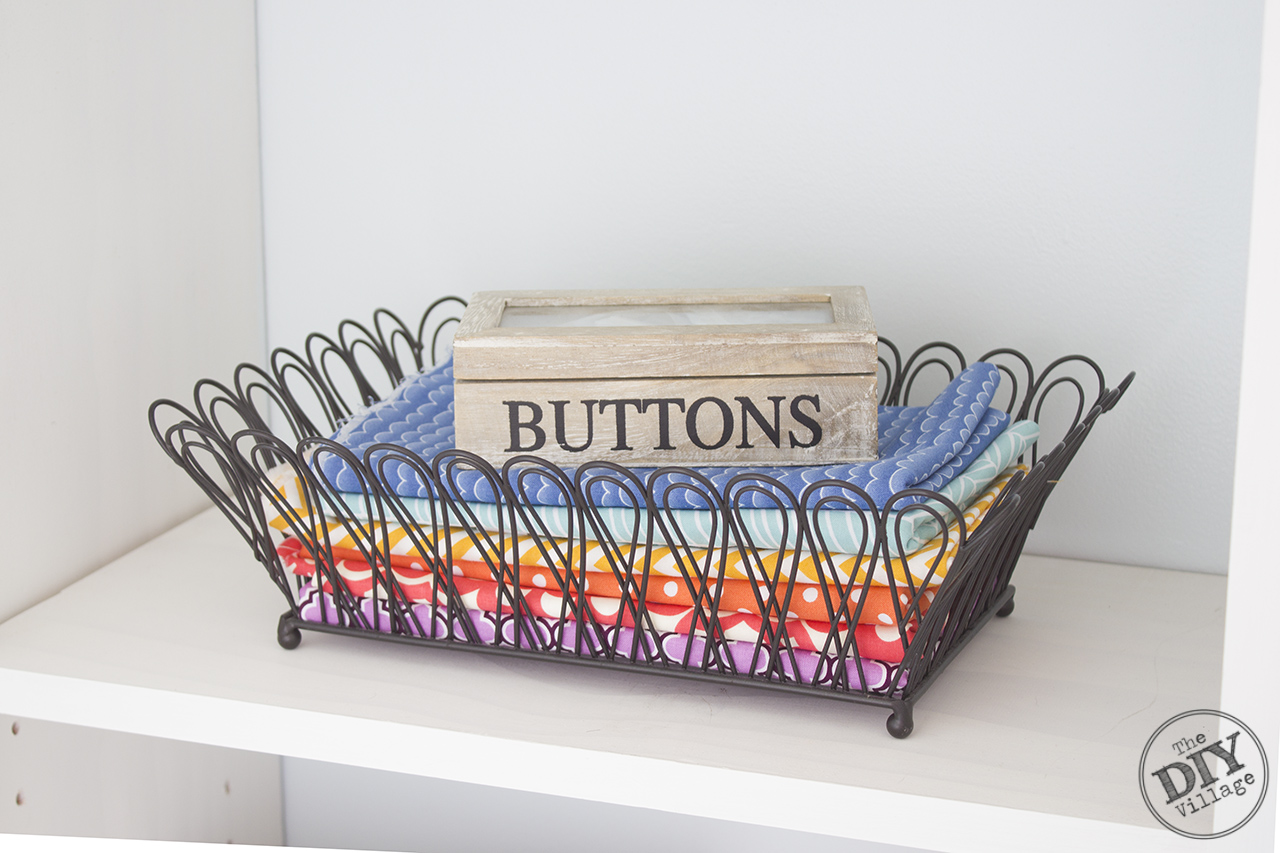 This includes keeping my favorite fabrics stored out in the open, rainbow pattern of course.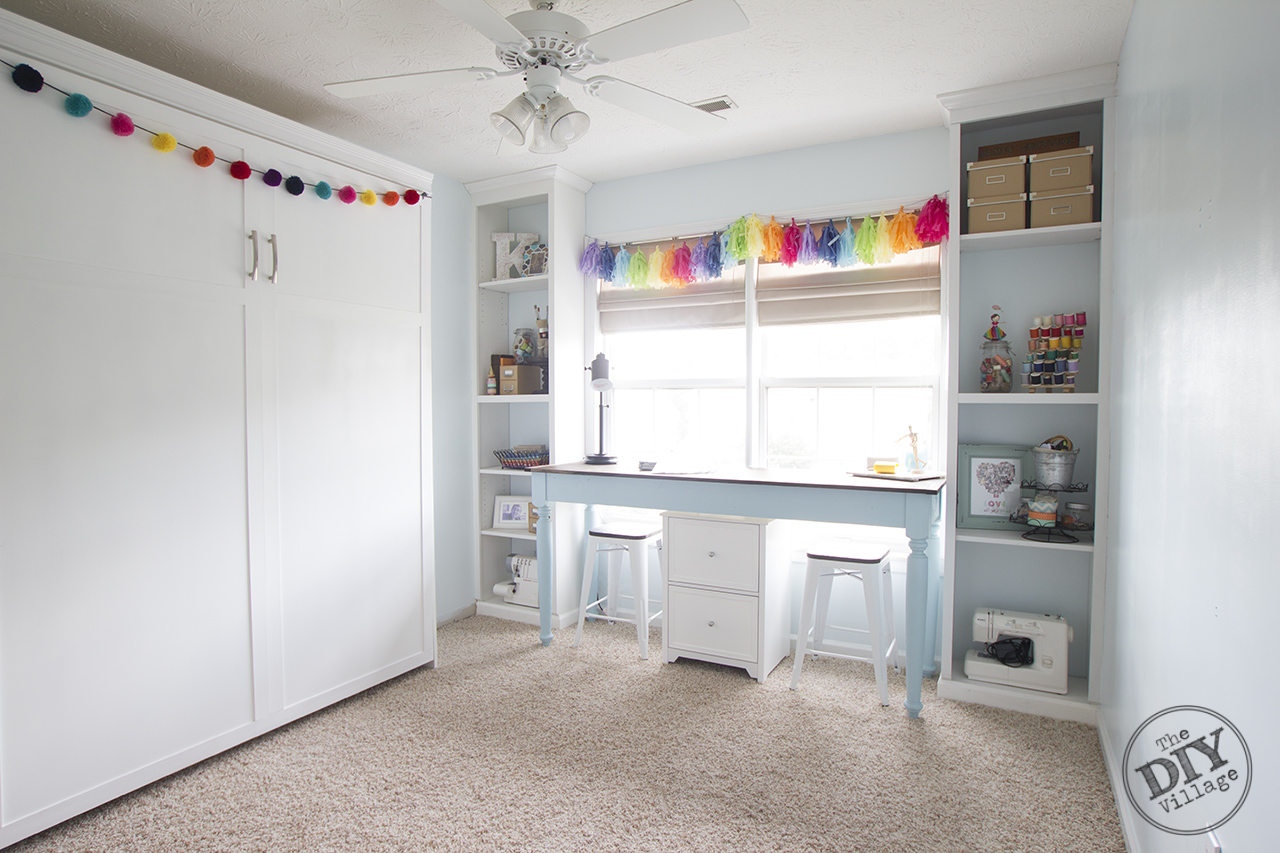 I'm also working at keeping our work station cleared.  We finally got the glass in for the desktop.  Which is great no more fear of the wood getting marred up since the top is made out of soft pine. Most of the time the Murphy bed is closed up, but once again I had to add some color to the stark white cabinet.  The pom pom garland works great and the kids love it too.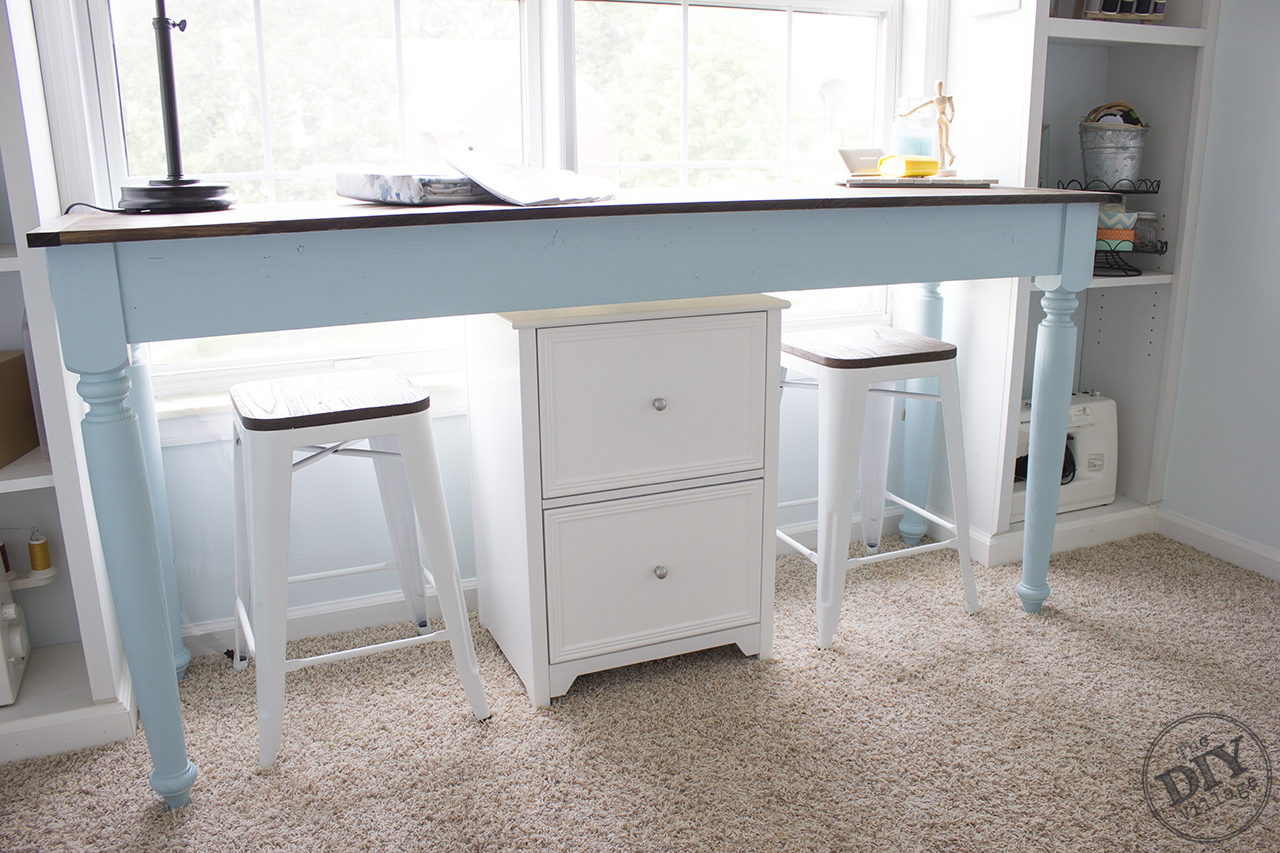 The lighting in this room is amazing all day long.  It's hard not to love the bright light beaming through the windows.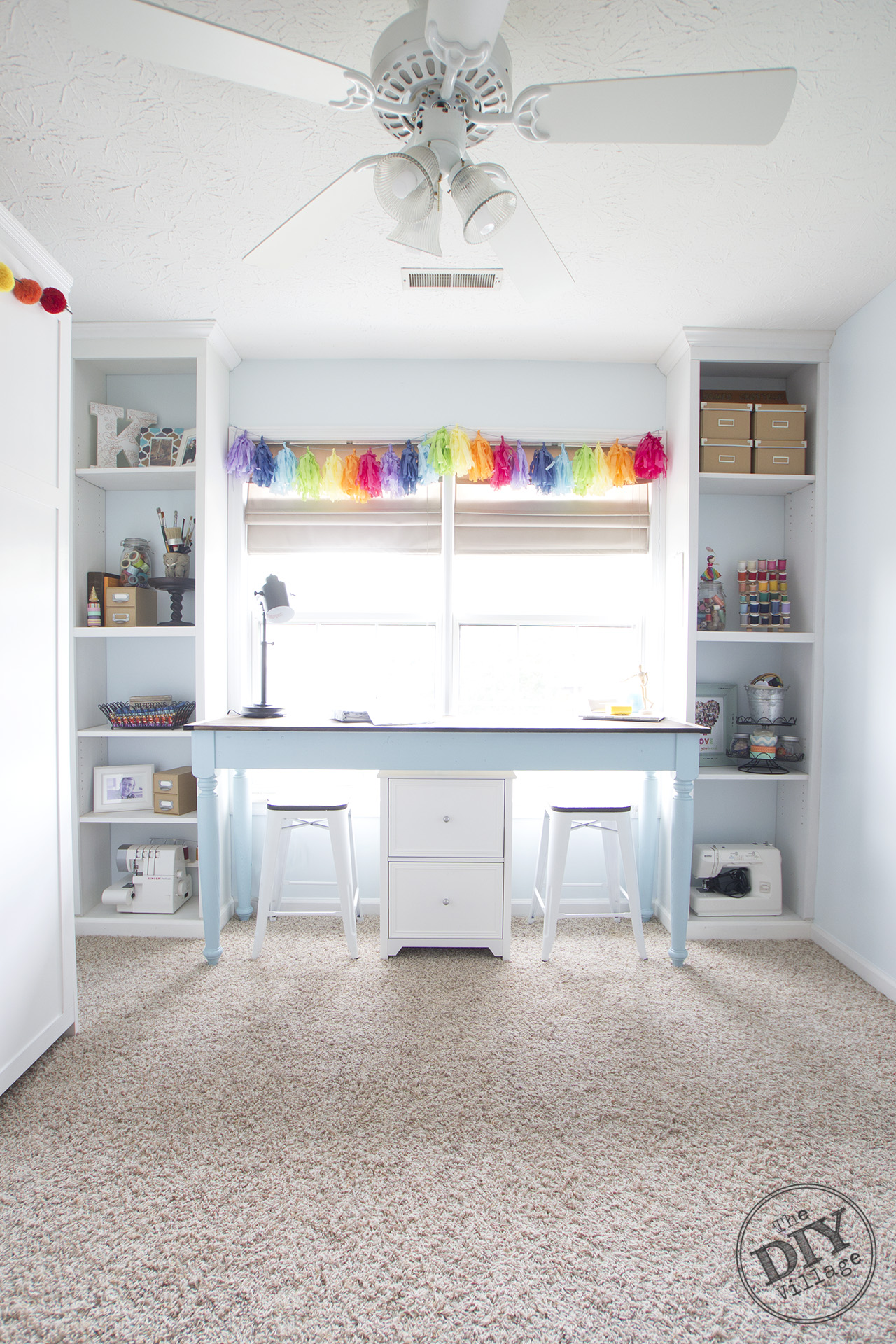 And I don't know about you but an organized workspace is a much more creative workspace.  Spending 30 minutes looking for a certain roll of ribbon is pretty low on my list of things I want to do.  Talk about a waste of time.  IKEA storage boxes on the built-in bookcases are working great for me to hold the things I need most.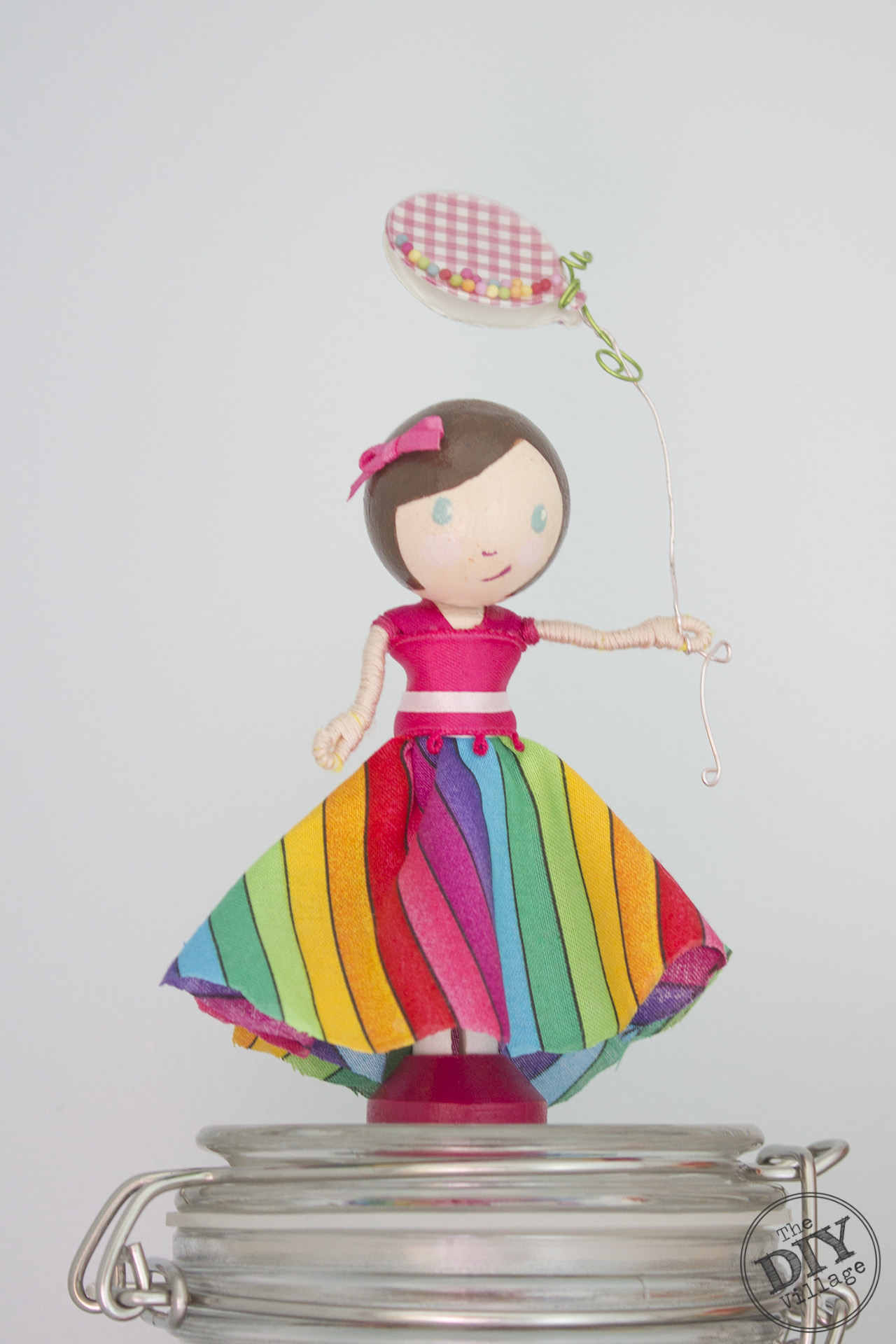 And of course featuring one of my favorite creations, the clothes pin doll I made as a cake topper for my daughters 1st birthday.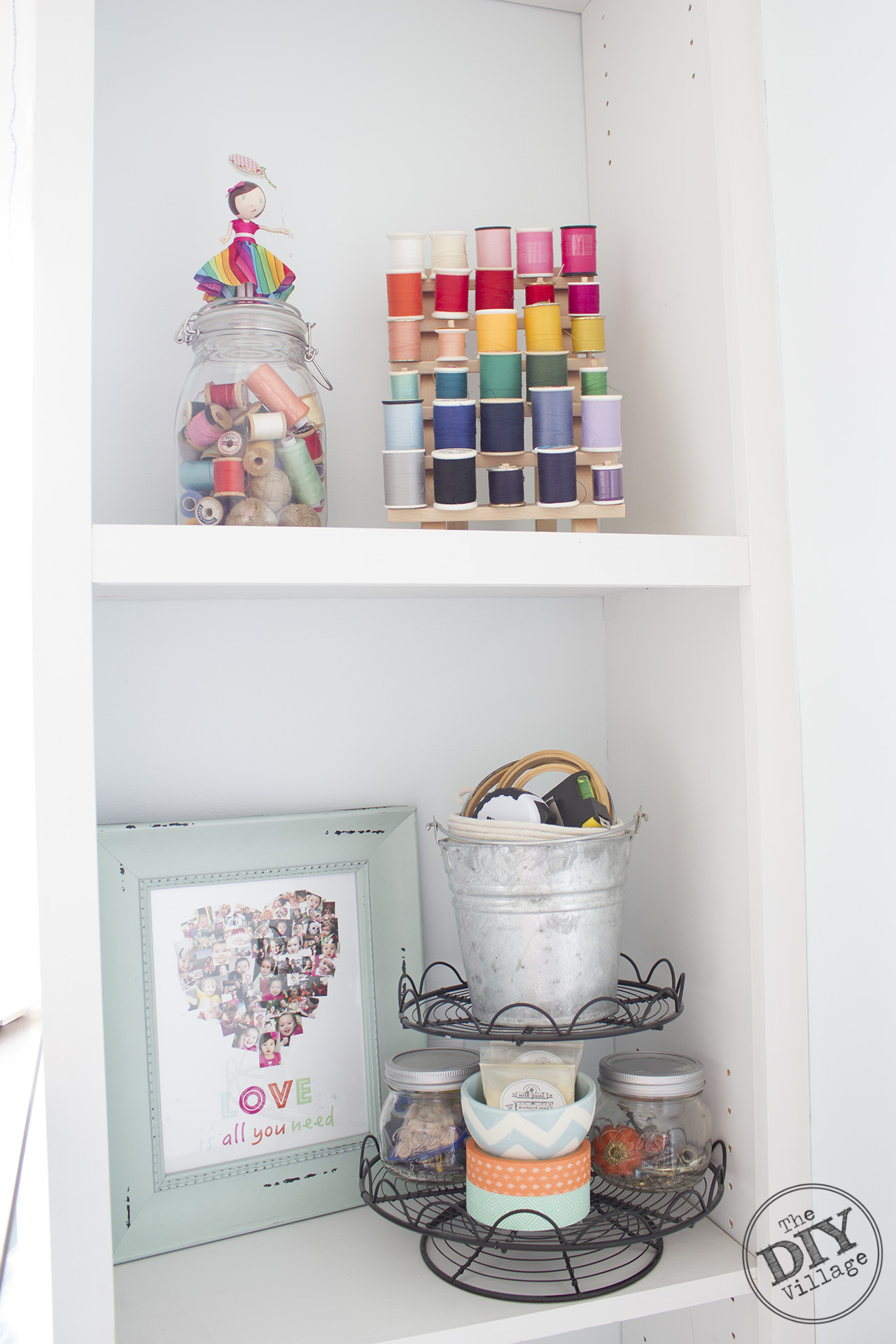 It's perfect seated next to my organized thread and my plethora of tape measures. Which thanks to my kiddos are missing 99% of the time.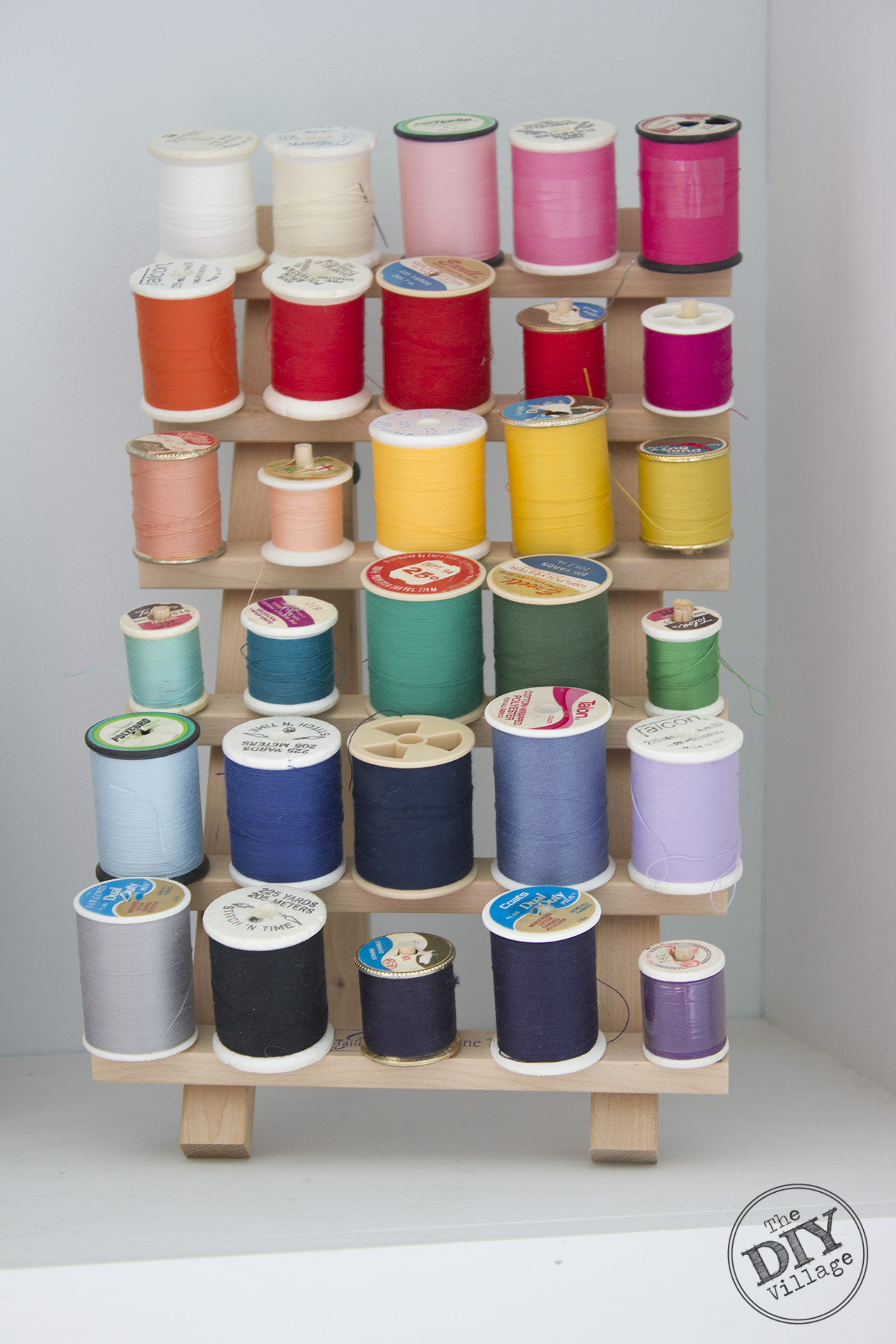 There is something oddly satisfying about organizing your threads in a colorful rainbow manner.  Plus it helps to find the colors I need for projects much faster.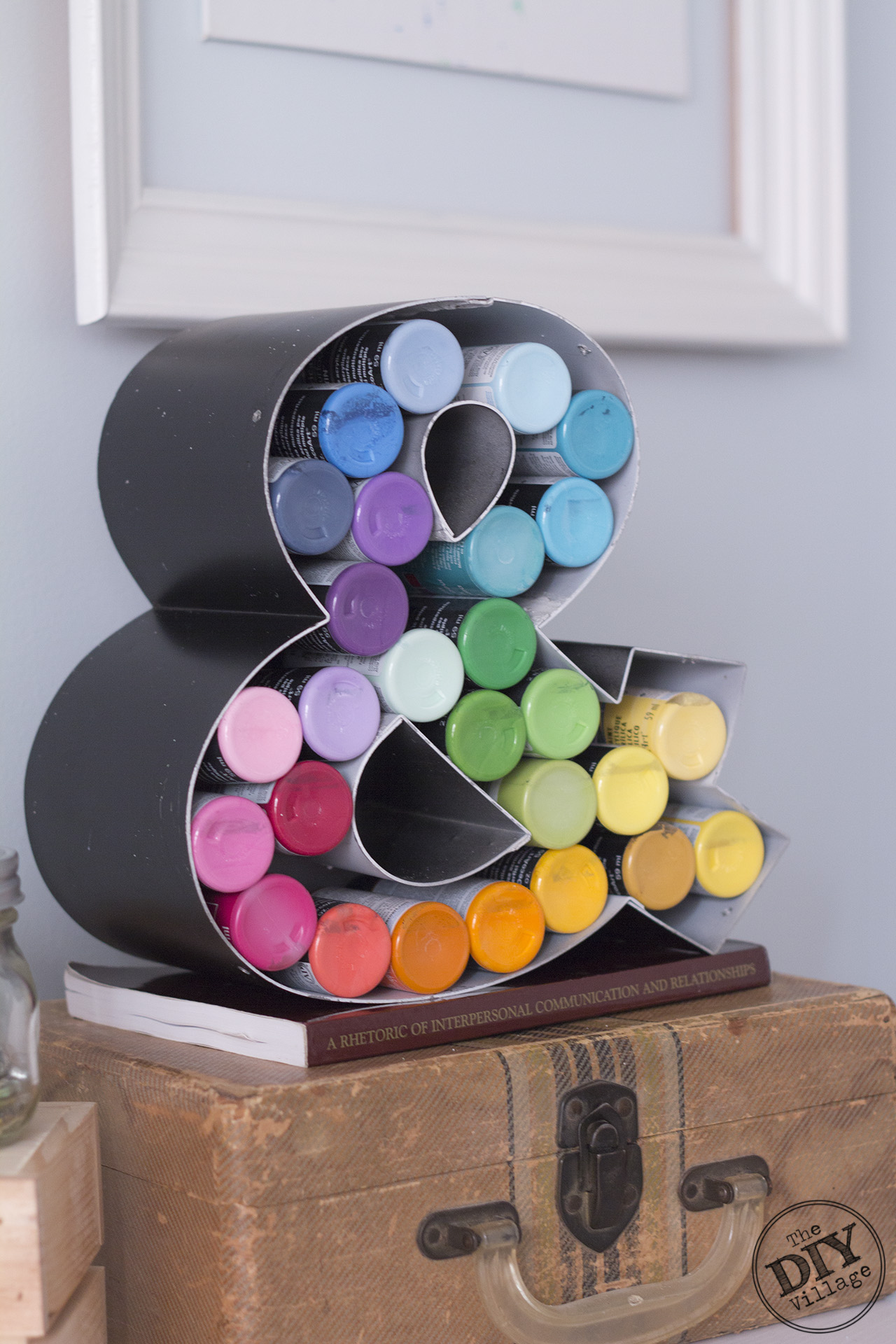 I have a lot of craft paints which of course are always fun and colorful.  I decided to make the organization of them fun and functional by filling an old marquee & with the paints.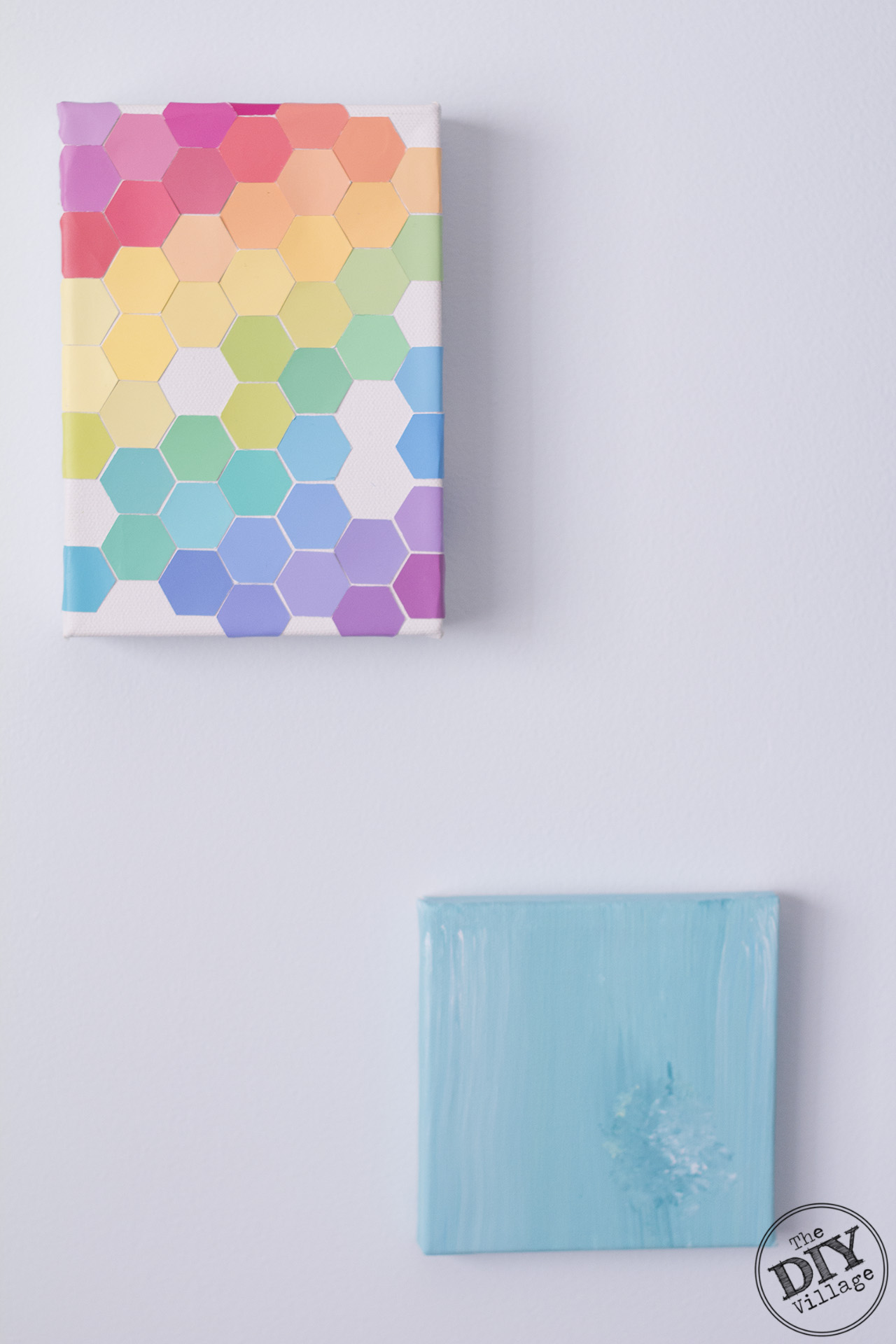 I had the kids help me with some colorful artwork for the walls.  I'm not sure what look my 4yr old was going for on this one, but I like how it ended up.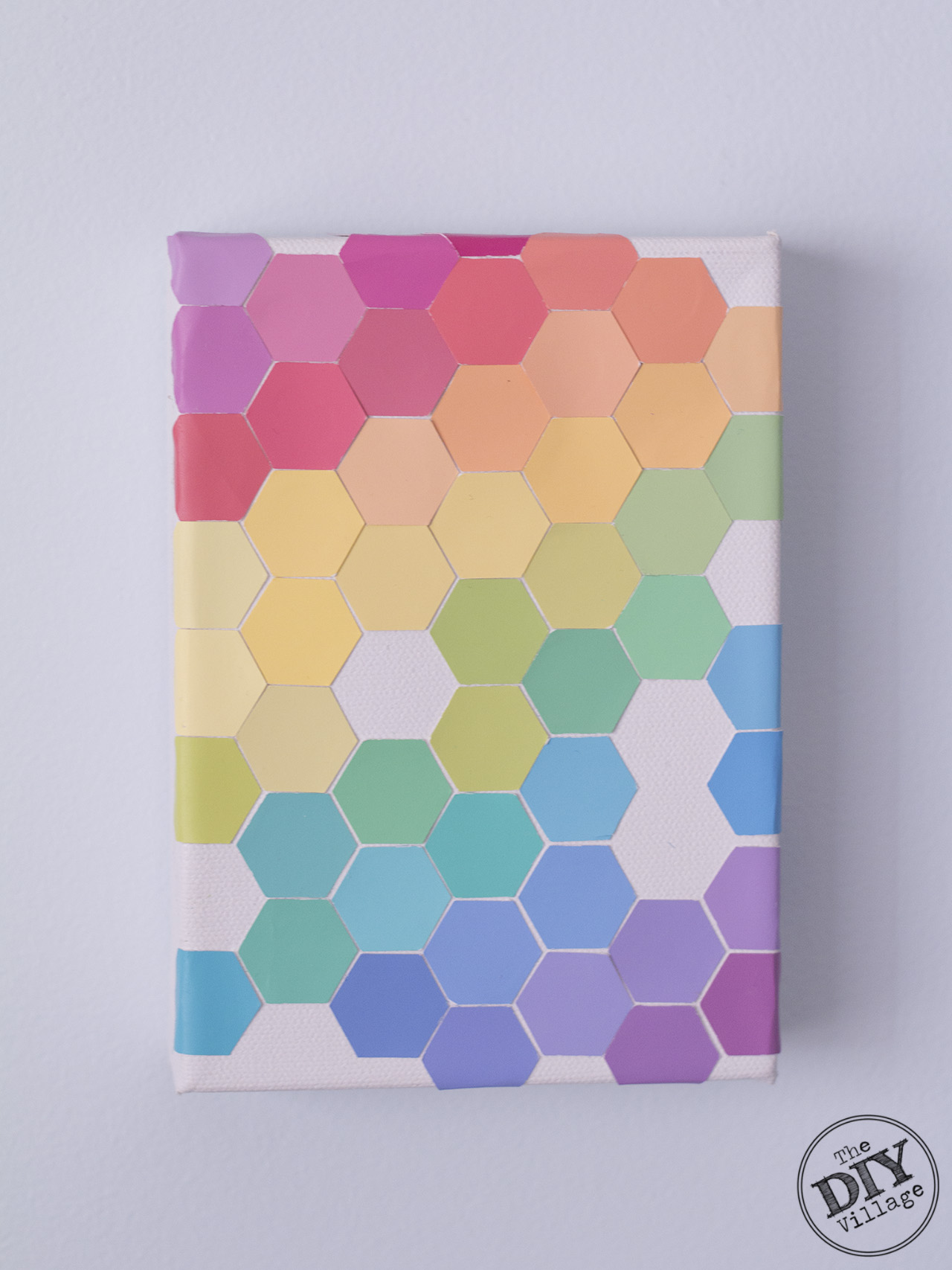 Playing around with some hex hole punches and paint swatches I came up with this cute colorful honeycomb rainbow art.  This one is fairly small at 8×4″.  Someday I might just make a bigger one at least a 9×12″.  Just another thing that will add a smile to your face.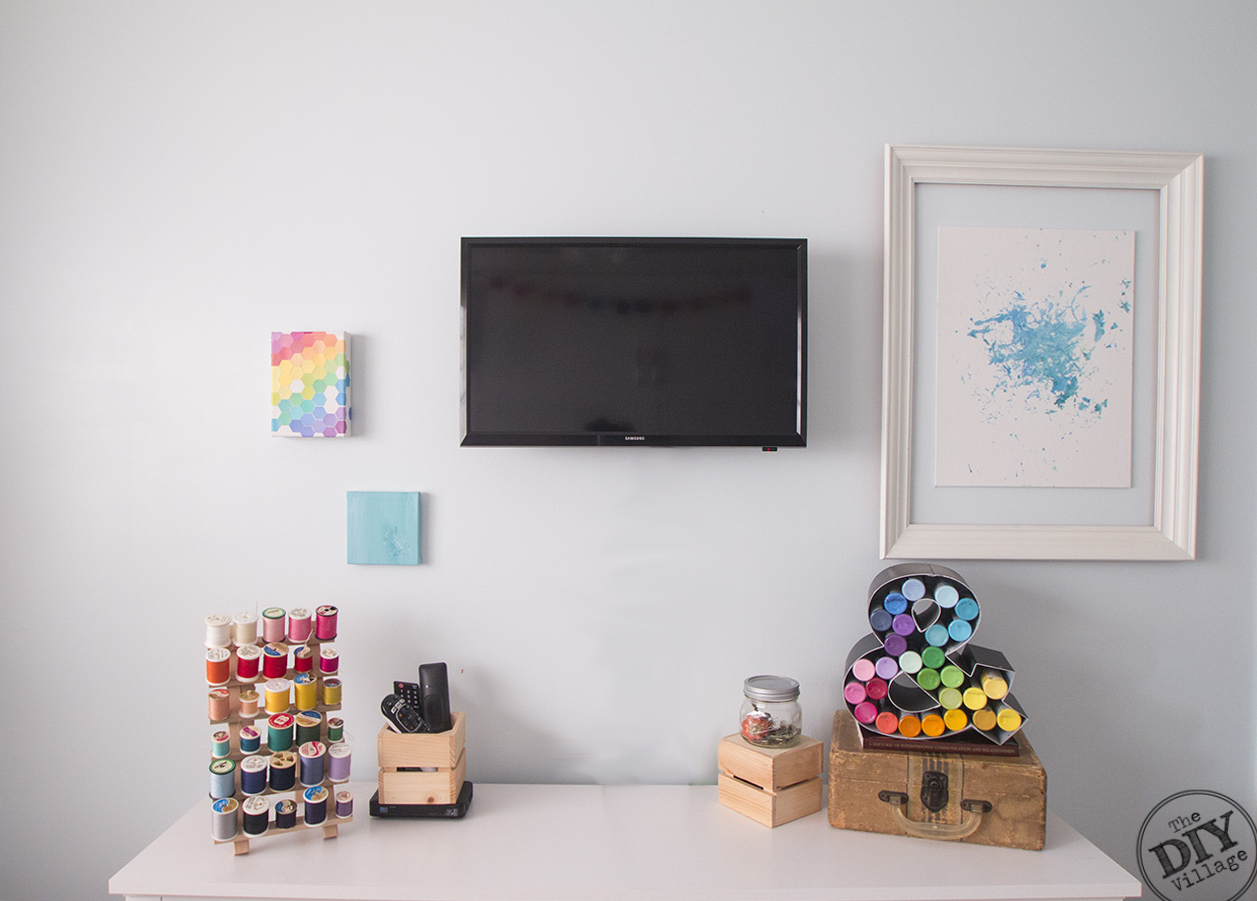 On the same wall as the honeycomb art is the painting my oldest made using a leaf paintbrush.  She had so much fun making this art that I had to hang it up.  Proud mama moment!
I hope you enjoyed my mini tour and promise soon enough we will all be discussing the best way to organize the craft closet.  Make sure to check out the 2018 craft room tours hosted by Angie at The Country Chic Cottage.  Her craft room is great!