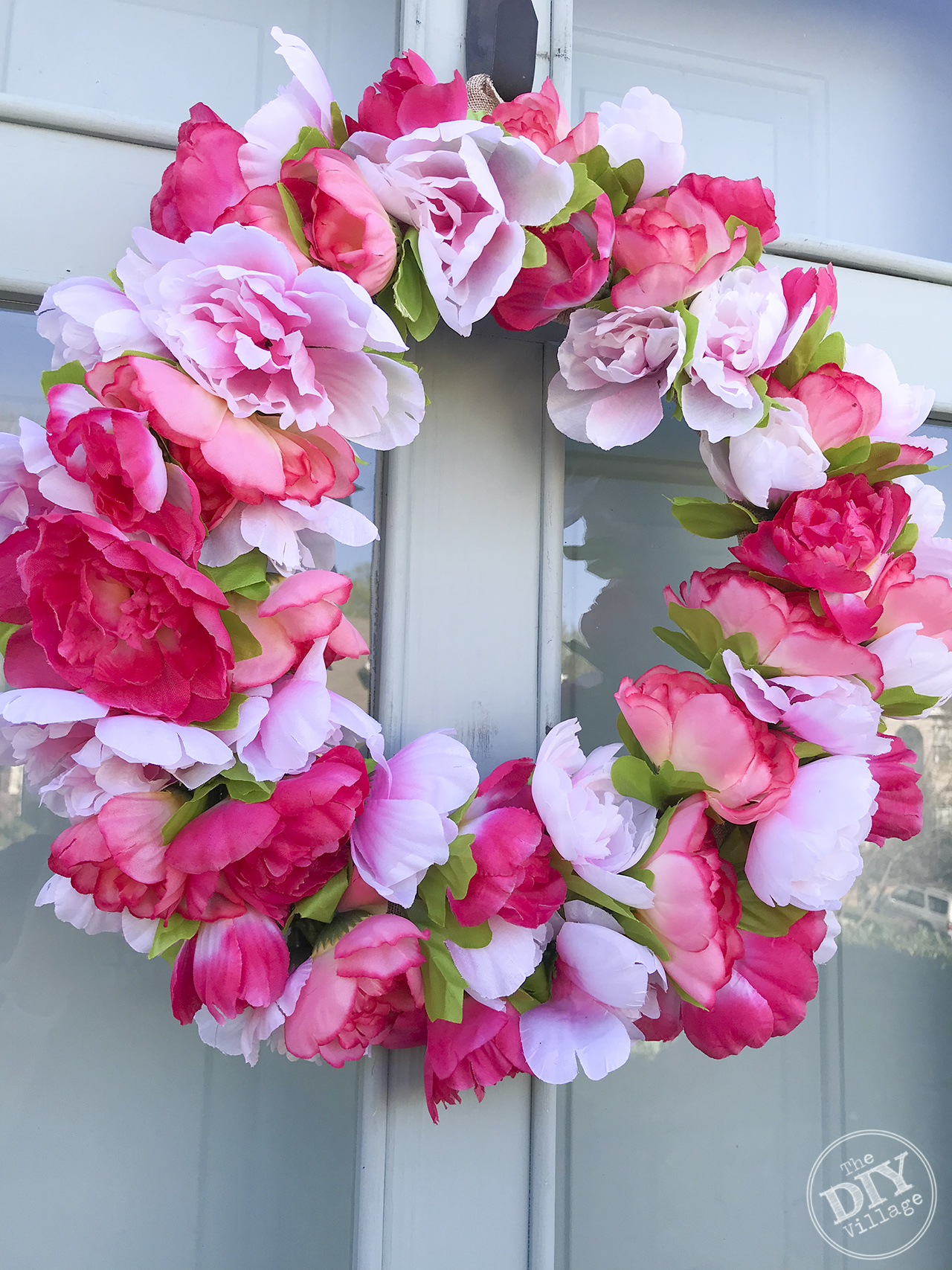 When it comes to wreaths if I've said it once I've said it 100 times, I have a problem.  I love to make them and then sometimes I take them apart and re-make them. And then sometimes I just hoard them. I have had to stop myself on more than one occasion from making a holiday wreath that we absolutely don't need! So don't be bummed out when you don't find a tutorial on how to make an Arbor Day wreath, I have my limits.  As does my husband.  Since my Tulip wreath has seen better days, I thought it would be fun to hit up the old Dollar Tree and see what flowers they have this year.  I was pleased to find a large stash of Peony flowers!  So guess what? You guys are going to learn how to make a Pink Peony Wreath for under $12!  How's that for economical?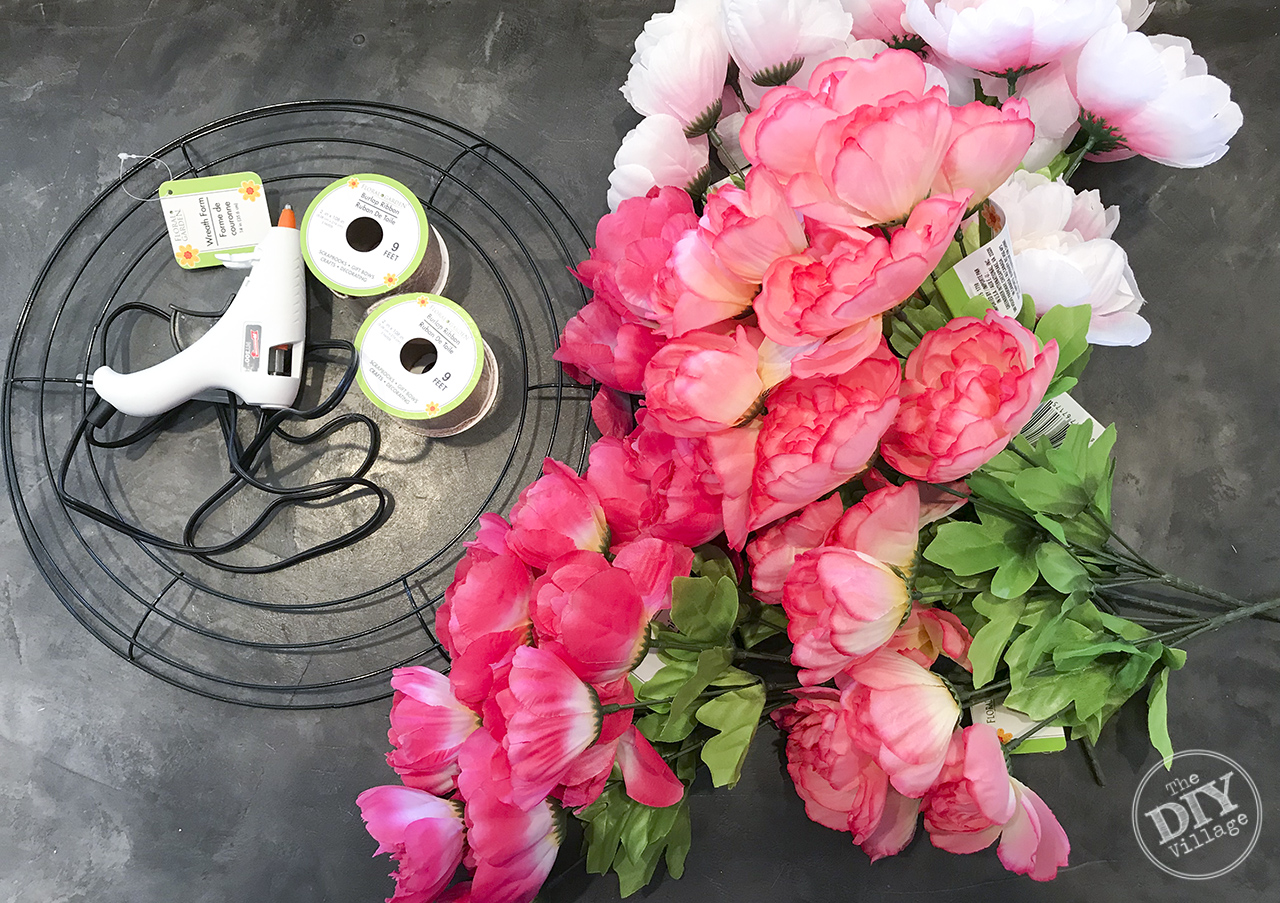 MATERIALS:
(All items can be found at the Dollar Tree for $1 each or use the below affiliate links to purchase from your home)
Wreath Form – 14″   (Found HERE)
*Burlap Ribbon – 2 9′ rolls   (Found HERE)
Pink Peony – 8-1o bundles in various shades of pink   (Found HERE)
Hot Glue Gun –   (Found HERE)
Wire cutters –  (Found HERE)
*You need 18′ total or 6 yards
PINK PEONY WREATH TUTORIAL: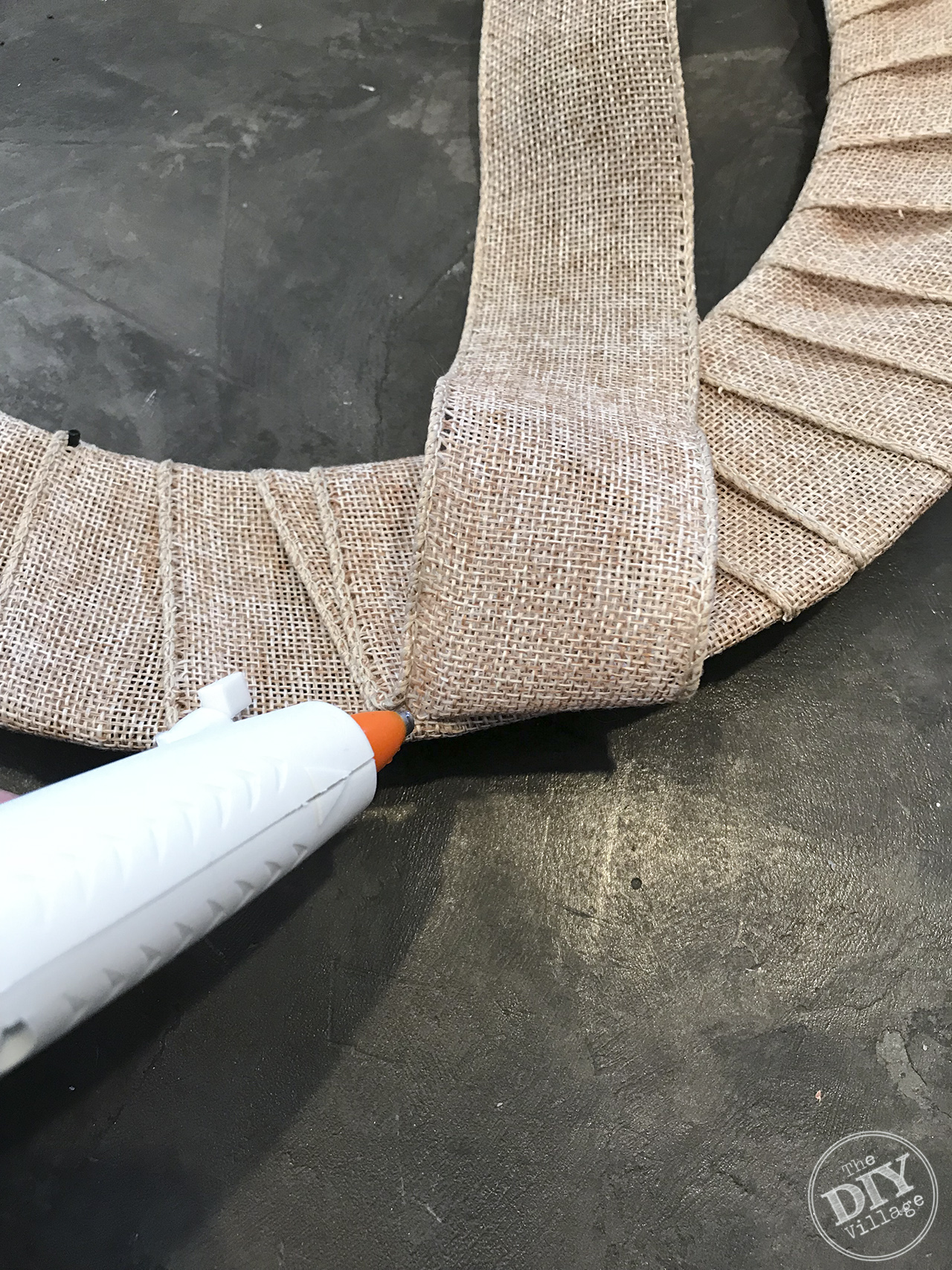 Start by wrapping the wreath form with the wired ribbon slightly overlapping with each wrap.  Once the entire form is wrapped attach the final end to the form using hot glue.  Create a loop for hanging the pink peony wreath.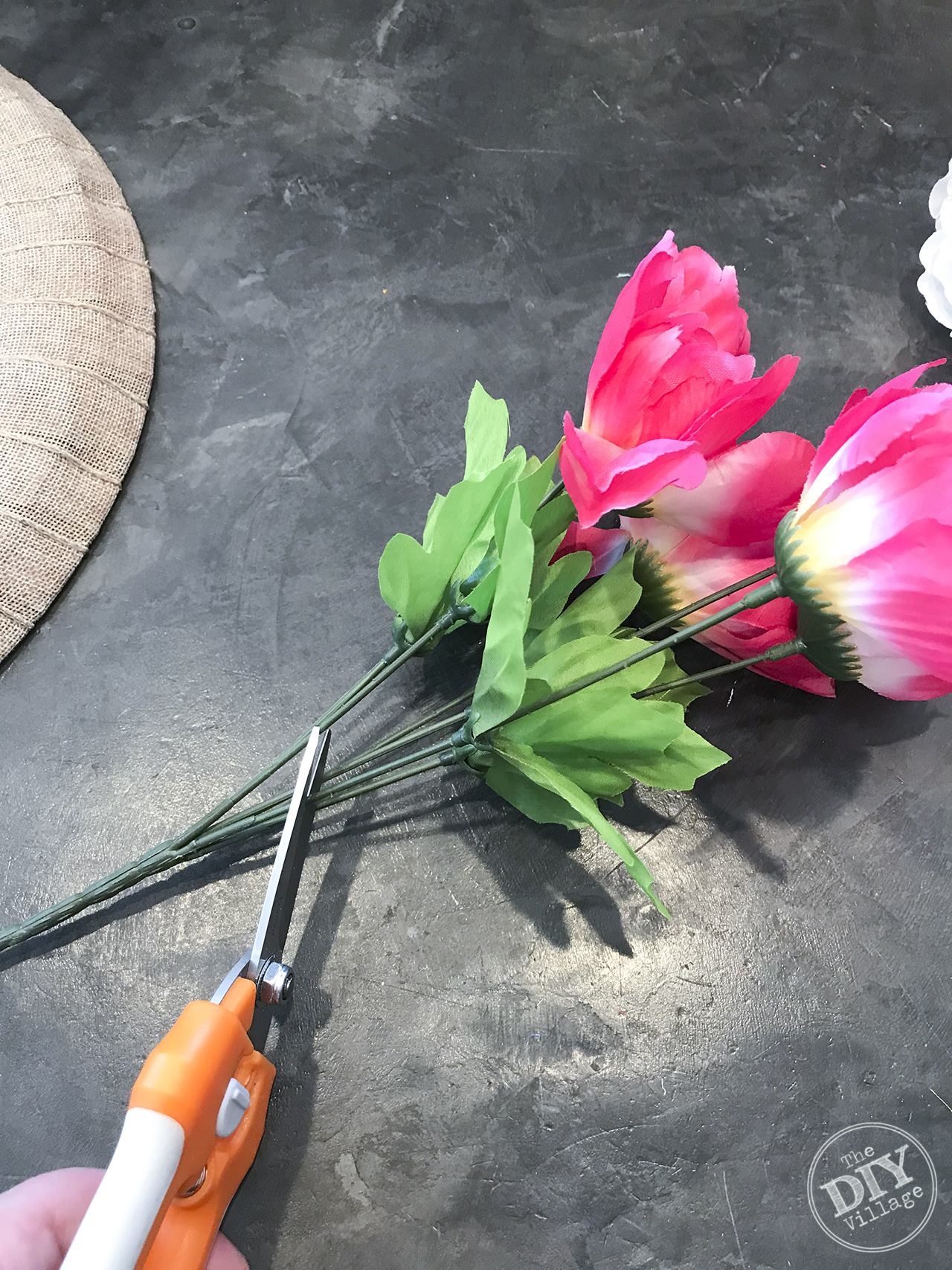 Prep the peonies by clipping the flowers from the stem base.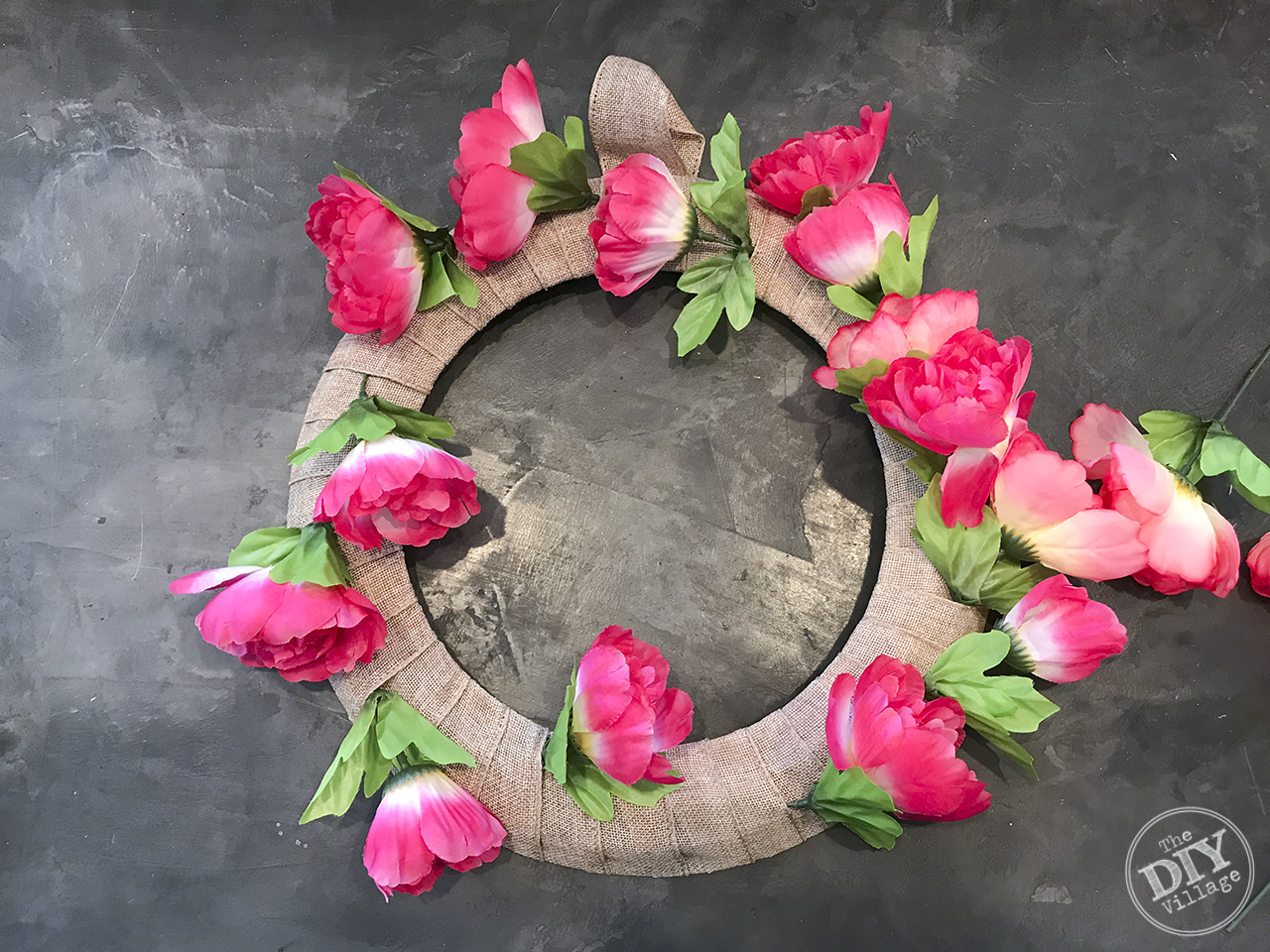 Every few wraps insert a pink peony stem. Use one color at a time and move around the entire wreath form.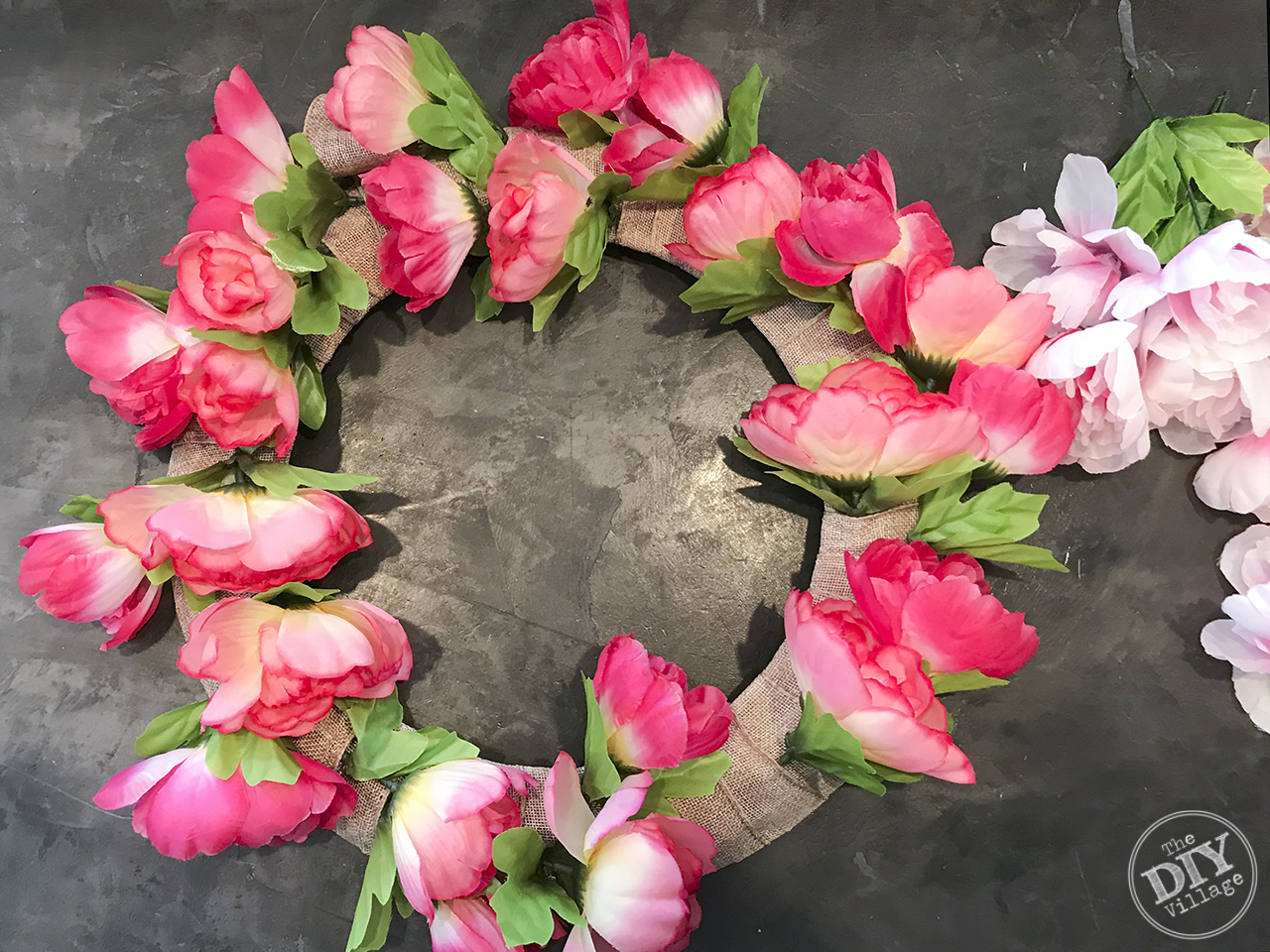 Add the 2nd layer of flowers using another color peony.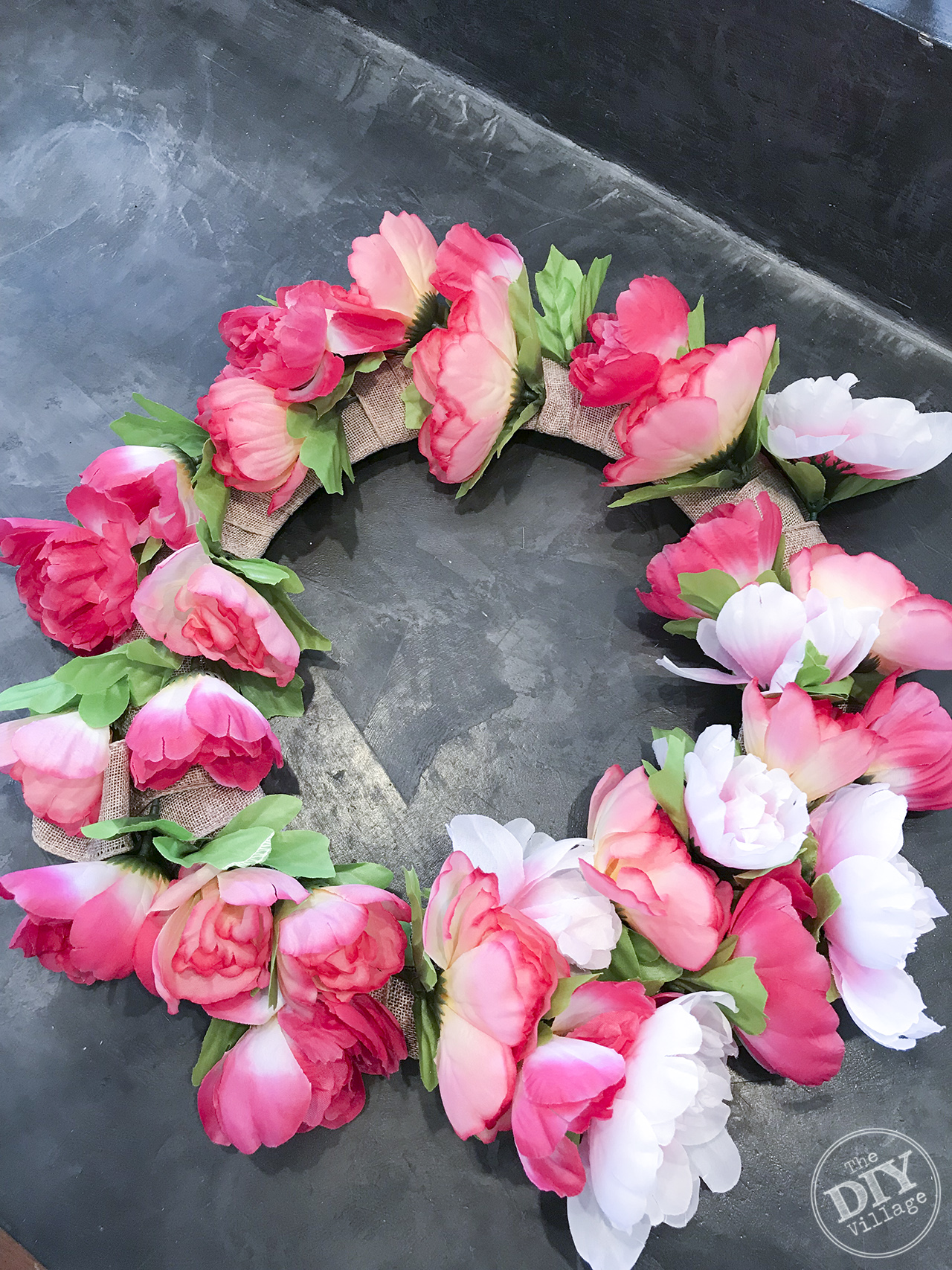 Finally fill all remaining spaces with the color flower you want to be dominate.  In my case I wanted the blush peonies to be the focal point of my pink peony wreath.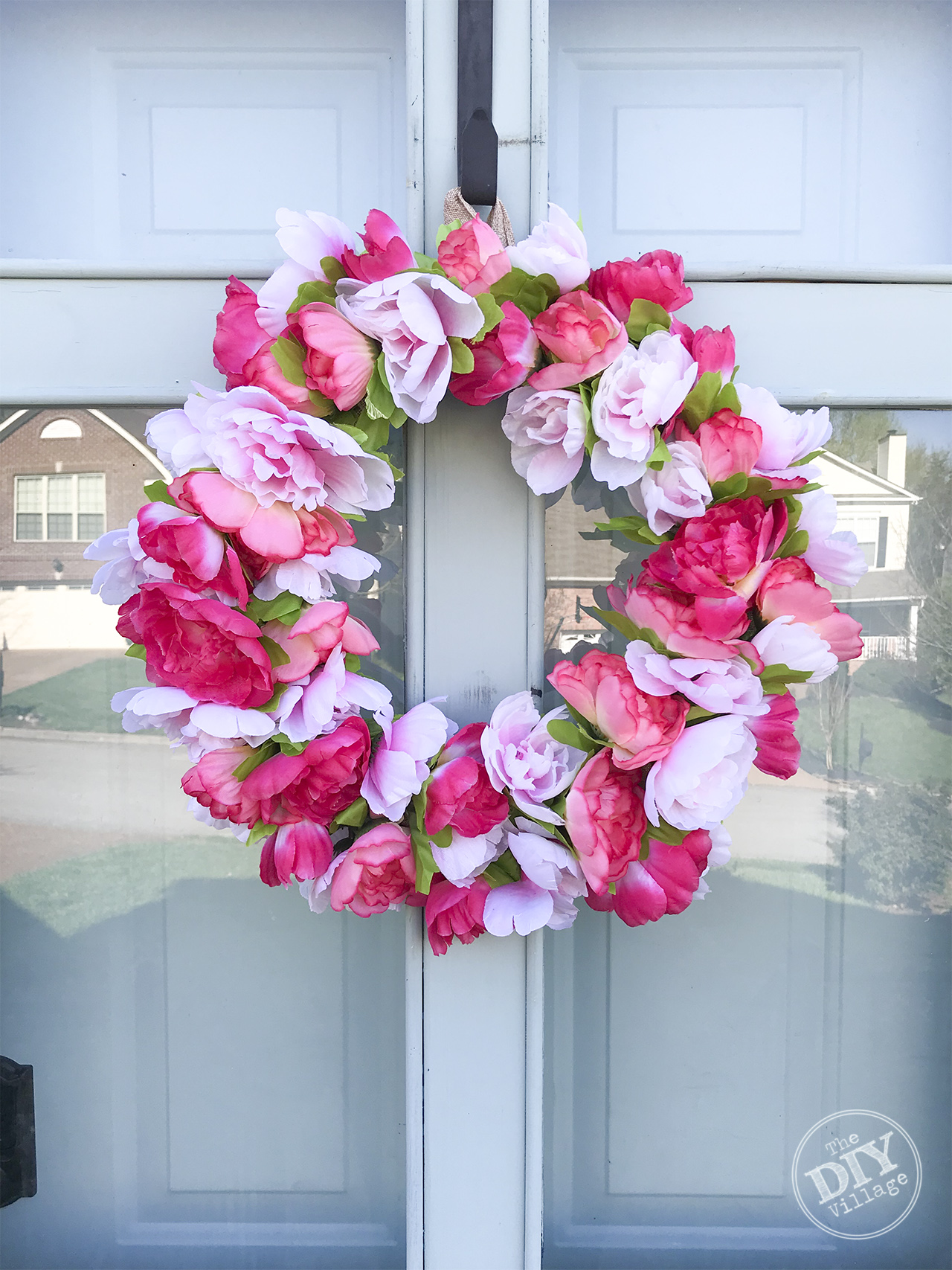 Once all of the stems are in and there are no gaps in the wreath you are done.  Hang it on the door and enjoy!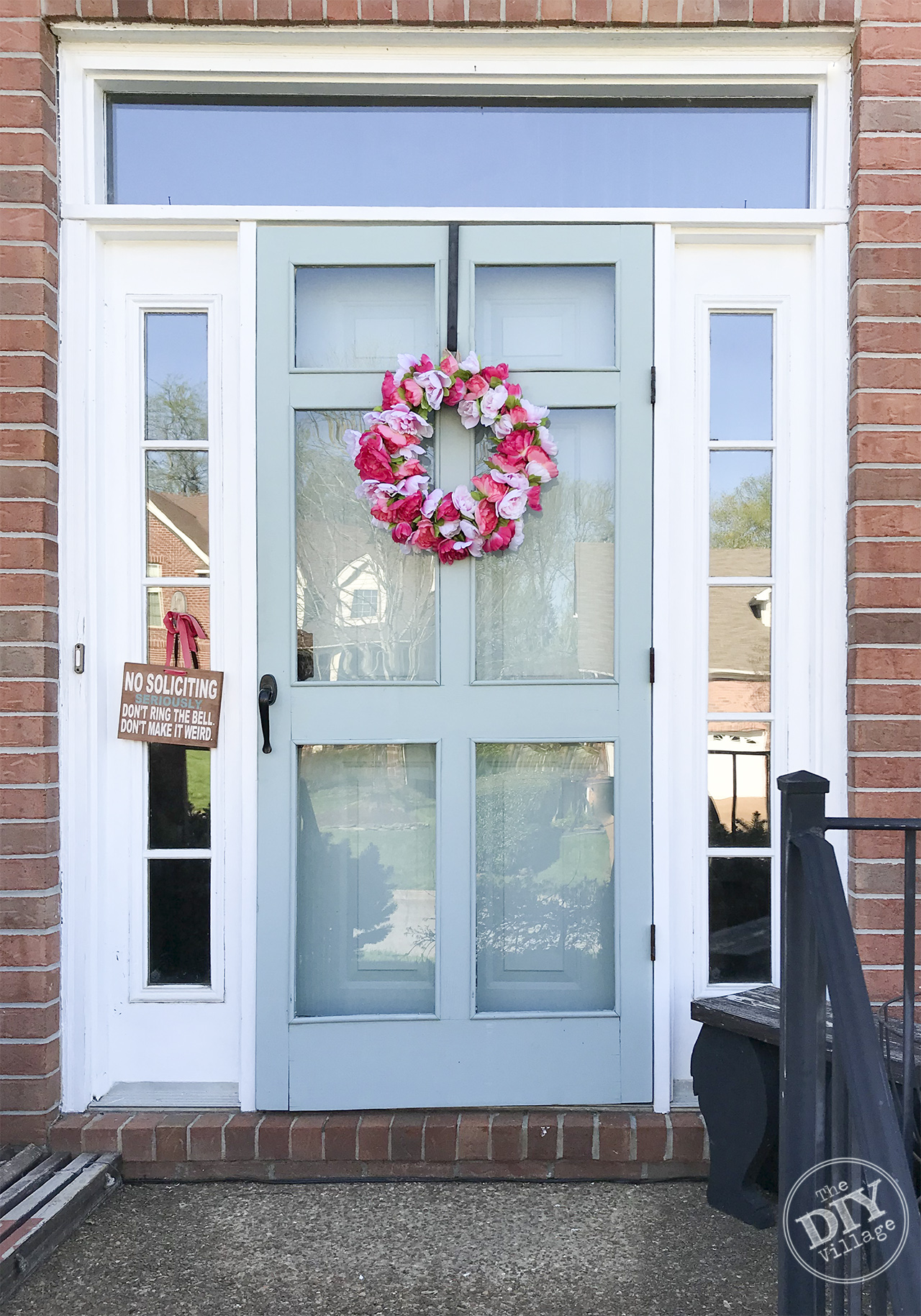 If you want a larger pink peony wreath this project is easily done with an 18″ form.  You will need approximately 4-6 more bundles of peonies and 3 more yards of ribbon.  It's pretty easy for me to say there is a new favorite in my house.  Move over Tulip wreath, Pink Peony Wreath is here to stay!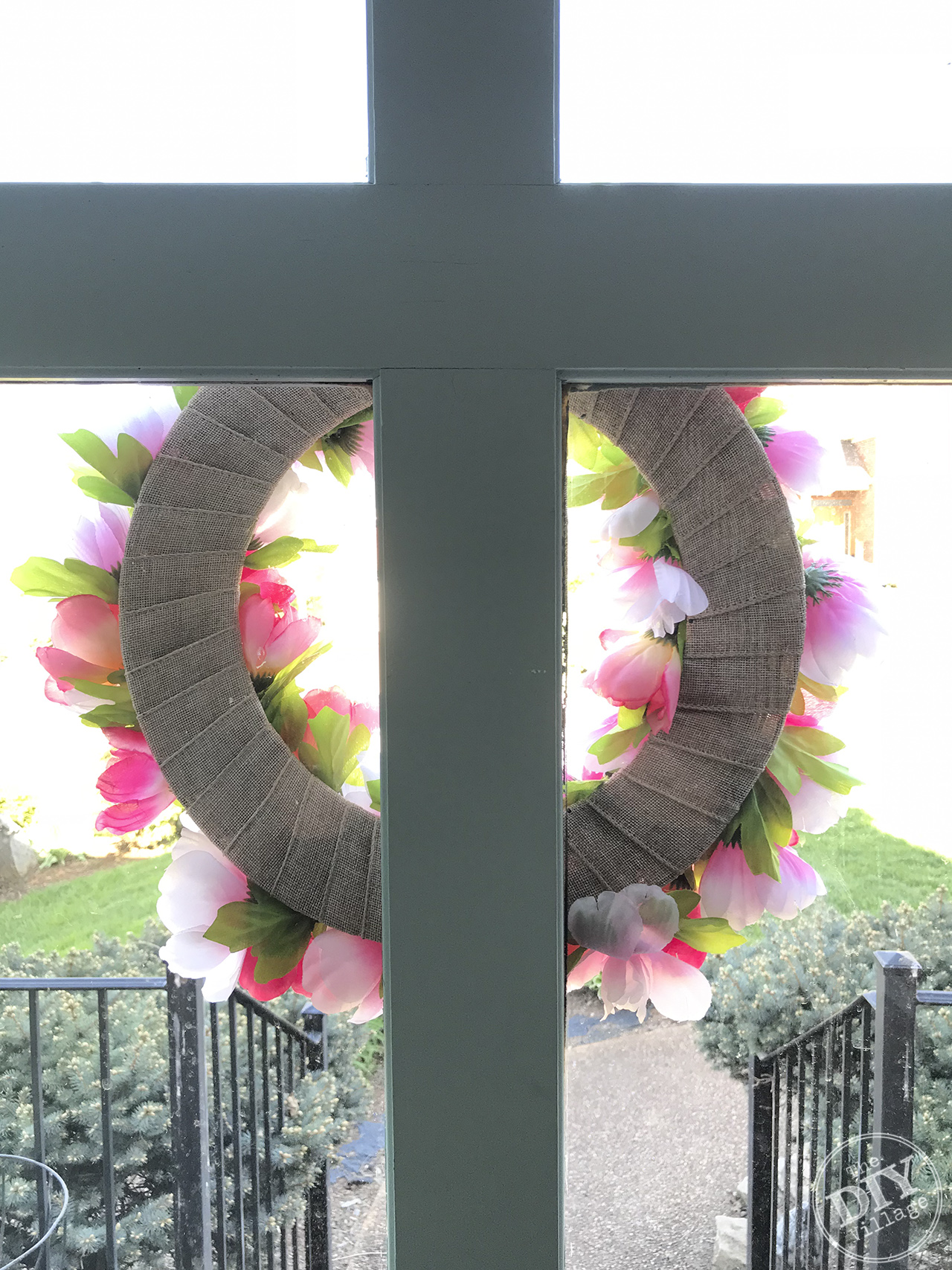 In case you were wondering, which you most likely weren't, the reason I prefer a ribbon wrapped wreath over another type is because the look better through my storm door.  I have done other's in the past and they just look horrible from the inside.  I wouldn't mind looking at this everyday!
WAIT DON'T GO!  I'm not done!
Did you realize that this wreath project was part of a Dollar Store Design Squad Spring Challenge (shew that was a mouth full)?  Well it was and because this was part of a challenge I have 7, that's  S E V E N more spring dollar store crafts to share with you.  You guys are going to love these.  Make sure and go check them all out.  I'm not going to give anything away but that unicorn hat, it's pretty amazing!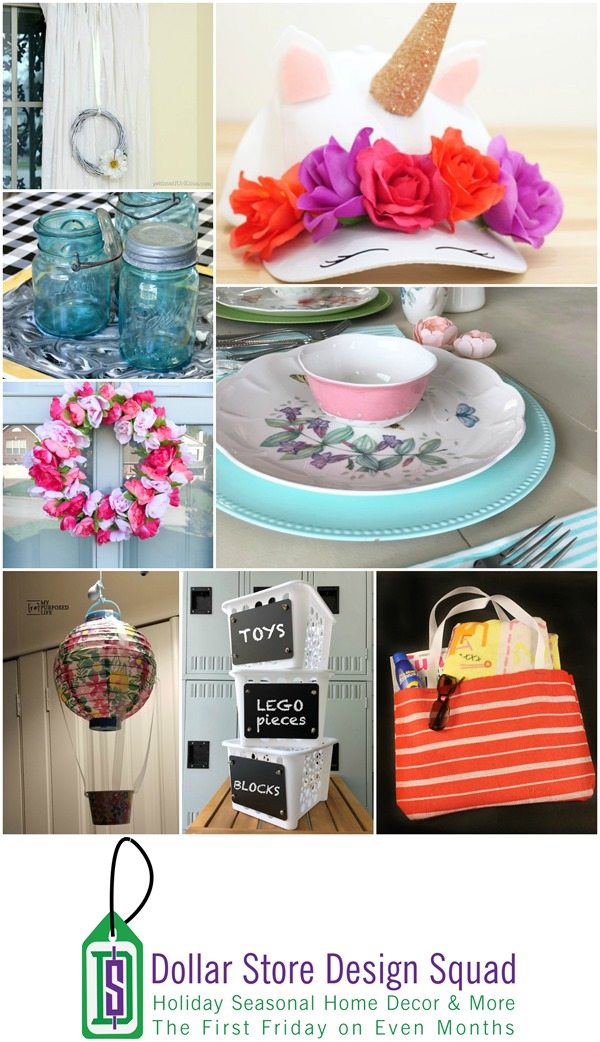 White Wreath Petticoat Junktion
How to Make Unicorn Hats One Project Closer
Marbled Resin Tray Mad In Crafts
How to Paint Plastic Dollar Store Chargers Create & Babble
Chinese Lantern Hot Air Balloon My Repurposed Life
Dollar Store Storage Bins Refresh Restyle
Placemat Tote Bags The Kim Six Fix