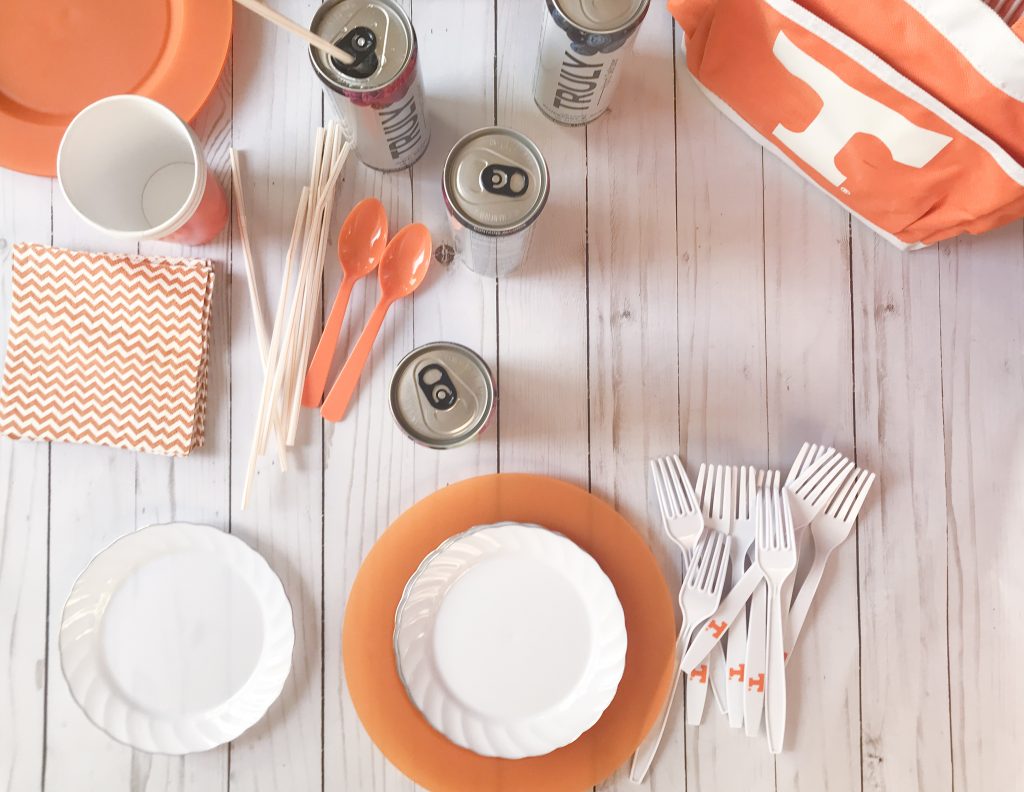 If you are from the south, Tailgating is most like in your blood.  Since Matt and I are from Tennessee every Fall we start to get prepared for the excitement of football season in early August. There are a few things you must have with you to make your tailgate a success. Our best tailgating tips and tricks, if you will.  Believe me you want your friends coming back, there is so much fun to be had. 
Tailgating is a great way to spend time with friends and family and make new friends.  It's not uncommon for us to have rival team fans join our tailgate for the fun.  It's all about sportsmanship folks. Everyone is there to have fun, keep it clean and be a good sport.  Our tailgates typically start 3-4 hours before kickoff and can run 1-2 hours after the last play.  Tailgating is a time commitment but worth every second if you are prepared and do it right.
We have our own list of tips and tricks, which we will get to in a second, but first make sure you check out the Home.com Official Tailgating Guide, so check it out!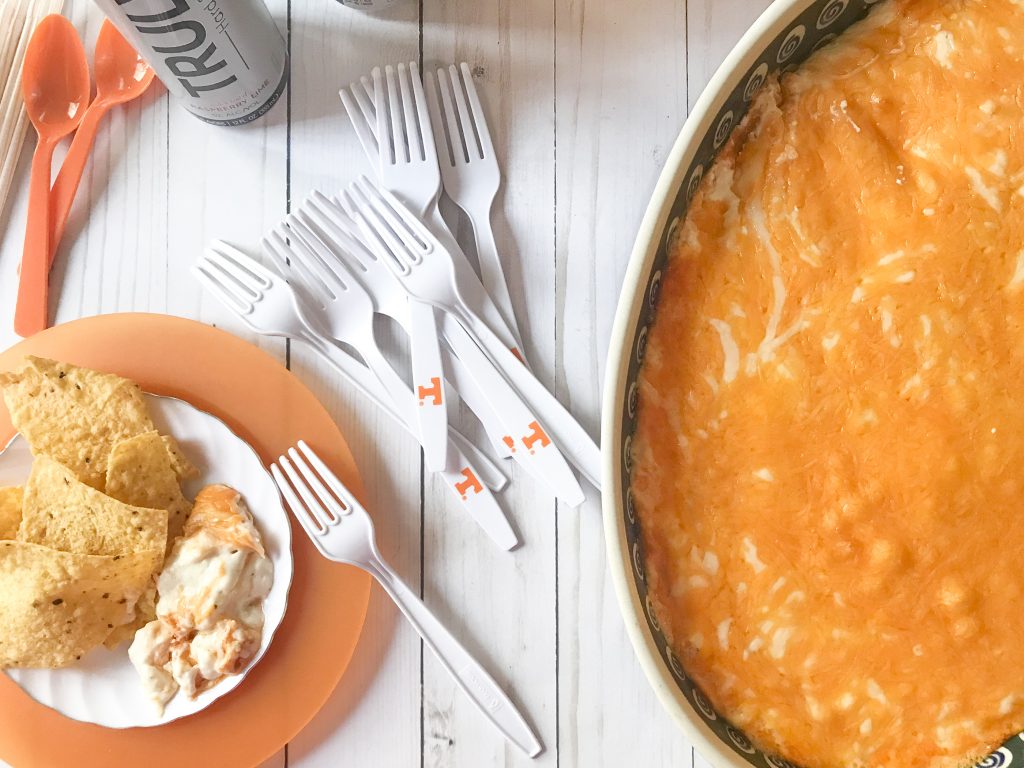 Tailgating MUST HAVE's:
Start with shade.  A canopy or tent will not only make your life more comfortable in the early part of the football season it also marks off your spot for another tailgaters.  Kind of like marking your territory.  If you are in a parking garage you may not be allowed to have a tent so make sure to check the arena or campus guidelines before setting up your shade shop. Up next you are going to want somewhere comfy to sit.  We love the folding camp style chairs they don't take up a huge amount of space in your vehicle and definitely something you will enjoy outside.  So much better than the ground if it's a rainy or hot day.
Of course you also must have tables.  Not a lot and they don't have to be big but at least one table will help give you space to put your goodies.  That is in addition to your vehicle tailgate of course.  I mean, you are tailgating after all, you definitely will be using yours.  I love the tables that you can fold the legs in on and then fold in half.  They take up less space in the back of your vehicle.
Let's move on to the more fun must haves shall we?  Pre-game games are always fun an enjoyable for everyone.  In the south Cornhole is one of the more popular games.  This also invites other tailgates to enjoy a game with you. Ladder Golf and Beer Pong are also super popular tailgate games.
What is a tailgate without pre-game beverages?  Well, basically it's just eating a parking lot with a bunch of strangers (aka your new best friends) so make sure to pack beverages.  Provide a variety of alcoholic and non-alcoholic beverages. Since tailgating isn't age specific you want to make sure you have all of your basis covered. Don't forget your Koozies!  Gotta keep those cold drinks cold.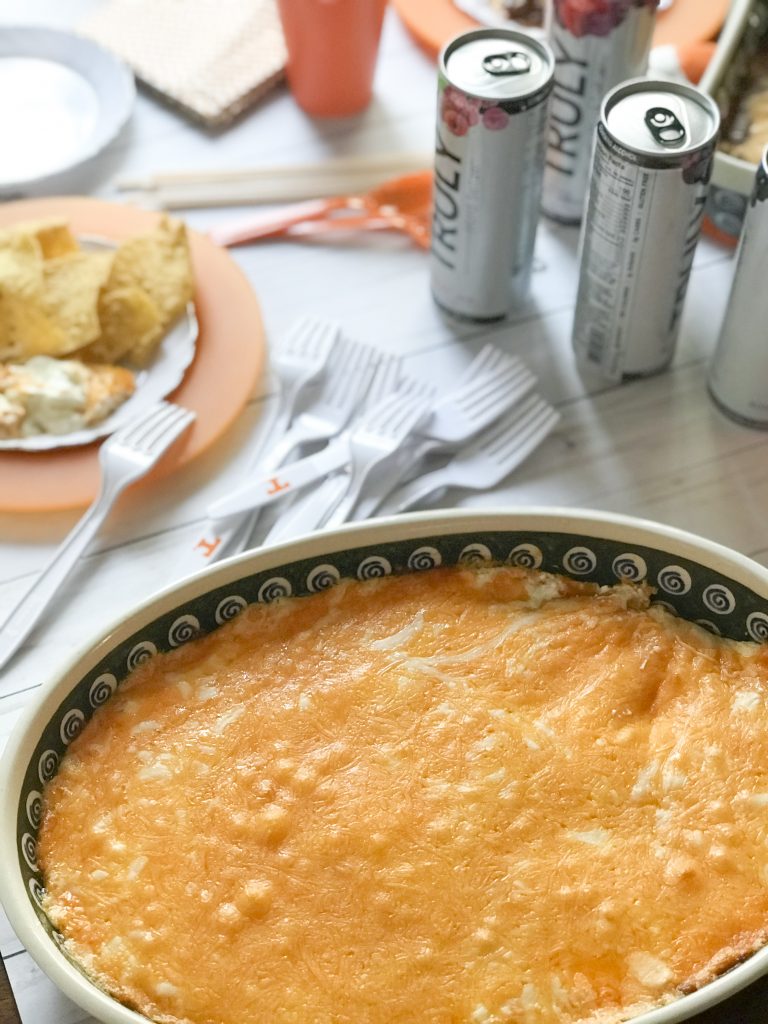 A few essential must have's that aren't super exciting but will make your life a lot easier are large trash bags, utensils, cups, plates, and napkins. Once you have all of these things you can get ready for one of the best parts of tailgating (besides a game of course), the food.  Tailgating food is somewhat of an art.  You want your food to be tasty, easily eaten, and be able to stand hanging out in your car while you enjoy the game.  Speaking of keeping your food the right temperature, one of my favorite tailgating tips and tricks is using the Pyrex travel carrier with hot/cold packs.  It's perfect for keeping your dips hot and your desserts cold all in one place. Some of our favorite tailgate foods are brownie bites, cookies, chips, pigs in a blanket, meatballs, and of course the beloved dips.  Dips make the tailgate world go round!   
Tailgating Nice To Have's:
Up next I'm going to go over some "Nice to Have's" for the tailgating season.  I always have a short wish list of things for every year.  First up a portable battery powered radio.  There are a few on the market that run off of 12 -20V power tool batteries.  This type of radio is great for a tailgate.  It's not necessary because you are in your vehicle and can listen to the pre-game on the car radio.  But let's be honest a portable one is almost always more enjoyable.  Another good nice to have is a hitch adapted portable grill.  Did you know they made these? They are awesome.  The grill has an adapter that plugs into the trailer hitch of your vehicle making it super portable and safe to leave when you head into the game. 
My last two "Nice to Have's" may seem extreme but if you have ever been to tailgate with these items you know the awesomeness that they possess.  Folks there is nothing greater than watching the ESPN GameDay from the comfort of your own tailgate. If you haven't guessed them yet my last two items would be a TV and a generator.  It's like tailgate heaven!  Remember those aren't must have's but they sure are nice! 
Now that you have all of the best tailgating tips and tricks down let's go back and talk about the food.  Dips to be specific.  There are two dips that I am expected to bring to tailgates.  Trust me, one time I showed up empty handed, people were not happy.  Remember if you are invited to tailgate you can't show up empty handed, always bring something.  Not sure what to bring?  Ask your host/hostess. They will know.  My favorites are a Buffalo Chicken Dip and a Chili Cheese Dip and definitely worth a try.

BUFFALO CHICKEN DIP (Serves 10-12)
4 boneless skinless Chicken Breasts

12oz bottle Wing Sauce

2- 8oz packages Cream Cheese

16oz bottle of Ranch Dressing

8oz Co-Jack Cheese (2c)

8oz Sharp Cheddar Cheese (2c)
Preheat the oven to 350 degrees.
First you need to cook the chicken breasts.  You can boil them or cook them in an instant pot.  Once cooked, shred all the meat.  (Quick tip – use a stand mixer to shred the meat in seconds).  Add 12oz wing sauce (I prefer Franks) to chicken and mix thoroughly.  Spread into the bottom of a 9" x 13" glass baking dish and set aside.
In a medium sauce pan, combine the Ranch Dressing and Cream Cheese.  Heat through until the mixture is completely melted and smooth. Pour over the chicken mixture. 
Sprinkle the shredded cheeses over the top.
Place in oven, uncovered, to bake for 30-40 min until the cheese is bubbly and starts to brown. 
Let the dip cool at least 10 min and serve with veggies and tortilla chips.

CHILI CHEESE LAYERED DIP (Serves 10-12)
3 -8oz packages Cream Cheese

2 -15oz can Chili with No Beans

8oz Sharp Cheddar Cheese (2c)
Pre-heat the over to 350 degrees
In a 9 x 13 glass baking dish evenly spread the cream cheese into the bottom of the dish.  Add both cans of chili to the top of the cream cheese and spread evenly.  Sprinkle with the cheddar cheese. 
Place in oven, uncovered, to bake for 20-30 min until the cheese is bubbly and starts to brown. 
Let the dip cool for at least 10 min and serve with Frito style scoop corn chips.
Check out our Football themed drink markers and Turf Koozies!