Ever since the day we moved into our house we have avoided one room like the plague … our Master Bathroom.  I have done things in the past to try and make it feel more like us, like adding burlap trimmed curtains or adding my IKEA hacked shelves to the shower, but nothing ever seemed to work.  You see our master bathroom is red, very red, a nice shade of red with blue undertones but, red non the less.  I really think for me, the avoidance of this room was due to the horrible experience we had in our first home, painting over our "Firecracker Red" bathroom walls.  We thought we were being proactive and put a coat of high end primer on the walls before painting them with a finish coat.  We waited for the primer to cure and then put two coats of a creamy yellow on the walls and then watched in horror as the red bled through. Four coats later the red stopped bleeding (at least we hope) through and I swore we would never have a red room again.  And then we bought a house with a red Master Bath!**Disclosure:  A huge thanks to Good Housekeeping and Olympic Paint and Stain for sponsoring this post and the upcoming projects!  Although we were compensated for this project, the words and opinions found here within are always our own!  **
Knowing our previous experience with painting over red was less than stellar, when the nice folks at the Good Housekeeping Research Institute told us they test different brands of paint to see how well they cover black and red, I will admit I thought to myself, "I'll be the judge of that."  So when Olympic Paint asked us to give their ONE Paint + Primer a try, I knew our bathroom was the perfect room to see if ONE was worthy of the of the Good Housekeeping Seal it's backed by.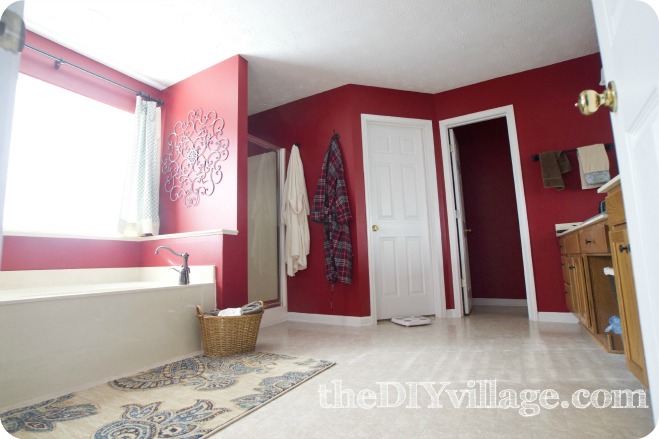 We aren't sure how long the bathroom had been red but we know it had to be at least 3 years (The length of time we've lived there), so before we even cracked the can of paint, we gave the walls a good cleaning with water/liquid detergent mixture.  In most rooms you can get away with just dusting, but since I know I've used hairspray in this bathroom and goodness only knows what the previous owners did, we cleaned the walls.  Plus, cleaning has given me a since of comfort that we're not going to have a repeat of the previous Dexter like experience.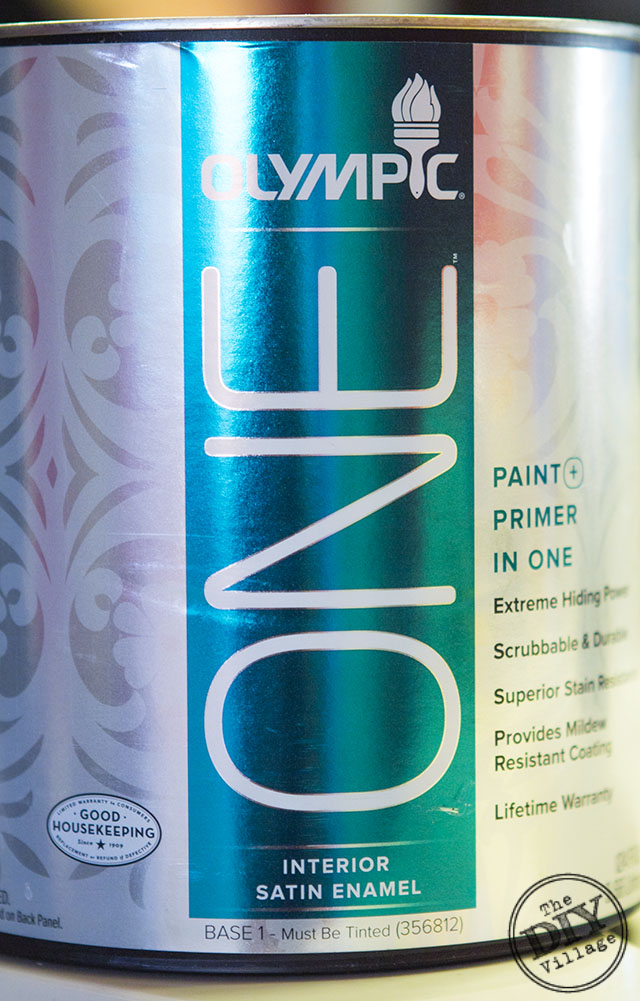 With the walls clean I started by cutting in around the ceiling and trim work.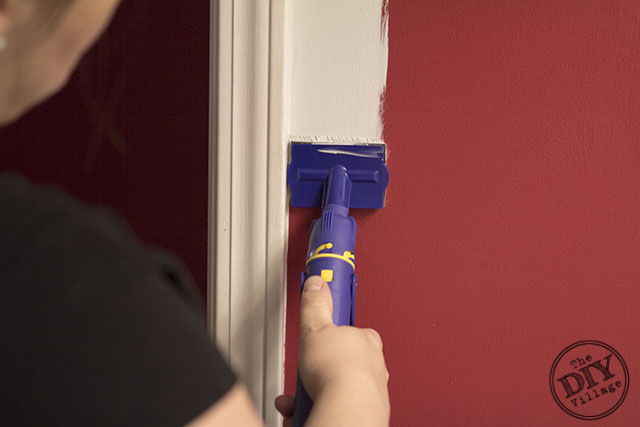 The ONE Paint has a great consistency to it, not too thick and not runny.  I feel like every brand of paint should have some sort of Goldie Locks complex.  You know, not too thick, not too runny, juuuuuussssst right.  ONE  Paint is just right!  Cutting in was fairly simple and went pretty quickly.
Before I knew it, Matt was taking down light fixtures and we were ready to start painting.  The first coat went on like a dream.  I couldn't believe it, no joke, I fully expected the red to start seeping through.  Most especially because when we were cleaning the walls, I noticed the water turned from clear to pink by the time we were done.  So I was pretty much holding my breathe on this one.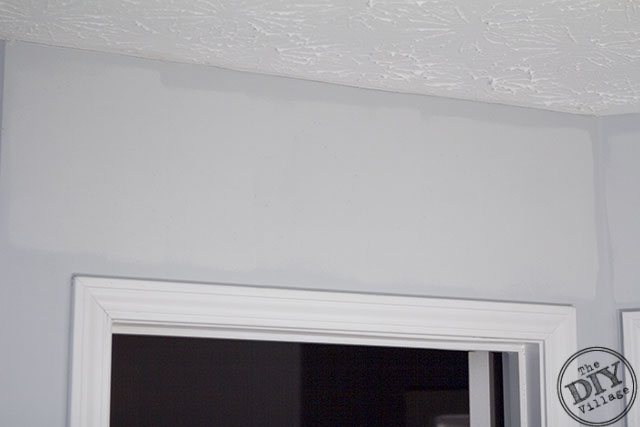 We gave the paint six hours to dry between coats and then we are off again.  We did minimal touch ups on the area's that we had cut in and a light second coat for the rest of the walls.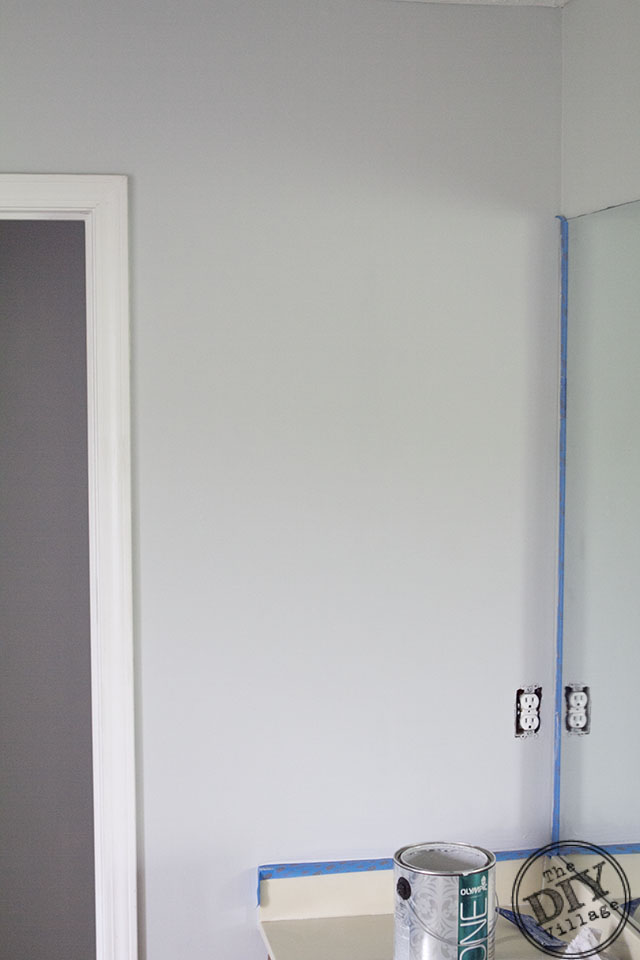 I cannot believe the difference it has made to this room.  I now know two things to be true; ONE Paint  does in fact cover red with ease and now that our bathroom is brighter I need to step up my housekeeping game.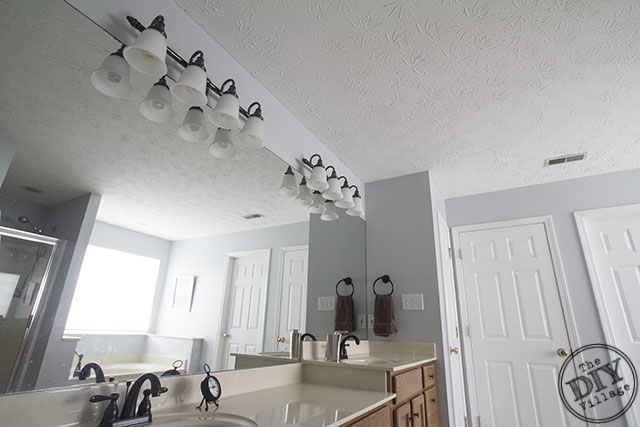 Seriously, I had no idea that our bathroom was THAT dirty, with the red paint it was hard to see in there.  We don't have that problem anymore!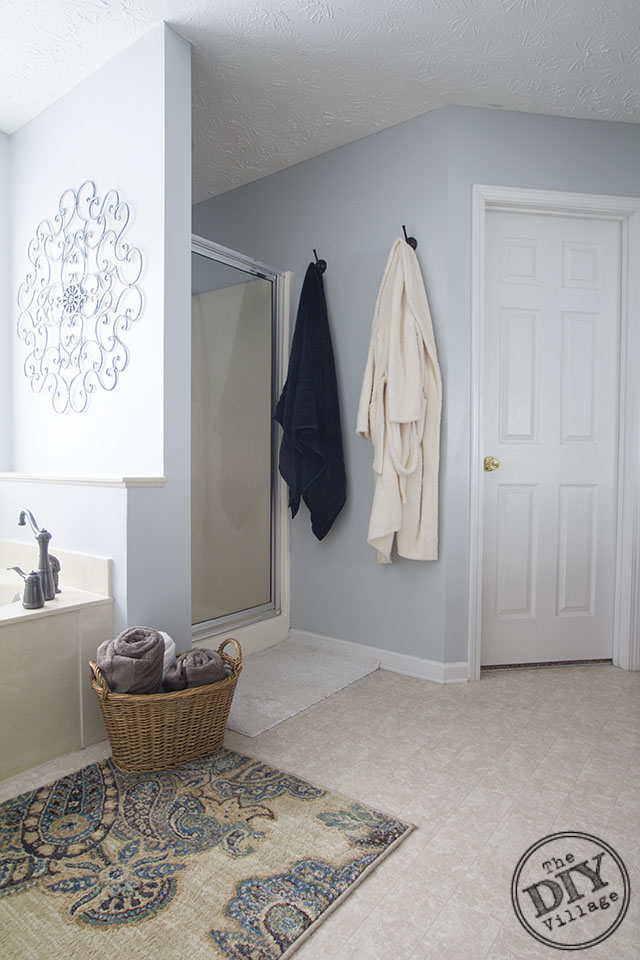 The color I chose for our bathroom is Cold Steel.  I'm pretty sure this color rocks and has started my need to complete a few more projects in the bathroom!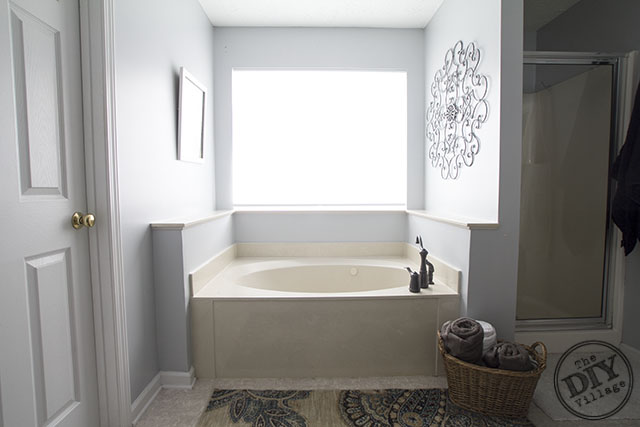 Stay tuned in a few months we will give you an update on the ONE paint and let you know if it is truly up to the test!  What do you think, will the Cold Steel stand the test or will we be chanting red rum?