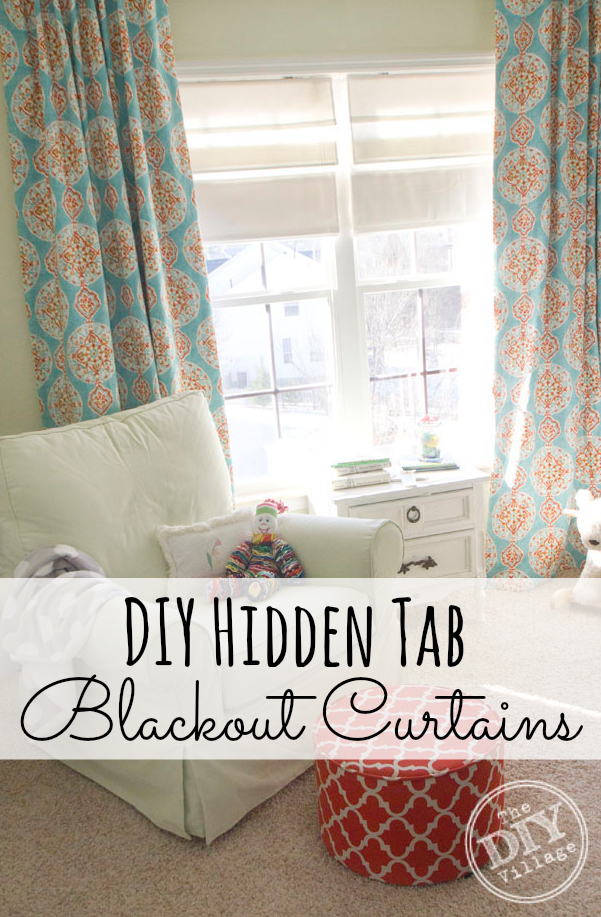 Last year when I was pregnant with Josslyn I decided that her room needed curtains.  After much thought I decided she needed blackout hidden tab curtains.  Her room faces the South West and gets almost full all day sun.  To say it can get warm in there is an understatement.  Plus I figured it was going to be hard to get a child to sleep in the summer when it's daylight till nearly 9:30 at night.  I'm pretty sure blackout curtains are going to be a must!
After meeting the wonderful ladies of Online Fabric Store.net at Haven last summer I knew that would be a great place to start looking for fabric, especially after browsing through the samples they had brought with them.  I must have spent at least 10 hours searching through all of the beautiful choices till I finally narrowed it down to my favorite 6 fabrics.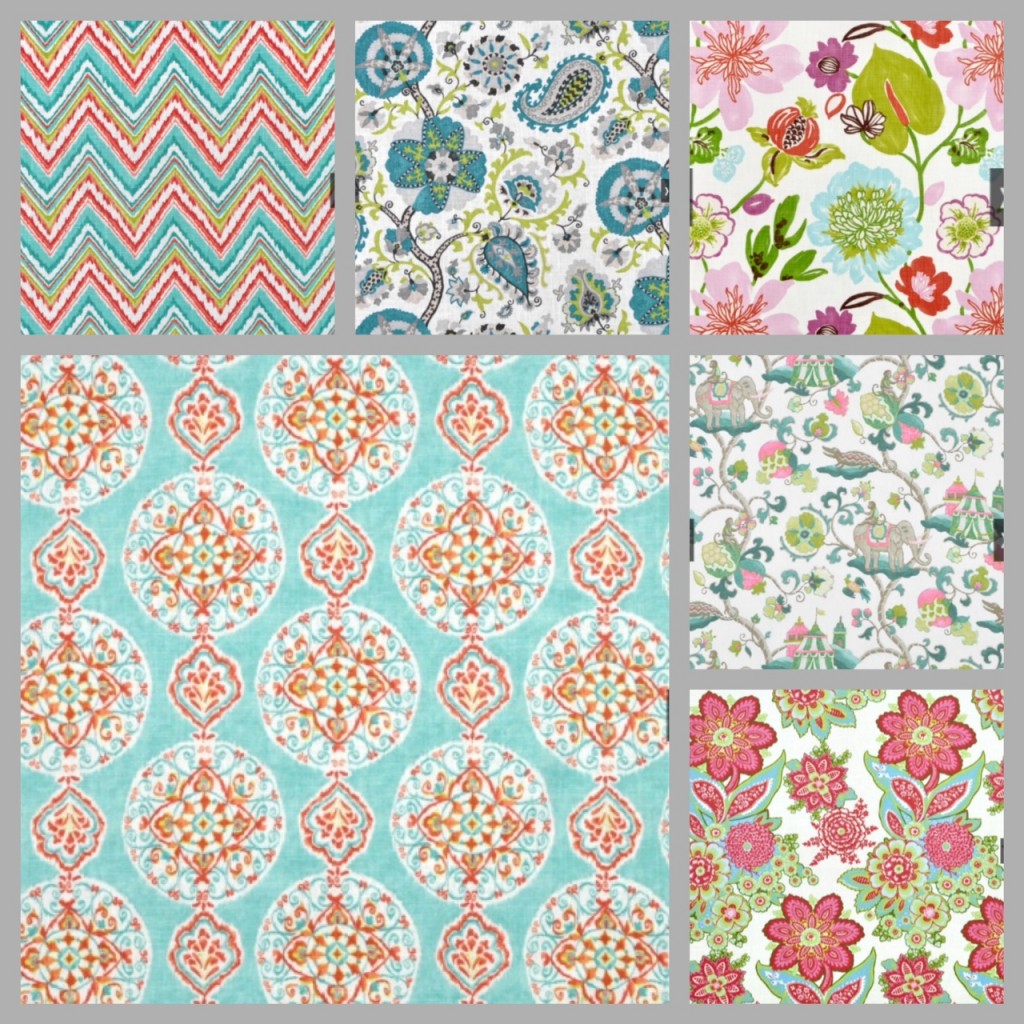 I sent Matt this collage with links to each fabric.  Surprisingly he chose my favorite one!  I think that marks the quickest we have ever agreed on anything ever, I'm pretty sure the Earth stopped spinning for just a minute!  We both agreed on Mirage Medallion Capri  I placed the order for 6 yards of fabric and 6 yards of blackout fabric.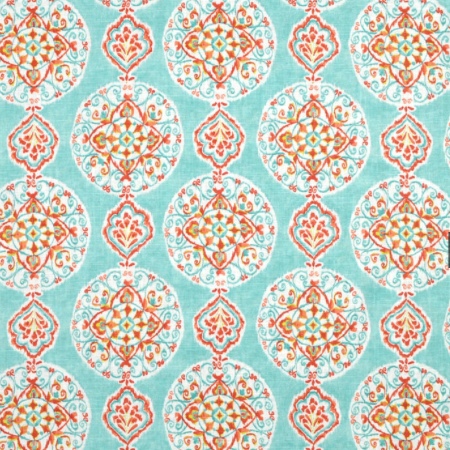 Fortunately the fabric arrived in a timely manner, but so did Josslyn.  My dreams of having the curtains ready by the time our little one arrived were quickly thrown to the way side.  It took me a few months to finally get around to making the curtains.
I had planned on having the curtains done sometime in October not long after my fabric arrived.  I was so proud when I started them back at the end of December that I actually posted it on Instagram to commemorate the momentous occasion!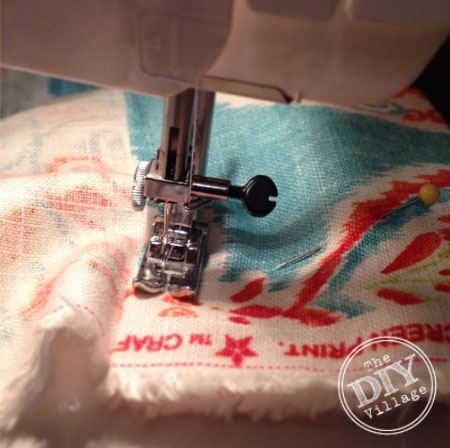 I was lucky enough to catch a break with Josslyn taking a couple long naps a few days in a row and I was able to bust them out.  The fabric s beautiful and so so soft to the touch!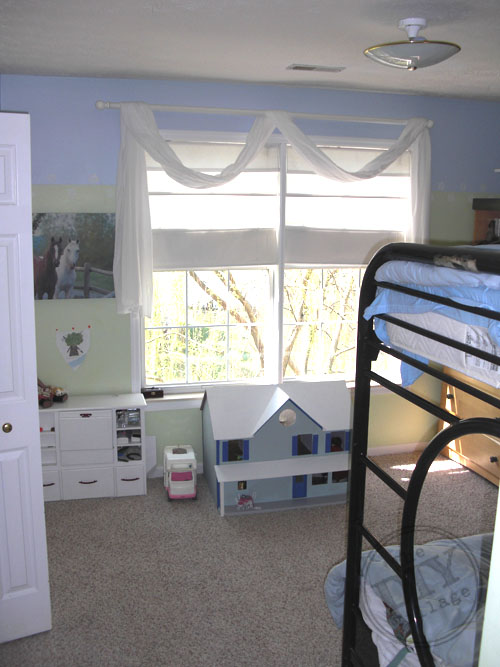 This is what the room looked like before … well before we even moved in!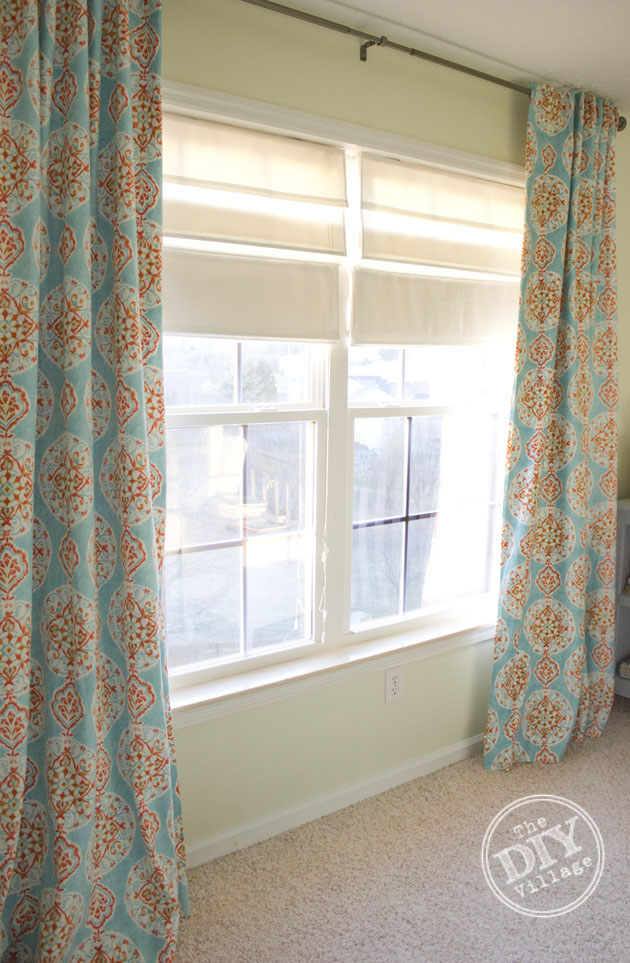 And here it is now!  I was lucky enough to be able to have the Lined Hidden-Tab Curtain tutorial by Kelly at View Along The Way.  Her tutorial lays everything out for you, it's super easy to follow.  Before you know it you will have beautiful curtains!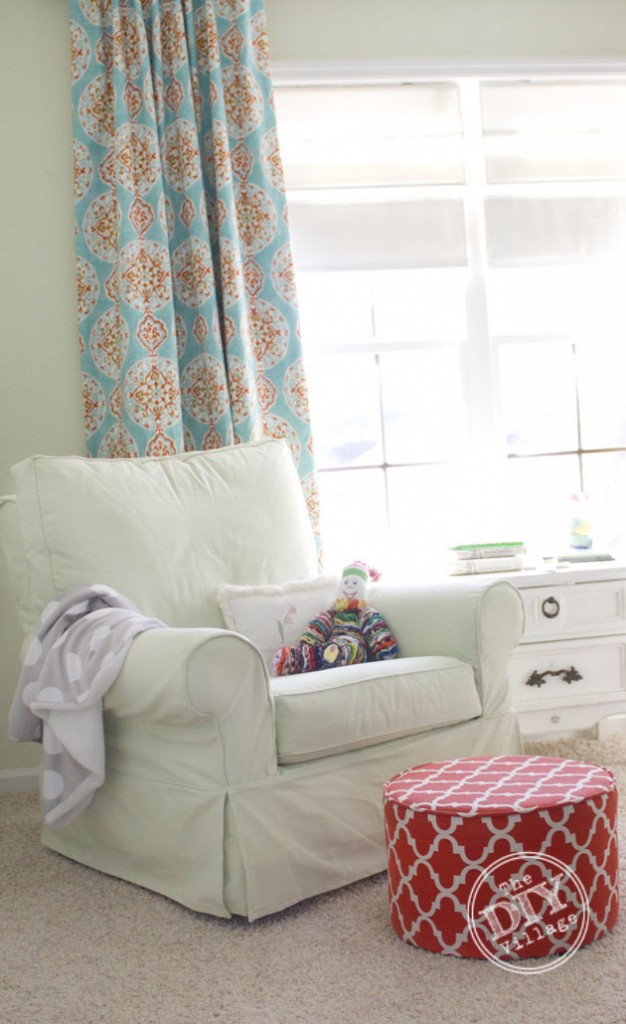 I am so glad I went with lined curtains this room is obviously so bright the darkness is much needed for nap time.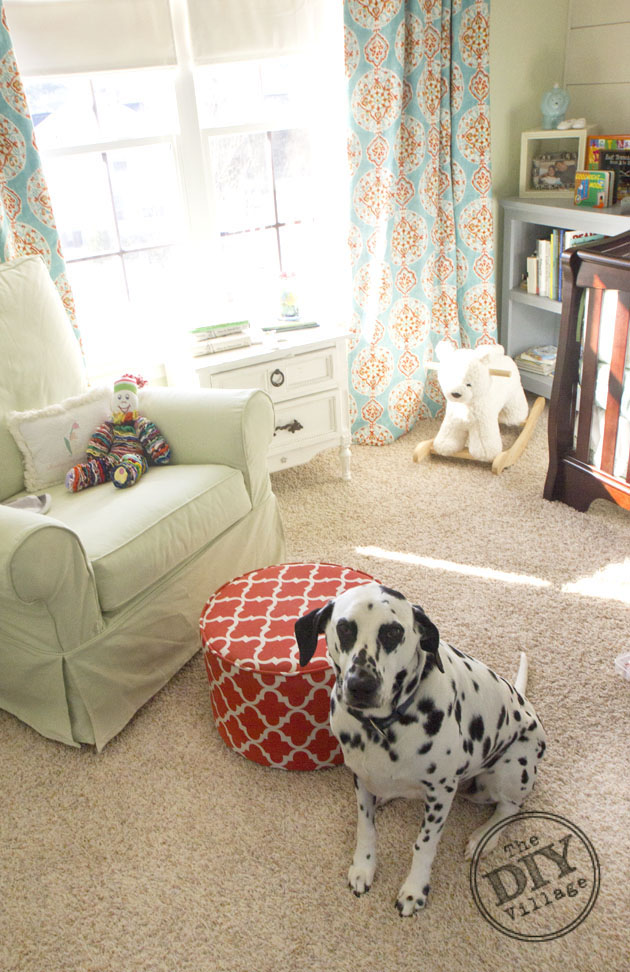 They even have Fenway's seal of approval!  The curtains are heavy and hang beautifully!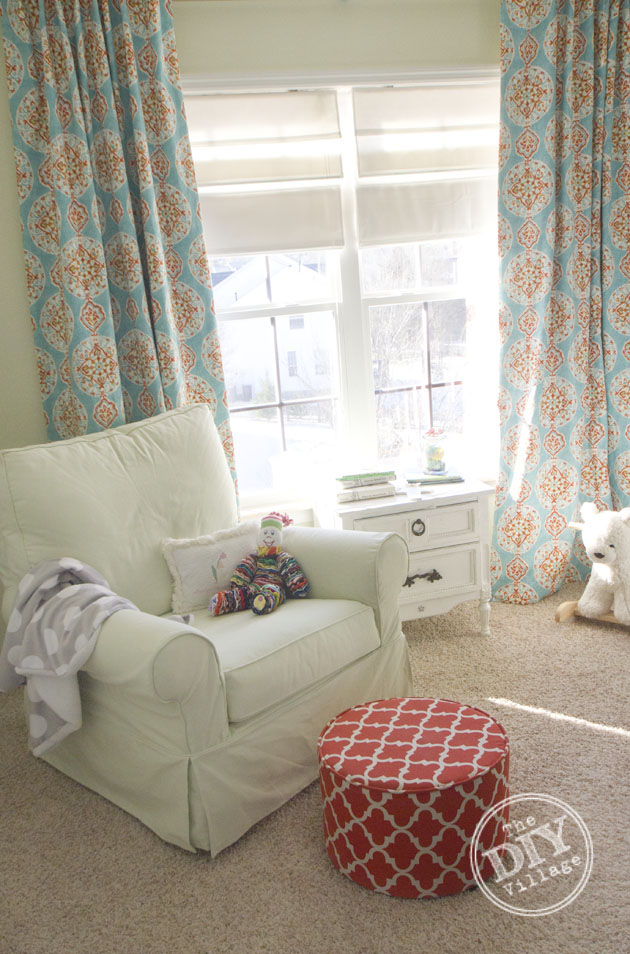 I have great news for all of you!  Online Fabric Store has agreed to let me giveaway a $50 credit to their online store!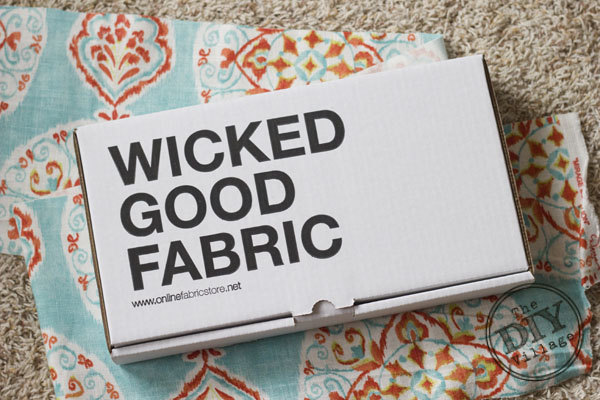 Did you catch that $50 dollars!  I don't know about you but I can make $ 50 go a long way at a store like this!
Entering is super easy!  
Head over to Online Fabric Store find your favorite fabric and come back and tell me (comment) which one it is and what you would use it for!
They also have some great SALES going on right now including free burlap and flower seeds with every order AND if you spend $75.00 you get a free $15.00 gift card.
Good luck!  This contest will run from 12:00 a.m. March 18, 2014 – 11:59 p.m March 31, 2014
We have a winner!  Thanks to Random.org the lucky winner of this contest is the Melissa!
Check out these posts for more nursery updates!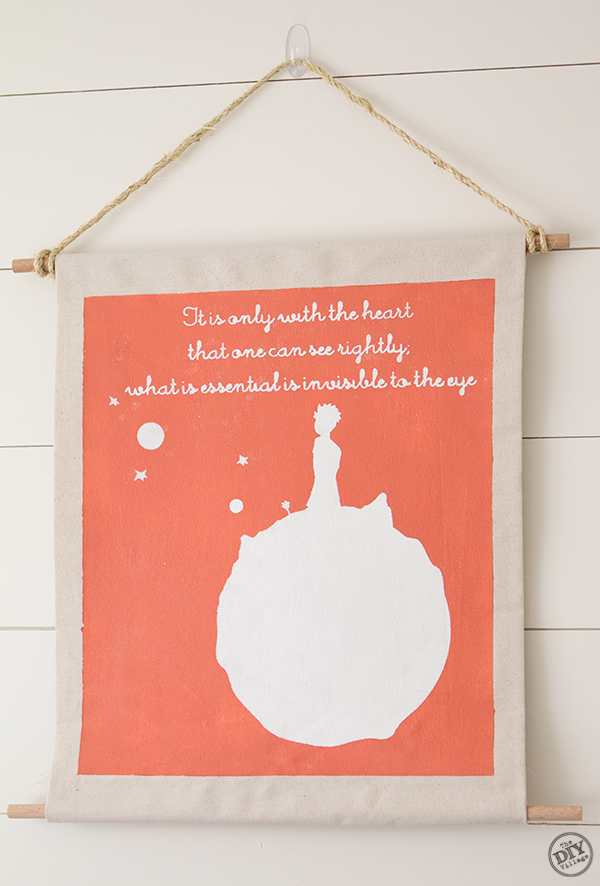 The Little Prince Nursery Wall Art Tutorial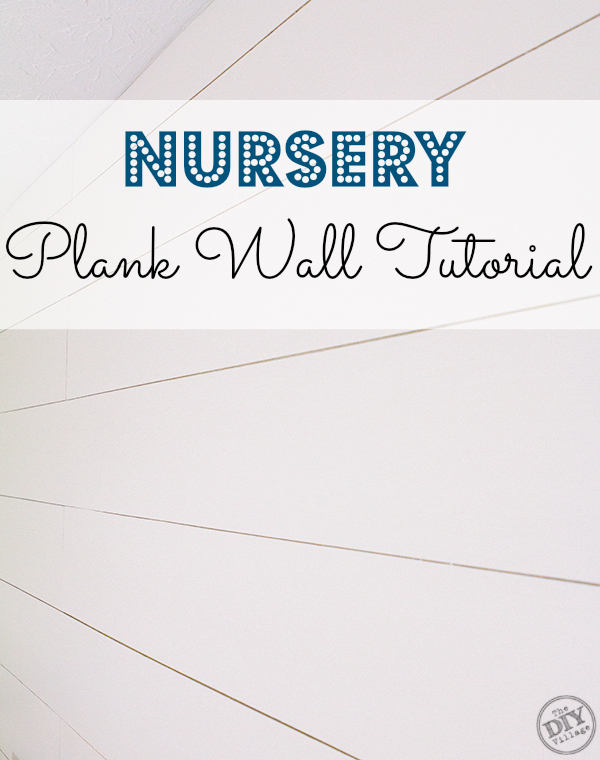 Nursery Plank Wall Tutorial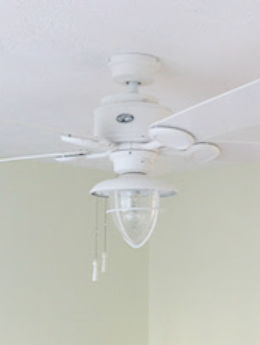 How to Install a Ceiling Fan